North Weald, Essex, March 6th 2022. Words: Ben Klemenzson, Photography: Ben Klemenzson & Christopher Tilley
Like most rod and custom-based events, the NSRA Southern Swapmeet starts early and finishes early… and they're a hardy bunch, queuing up patiently well before the event opens, as the freezing cold winds blow across the unprotected old airfield that played host to Hawker Hurricanes during the Second World War.
Probably the largest swapmeet of its kind in the UK (Beaulieu being a more general affair, with less American content) it offers visitors the opportunity to load up on bits and bobs for their projects or American vehicles they're working on. There are professional traders and businesses on site, from wheel and tyre specialists North Hants Tyres, to truck customisers Farm Fresh Garage.
But it's the pitches of the private individuals who have decided to turn out their garages, lofts and sheds (far outnumbering the professional businesses) that offer perhaps the most fascinating glimpse into what's on offer. One minute you can be looking at a display of Forties flathead cylinder heads, the next a set of wooden doors from a sort of Woodie, or a period Fifties Cadillac floor mat (we spotted one in very good condition for a mere £45, a bargain by anyone's standards!). There are tools, tool boxes, more whimsical items for display, such as vintage-style petrol pumps, signage, even Boss Hogg-style Texas longhorn horns for that authentic display on a white Cadillac (not sure how the MoT folks would view that…). ❯❯
As well as parts and paraphernalia, there's also vehicles aplenty up for grabs. Being an NSRA event, many have a custom/street rod twist, but there are plenty of stock vehicles up for grabs too, with an emphasis on trucks and the odd muscle car thrown in for good measure. Many of these are in the car park outside the event, which is a mini car show in itself and well worth a walk around beforehand or after. We spotted a particularly nice 1966 Plymouth Belvedere II with a 440 motor and 727 Torqueflite transmission for what seemed a very reasonable £25k. Another reasonably priced offering was a 289-powered '67 California-sourced Mercury Cougar XR-7 for £15k and a '67 Buick Wildcat convertible.
Interestingly, the NSRA Southern Swapmeet 2020 was the last major event on the American calendar to take place in March that year before the great Covid lockdown pretty much finished everything for the rest of that year and went on to ruin a good portion of 2021 as well. So, it's only fitting that it should be the event to kick off 2022, which hopefully will mark the return of normality to car shows and events in the UK. This event is well worth a visit if you're in the market for some bits for your car or project, or you just fancy some window shopping – just don't forget to wear your thermals!
Article continues below…
Advert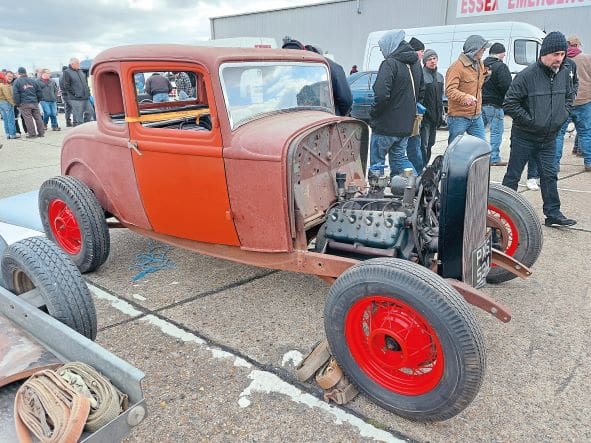 For more information on NSRA events see: www.nsra.org.uk