Happy 50th birthday Firebird! The colourful and cram-packed November issue features some superb Firebird images from back in the day as we celebrate Pontiac's perfect pony car.
There's a feature on a 1968 Pontiac Firebird 400, whose British owner bought it 'blind' from Florida and had never even driven a left-hand-drive car before… but he loves his purchase!
As we head towards Halloween, Bonfire Night and Christmas we reflect on a pretty good summer and look back at some of the top events that took place – Beaulieu, Atomic and Goodwood – so if you went to any of these, you or your car might feature in our pages!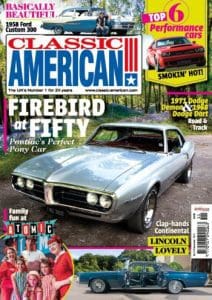 You can also find out who's made it to the grand finals of the Footman James Car of the Year and catch up on the latest news – including the chance to win a Cadillac! And if you're in the market for a painter to spruce up your motor for next season, take a peek at our special tech feature with some expert tips to avoid painting purgatory.
Regular correspondent Huw Evans enjoys the arresting sight of a special car for sale in California… a 1989 Chevrolet Caprice 9C1, described as a genuine ex-California Highway Patrol cruiser in excellent condition. Huw also brings us bang up to date with a feature on six of the best high-performance cars currently available from Detroit automakers.
Fancy waving a magic wand over a rusty wreck? Will Shiers is your guide as his latest Discoveries column checks out some unwanted, unloved hulks just waiting to be rescued before the crusher comes.
If you're looking for some excellent Christmas gifts for car enthusiasts in the family, you don't have to spend a fortune! Richard Coney takes a look at some miniature marvels that almost everyone can afford to buy.
We've got more cars for you to admire, including Ed and Neil Gazzard's 1969 Lincoln Continental, and the Hitchcock family's 1971 Dodge Demon and 1968 Dart.
So draw the curtains, put the kettle on and shut out the mad world of social media, Trump tantrums and Brexit bravado… the world of classic American cars is at your fingertips! What's more, if you're in the UK and sign up for a subscription to your favourite mag, we'll also send you a FREE Classic American T-shirt! Looks like Christmas has come early…
Here's a little look at what's inside the November issue:
https://issuu.com/mortons-digital/docs/classam_17-10-2017?e=7600234/54314155