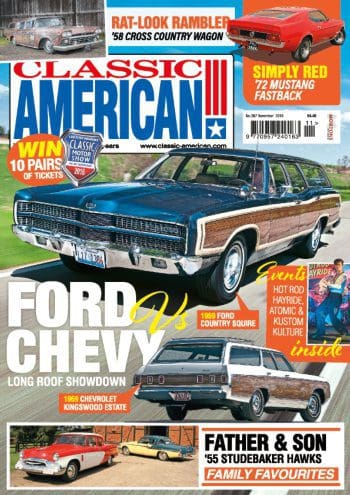 Wagons roll! Our November issue presents a clash of the station wagon Titans as the hottest Ford and Chevrolet models from 1969 go head to head… or should that be bumper to bumper? This long roof showdown highlights the Chevrolet Kingswood estate which is pitted against the Ford Country Squire, while our American and Modified section takes an in-depth look at a 1958 Rambler station wagon.
We're taking a look back at some of the top events that took place over the summer – the Silverstone Classic, Buster Lang, Hot Rod Hayride, Atomic and Kustom Kulture. Were you there? You might be in one of our photos from these celebrations of Stateside culture.
In addition we've got some stunning features on stylish rare motors – including a 1941 Buick Woodie and a pair of 1955 Studebakers – and pages of news from the American classic car scene. Regular contributors Tony Oksien, Huw Evans and Richard Heseltine will get you thinking, while Will Shiers stumbles through the undergrowth again to snap long-forgotten, rusting relics languishing in North American junkyards.
And if Christmas is on your mind, we have a gift guide from which to glean ideas – oh, and if you've got the cash to splash, pages of readers' cars for sale plus a host of stylish models from the dealers' forecourts.
So don't delay, get your copy today! We've got some amazing subscription offers too, so maybe it's time to start dropping a few hints to your nearest and dearest…
Article continues below…
Advert