It's not often we come across a Gatsby-era luxury car that has been in the UK since the roaring Twenties and with the same owner since 1966! Meet Derek Brown's magnificent 1929 Model L seven-passenger Limousine…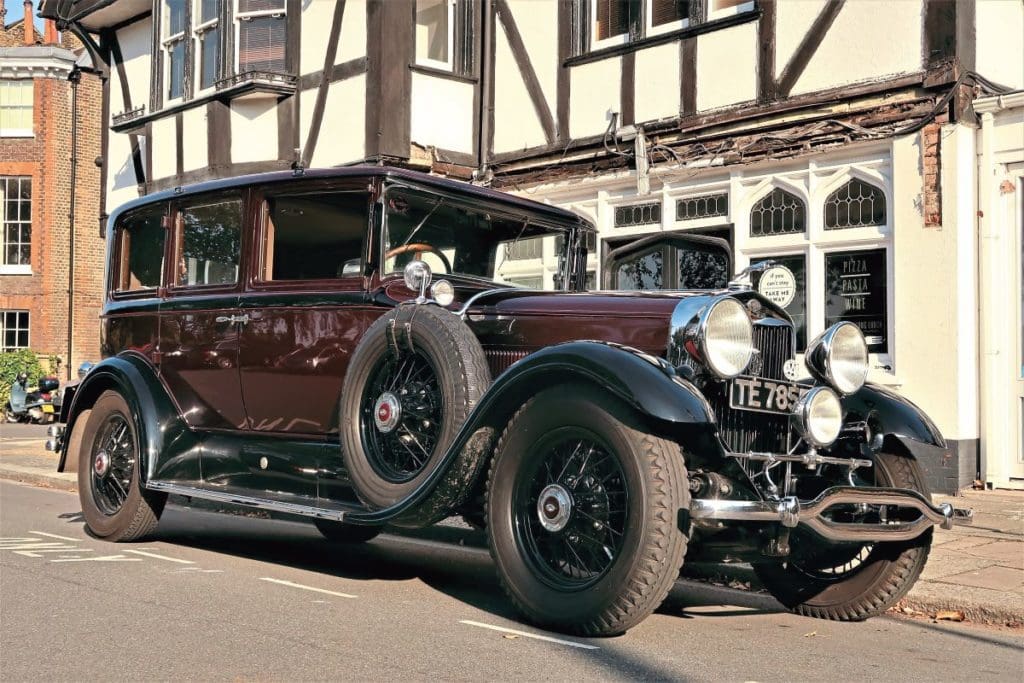 Words and photographs: John Bath and Derek Brown
After a relaxing coffee break last year (between lockdowns,) we were amused to be complimented by a passer-by with the words "Nice Jag mate!", following a busy morning's photoshoot around Kew, West London. The admirer had mistaken the sleek Greyhound mascot on the bonnet for the Leaping Jaguar, but owner Derek diplomatically corrected the enthusiast very gently. We were not far from Lincoln's former original Art Deco headquarters on the Great West Road (A4), opposite the famous Firestone factory buildings, both now sadly demolished, though this car even precedes the establishment of that Thirties location and also the Dagenham complex.
The Lincoln Motor Company was founded in 1917 by Henry Leland, to manufacture 6500 Liberty V12 Aero Engines for the war effort, but when the contracts ended, he was left with a large factory and machinery with a skilled workforce, but nothing for them to do. Therefore, having previously created the Cadillac marque, he naturally decided on a new luxury car named after Abraham Lincoln. The first cars were produced by 1920 and were arguably the most advanced mechanically at the time and well-received, but the styling was too conservative. By 1922, the company was in financial difficulties, so his old nemesis Henry Ford seized the opportunity for a takeover, purchasing Lincoln at the receivers' sale in February 1922 for $8 million.
There is a famous picture of Leland and his son Wilfred with Henry and Edsel Ford signing the deal, and the Lelands' look of defeat is palpable. This may well be because the roles were reversed, since in a previous joint venture the elder Leland had dispensed with Henry Ford's services, proving the old adage about revenge. However, it was not long before relations between Ford Motor Company and the Lelands deteriorated, so on June 10, 1922, the company's founders were forced to resign, followed by lengthy litigation; all won hands down by the lawyers and lost by the Lelands. In fairness to Ford, the Lincoln Division continued to be run as a separate entity, without any compromise in quality, but aided by financial support and sharing technology, plus also the introduction of much-improved styling.
By 1930 the L model needed replacement and in 1931 the K model was introduced, with an uprated V8, replaced in 1932 by a larger V12 for the KB, which again was replaced by a smaller, more modern and efficient V12 in 1934. The Model K series remained till the end of 1939, but was made in smaller and smaller numbers, due to the enormous cost. In 1936, Ford introduced the streamlined V12 Lincoln Zephyr, which was in the medium-priced category, sharing no mechanical connection to the large Lincoln. The Zephyr went on to become the flagship Lincoln Continental from 1939. That car was inspired by a one-off model built for Edsel Ford and, of course, the marque continues to this day as a luxury car.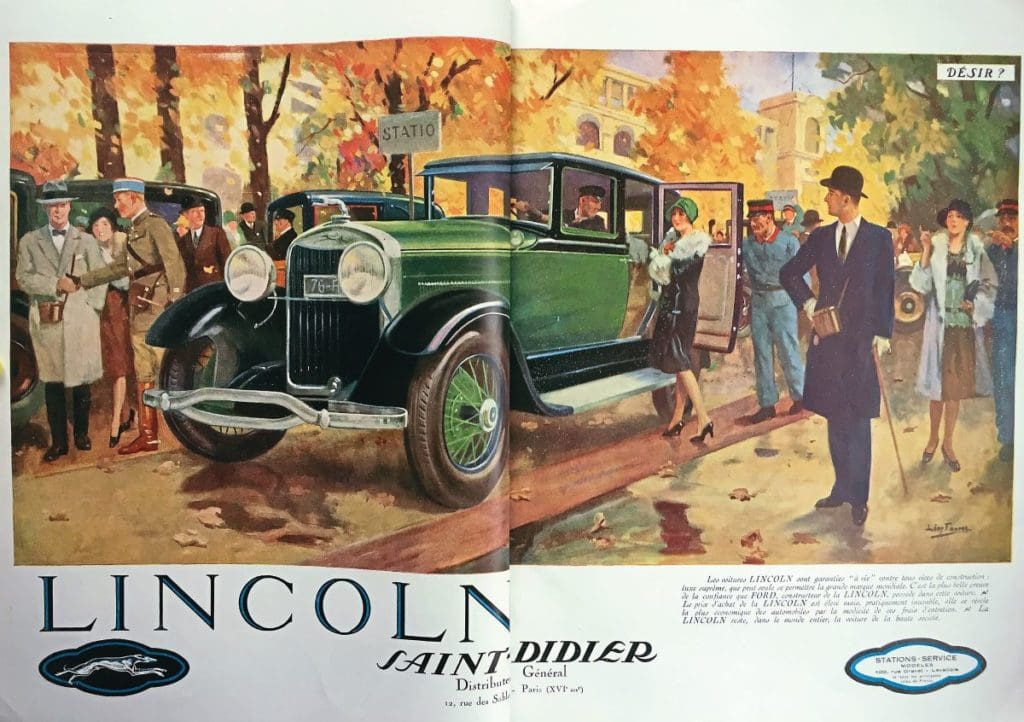 The original owner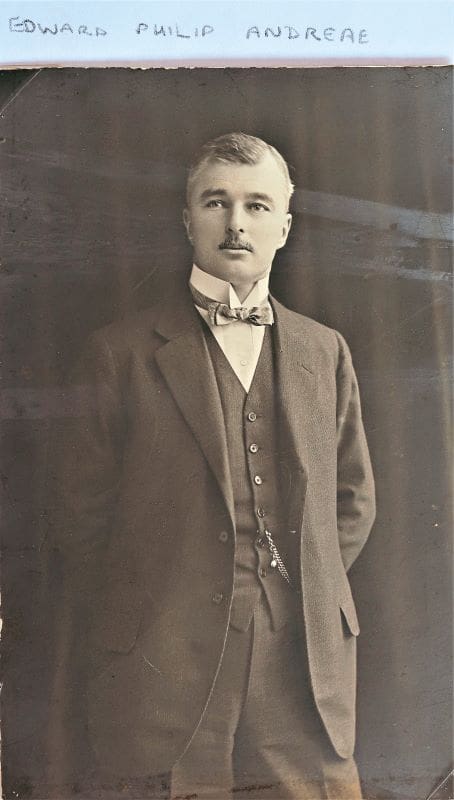 Doctor Edward Andreae was the first owner. He purchased the Lincoln on July 5, 1929, as we know from the surviving original buff logbook. He added it to his other cars, kept in the separate garage/stable block on his estate, near Godstone in Surrey. Born on November 18, 1879, in Camberwell, London, the doctor was an interesting man. One of six children, he doubtless cut an impressive figure at 6ft 2in – very tall for the times – and must have had German connections, because he went on to study in Bonn and Berlin, gaining a Doctorate in Philosophy and Physics before the First World War.
His business career was varied, including manufacture of synthetic camphor, and then artificial silk, as well as working for a City of London finance house, then John Bright & Brothers, a major Rochdale/Manchester cotton spinner. As a successful businessman, he became a pioneer English motorist, buying a Belgian Mathieun, and also managed to be a pioneer at collecting speeding fines, having been charged £2 in 1909, equivalent to £240 today. To relax, he also liked yachts and motorboats. His first yacht was called Bingo, and he was invited to join the prestigious Royal Thames Yacht Club.
He married his wife, Constance, age 36, in 1914, and fathered no fewer than seven daughters, but only one son. By 1926, he had made enough money to purchase Tandridge Court, near Oxted in East Surrey, which still stands today, although divided into several dwellings. Much of this information comes from an interview he gave to the local paper in 1975, age 96; so he was still very lucid. He was clearly very wealthy to be able to purchase a top-of-the-range Lincoln in July 1929 and afford the petrol to run a 6.3-litre V8 engine rated at 39.2bhp, with road tax at £40 per annum – all quite expensive outlays back then.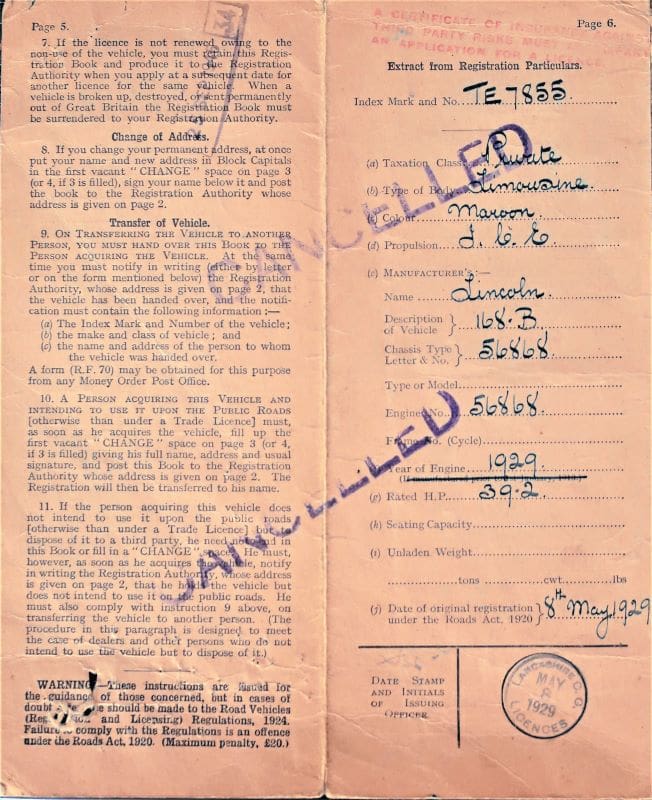 The Lincoln's history
It was first registered in May 1929 by the Ford Motor Company, then based in a former tram factory in Trafford Park, Manchester – the first Ford factory outside of the US – which had still been producing Model Ts there until 1927.
The car must have been shipped from Lincoln's Detroit factory to Manchester, hence the Lancashire registration, and then delivered to Tandridge Court after its pre-delivery inspection. At the time the London Lincoln agents were Wood & Lambert Ltd, on Albemarle Street, off Piccadilly, although it is just possible that they were bypassed for a 'direct deal'.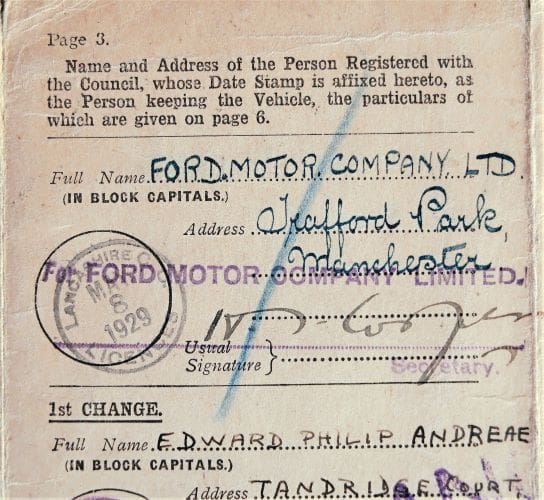 This was an enormous car with a 136-inch wheelbase and space for seven people, aided by jump seats. It was capable of 80mph, and Lincolns were the car of choice for Chicago and other US police forces due to their high speed and excellent Bendix self-energising brakes, which are very efficient when correctly set up. The front compartment is upholstered in black leather − not unusual then for chauffeur's quarters − and the rear cabin in beige wool-cloth.
There are some wonderful period fittings, as you would expect from a luxury car. These include 'his-and-hers vanities' in the rear, two Waltham eight-day clocks, two cigar lighters, and courtesy lights, while all interior handles etc. were solid nickel.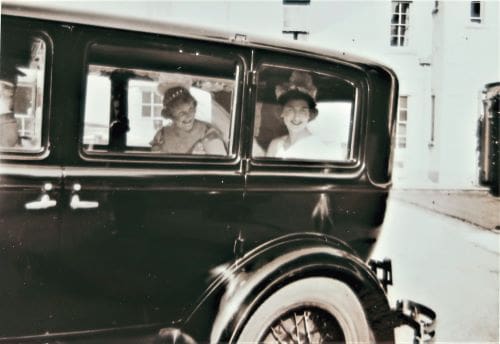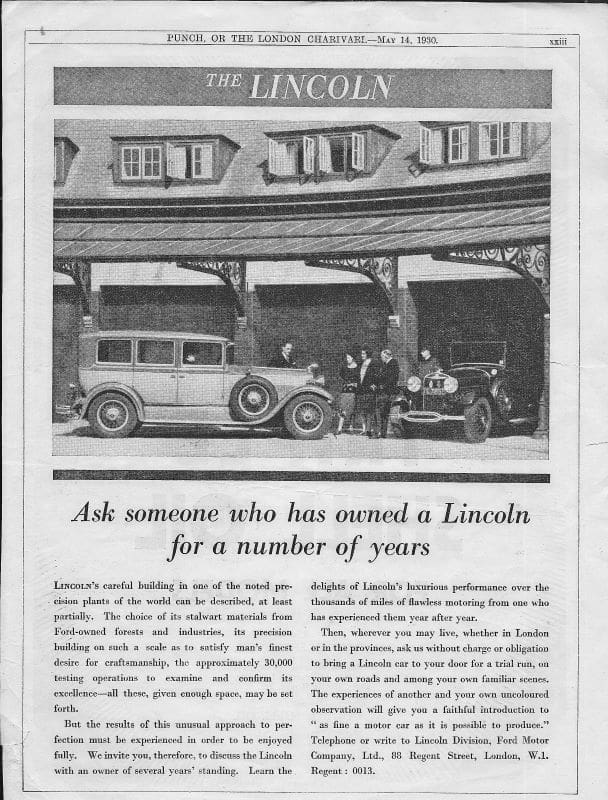 It also had such advanced standard features as stop lights, reversing lights, a sealed cooling system, plus a tyre pump on the side of the gearbox and British-specification trafficators. We do not know the exact price paid for this car; however, in 1930 a similar model, but not a Limousine, sold new for £1550 – equal to about £102,000 today.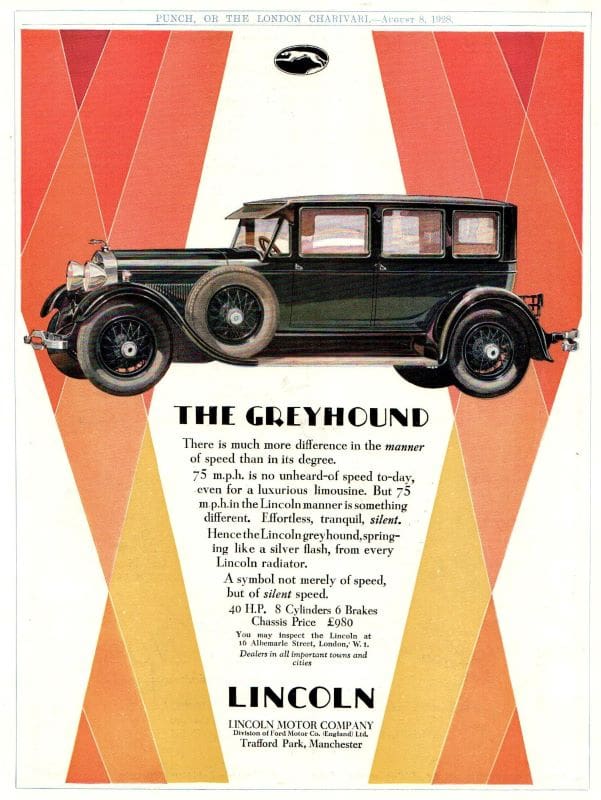 Derek buys the Lincoln at 17!
The right-hand-drive Lincoln is well known in American classic car circles, as Derek has owned it since 1966 when the car was a mere 37 years old and he was 17. During this time, he has gathered an enormous and complete history file, together with many British period advertisements.
One of these shows the actual car in the first owner Dr Andreae's motor house, together with the doctor's chauffeur and other members of the household.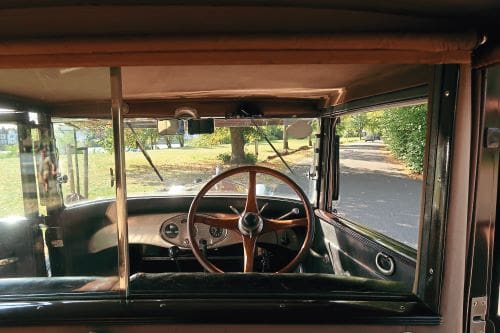 Derek was hooked early on American cars, having learnt to drive in his grandfather's woods in a 1929 Chrysler 75 at the age of 13, and like many of us, those early experiences have a long-term influence. Having seen the Lincoln driving around Harrow Weald, he was soon to see it advertised in The Exchange & Mart, the weekly journal to which we turned in those days for a wide selection of classic cars.
Derek bought the Lincoln from Roger Gates, the well-known enthusiast, with the help of a parental loan. It was his first car and initially driven on L-plates because, having worked in France for a year, he had yet to pass the UK driving test!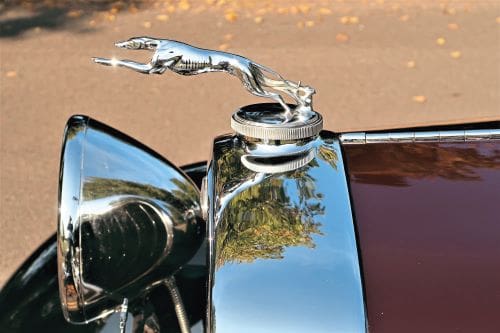 A little while later, a chance meeting while filling the car with two-star at Kingsbury Motors, which doubled as Prop Vehicle Suppliers, a flourishing film career began for the Lincoln, starting with:
■ The Avengers (1967) at Elstree Studios;
■ The Great Gatsby (1974) with Robert Redford and Mia Farrow, at Pinewood Studios;
■ Bullshot (1983) a spoof of the Bulldog Drummond character with Mel Smith and Billy Connolly, where the car was disguised as a Mannheim Mercedes;
■ Love for Lydia − a 13-part serial based on an HE Bates novel for London Weekend TV.
There were many other shoots as well, as the country was hooked on Bonnie & Clyde fashion at the time in the wake of that film's release, thus the welcome extra income enabled rapid repayment of outstanding monies. The few missing tools and accessories necessitated several trips to the Hershey Swapmeet from 1973. The car has always been in regular limited use, and it now shows circa 87,000 miles confirmed by countless old MoT certificates.
There can be few American classics with single ownership for such an extended period; proving the built-in quality of this magnificent and stylish Lincoln.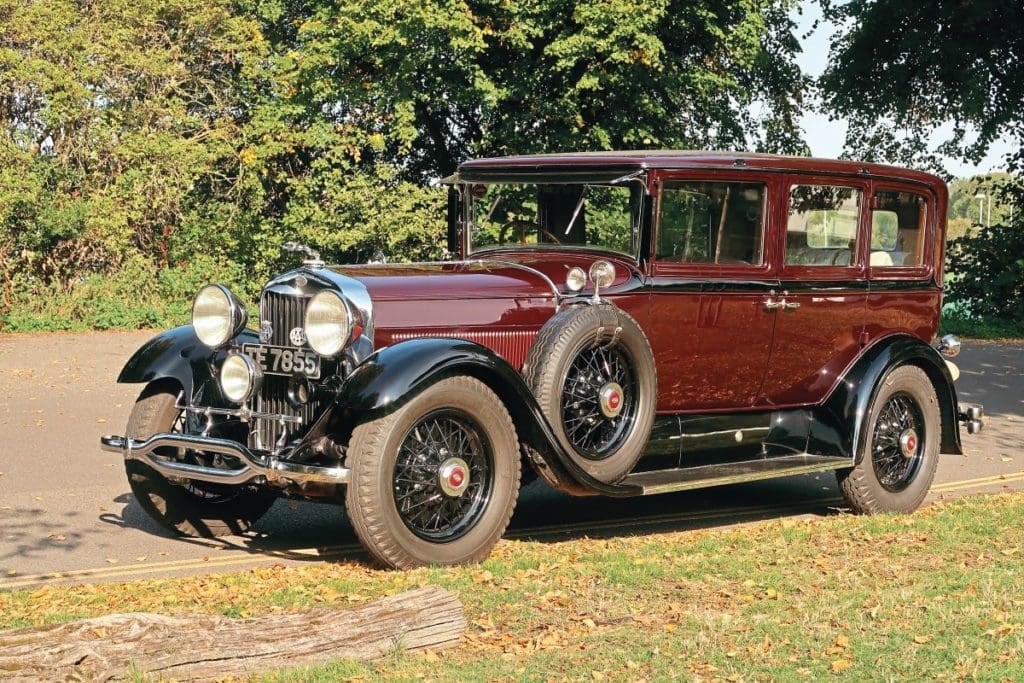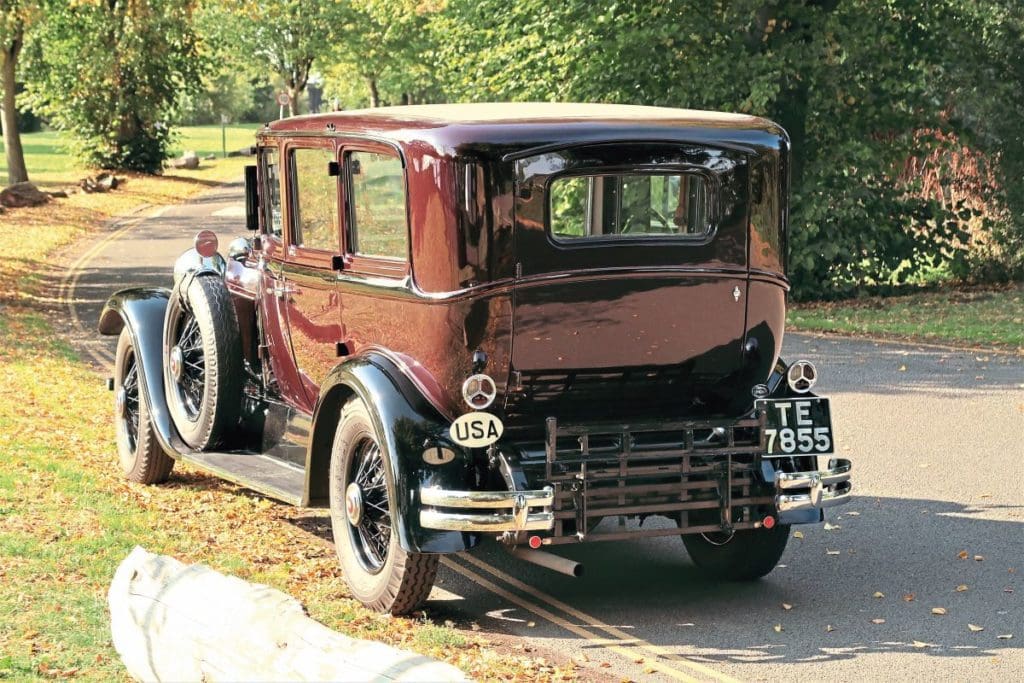 John Bath is grateful to Derek Brown for making his car available and letting him see the remarkable history file which he has compiled, having few equals in the classic car world. Indeed, John believes it would have been easy to have written an article more than twice this length from the amount of available material he was able to borrow.