The Classic Corvette Club UK is delighted to announce that their annual 'Nationals' event is moving to Bedfordshire on the weekend of 3rd & 4th June 2017. 
The Nationals is a two day show that brings together CCCUK members from all over the UK and Europe giving them the opportunity to show their pride and joy at the biggest Corvette event outside of the USA. It's also an opportunity for the general public to get up close and personal with this prestigious American marque. Hundreds of Corvettes from all eras are always on display including the famous Stingrays.
Building on the success of the event held earlier this year the CCCUK has manged to secure The Sharnbrook Hotel, Sharnbrook, Bedfordshire as the venue for its 2017 event. Not only does this represent a change in date but it also demonstrates that the Nationals is fast becoming a must-do event in the classic American car calendar.
With a record number of members having joined the CCCUK in the last 12 months and interest in the marque across the motoring media at an all-time high, the CCCUK has decided to further invest in their event. The Sharnbrook Hotel, already adept at hosting car shows, is a self-contained entertainment venue with fantastic amenities.
Mike Lacey, Nationals Organiser said, "We're delighted to have a new, professional events venue for our show and the club is now working hard on all the exciting bits that will make our show a success." Mike further added, "2017 is set to be the best Nationals to date, watch this space as there will be plenty of new things we'll be announcing over the coming months."
Article continues below…
Advert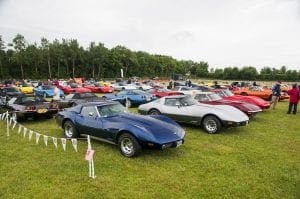 Be sure to book the date in your diary and for more details please visit the club website www.corvetteclub.org.uk or email Mike Lacey, Nationals Organiser [email protected]