A unique Mustang display highlights half a century of pony car evolution…
Words: Huw Evans
Its shape is instantly recognised the world over. Few cars are as coveted or as celebrated as Ford's original Mustang. It's been featured on everything from postage stamps, to artwork, to clothing and furniture. Today, Ford's design team continues to draw inspiration from the crisp original design first penned by Joe Oros,
L David Ash and Gale Halderman and a Mustang arguably wouldn't be a Mustang without the gaping grille, twin-cowl dash treatment and signature triple tail-light lenses.
Article continues below...
But how do the original and late-model versions of Ford's iconic pony car stack up against each other? For those who are lucky enough, a chance to either own and/or drive the first and latest versions of the Mustang back to back presents the ideal opportunity, but for those of us who want a direct comparison at the same time, in the same space, the National Inventors Hall of Fame Museum in Alexandria, Virginia, near Washington DC offers (certainly post-Covid at least) a unique opportunity.
The museum teamed up with Ford Motor Company back in 2015 to create this one-of-a-kind display. It was conceived to celebrate 50 years of Mustang evolution and comprises a licensed re-creation of a 1965 model on one side and a section of a 2015 Mustang on the other. The display was unveiled in 2016 and is part of the museum's Intellectual Property display.
In order to integrate both designs as much as possible, the 1965 version wasn't made to true scale but both sides have fully functioning doors, allowing visitors to the museum to sit in either side and get a feel of what each Mustang is like behind the wheel. They can sit and play with the various features, including the radio in the '65 and the infotainment system in the 2015 side. Back in 1965, features such as satellite navigation and cup holders were unheard of in passenger cars and the display serves to illustrate just how far we've come in terms of comfort, convenience and technology.
Article continues below...
Advert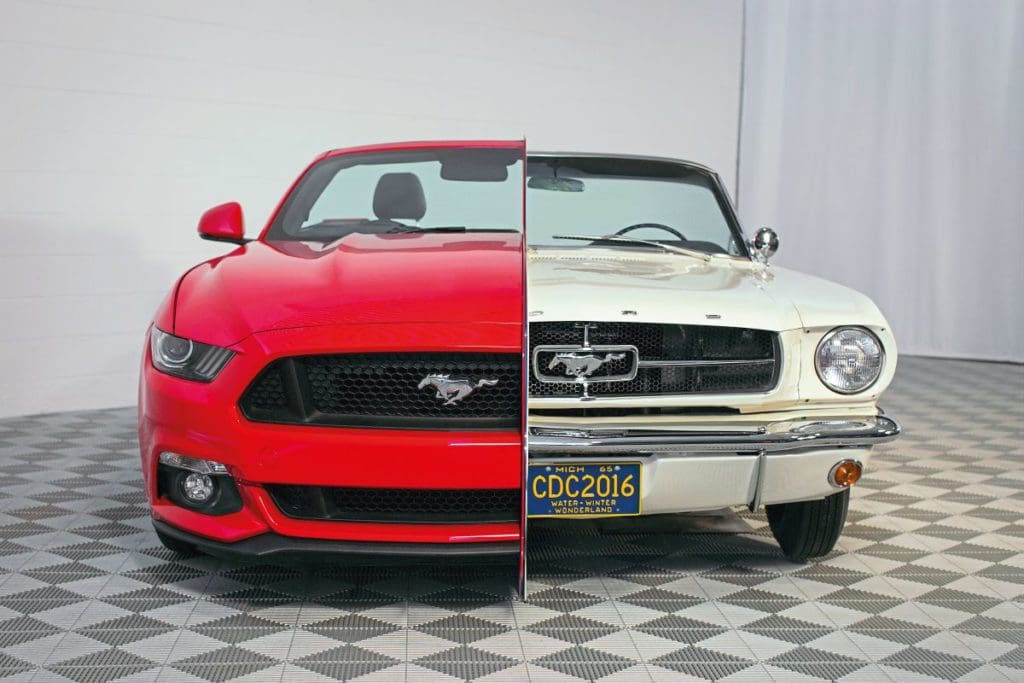 To make the concept truly work, the 2015 side features right-hand drive, also significant in that the S550 platform (2015 and up Mustang was conceived from the outset for sale in both LHD and RHD markets designed to broaden its appeal worldwide).
While it could be argued that the very first Mustangs were 1964½ models, Ford has always considered the early cars 1965 models, even though there are distinctions between those built between April and September 1964 and those that came after.
Although the display was created in 2015, the S550 (in updated form) is still in production, so it provides a relevant feel of what the first and latest Mustangs feel like.
Article continues below...
Advert
Located in the grounds of the United States Patent and Trade Mark Office, the National Inventors Hall of Fame was conceived as a national monument to invention, celebrating the achievements of the greatest inventors in the past, while inspiring those of the future.
| Old vs New* | Old | New |
| --- | --- | --- |
| Year | 1965 | 2015 |
| Length | 15'13" | 15'8″ |
| Width | 5'7″ | 6'3″ |
| Weight | 3,049lb | 3,800lb |
| Engines | 260/289 | 5.0 |
| Transmission | 3/4 spd man/auto | 6 spd man/auto |
| Price | $2,426 | $32,925 |
| *V8 Hardtop models only | | |

Enjoy more Classic American reading in the monthly magazine. Click here to subscribe.
Sell your Classic American car here.