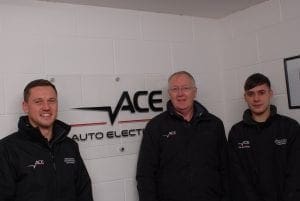 If you're after and auto electrician that's capable and willing to tackle any American vehicle, whether old or new, then West Yorkshire-based Classic American advertiser ACE Auto Electrics should definitely fit the bill. Proprietor Jordan Walker has been in the business for over a decade and whilst ACE undertake electrical work on all cars, Jordan is himself an American car enthusiast (he owns a new American-spec Mustang on which he did the light conversion himself) and he's made American cars a speciality – after all, there's nothing better than working on cars you like!
In the workshop when we visited ACE had both a new and a classic Mustang in the workshop, both of which had light conversions and a custom 1955 Plymouth which was undergoing a complete rewire. We asked Jordan how much a completer rewire for a classic car would typically cost – needless to say he could only offer a very rough ball park figure: "We have a lot of customers who supply their own looms that they've bought in the US…if we were to supply the loom also for a standard car it could be £1500 upwards supplied and fitted…"
ACE also do light conversions required for IVA and MoT applications, as well as air conditioning work, including R-12 conversions, diagnostics and repairs on all A/C systems. And if it's ECU remapping you're after, ACE specialise in this area also. For more information contact Jordan and his team at ACE.
ACE Auto Electrics, Unit 7 Anchor Business Park, Wakefield Road, Liversedge WF15 6AU
Article continues below…
Advert
Tel. 01924 410700/07731 787825 or see: www.aceremapping.co.uk or e-mail: [email protected]