Geoff Carverhill takes us on a guided tour of the American car stands at the 1964 and 1965 Earls Court Motor Shows, with photographs from the Steve Miles Collection and the files of Autocar.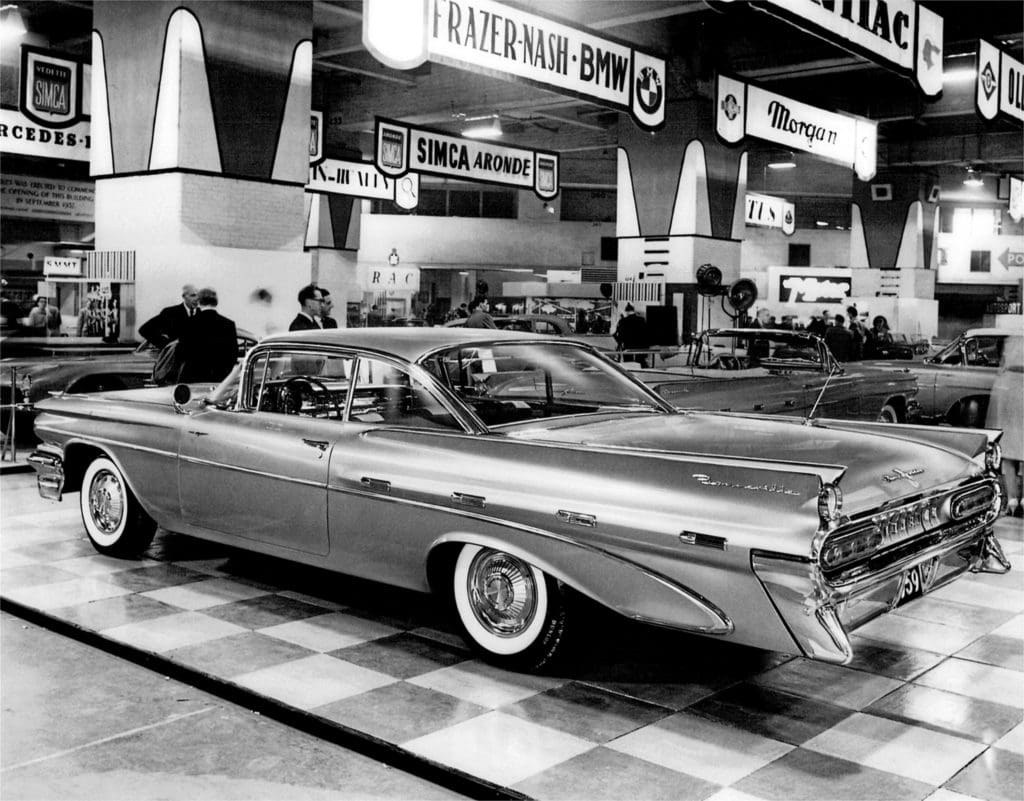 Words: Geoff Carverhill Images: Steve Miles Collection and Autocar.
For any car-obsessed kid, or adult, during the Sixties, a visit to the Earls Court Motor Show in London was the highlight of the motoring year. It was where the world's manufacturers showed off their latest models, and American manufacturers were there to show what automotive exotica they could sell to European buyers.
A young Steve Miles was also one of that car-obsessed fraternity who visited the Motor Show virtually every year during the Sixties and who diligently photographed as many American cars as he could, as he had done in London and his home town of Oxford. By 1964, Steve had acquired a 35mm SLR camera, which he used to take the photographs shown here.
By the late Fifties, most American manufacturers were starting to offer a mixture of Canadian-built, right-hand-drive and American left-hand-drive cars for sale in the UK. This 1959 Pontiac Bonneville two-door hardtop, taken by an Autocar magazine photographer, is representative of GM's offerings being displayed at the 1958 Earls Court Motor Show in London, and was the only GM brand trading independently of the Lex Group, which had acquired Lendrum & Hartman in 1958.
Lex had acquired the Chevrolet and Oldsmobile concessions from British & Colonial Motors Ltd in 1957, and so was able to consolidate its GM range with Buick and Cadillac from Lendrum & Hartman, leaving only Pontiac – this would come later.
More than 534,000 people visited the show in 1958, which had exhibits from 14 different US and Canadian manufacturers. Examples from General Motors, as well as Ford, Lincoln, Chrysler, Plymouth, Dodge and Studebaker were on show. By the mid-Sixties, American manufacturers would be exhibiting, and selling, many more cars in Britain than in the Fifties, but it would be a short-lived phenomenon.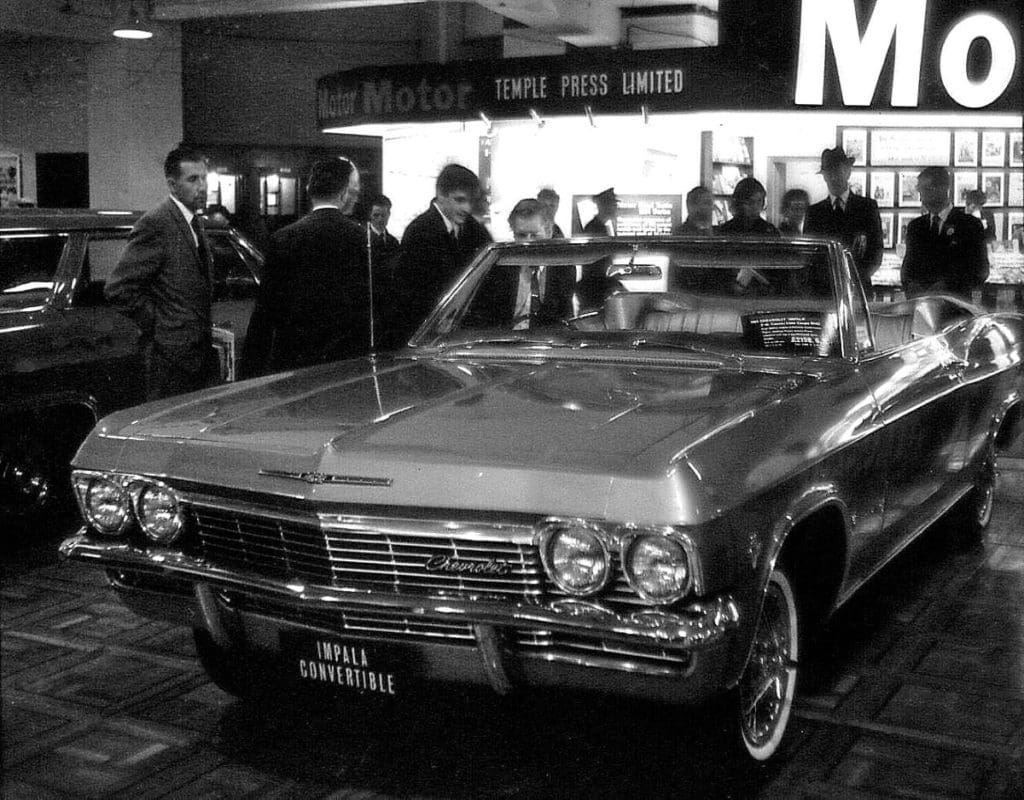 Stand 111 at the 1964 Motor Show was dedicated to Chevrolet, exhibiting this right-hand-drive Canadian-built Impala convertible as well as an Impala station wagon and an Impala four-door saloon (sedan) – all right-hand drive.
---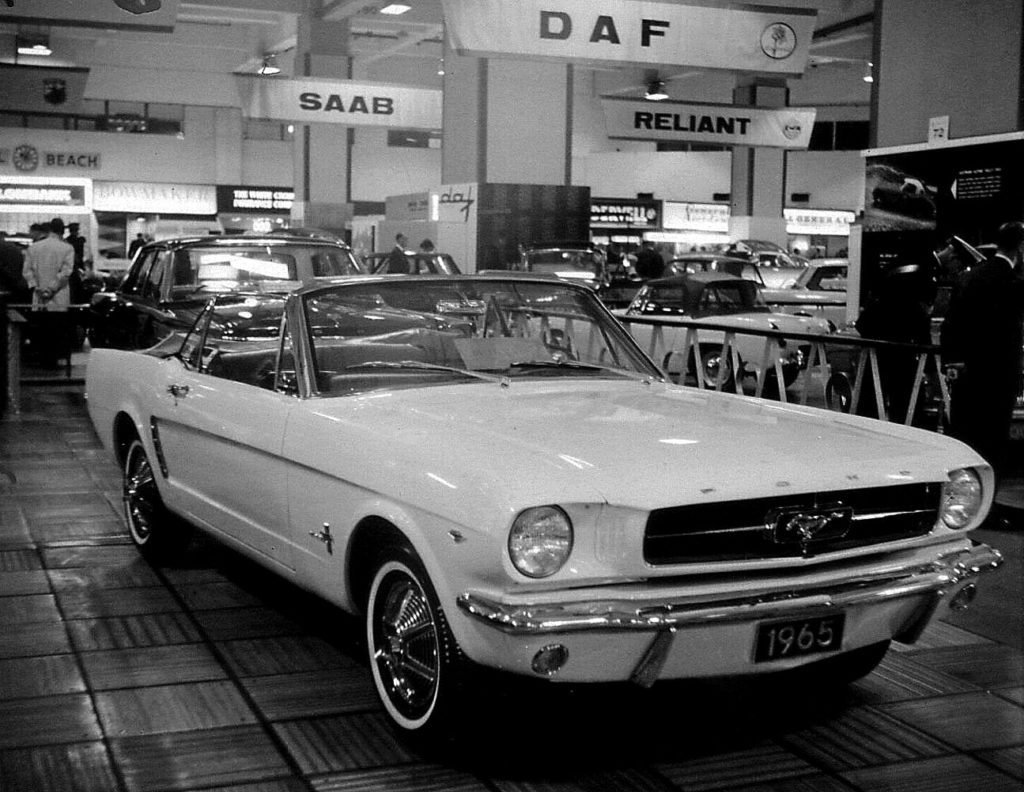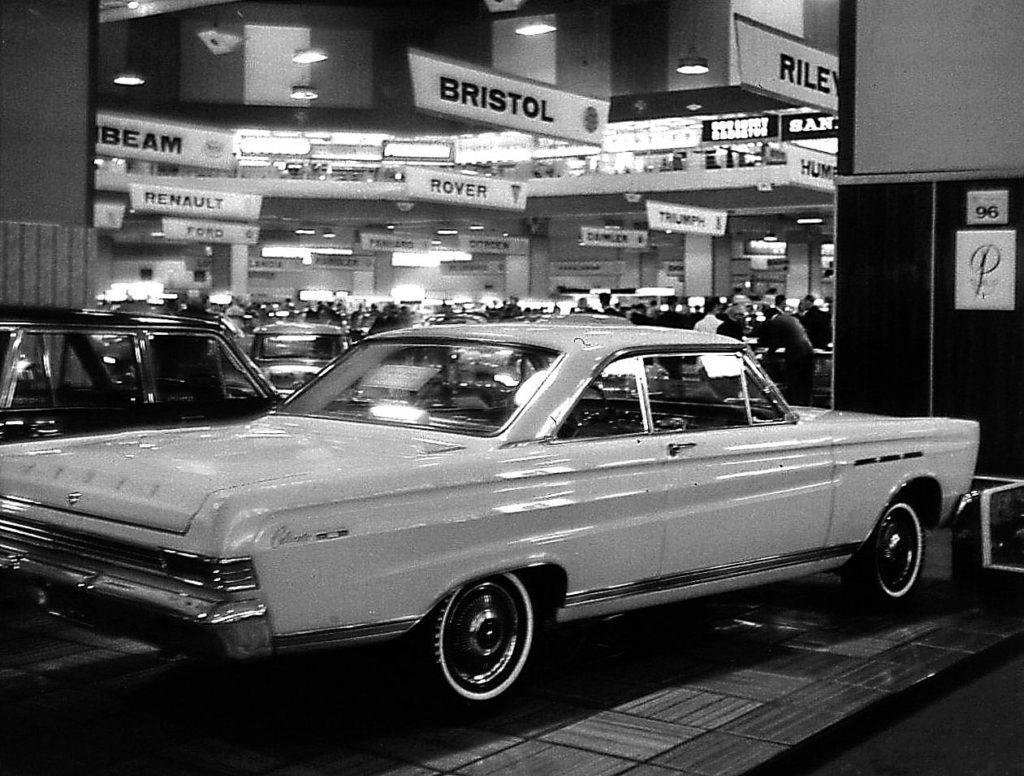 Ford-Lincoln-Mercury models shared Stand 71, Lincoln Cars, in the far corner of the Earls Court Show for 1964. A '65 Mercury Comet Caliente Sports Coupe graced the stand alongside Ford's new sensation, the Mustang, which would prove to be very popular in Britain, but subject to availability. Lincoln Cars, and distributors like Simpson's of Wembley, sold all the Mustangs they could get their hands on. Reputedly, Lincoln Cars had acquired Mustang #4, which became their premier show car at their showroom on the Great West Road in Isleworth. The 1965 Ford line-up would be the penultimate year for Canadian-built right-hand-drive Fords, as Ford of England ramped up their big (by British standards) Zephyr and Zodiac Mark 3 models.
---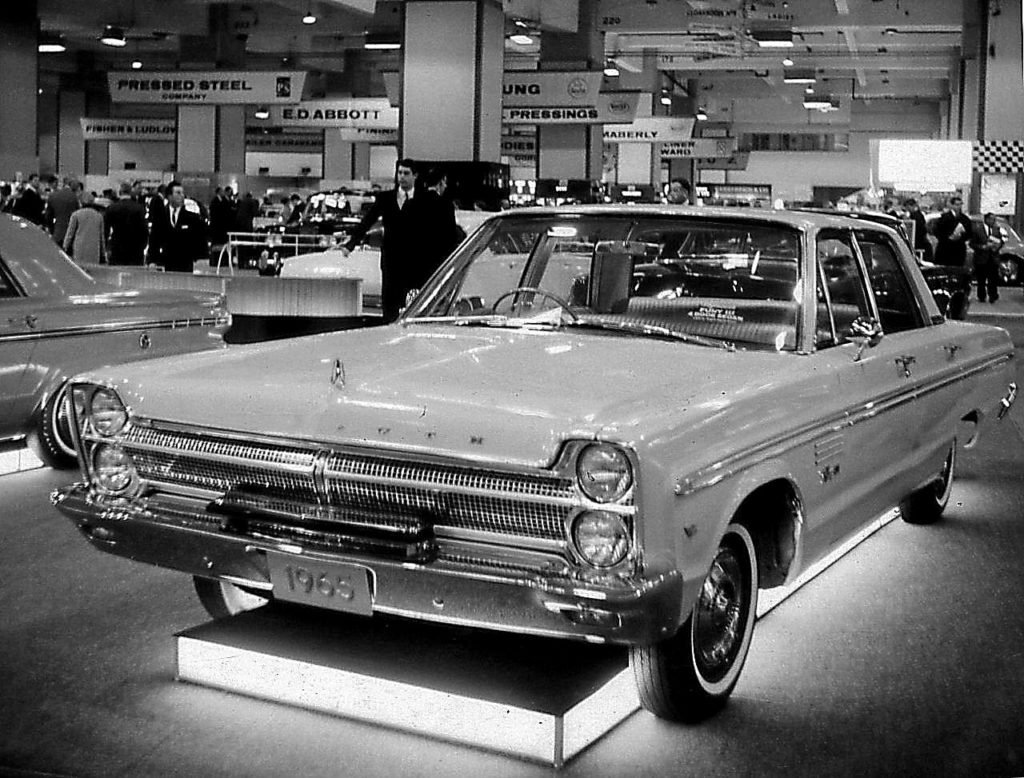 The launch of the Mustang on the UK market was big news, but so was the new 1965 Plymouth Barracuda fastback. Introduced mid-year '64, Chrysler waited until the 1965 models were available before promoting the Barracuda in Britain. For '65, only the fastback coupe version was offered, although there were the same engine options as American home market models: an in-line 225cu in six and two versions of the 273cu in V8 – standard 145bhp and the optional 180bhp 'Formula S' version – all with automatic transmission as standard.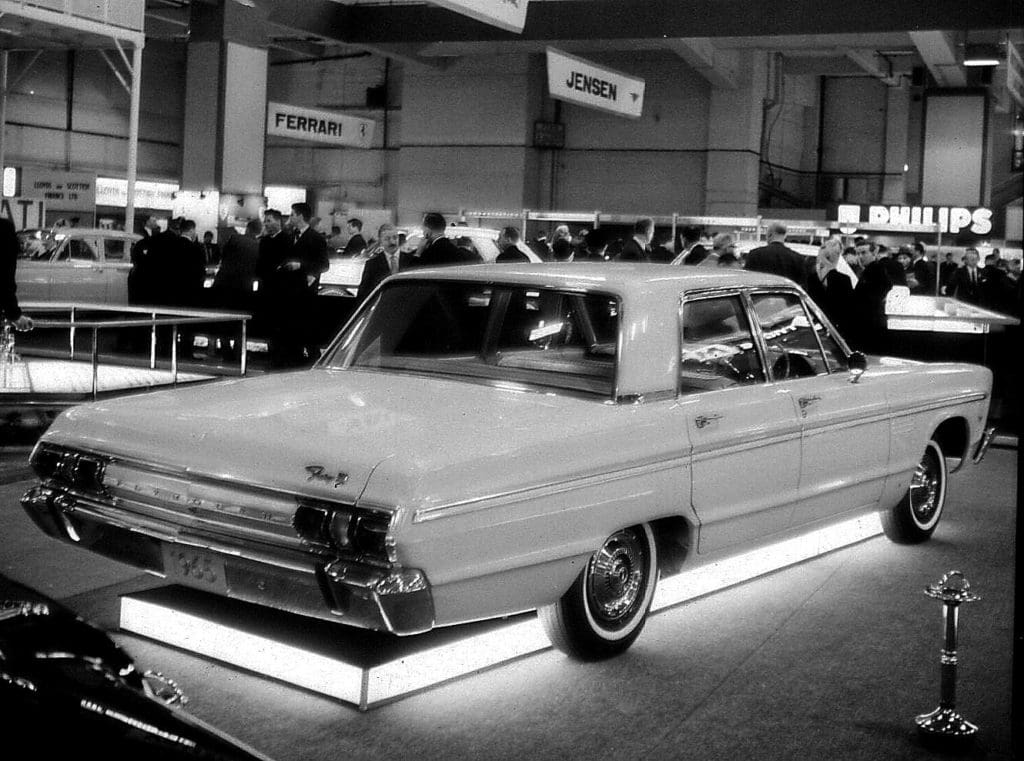 Along with the compact Valiant and full-size Fury models, the Chrysler stand had plenty to offer British customers. All Chrysler-Plymouth models were imported by Chrysler International, administered from their European offices in Geneva, Switzerland, into their works at Kew, Surrey and were available in right-hand-drive form. A separate stand was allocated for the right-hand-drive Dodge range.
---
Celebrations at the 60th London International Motor Show 1965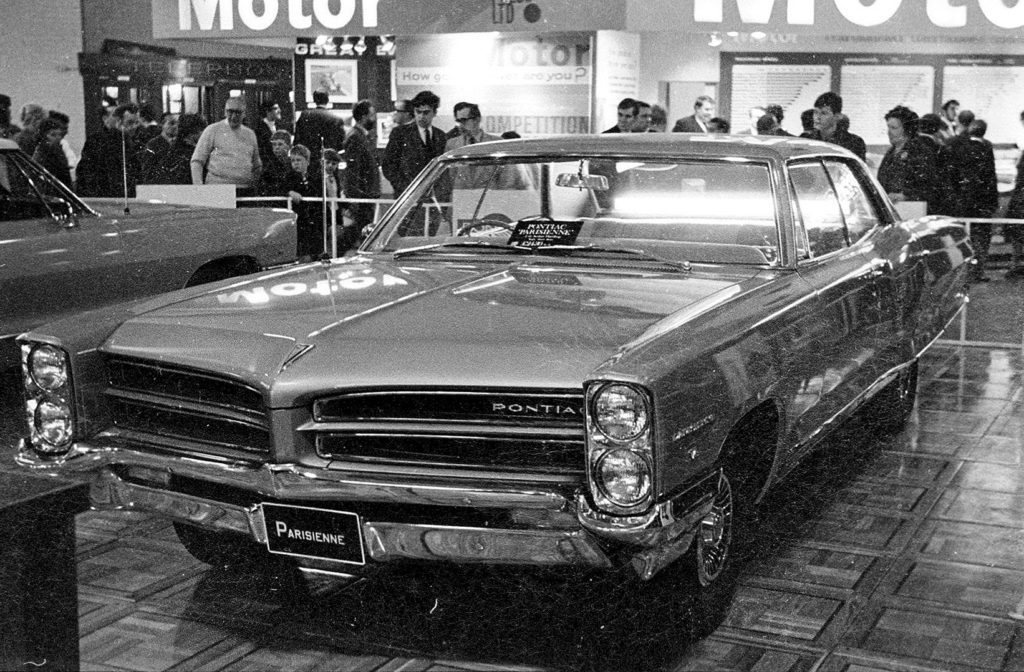 The 1965 Earls Court Motor Show was, by all accounts, quite an extravagant affair as it celebrated the 60th International Motor Show in London, having transferred from Olympia in West London in 1937, where it had been housed since 1905.
The photo of the Canadian-built, Chevrolet-powered 1966 Parisienne convertible on Pontiac's stand is from the Autocar files; Steve Miles captured the Parisienne four-door sedan, and a '66 GTO hardtop was also exhibited.
---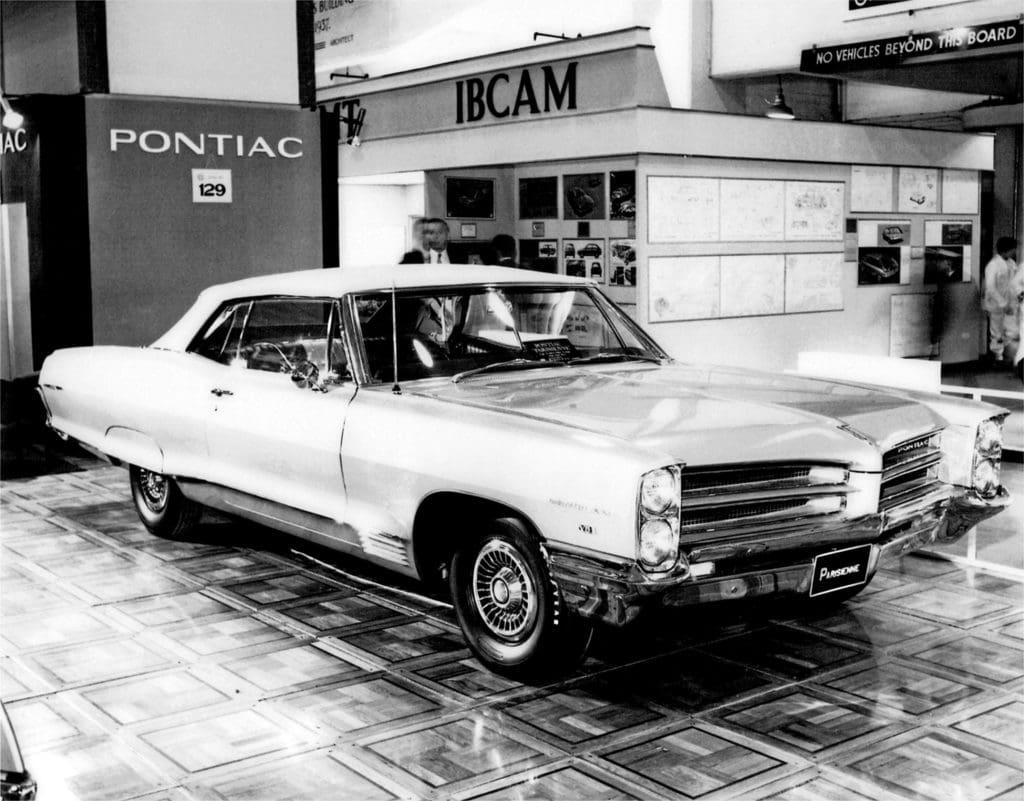 In terms of the number of American and Canadian exhibits, the 1965 Motor Show was perhaps the most impressive showing since the heyday of the American car in Britain in the Thirties. Eleven stands were exhibiting around 30 different models from 16 different manufacturers. Exhibits from all the major manufacturers were present, including Chrysler, Ford and AMC. Even Checker, of New York taxi fame, had a Marathon sedan and a huge 'stretched-taxi' Aerobus on stand 157.
General Motors alone had four separate stands in prime positions near the Warwick Road entrance to the exhibition, with Pontiac, still distributed by US Concessionaires Ltd, occupying stand 129. Oldsmobile were next to it on stand 128. Immediately behind Pontiac was stand 130, dedicated solely to General Motors of Canada products. Next to GM of Canada was Lendrum & Hartman, showing Chevrolet as well as Buick and Cadillac.
---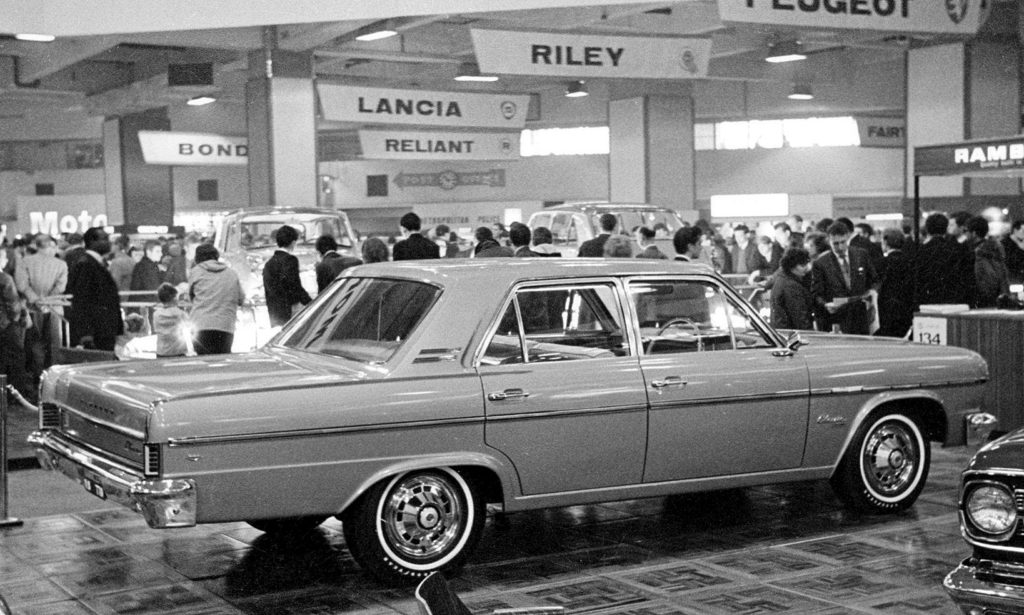 Along one of the two centre aisles, on stand 134, was Rambler, with a selection of Classic 770 models on show; a 770 six-cylinder estate car, a 770 V8 saloon and a 770 hardtop coupe. Rambler had really got their act together by 1965, having introduced the newly styled Classic intermediate to the British public in '64. With a spares and service backup operating from their base at the old Hudson factory in Chiswick, the Classic range found a growing niche from buyers wanting a comfortable, roomy, well-equipped saloon or estate car which was available in either six-cylinder or V8 power, manual or automatic.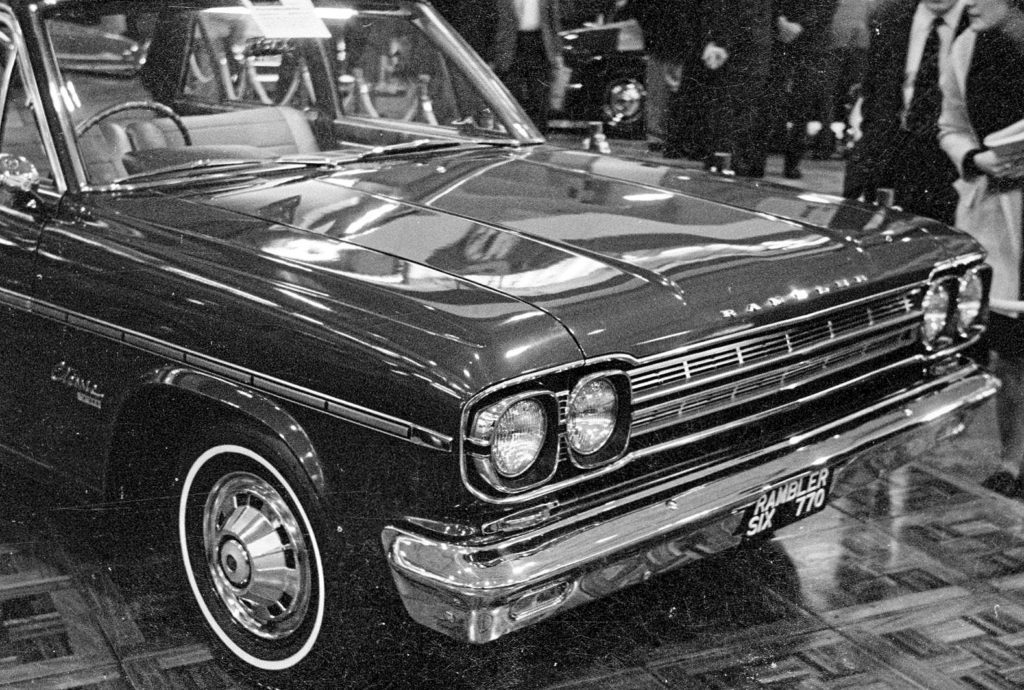 ---
As it was assembled by AMC's Canadian division factory at Brampton, Ontario, import duty was less than an American import, due to Canada being a 'Dominion' country, so prices were very competitive with the few British and European alternatives available. Prices started from £1766, for a six-cylinder Classic 770 four-door saloon with three-speed manual transmission, to £2258 for a Classic 770 V8 convertible.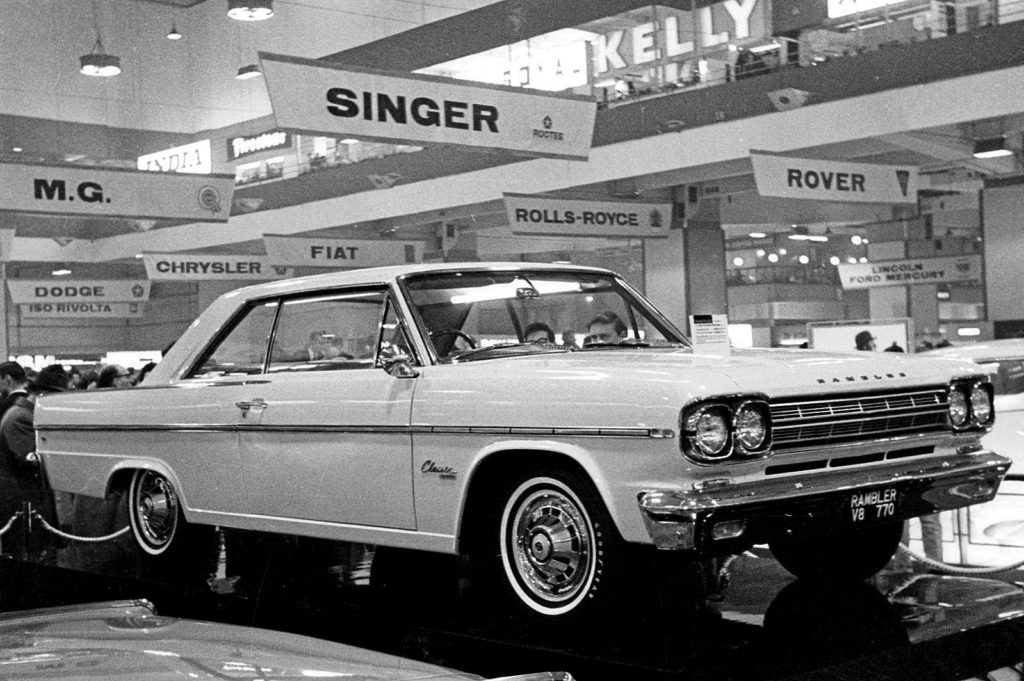 ---
A handsome hardtop coupe version of the Classic 770 completed the Rambler line-up for '66 and was priced just below the 770 convertible at £1954 for the 'six' and £2107 for the 'V8'.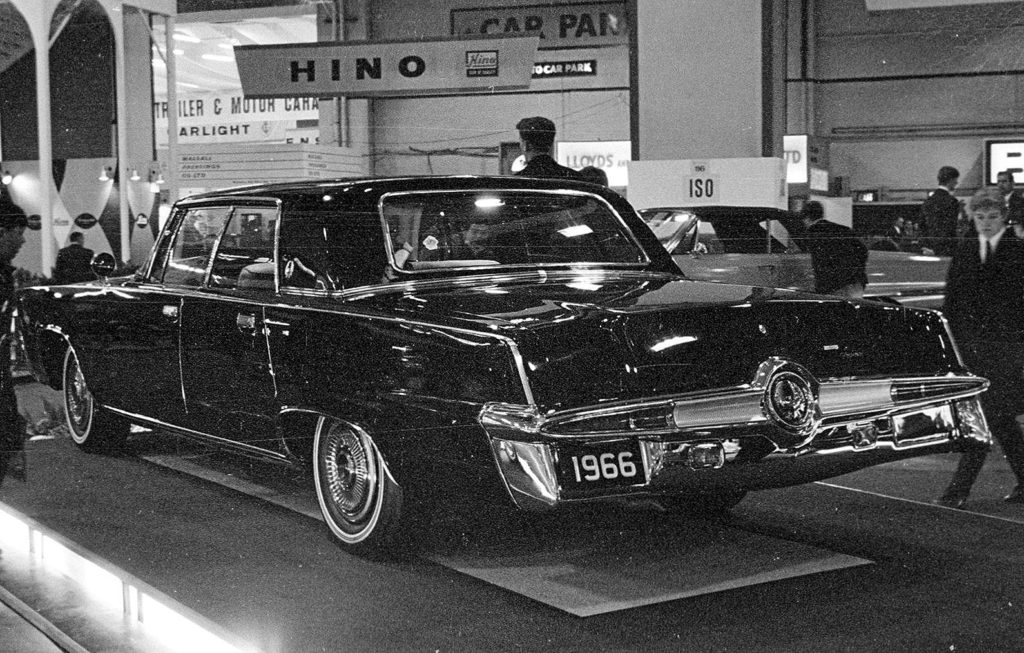 Chrysler products, which included Plymouth and Imperial, occupied stands towards the rear of the main hall, with Dodge on the adjacent stand. In an attempt to give Cadillac, Lincoln, and possibly Rolls-Royce and Bentley, a kicking, Chrysler International decided to go the whole hog and bring in the ultra-plush Imperial LeBaron four-door hardtop. It didn't sell very well; perhaps punters thought it was a Russian Chaika or a Zil.
---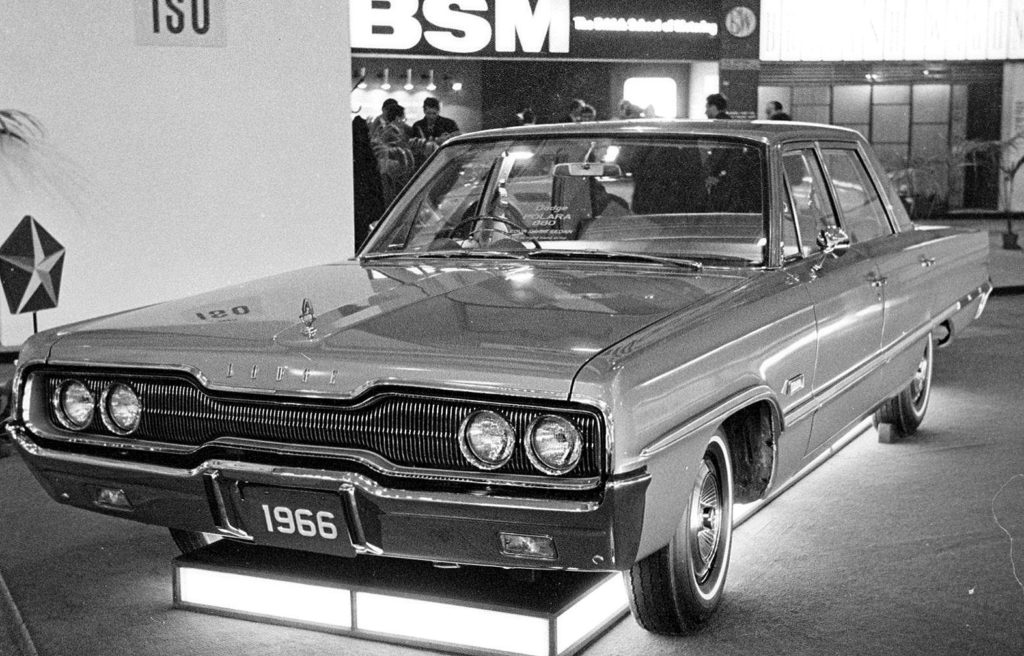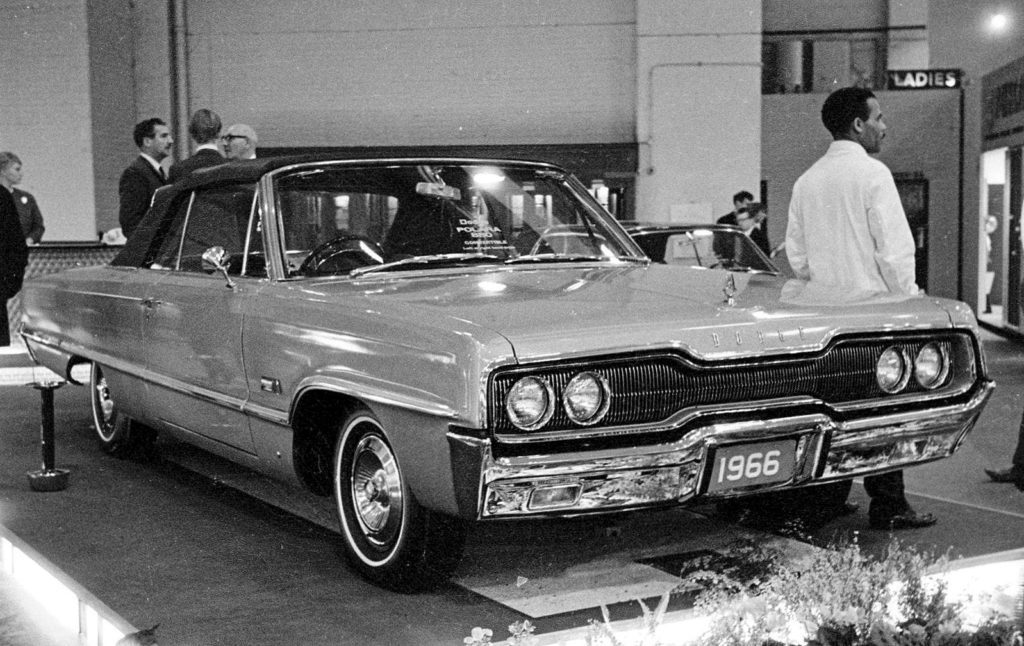 If a Chrysler Valiant sedan was not quite sporty enough for a potential buyer, then perhaps a Dodge Dart GT two-door hardtop conveyed more of the right image. Dodge full-size examples on stand 115 were represented by a pair of right-hand-drive Polara 880 models – a convertible and a four-door sedan.
---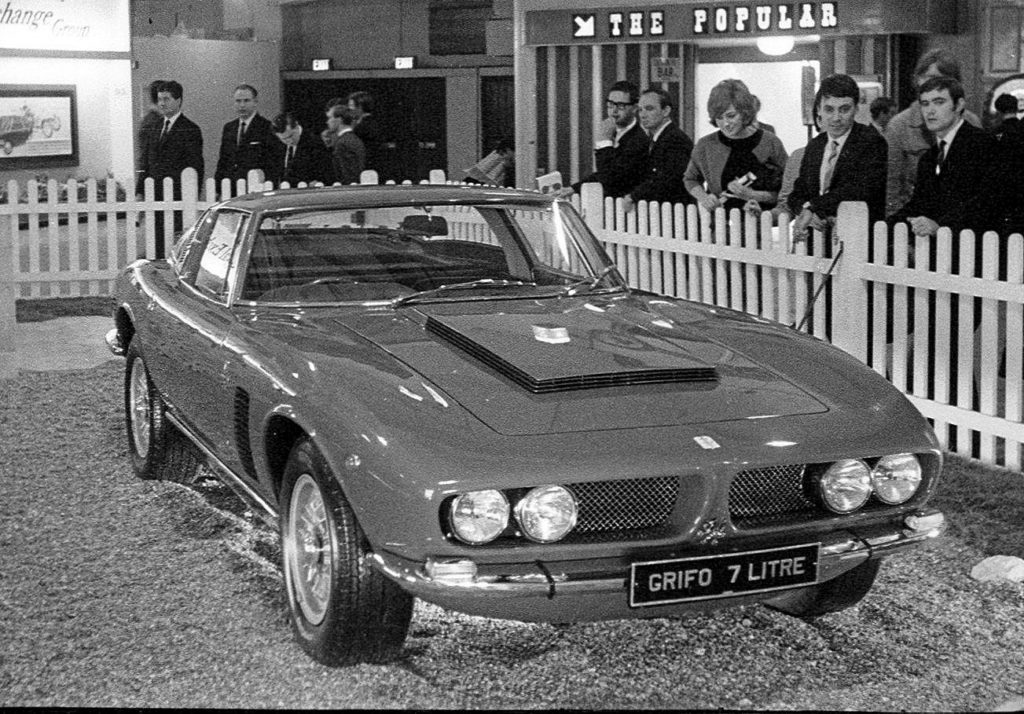 It may not have been an American-built car, but the beautiful Bizzarrini-designed Iso Grifo did have Corvette power and GM transmission. Ford took over the powertrain duties in 1973.
---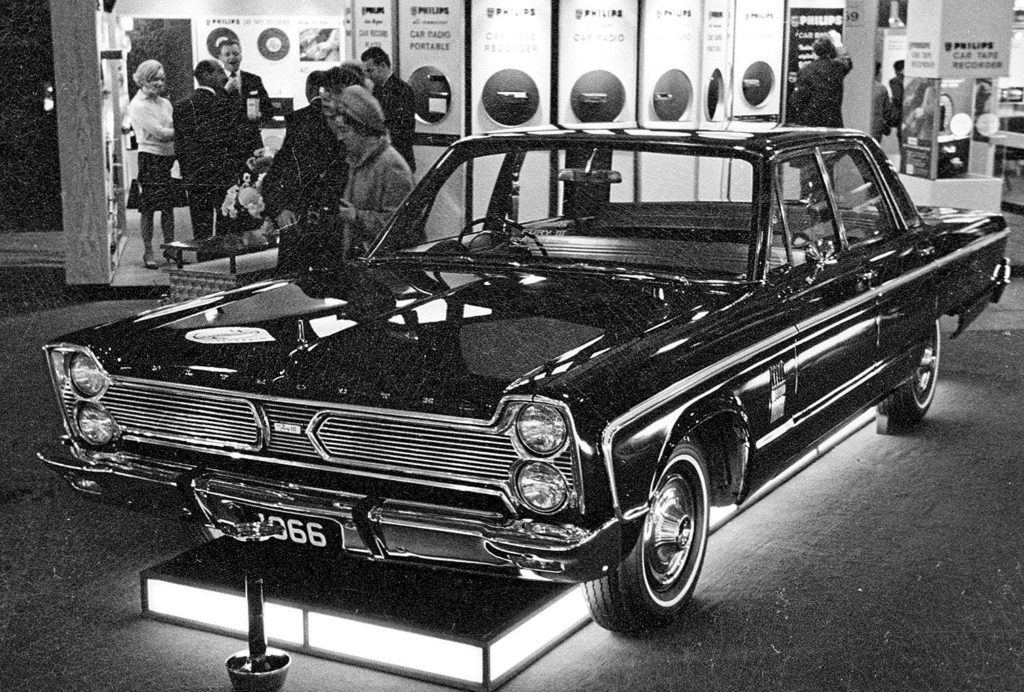 A Canadian-built 1966 Plymouth Fury four-door sedan sits with the Imperial on the Chrysler stand. A Valiant Custom 200 four-door sedan, a New Yorker hardtop and a Barracuda fastback completed the Chrysler International line-up on stand 114.