The eleventh annual British Drag Racing Hall of Fame Gala Awards Dinner, held on 19th November at the Sheraton Skyline Hotel, Heathrow, was a wonderful occasion at which stars of the sport in the UK were joined by music and drag racing legends from the US. The Gala has taken its place as one of the leading motor sport presentation events in the world and the BDRHoF would like to acknowledge all who made it possible.
The evening included the induction of four new members of the BDRHoF, presentation of the Sydney Allard media awards, a re-presentation of the 2016 International Drag Racing Hall of Fame Award to a legendary UK racer, the Lucas Oil Global Achievement Award, the first presentation of the NSRA/BDRHoF Global Impact Award, special presentations for two living legends of hot rodding and drag racing and the creation of a new role for overseas supporters of the BDRHoF – Honorary International Ambassadors.
The worthy inductees of the British Drag Racing Hall of Fame were SPRC Club Secretary and doorslammer racer Paula Marshall, engine builder, tuner and crew chief Rob Loaring, US racer and pioneer of the sport in the UK Bob Keith and the UK's first permanent drag racing facility celebrating its half century of operation, Santa Pod Raceway. Paula's trophy was accepted by Ian and Holley Marshall (pictured), Bob's by Lee Keith and Chris Goodnight and Santa Pod's by Keith Bartlett and Roy Phelps. Trophies were sponsored by the Santa Pod Racers Club.
The Sydney Allard media awards, for photo journalism and written journalism, went respectively to photographer Julian Hunt for his photo of Bob Hawkins' blown and injected slingshot dragster Time Traveller's fire burnout, and to Brian Taylor for the magnificent 2015 Hall of Fame programme – only to be topped by the 32 page 2016 programme. This year the trophies were fittingly sponsored by Mintex – a company that sponsored the first UK Drag Festivals back in 1964 and 1965 – in association with Octane Magazine and the Guild of Motoring Writers.
A very special re-presentation of the 2016 International Drag Racing Hall of Fame Award went to former Top Fuel Dragster and Funny Car racer Dennis Priddle, a member of the BDRHoF and pivotal figure in encouraging many other racers to raise their game by providing them with equipment and advice. The Lucas Oil Global Achievement Award was presented to Steve Gibbs, the former Board Member and Vice President – Competitions of NHRA. It was awarded for the crucial role played by NHRA and its employees in organising, governing and growing the sport of drag racing throughout its sixty five years of existence.
The Global Impact Award was presented to David Lee Marks of the Beach Boys by broadcaster Mike Read for their considerable contribution to drag racing and hot rodding culture across the world. Their music inspired more than a generation of car enthusiasts and their concerts over a period of fifty years have continued to drive passion for the sport.
Article continues below…
Advert
Surprise trophy presentations went to Ed Iskenderian for his development of racing camshafts, pioneering corporate sponsorship in motor sport in the 1950s and helping to create the Specialty Equipment Market Association, and Ron Hope, pilot of the Rat Trap Fuel Altered and long time Bonneville Land Speed Record racer, for his racing achievements around the world. They were joined by other legends Bob and Sharon Muravez, Traci Hrudka, Eileen Daniels, Fred Miller, Carl Olson and Donna Garlits who, with Ron, were awarded the status of Honorary International Ambassadors of the BDRHoF. US legends Paula Murphy and Don Schumacher were present and accepted the applause of the 280 people present for their pioneering Funny Car match races held in the UK in 1973.
The Gala day also included the second Beech Underwriting Bench Racing Session with the guest American and British racers and personalities telling stories about their past exploits, with questions from the floor. The sessions were introduced by Bob McClurg, leading drag racing photojournalist for almost fifty years. Bob signed posters and copies of his book
On display during the evening, to celebrate their respective owners' awards and their memorable races during the year at Santa Pod were two Fuel altereds, Rob Loaring and Nick Davies' Havoc, to be racing in the US in 2017, and Ron Hope's Rat Trap.
Article continues below…
Advert
The event would not have been possible without practical help and support from sponsorship partner Beech Underwriting Agencies, major sponsors US Automotive and Santa Pod Racers Club, and event sponsors Lucas Oil Products UK, DialAFlight, Institute of Professional Drivers, National Street Rod Association, Atlantic Fluid Tech, Rat Trap Racing, Aptitude, Mintex and Prop Portfolio. Thanks also to the Pennine Drag Racing Club; Eurodragster.com; Avon Park International Racing Association for their support.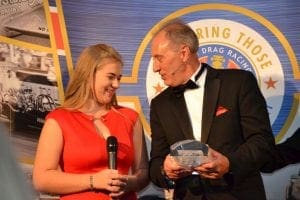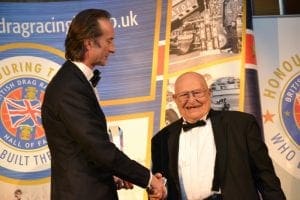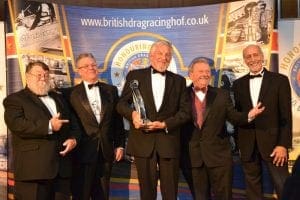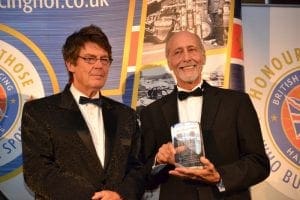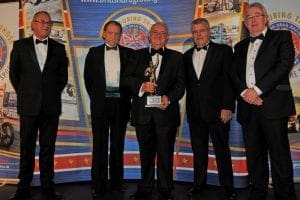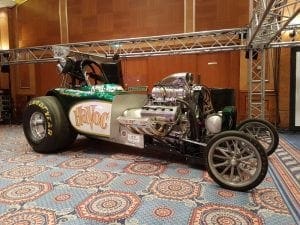 Make a date for the 2017 event on Saturday 18th November at the Sheraton Skyline Hotel, Heathrow, and don't miss out on a great day of racing nostalgia.
Photo credits:
Steve Gibbs with (from left) Bob McClurg, Stu Bradbury (Chair of BDRHoF), Steve Gibbs, Les Downey (Lucas Oil UK) and David Marks – Eurodragster.com
Holley and Ian Marshall – Eurodragster.com
Dennis Priddle (centre) with (from left) Brian Savidge, Harry Hibler, Ed The Ace McCulluch and Phil Pead – Andy Willsheer
David Marks (right) with Mike Read – Eurodragster.com
Ed Iskenderian (right) with Lord Onslow – Eurodragster.com
Havoc Fuel Altered – Eurodragster.com