Phil acquired his 1960 Chevy Biscayne with the intention of a full restoration. However, like many best-laid plans, it didn't quite happen that way and now Phil is totally taken with his Biscayne's rough 'n' ready patina'd finish.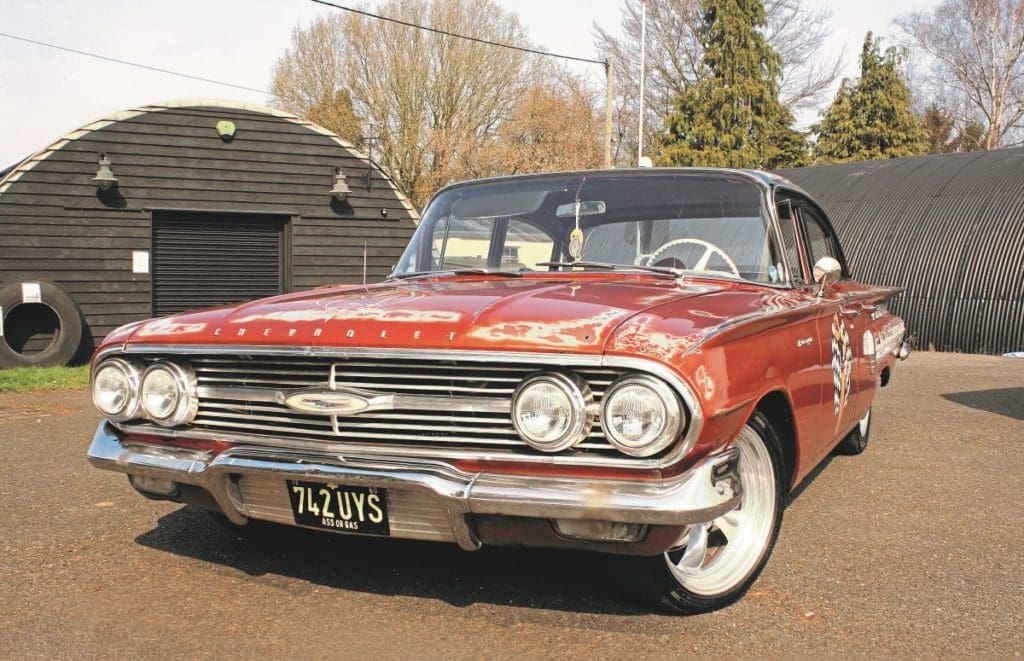 Words and photography: Paul Bussey
The Biscayne was originally produced for the fleet market and was effectively a no-frills model, available as either a two-door or four-door model. Price in 1960 with all the options fitted was $2423. In 1960 there were 287,000 Biscaynes built and most were sold with the 135bhp, 236cu in Blue Flame straight-six engine, coupled to a three-speed manual gearbox. There were other engine/gearbox options as upgrades, which often put them into the same price bracket as the slightly higher specification intermediate Bel-Air and the flagship Impala model.
The main differences between the Biscayne and the Impala were only superficial items, like less exterior trim/brightwork; and with the interior, where the seats and carpets were not as plush. There were no power-windows or power-seat options and fewer in the way of driver comfort options. The most obvious external difference, apart from the lack of trim, is that the Biscayne and Bel-Air only have two tail-lights out back, versus the three on the Impala. Over the years, most enthusiasts have craved the two-door coupes or convertibles as being the more desirable models and consequently many four-door cars were either scrapped or used for banger racing, which has meant the four-door models have actually become relatively rare nowadays.
Phil King is an enthusiast who seriously loves his Yanks and in addition to his 1960 Biscayne, he also runs a much-modified 1958 Chevrolet Apache pick-up truck. His Biscayne was purchased new by Hilda and Raymond Miller of Newmanstown, Pennsylvania. Phil acquired the car about two years ago from south-west London, with the original intention of completing a full restoration to concours standard. However, like many best-laid plans, it didn't quite happen that way and now Phil is instead totally taken with his Biscayne's rough 'n' ready patina'd finish, which is becoming so very popular.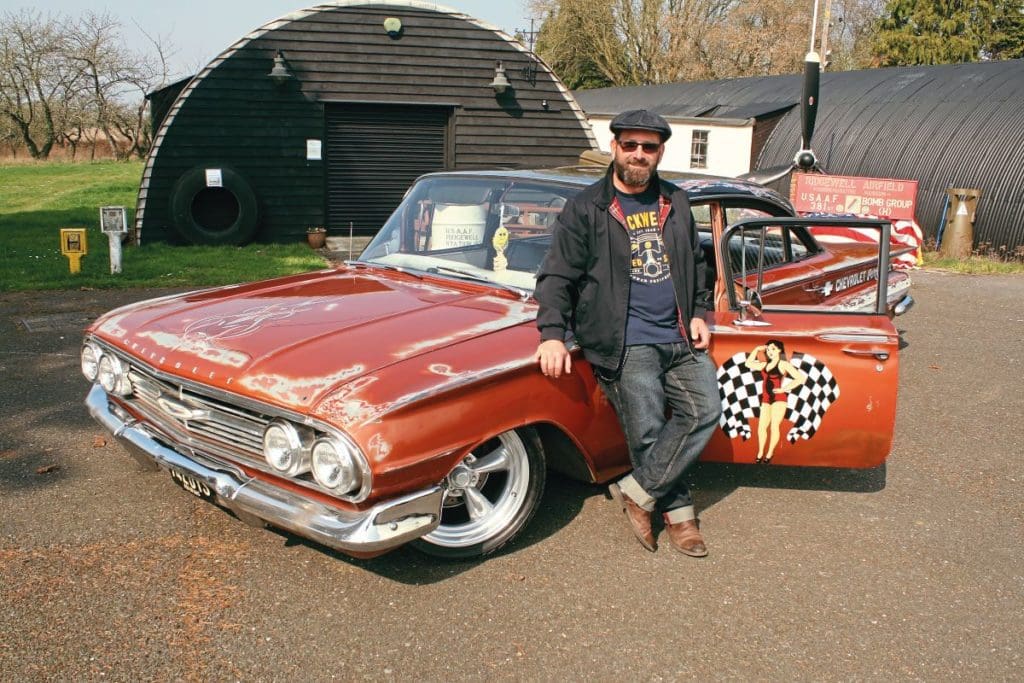 "I didn't test-drive the car prior to purchase and on the journey home, it became apparent that all was not well with the air ride suspension and we kind of pogo-sticked our way back to north Essex," he grins. "It appeared that the car required some major upgrades to get the ride and power up to scratch, but for all its faults, we did make it back home in one piece, after a fashion. Overall, the bodywork was pretty sound and I actually began to like the burnt orange paintwork, so much so, that the concours route soon went out of the window. The car currently runs its original stock engine and transmission and sits on 18-inch American Racing alloy wheels, shod with 235/40 tyres on the front and 235/55s on the rear."
Phil became even more enthusiastic about his patina'd Biscayne following the custom artwork on the doors and rear quarter panels, which was inspired by an old period photograph and applied by Sam Trench. Further pinstripe artwork was courtesy of Neil Melliard, with a kind of 'double-bass-meets-Tiki' design on the bonnet and bootlid, cleverly using gold leaf in places. "Neil Melliard's skills are very much in demand and the waiting time for him to pinstripe the Biscayne was around six months," explained Phil. "The roof, bonnet and boot lid were then sprayed with clear lacquer to ensure longevity, while the rest of the existing original paintwork was waxed for protection.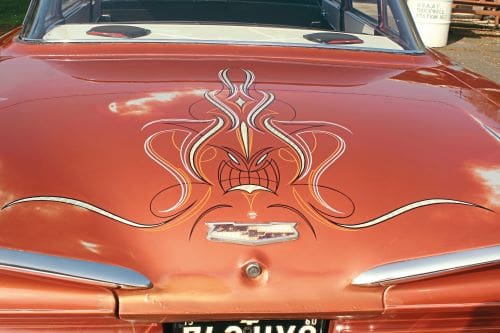 "Since owning the car, I have completed substantial upgrades and modifications, with all mechanical fabrication and paint-tidying entrusted to Colin, Ben and Richard at the Mill Lane Speedshop in Finchingfield, Essex," (01371 811123) continues Phil. "The front drum brakes have now been upgraded to 11-inch drilled and grooved discs, with a power booster and brake master-cylinder and a proportioning valve to facilitate the existing rear brake drums. The wheel cylinders, brake shoes, pipes and lines have all been replaced, along with all steering joints, suspension bushes, ball joints and dampers."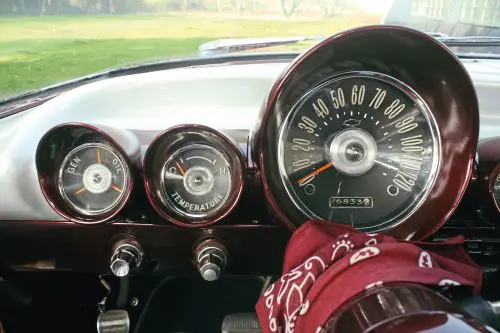 Phil opted to go down the route of air ride suspension and a full digital level 4 Air Lift Performance Air Ride system with Bluetooth connectivity for smartphones has been installed. The latter allows Phil to change the ride height remotely from outside the car. The system incorporates BC Fabrication airbag brackets and a front damper relocation kit, 3⁄8th air lines to allow faster levelling, dual batteries and compressors connected to a custom-painted and pinstriped air tank mounted in the cavernous boot.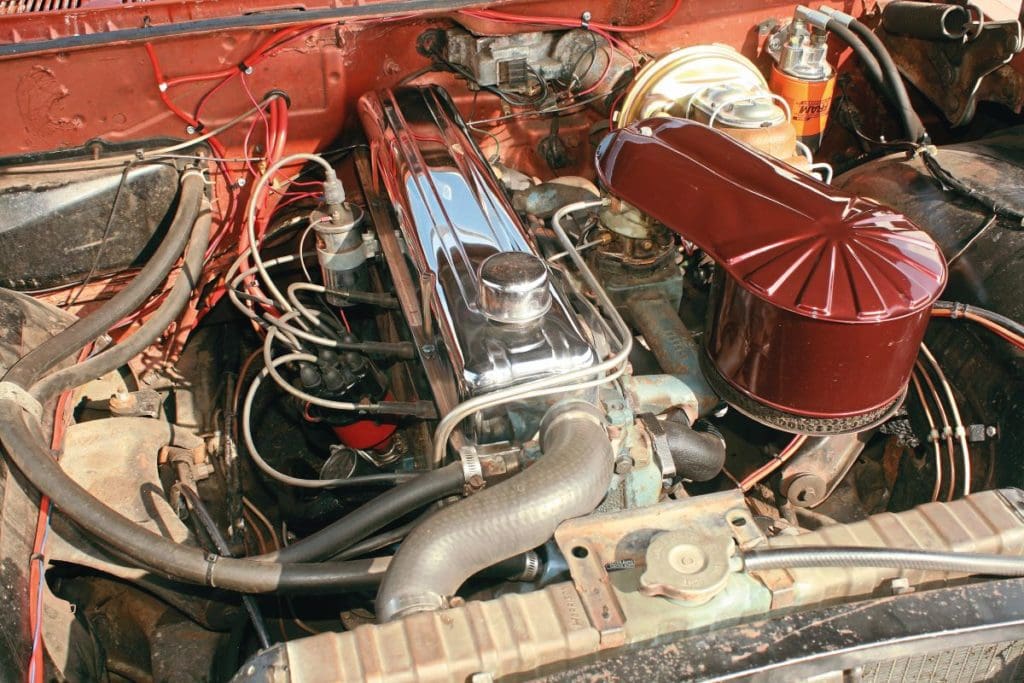 The 236cu in Blue Flame straight-six engine is thought to be original and work completed under the bonnet has included fitment of a new Rochester factory standard carburettor, a custom oil filter relocation kit, stainless steel side valve cover, chrome timing and rocker covers, a Pertronix Ignitor 2 electronic ignition system and custom-painted air filter housing.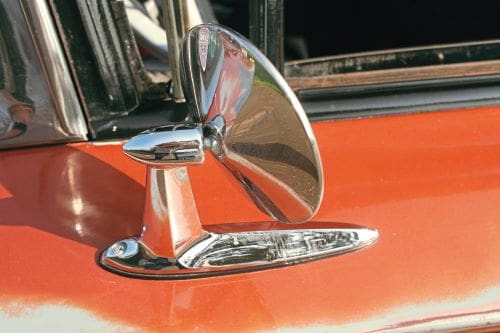 Turning his attention now to the Biscayne's interior, which was pretty much original other than a whole succession of holes cut in the rear parcel shelf, housing many different speakers over the years, Phil decided to retain the seat fabric, but to fit Mexican blankets over the top. This is a simple, tried and tested quick fix to ensure you don't stick to the vinyl panels on the hottest of summer days. The dash top and instrument pods, along with all the door cards, cappings, steering wheel and window trims, have been painted in Pearl White and metallic Burgundy (Garnet Red metallic).
The replacement rear parcel shelf is custom-made with beading and paint, to complement the rest of the car. The radio surround in the dashboard was also custom-made to allow a modern head unit to fit in the curved section and although you can't see them, the front speaker pods have been custom-made to fit into the holes in the kick panels, where the air vents were placed originally. The original carpet was pretty tatty and worn, so that's been replaced also.
The new ICE (in-car entertainment) system includes a Pioneer active sub-base unit fitted behind the rear seat, which is coupled to Vibe Slick speakers, which gives a good all-round sound. Fine attention to detail also includes a small reversing camera that's been installed into the rear number plate, which is connected to the DVD head unit. Underneath the car are numerous colour changing LED strip lights with a remote digital controller, only really visible in the dark. With security in mind, Phil has also fitted a monitored tracker, so at any time he can track the movements of the car and in the event it should be stolen, see where it's parked, while receiving live updates of any unauthorised movement.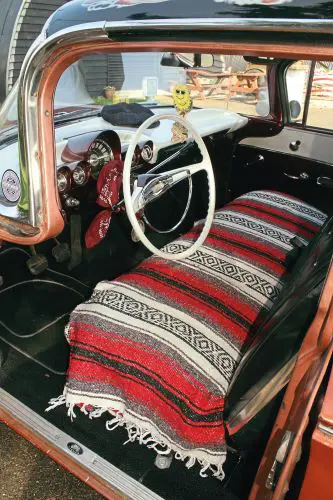 "With the Biscayne fitted with the air ride suspension system, the handling is really quite delightful, offering a floating kind of ride quality rather than wallowy," Phil enthuses. "The car is still a bit of a work in progress and next on the agenda is to tidy the bodywork up further, mainly the lower extremities and to replace the floorpans, perhaps later in the year. Old cars always require work and a little fine fettling, as enthusiasts will be only too aware."
Phil's Biscayne certainly attracts attention wherever he goes. A little patina, some artwork and pinstriping, plus the low ridin' stance, conjure up a unique and interesting look, which have certainly given this Sixties' American classic a new lease of life.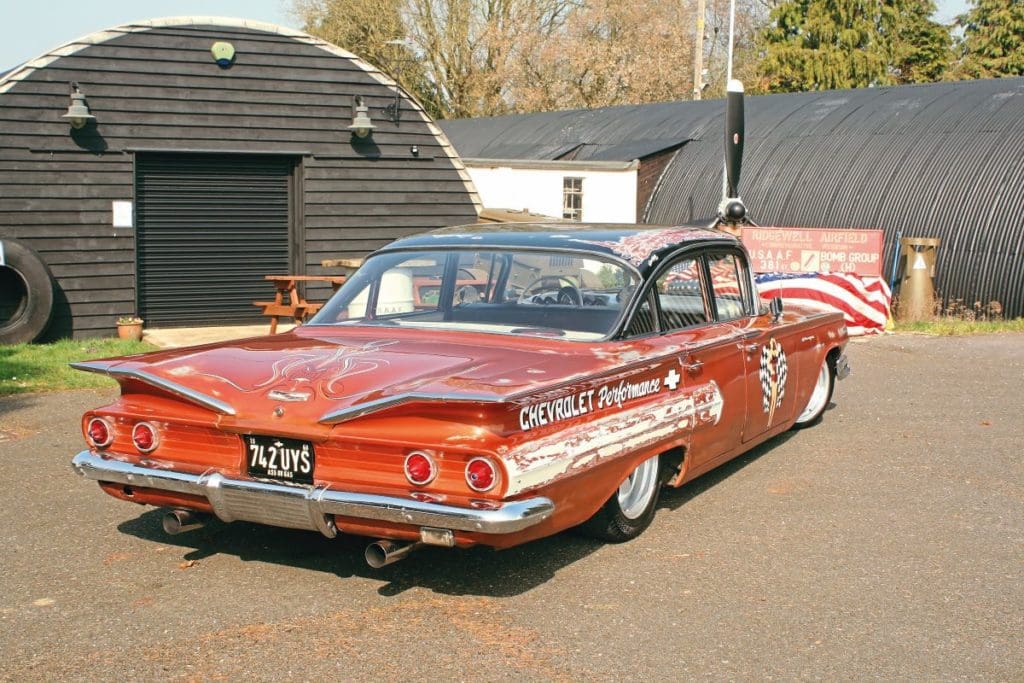 Photographic location by kind permission of Ridgewell Air Field Commemorative Museum, Oaker Hill, Ridgewell Road, Great Yeldham, Halstead, Essex CO9 4RG. www.rafcamuseum.co.uk