Mopar EuroNationals, Santa Pod Raceway, Northants,
29-31 July 2016    
Words: Tony oksien, Photography: John Kennedy/Tony Oksien
What a difference a year makes. The 23rd Mopar Euro Nats,  held over the last weekend of July, had three days of fun, sun and monster muscle cars making for an amazing weekend for any American car petrol head. The enthusiastic crowd were treated to some of the closest racing, outstanding show cars and, as always, the quirky mix of unusual machines that turn up on a yearly basis. With a large contingent from mainland Europe in the mix, a wonderful laid back atmosphere and some stonking bands played every night and in the car corral Sunday the long weekend flew by.
As in previous years Friday was set-up day, with Top Sportsman racing on the track. The event was fully open from 12.00pm to 7.00 pm for 'run what you brung' competitors, whilst Paul Marston took centre stage on the mic, keeping everyone entertained 'til the cruise left the track. This year the cruise cars went to the nearby Billing Mill, which is located by the side of a lake, with plenty of parking available. The first trophy of the weekend went to Shaun Henstrige and his loveable 1969 Plymouth wagon. Everyone returned and band Neon Valley cranked out a blistering set 'til midnight.
For the past couple of years, Saturday has been Pro Mod day; these ultra-quick cars run a series through the summer at various European tracks, with virtually all cars running in the low sixes it is really drag racing at its most competitive. The car coral filled up with some really exotic muscle cars: no less than a '69 Hemi Daytona four-speed tribute in white with a red tail stripe. The day came to a close with Rock of Ages playing a scorching live set. As the weekend progressed, more and more folks were intrigued with the latest Tim Holmes creation, an altered wheelbase Dodge Polara, sitting with its front end high in the sky, an amazing feat of engineering and harking back to the good ole days of Gassers, talking of which the Gasser Circus kept the spectators  amused all three days.
So, onto Sunday which is always considered the main event, mainly for the huge amount of show cars and the track finals, which also take place then. Sunday also boasts the amazing burn-out Contest where competitors have just 30 seconds to fry their rear tires on the start line in front of a baying crowd. The winner was judged by a hand-picked bunch of rubber smoking aficionados and included a special guest, the legendary Sylvia Hauser. The lucky winner walks away with a cash prize, a trophy and two brand-new tires courtesy of sponsors Challenger Tires of Sheffield. This year's delighted winner happened to be Scott Carter from Surrey with his 1970 Plymouth Satellite.
This year's bash also hosted the UK Viper Club's 20th Anniversary celebration, with a host of Dodge Vipers from all over the country and Europe descending on Santa Pod. With their own area set aside in the corral on Sunday they made for quite a sight. Modern muscle rubbed shoulders with 'old skool' traditional performance at the Euro 'Nats, as all the latest offerings from Shelby, Challenger Hellcat and Camaro could be found either on the track or in the corral, giving the show a unique blend of automotive diversity.
The Straight Aces, a three piece Rockabilly band kept everyone entertained as the crowds flocked around the muscle cars on display. From the Monteverdi collection Martin Saville of RPM brought along a gorgeous 1970 440 six-barrel Plymouth 'Cuda convertible finished in black and white; the car is remarkable and extremely rare as it is an auto' and one of only 12 built. On the subject of outstanding muscle cars Ron Smith an American service man turned up in an eye-catching 1968 327cu in powered Camaro RS and his wife drove their giant 2015 Dodge Ram to the show.
Sunday afternoon is always prize-giving time as the Show cars and Race cars receive their accolades with Sylvia Hauser presenting the trophies. This year has been re-named "JC" day in honour of John Castleman, who took an unprecedented three trophies for his stunning Plymouth Superbird which recently emerged following a 20 year plus re-build, winning the Winged Warriors trophy, Classic American heat of the year and scooping the prestigious Best in Show title. John's 'Bird is a very worthy winner, as is John himself who has championed the cause of muscle cars throughout his career. This car will be on display at the Classic American stand during the NEC Classic Motor Show in November, so make sure you check out this six-barrel Bird – it really doesn't disappoint!
Fastest car over the weekend went to Michael Touren with his Pro-Mod Barracuda crossing the traps at 236.41 mph with a time of 6.074 secs – unbelievable! Out on the strip many folks achieved personal bests as the track befriended well prepared cars, a particular achievement went to Don Scot who dipped into the nines with his Petty Blue Superbird. After last year's rain affected the show, the Mopar EuroNats is back on track, alive and kicking – there might be other shows which clash with this one, but for the real American muscle fans, this event remains at the top of the list. Next year's show dates are 28.29.30 July 2017. Get it in the diary!
Footman James Car of the Year
The Mopar Euro Nats saw Round Six of the Footman James Car of the Year. One car that made quite an impact when it rolled in was John Castleman's Plymouth Roadrunner, a car he's owned for almost three decades and spent the last 8 years restoring. He has replaced many of the car's panels, floors, rear quarters, door skins… in fact there's not much remaining of the original car. With its 440 six pack motor, nose cone and winged spoiler, this is the ultimate Mopar muscle car. Make sure you see it in the metal on the Classic American stand at Classic Motor Show at Birmingham's NEC, over the weekend of November 11-13th.
Prize Winners
BEST IN SHOW    JOHN CASTLEMAN 1970 PLYMOUTH SUPERBIRD
WINGED WARRIORS   JOHN CASTLEMAN 1970 PLYMOUTH SUPERBIRD
MOST ORIGINAL MOPAR GARY SNELL 1961 CHRYSLER NEWPORT CONVERTIBLE
BEST RESTIFIED MOPAR GARY BELLAMY 1972 PLYMOUTH SATELLITE
PARTICIPANTS CHOICE DAVE HILLS 1968 PLYMOUTH SATELLITE
BEST MODERN MUSCLE KEVIN HANCHANT 2014 DODGE CHALLENGER SRT BEST GM RON SMITH (USA) 1968 CHEVROLET CAMARO RS
BEST HOT ROD  JIM SIMKINS  1934 FORD ROADSTER
BEST VIPER MARK KIDMAN DODGE VIPER GTS-R OLD TIMER CHRIS DENTON 1939 DODGE PICKUP
CLASSIC AMERICAN HEAT WINNER JOHN CASTLEMAN 1970   SUPERBIRD
SYLVIA HAUSER CHOICE GLYN BIGGS 1968 DODGE CHARGER R/T
BEST CRUISE CAR SHAUN HENSTRIGE 1969 PLYMOUTH WAGON
TOP FIVE
PETER CROFTS 1969 PLYMOUTH SATELLITE
JOHN PETO 1969 DODGE DART
ED AND ROB YELLOTT 1964 DODGE DART GT
STUART VEAR 1975 CHEVY STEPSIDE TRUCK
PRESTIGE BODY SHOP 1970 DODGE CHARGER
RACE WINNERS
MODERN MUSCLE  JONATHON MARTIN DODGE VIPER 11.28
STOCK APPEARING  1970 GTX DAVE BILLADEAU 13.79
PRODUCTION MOPAR ANDY CORRUTHERS 13.97
MODIFIED PRODUCTION  ADAM NOVAK 10.92
KING OF STREET BRI WOOD 9.72
UNLIMITED KING OF STREET MAG BAILEY 8.92
FASTEST MOPAR MICHAEL TOUREN  BARRACUDA  6.074 AT 236.41 MPH
MMA AWARDS
PAUL WORROW MEMORIAL CLASS
ANDY ROBINSON 1968 DODGE CORONET R/T  9.8 SECS 135MPH
CLASH OF THE A BODIES
BIG BLOCK MARK BAILEY 1968 BARRACUDA  8.92 SECS  147MPH
SMALL BLOCK/6 CYLINDER
DAVID GRAY CHRYSLER CHARGER 16.23 SECS 82 MPH
MMA AWARD SPIRIT OF THE NATS   DAVID GRAY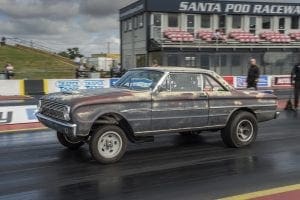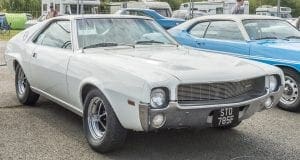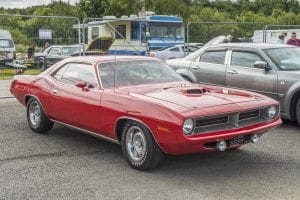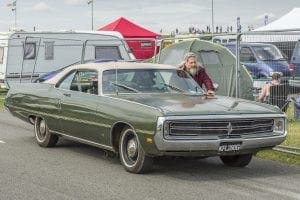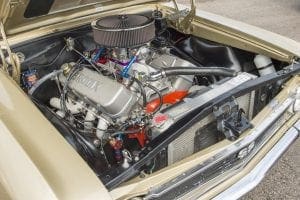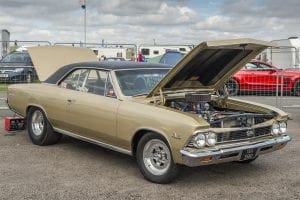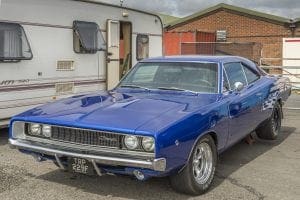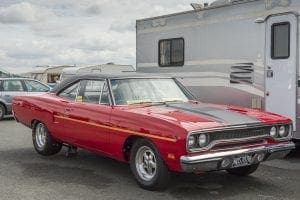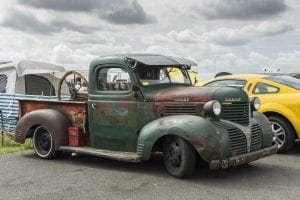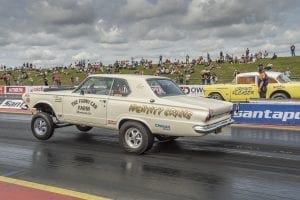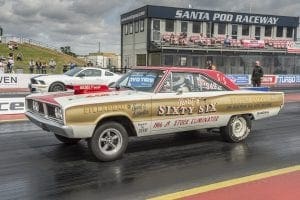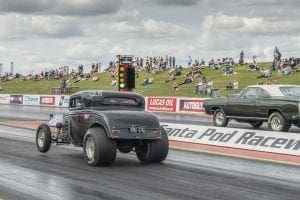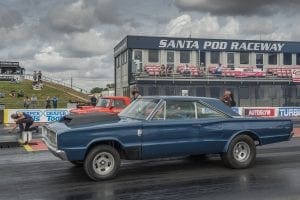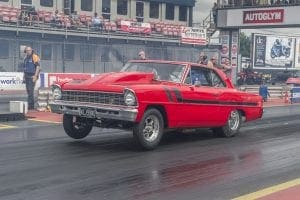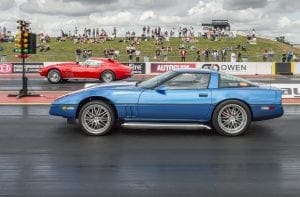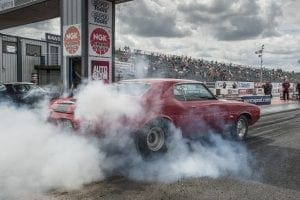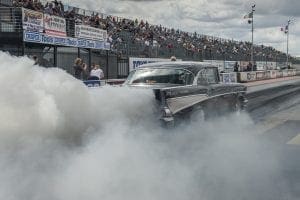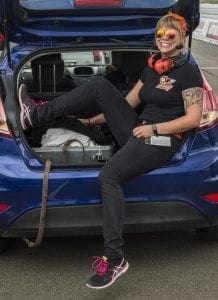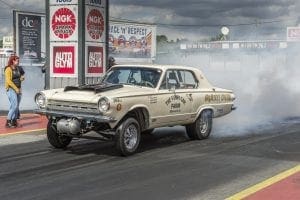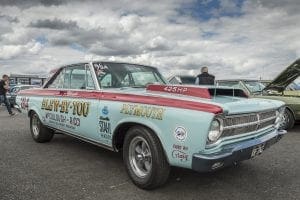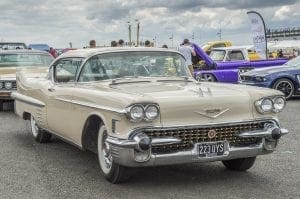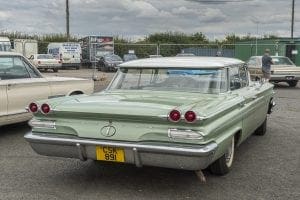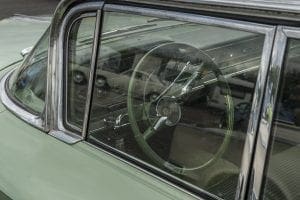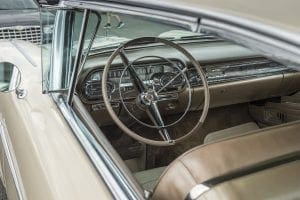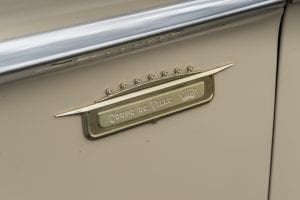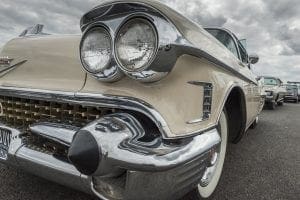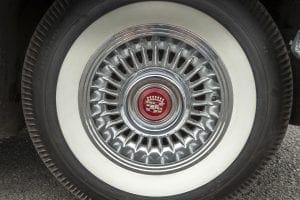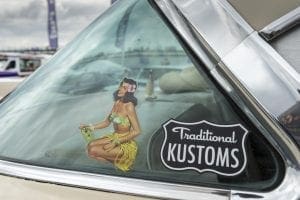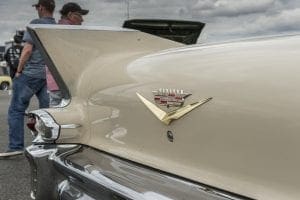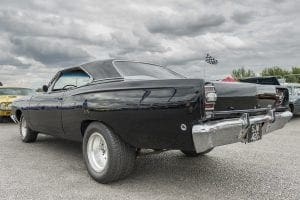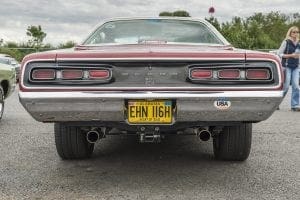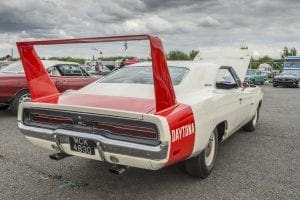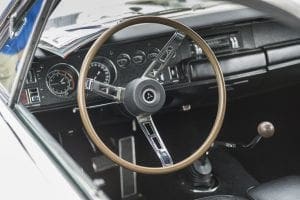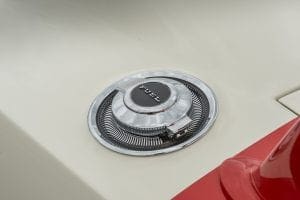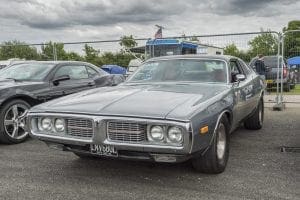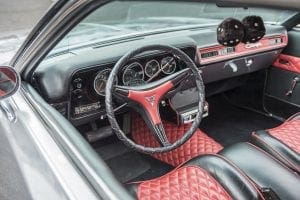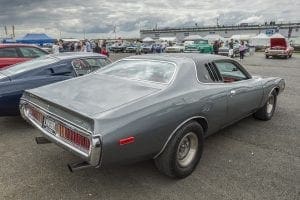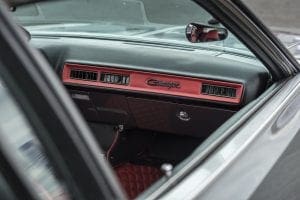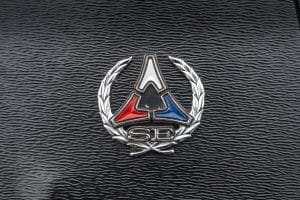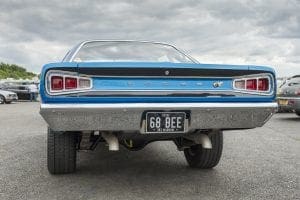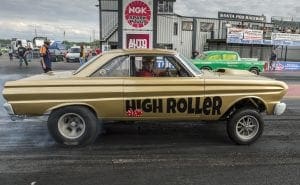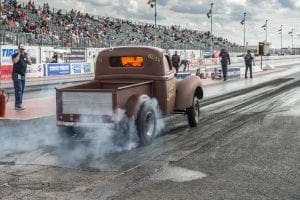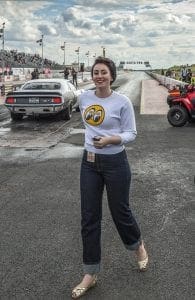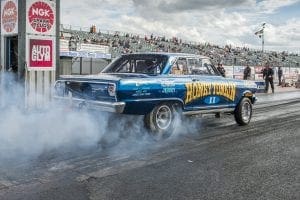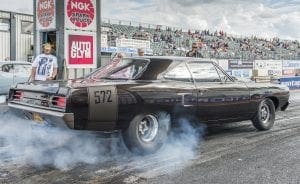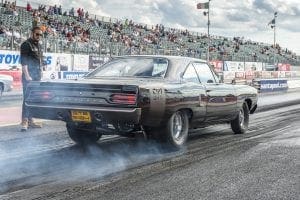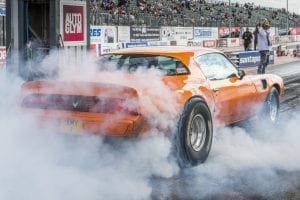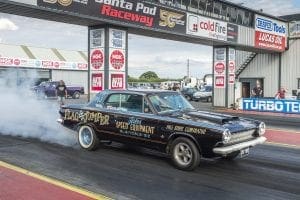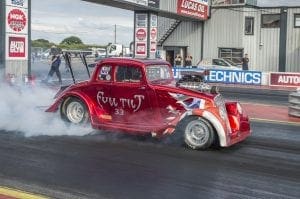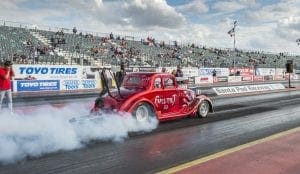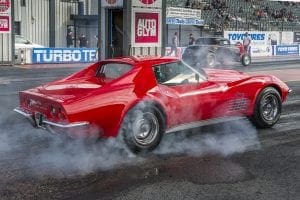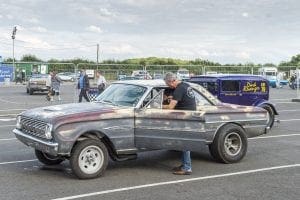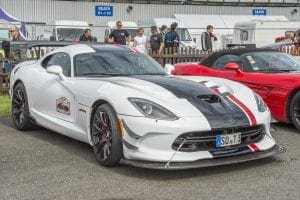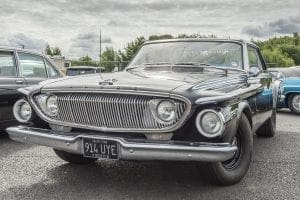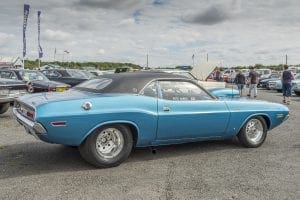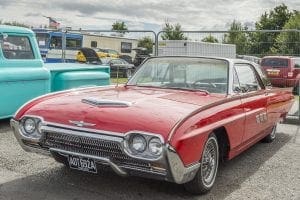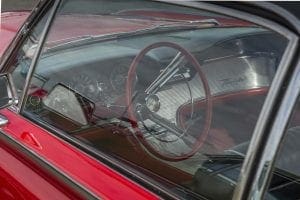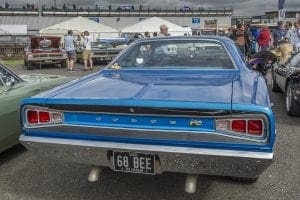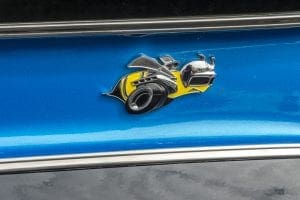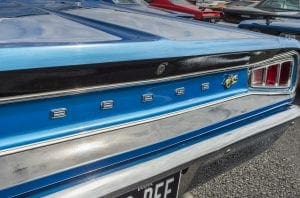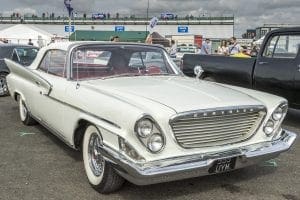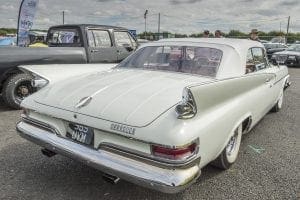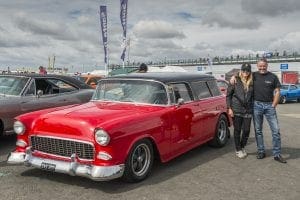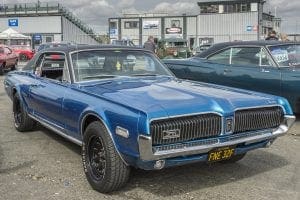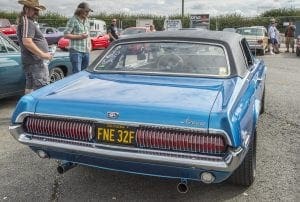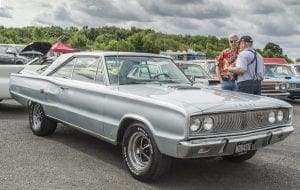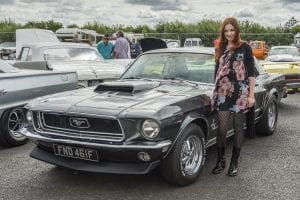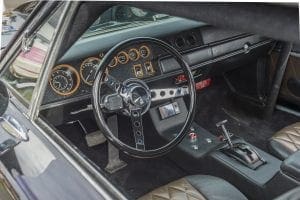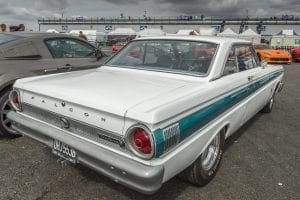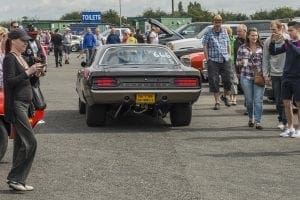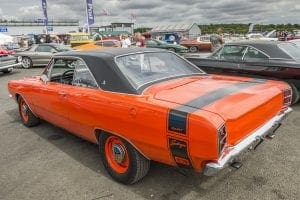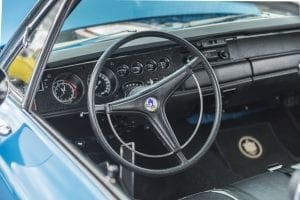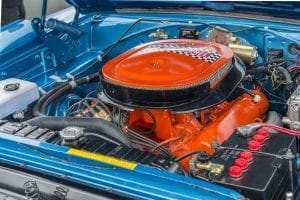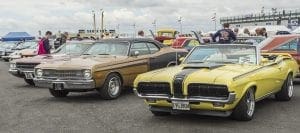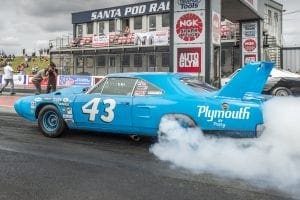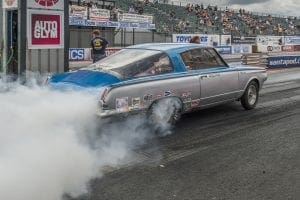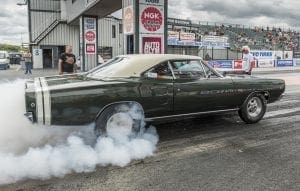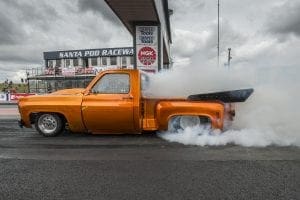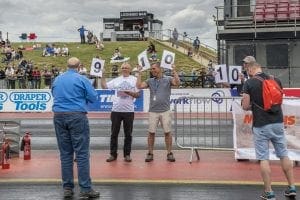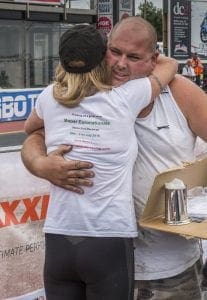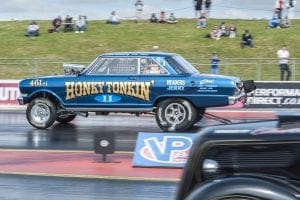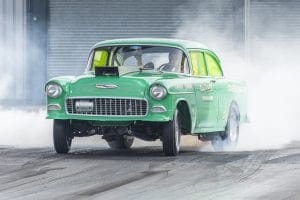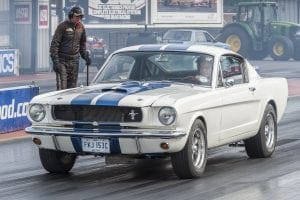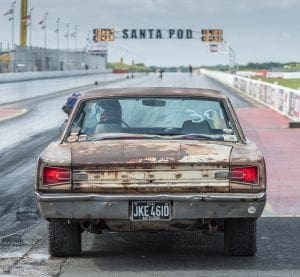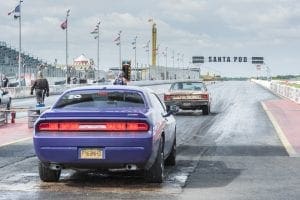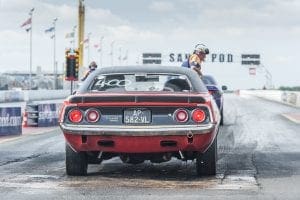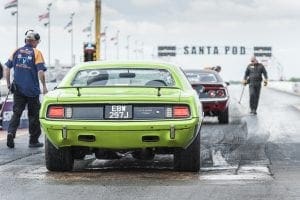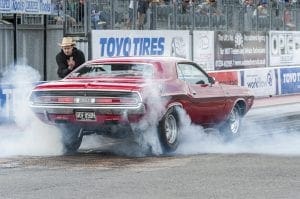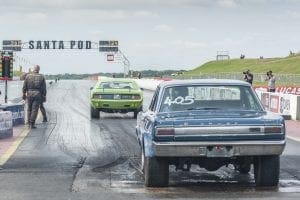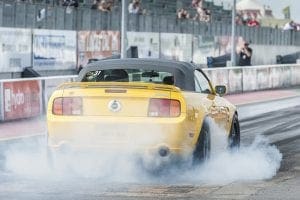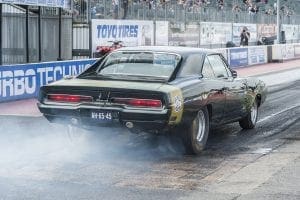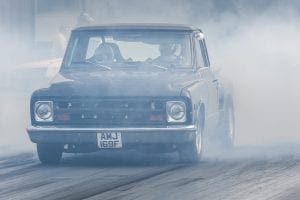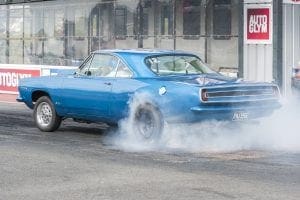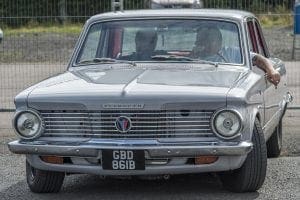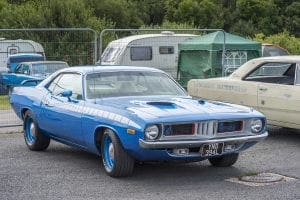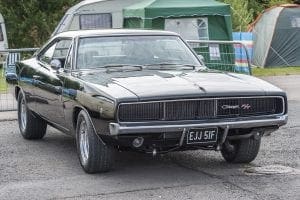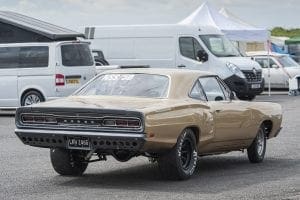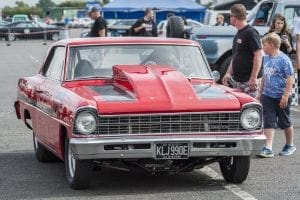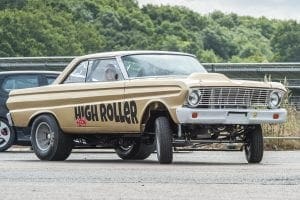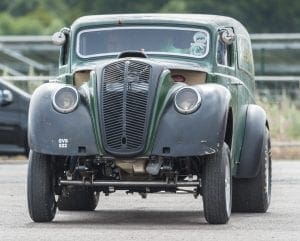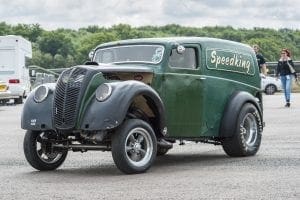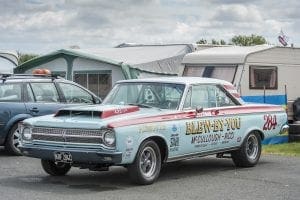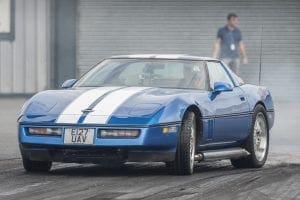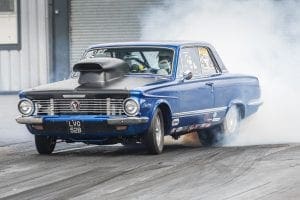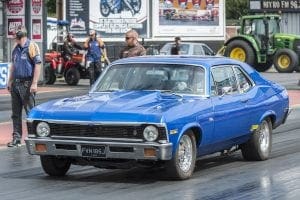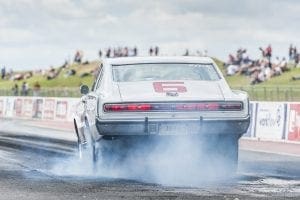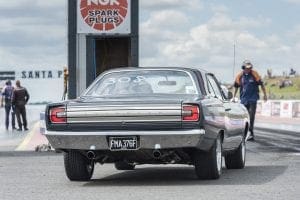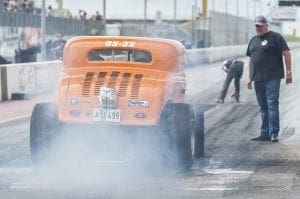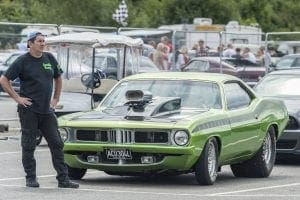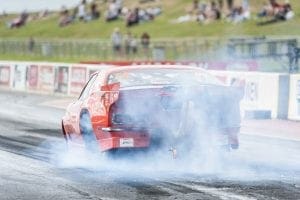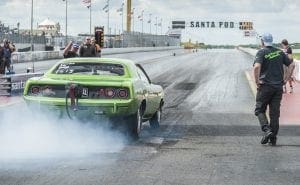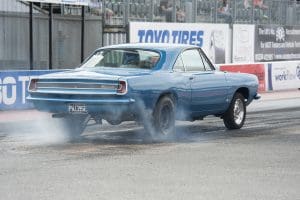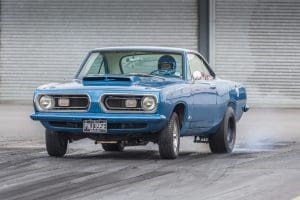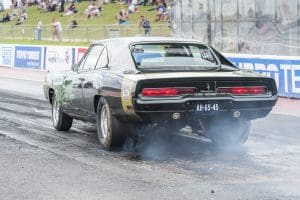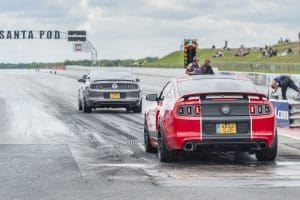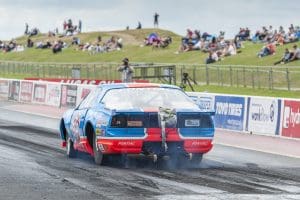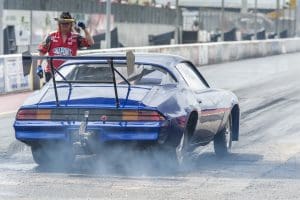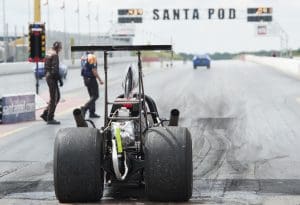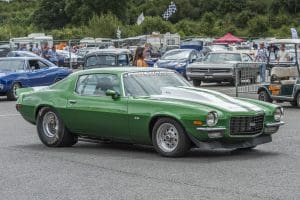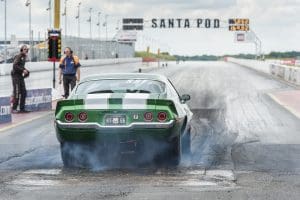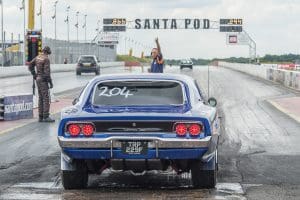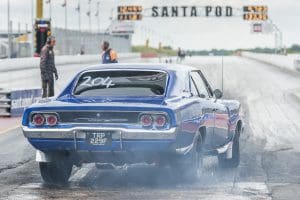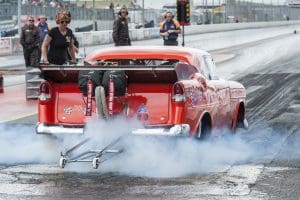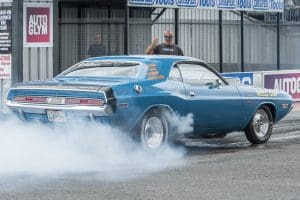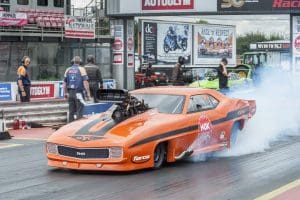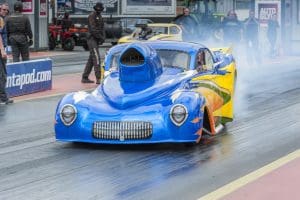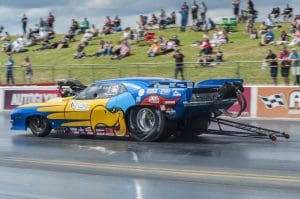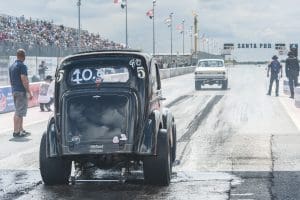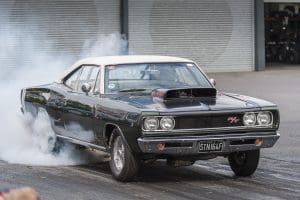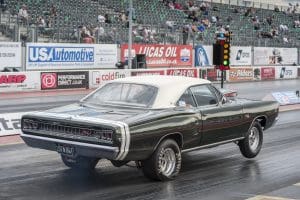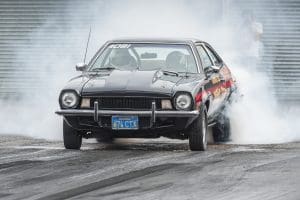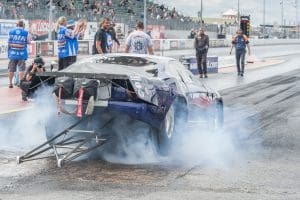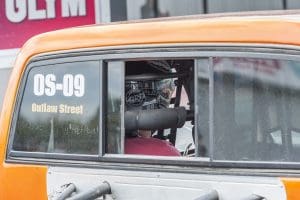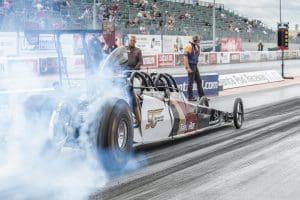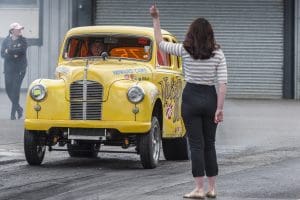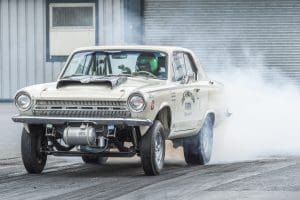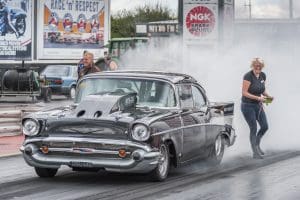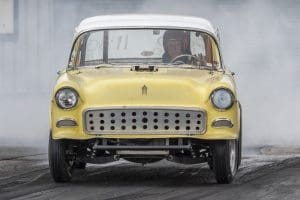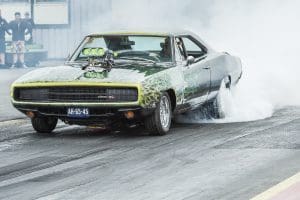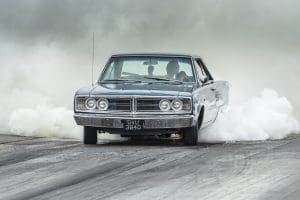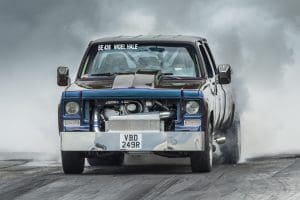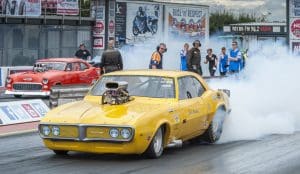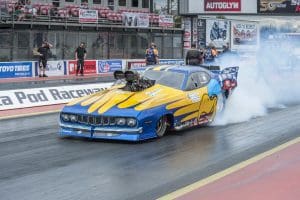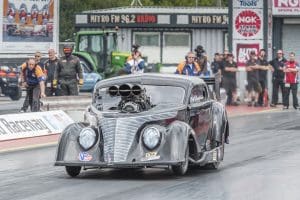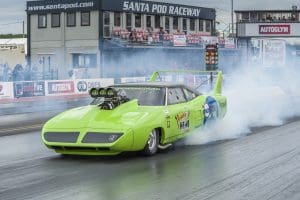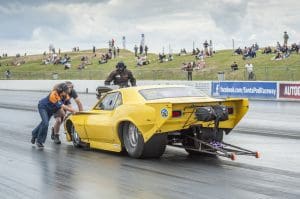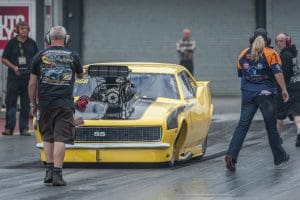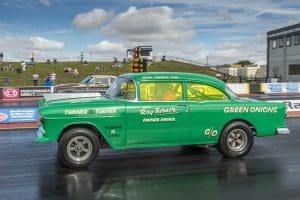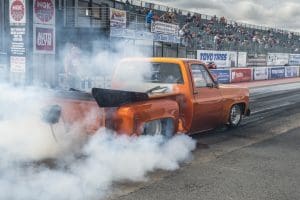 ---

Enjoy more Classic American reading in the monthly magazine. Click here to subscribe.
Sell your Classic American car here.