We have received payment for the content in this article. Learn more.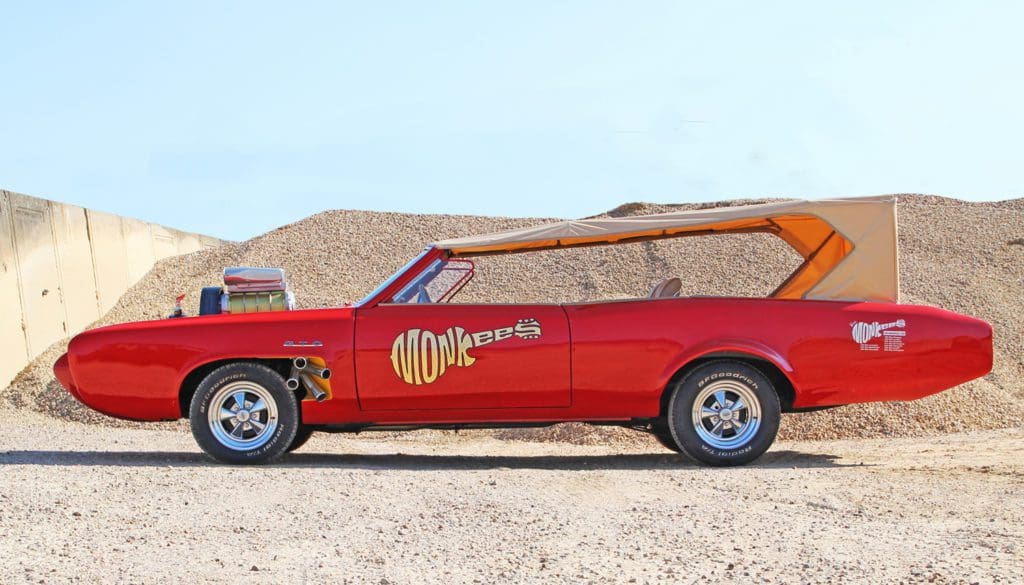 Formed in Los Angeles in 1966 The Monkees consisted of Micky Dolenz, Michael Nesmith, Peter Tork and Davy Jones. The group was conceived for a situation comedy series of the same name and enjoyed considerable success with music included in the show which was also released on LP. Spurred on by the success of the show, The Monkees were one of the most successful bands of the 1960s. The band sold more than 75 million records worldwide making them one of the biggest-selling groups of all time with international hits, including 'Last Train to Clarksville', 'I'm a Believer', 'A Little Bit Me, a Little Bit You', 'Pleasant Valley Sunday', and 'Daydream Believer', and four chart-topping albums. Newspapers and magazines falsely reported that The Monkees outsold The Beatles and The Rolling Stones combined in 1967.
This Monkee-mobile was created in New York from a 1966 Pontiac GTO by James Benken, a specialist East Coast film car custom shop. It has all the underpinnings of a genuine Pontiac GTO, with the standard 6.4 litre V8 and a three-speed manual box. It was then shipped to the UK just in time for The Monkees 2011, 45th anniversary tour beginning in Liverpool. The driver for that tour is the current owner of this stunning Pontiac and he has described the tremendous amount of fun he and the band had touring around the UK.
So welcome was the car by the band, that Peter Tork, bass guitarist and banjo player, couldn't believe what he was seeing and said that he hadn't seen it since they were filming the TV series back in the Seventies. This manual transmission Pontiac is fully road legal and is well known on the celebrity vehicle circuit. The bodywork is signed by the band and features in various photographs with them. With a recent example selling in America for over $250,000 this rare car is not only incredible fun, but sensibly priced given the provenance. The car has an MOT valid until May 2023.
It'll be going under the hammer at Historics Ascot Racecourse auction on May 21st along with a selection of other fine American vehicles. Viewing is the three days prior. For more information or to register, go to www.historics.co.uk or call: (44) 01753 639 170.