A Cobra Jet-powered Torino is certainly one of the less obvious muscle cars but, as Paul Bussey discovers, this under-the-radar performance machine has plenty of grunt and power credentials where it counts: under the bonnet.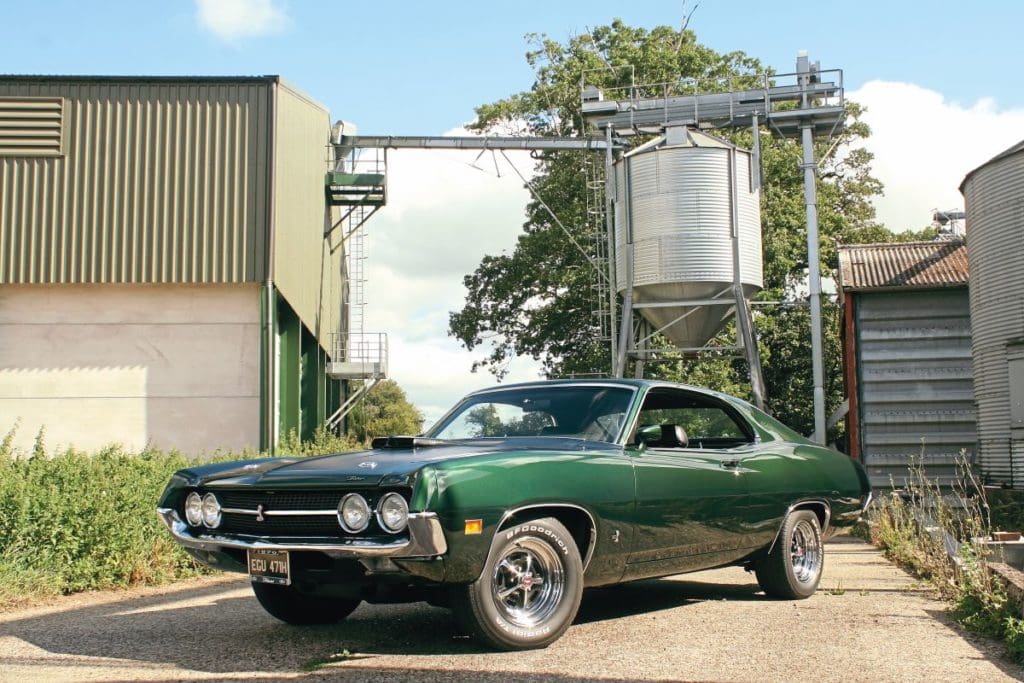 Words and photography: Paul Bussey.
When you first lay eyes upon Les Sales' Ford Torino 429 Cobra Jet, you can't help but become intoxicated by the deep rich lustrous shine of that Black Jade with Green and Gold Pearl and Gold Metalflake, added to base/clear paintwork. It's the kind of colour that needs to be seen in full sunshine to fully appreciate and enjoy its maximum impact. The car actually left the factory as a Ford Torino GT powered by a 351cu in V8 and it was only many years later in the US that it was given its Cobra Jet guise by fitting the 429cu in engine and various other badging.
While, arguably, it may not have quite the same kind of kudos enjoyed by a Shelby Mustang, Dodge Charger or Plymouth 'Cuda, it still bristles with muscle-car appeal and attitude in every respect, from its slightly nose-down aggressive poise, wide wheels and fat beefy tyres to its stark black interior and 429cu in engine dyno-tested to produce 430bhp and 427ft-lb of torque at 4900rpm. That's an increase of 55bhp over a factory spec 429 following a major rebuild with upgrades − more of which later.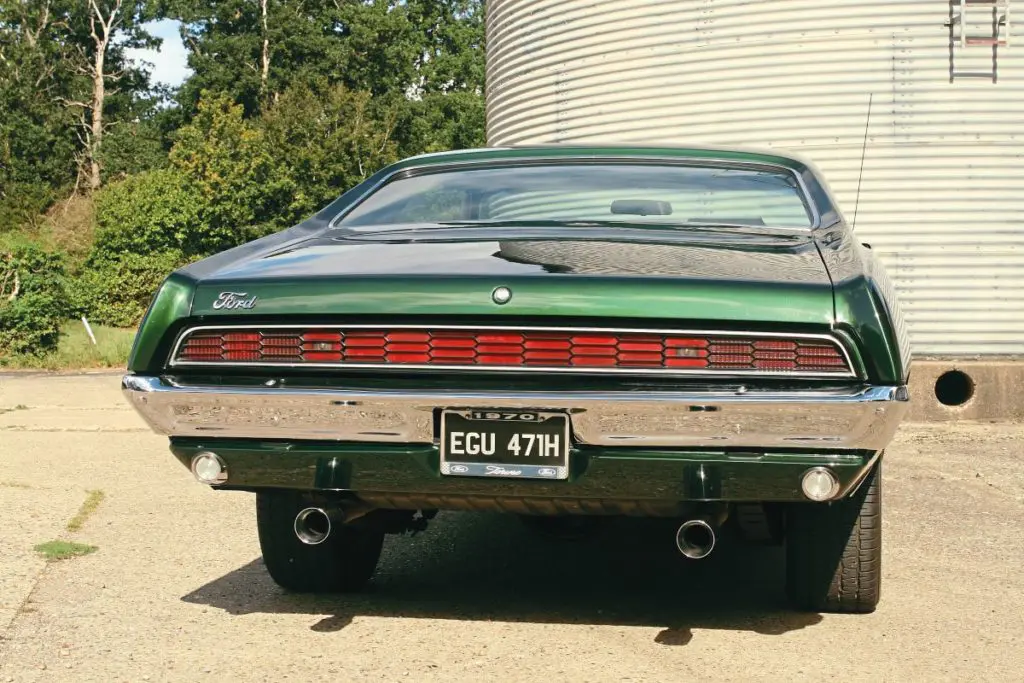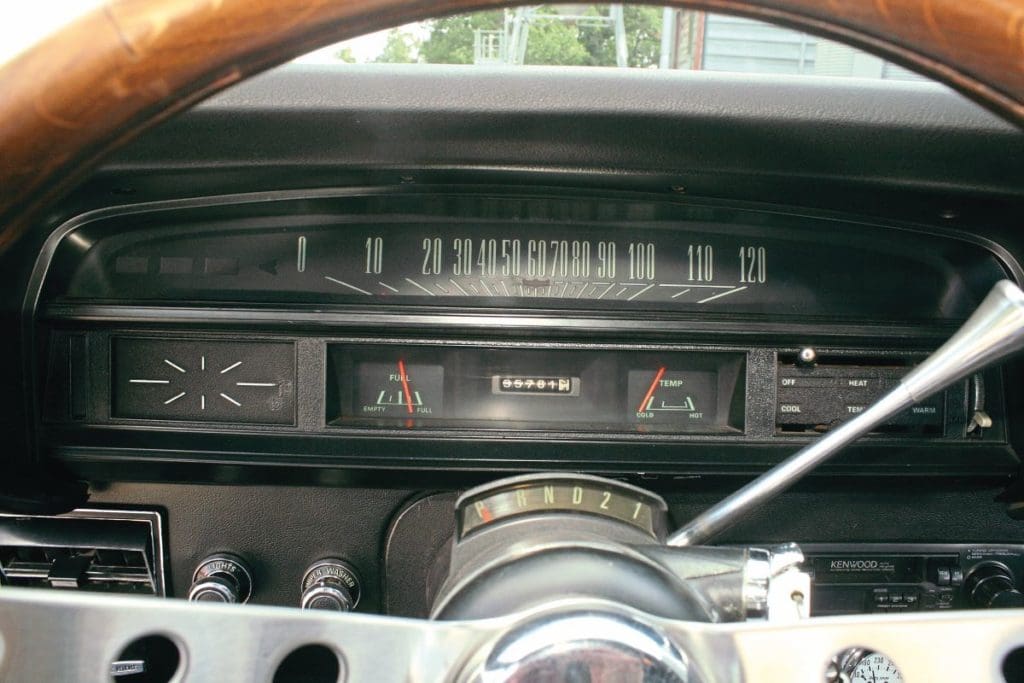 The Torino originally hailed from the southern states of the US and was imported from Ontario, Canada, to the UK in 2003, initially going to an owner in Dartford, Kent, prior to being purchased by an enthusiast in Camborne in Cornwall. A great deal of restorative work had already taken place in the early Eighties prior to Les acquiring the car in 2014. However, the Cornish owner passed away, which is when Les went to view the car. Although he wasn't necessarily looking to purchase a Torino at the time, after seeing it advertised on eBay and with that exceptionally inviting paintwork, he couldn't help but go and look at the car.
"It was the shape and colour that did it for me and the fact that the Torino was at the maximum of my budget," he admits. "After viewing the car in Cornwall and going over it with a fine-tooth comb, I didn't find any rust on the bodywork at all. Although it had been standing for two years after the death of its owner, the engine did just about start and run, but a little recommissioning work would be required prior to getting it ready for the road again. I was so impressed that I simply fell in love with the Torino and wrote out a cheque there and then for the full asking price. I didn't hassle, argue or try and reduce the price at all. We filled out the V5 document and I posted it on my way back home and had the car collected a week or two later."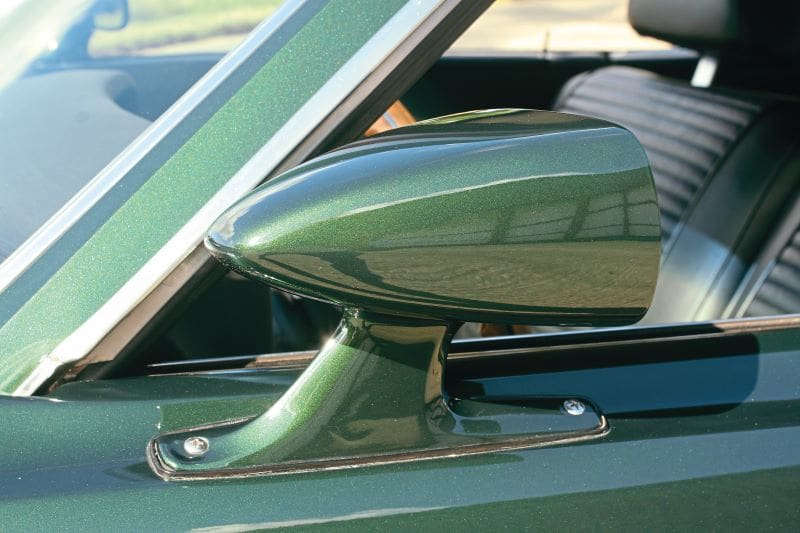 It says much for the quality of the restoration work completed in the early Eighties that the Torino remained in excellent condition. At that time, the interior was completely removed (other than the headlining which is original) and all floor areas were repainted in their original colours, as well as the engine bay, boot, etc. Any enclosed areas were treated with a rust-proofing which has no doubt helped preserve longevity and kept the bodywork free of corrosion. The interior was treated to new door seals, window rubbers, window felts and every other rubber part of the car was renewed.
The 429cu in Cobra Jet engine also had a total rebuild in the early Eighties to a high specification to include TRW 8.5:1 forged pistons, Crane camshaft and anti-pump lifters, a new crankshaft (polished and balanced) and connecting-rod bearings, chrome-moly pushrods and uprated valve springs. Extensive machining was completed to the block and cylinder heads. The complete engine was balanced and blueprinted, a new Holley 650cfm carburettor was fitted, along with other engine ancillaries like the radiator, alternator, starter motor and exhaust system, etc. This engine was then installed and run in another car, with a mileage of around 5000 clocked up, prior to removal and eight years of storage, before being fitted into Les's Torino.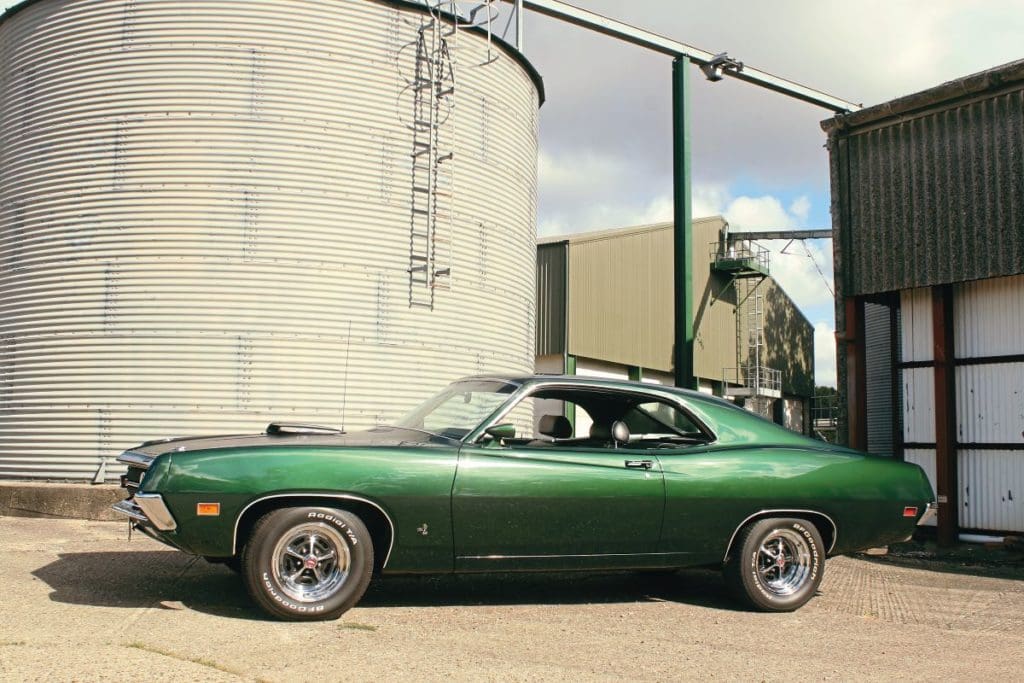 Just before all this, it was completely stripped down, all parts checked and new gaskets and seals fitted. The transmission is a stock C6 unit which had been completely rebuilt with various upgrades of clutches and bands from race applications. Thorington bearings were installed in place of all thrust washers and the valve body and governor were modified to permit higher shift points and firmer shift engagement. A new stock torque converter was installed, along with all new U-points and bearings. The rear axle is a Ford nine-inch with a 3.50 gear ratio and a rebuilt Traction Loc installed. Axle bearings and seals were also replaced. The Torino's steering box, power steering control valve, slave cylinder and pump are all remanufactured units. The Sway bar bushings and other front end bushings are polyurethane.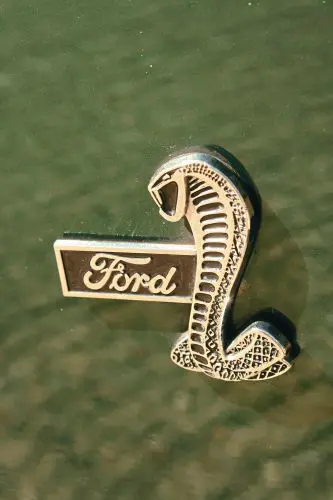 Once Les had the Torino back home in his garage, he completed further refurbishment, bearing in mind any previous work had been carried out around 30 years ago. "The front bench seat had a few tears in it, so I purchased a complete front and rear-seat trim kit from the US. I had a trimmer, who was located at a garage only 100 yards up the road from me, fit them," explains Les. "I also replaced the steel wheels and hub caps with a set of Magnum chrome wheels along with new tyres. Then I fitted new disc-brake pads to the front, shoes to the rear, as well as replacing the rear wheel cylinders, which were leaking." In order to obtain just the right engine/exhaust note, Les fitted a pair of Cherry bomb silencers to the exhaust system and a very neat pair of stainless steel exhaust tips, which fit the bill perfectly.
"The shaker wasn't fitted to the bonnet when I purchased the Torino, but was something that I had fitted by a local garage," says Les. "It's not just for show either, it's fully functional, with a hole being cut out of the bonnet. At the same time, a matt black vinyl wrap was applied to the bonnet, with a few remedial repairs to the front of the bonnet, which was found to contain a little filler from a past repair. I chose for the bonnet to be wrapped, rather than painted, as it was much easier to apply and cheaper too. Other jobs which I have completed were to fit LED lights to the rear, with the reversing lamps fitted inside the central cascading strip that was part of the original Torino GT. Amber indicators are courtesy of Ford Mustang reversing lights with amber bulbs inside."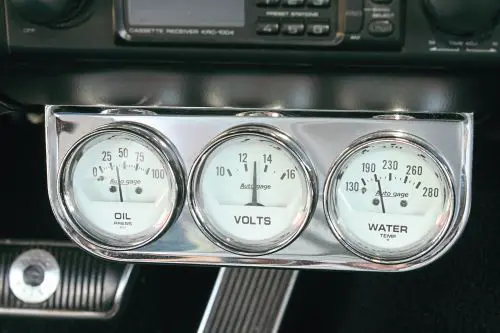 What with the initial restoration of the Torino completed in Canada in the early Eighties, costing $8000 in parts and the repaint in excess of $4000, plus further work carried out by Les over the last seven years, he now has an extremely well-sorted, very sharp and desirable example, guaranteed to turn heads wherever he goes. However, there are still one or two jobs looming for the future. "I do need to replace the back window, as something has happened to the green tint," he explains. "It almost looks like misty dried water, but it's in the glass, not on the surface. There's also a tiny rust bubble at one corner of the screen, so I'll get that sorted at the same time."
Les's Torino is definitely a keeper and it's easy to see why, from its immaculate presentation to the feel-good factor from being behind the wheel and driving the quiet Norfolk roads around his home. "The car does need to be driven," he states. "You can't exactly sit back for a relaxing cruise, but that's half the fun of it, not to mention the 430bhp on tap that's more than sufficient to offer a great adrenaline rush. I really love this car, the styling, the sound, everything." Way to go Les!