In the May issue of Classic American: 1970 Dodge Superbird, 1960 Ford Thunderbird, and Chevrolet's 1963 Baja Run!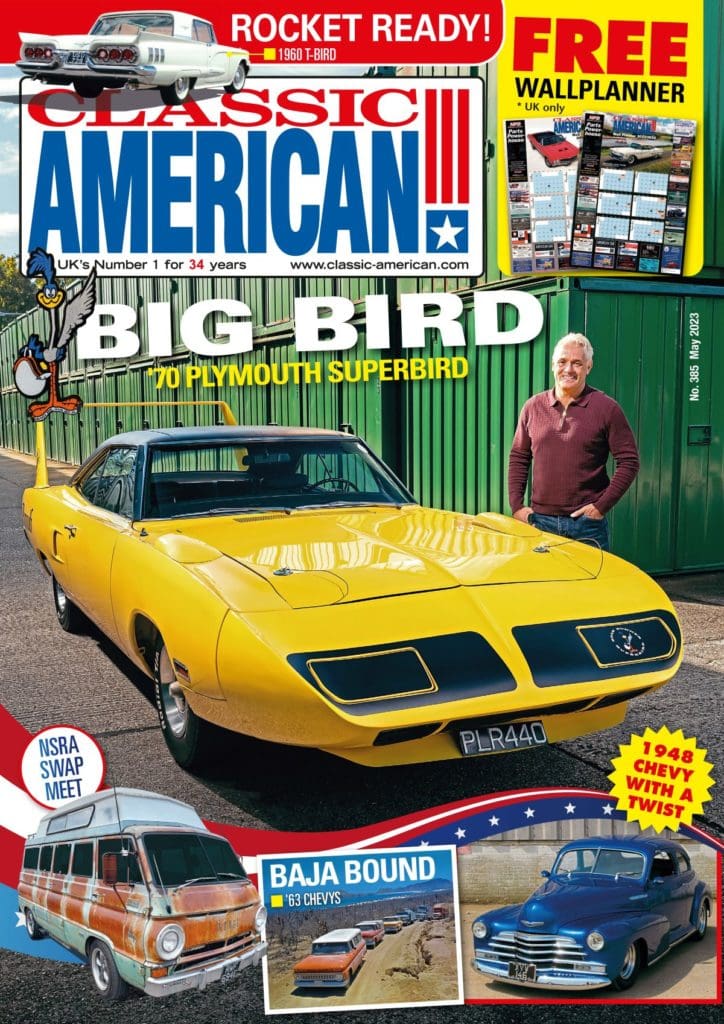 All your usual favourites are inside, including Muscle Car Files, From Here to Obscurity and Across the Pond.
Plus, this issue includes:
1970 Dodge Superbird
Is it a bird, is it a plane? Nope, it's only the biggest yellow supercar in Surrey, a recently uncovered Plymouth Superbird that's spent just about all its life in the UK and is now in the possession of a gentleman who first saw it as a teenager when it burbled past as he was playing cricket.
1960 Ford Thunderbird
Following on from the success of the first generation of two-seater T-birds, Ford added another row of seats with the four-seater so-called 'Square bird' and doubled sales. This gorgeous pale green example shows what elegant, handsome cars the second-generation Thunderbirds really were.
1948 Chevrolet Fleetmaster
Personalising your car has been going on for as long as manufacturers have been building them. We take a look at a totally unique Forties Chevy that's been subtly modified to very high standards indeed.
Article continues below…
Advert
Baja or bust!
Back in 1963 Chevrolet decided to demonstrate how tough its commercial vehicles were by sending a caravan of them all the way down to Baja, Mexico from Detroit. Following a gruelling route of unpaved trails, riverbeds and wilderness, this run makes Deliverance look like a garden party!
There are lots of news stories to digest too, letters from readers and, of course, if you are thinking about buying an American car, there are some great offerings advertised within. If you're after parts, scale models, insurance or just suggestions of where to go over the summer, it's time to head out to the shops and pick up your copy, or order online here.
But if you've caught the bug and want your regular fill of Classic American, why not subscribe? It's cheaper than buying at the newsagent, you'll get your copy early and it's delivered FREE to your door!
Article continues below…
Advert