Happy Easter! The sun is out, the rain looks likely to stay away and it's the start of a new season of cool, classic cruisin'…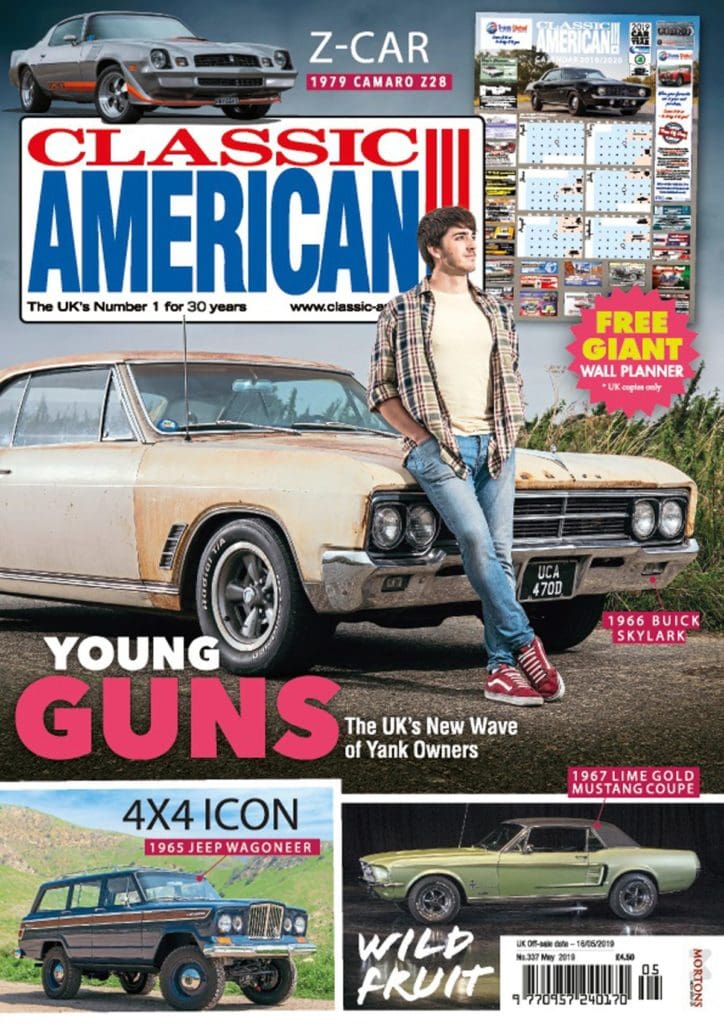 And we'll be with you through every gear change, and by your side every time you put the pedal to the metal. In the latest issue, you can map out your year in style (UK copies only, though) thanks to a free, giant wall planner packed with dates from now until March 2020. Hey, you can have 2020 vision thanks to CA!
This bright and breezy issue features some new blood in the classic American car scene. Nigel Boothman heads out to meet three young owners champing at the bit to get out and show off their classics… especially as one of them owns a Mustang!
Nineteen-year-old Jordan Parker is the lucky guy, and it's a 1967 Mustang GTA that is his steed of choice. Another Jordan – Jordan Harkin – is also a high flier, as he owns a 1966 Buick Skylark. Helpfully, Jordan H explains his experiences of getting insurance for his beloved Yank, something that will come in useful for other young people who might like to opt for classic US iron. Happy Days!
Our third young owner is Charlie Seward, who rescued his 1962 Chrysler Newport from the family's chicken shed, where it had stayed, forlorn and unloved, for nearly as many years as Charlie has been alive. Read all about this story of hope and salvation and admire the patina of this amazing rat-look lump of iron!
If you'd like a slice of royalty to go with your cup of tea or coffee, help yourself to a tour of a regal 1951 Cadillac Fleetwood 75 Imperial Sedan. In a UK exclusive, Classic American gets a personal tour of this very special Caddy, a former state carriage of King Olav V of Norway. It's just undergone a $150,000 restoration, so if it could speak, it wouldn't talk to any of us!
Article continues below…
Advert
And of course there are all your regular favourites to enjoy – Will Shiers' Discoveries, Across the Pond with Huw Evans, Richard Heseltine's From Here to Obscurity, and Tony Oksien's Muscle Car Files. Enjoy the latest instalment of Project Beauty Pala, and don't be offended if we tell you to 'belt up'… Rob Woodall politely explains how…
See below for a sneak preview of the latest issue!
Article continues below…
Advert