Those lazy, hazy, crazy days of summer aren't too far away now and the classic American car scene is starting to shift into top gear.
You can find out what's already happened (NSRA Southern Swap Meet, Yokohama Hot Rod and Custom Show), what's coming up (Epsom Classic Car Rally, Atomic, Beaulieu Hot Rod & Custom Drive-In Day, NSRA Fun Run, American Speedfest at Brands Hatch and much, much, MUCH more!) and how to organise your summer using the May issue of Classic American magazine.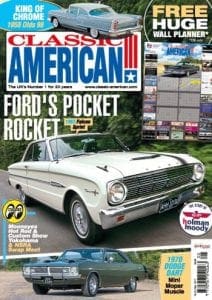 Not only have we got reports from events, we've got previews and colourful advertisements for all manner of amazing shows – and we're giving away, with each UK copy, a superb wall planner so you can plot your forthcoming weekend entertainment to your heart's content!
There's an amazing Readers' Rides feature this month courtesy of Sussex-based owner David Higgs, who shares the delights of his 1948 Chevy Aero two-door sedan. Our latest Drive Buy feature looks at a Cadillac Coupe de Ville from the era of the smash-hit movie Saturday Night Fever, and there's a stunning mixture of stylish motors to make you want to go out right now and splash your cash on some iconic stateside iron. Failing that, parting with just a few pounds will bring all these delights to your door as Classic American delivers the goods in 132 picture-packed, colourful and entertaining pages. All our regular expert voices are having their say in the latest issue – Tony Oksien, Huw Evans, Richard Heseltine keep you up to speed with news and views, while Will Shiers braves the bushes, the bracken and the brambles to bring you rusting (and sometimes, quite well preserved) examples of bygone classics, once much-loved family motors now languishing in American junkyards.
We've got news, letters and lots of car-based chat (and technical know-how) to keep you entertained, pages of events and cruises to check out and dealers' and readers' advertisements to source your first (or next) classic purchase. And if you need advice to solve a motoring problem, you can call on the experts in our comprehensive service directory.
There's a great subscription offer too, which means you can save money while having the magazine delivered to your door each month. So you can save time (meaning more opportunities to attend shows, meets and events) and money (more to spend on refreshments at said shows). Bargain!
Article continues below…
Advert
Don't forget, you can get a taste of what's in the latest mag by clicking on the link below:
Article continues below…
Advert