In the March issue of Classic American: 1970 Buick GS, Corvette Road Trip, 1955 Chevy and much more!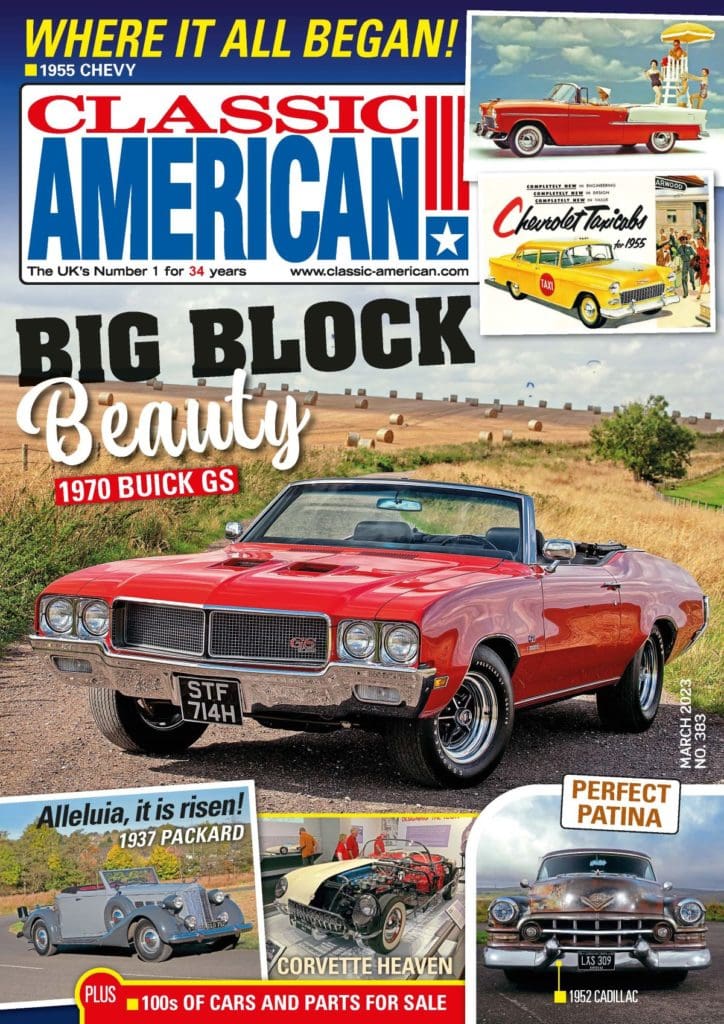 All your usual favourites are inside, including Muscle Car Files, From Here to Obscurity and Across the Pond.
Plus, this issue includes:
1970 Buick GS Stage One
Meet one of the meanest cars on the stage at last year's Car of the Year competition. Mike Smith has owned this big block beauty for almost four decades and restored it twice – best of all, he's not afraid of using it and it used to be a regular sight on the track at Santa Pod!
1952 Cadillac
There's patina, then there's this! This 1952 Cadillac's patina is all genuine, but mechanically underneath it's sound as a pound, as owner Gav Smith wanted a car that looked like it's been dragged out of a field, but is as reliable and safe as any modern daily driver…
1937 Packard
Now this extraordinary vehicle literally was dragged out of a field, and there was little left of the original body, so the new owner decided it would make the perfect blank canvas to create the car of his dreams: a boat-tailed, Auburn speedster style bodied roadster.
Article continues below…
Advert
Great American Road Trips: Corvette Heaven
The Classic Corvette Club UK saddled up and headed over to Bowling Green, Kentucky, home of the Corvette Museum and where the cars are built, to celebrate their annual Corvette knees up: The Bash.
There are lots of news stories to digest too, letters from readers and, of course, if you are thinking about buying an American car, there are some great offerings advertised within. If you're after parts, scale models, insurance or just suggestions of where to go over the summer, it's time to head out to the shops and pick up your copy, or order online here.
But if you've caught the bug and want your regular fill of Classic American, why not subscribe? It's cheaper than buying at the newsagent, you'll get your copy early and it's delivered FREE to your door!
Article continues below…
Advert