You could well be green with envy when you see the March issue of Classic American… our 'star car' on the cover has more than an element of intergalactic intensity about it.
Yes, this 1959 Buick Invicta is definitely 'out there', with its amazing show-ready condition down to the loving care lavished on it by current owner Colin Shepherd. Colin found his prized possession on American eBay after it spent its first 57 years on planet Earth in the possession of one, seemingly very careful, lady owner… check out our jolly green giant among a plethora of delightful classic American motors in this mad March issue!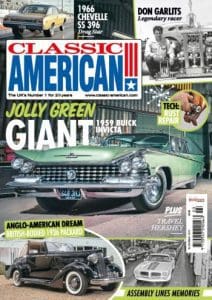 Our stateside special correspondent Huw Evans watches the original Bullitt Mustang resurface at the North American International Auto Show in Detroit after 50 years, to triumphant applause. Read more about this amazing return in Huw's Across the Pond article.
Jim Maxwell takes a look at the trials and tribulations of assembly line workers in Detroit over the decades, with some fascinating photos revealing how the cars we love today were built back in the day.
John Bath heads off to Hershey, home of the famous chocolate bar, which is also the location of the biggest classic American swap meet in the world.
Steve Havelock looks back at the remarkable career of racing pioneer Don Garlits, and CA pays tribute to motorsport legend Dan Gurney, who died on January 14 at the age of 86.
Other features include a look at two gorgeous Packards from the Thirties; a 1971 Chrysler New Yorker and a 1966 Chevelle SS Racer. Our popular American and Modified section checks out a 1935 Ford pick-up.
Plus we've got news, views, letters, forthcoming events and a host of amazing motors for sale! So if you fancy investing your cash in a classic car, and cruising throughout the summer to admiring glances, this is the magazine for you!
Check out a preview of the March issue of Classic American here:
https://issuu.com/mortons-digital/docs/classam_13-02-2018?e=7600234/58010207
---

Enjoy more Classic American reading in the monthly magazine. Click here to subscribe.
Sell your Classic American car here.