Stand by for springtime with the latest issue of Classic American… it must be on the way, as there's a bird singing on the cover.
That beautiful blue vision is John Castleman's 1970 Plymouth Superbird and you can read all about its heritage inside. But that car is a mere baby bird compared with the elegant plumage of some of our other offerings, such as a stunning 1929 Buick Master 6 Sedan which has a fascinating history to accompany its stylish appearance.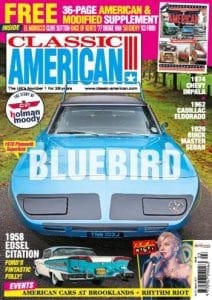 We've also got features on a 1958 Edsel Citation, a 1962 Cadillac Eldorado and a 1974 Chevy Impala. All our regular contributors bring you their latest news and views – Huw Evans looks at the pros and cons of carb versus fuel injection, Tony Oksien takes a peek under the bonnet of a 1973 Dodge Charger and Richard Heseltine emerges from his extensive archive with some evocative images of the Corvair Speciale.
Will Shiers heads to the deep south – to Loretto, Kentucky, to be precise – to check out some rusting hulks. No fried chicken in this feature, and not many turkeys, either – quite a few of the cars he's selected to photograph could be back on the road and looking proud as a peacock if someone with commitment, time and a bit of cash is prepared to step in and save them from the salvageman's crusher.
Back in Blighty, check out Jonny Wilson's report on the Rhythm Riot event at Camber Sands, Sussex, and the Brooklands New Year's Day Gathering in Surrey.
Oh, and if that's not enough to cheer your soul and make you reach for the cleaning materials to bring your own hibernating Yank back to show standard after a long and grey winter, how about this? Free with every issue is a full colour, 36-page American & Modified supplement, with even more amazing motors to impress.
Article continues below…
Advert
And if you don't yet have your own gleaming American motor but are thinking of investing in one, check out the great models our advertisers have for sale.
There's all this and much more in the March issue, so make sure you get your copy today… or better still, why not subscribe? You'll get all the news of forthcoming shows and events, save 25% off the cover price by having your copy delivered to your door AND get automatic membership to the Classic American Drivers' Club, which gives you even more discounts on products, services and CA merchandise!
Article continues below…
Advert