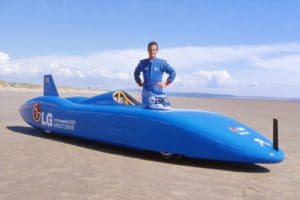 19-day, 4,000-mile event will start on September 17th at Pendine Sands
"One-off" Drive, created to raise funds for Prostate Cancer UK, now in its third year
£150,000 raised for charity so far by classic car owners and their supporters
The organiser of the 2018 'Round Britain Coastal Drive, Supporting Prostate Cancer UK', the Jaguar E-type Club, has announced that the 19-day event will be flagged away from its starting point at Pendine Sands, Carmarthenshire, on September 17th by land speed record-breaker Don Wales.
The 4,000-mile tour around the circumference of the British mainland was originally created in 2016 to raise funds for the charity Prostate Cancer UK, and Don has kindly agreed to support the event after recently undergoing a successful prostatectomy. The 2018 Coastal Drive aims to add a further £70,000 to the £150,000 raised for the charity in the event's first two years.
The Pendine Sands starting point is where Don Wales set the UK speed record for an electric car in 2000 at 137 mph (touching 160 mph), and the world speed record for a ride-on lawnmower in 2010 at 87.8 mph! Don agrees these unusual accomplishments might be explained by his genes: he is the grandson of Sir Malcolm Campbell MBE and nephew of Donald Campbell CBE, two of Britain's greatest land and water speed record-holders.
From Pendine, the Round Britain Coastal Drive will go as far north as John O'Groats and as far south as Land's End, before concluding in the town of Tenby, on the opposite side of Carmarthen Bay to Pendine, on October 5th. The event comprises 19 individual stages, each of approximately 180 miles distance, and will be driven sequentially by groups of Jaguar E-types in the style of a relay. Most entrants choose to drive one, two or three legs, but this year six crews have committed to driving the whole way round.
The Round Britain Coastal Drive was devised in 2016 by E-type Club co-founder Philip Porter, the renowned automotive book publisher and author, after he was successfully treated for the disease.  Philip said: "The aim was to give E-type Club members a great driving event at the same time as raising funds for, and awareness of, prostate cancer. It was meant to be a one-off event but proved so popular that we're now running it for the third consecutive year. We have cars and crews coming from abroad, including the States, and even have people who have bought an E-type so they can take part."
Don Wales commented: "I am very pleased to be part of this fabulous event and honoured to be flagging-off the entrants from Pendine Sands, where my grandfather set his first World Land Speed Record. I was recently diagnosed with prostate cancer and have now had a successful prostatectomy. We need to get more men to talk about this horrible cancer, and events like this raise awareness and valuable funds to help fight the disease."
Prostate cancer is now the third most common cause of cancer death in the UK and Prostate Cancer UK estimates that £120 million is needed for research over the next eight years to halve the number of prostate cancer deaths expected by 2026. The charity's chief executive, Angela Culhane, said: "We need to bust the myth that this is just an old man's disease that isn't significant."
Round Britain Coastal Drive 2018 – Stage start and finish locations
| | | | |
| --- | --- | --- | --- |
| Stage | September / October | Start | Finish |
| | | | |
| 1 | Monday 17th | Pendine Sands, Carmarthenshire | Portmeirion, Gwynned |
| 2 | Tuesday 18th | Portmeirion | Lytham St Annes, Lancashire |
| 3 | Wednesday 19th | Lytham St Annes | Workington, Cumbria |
| 4 | Thursday 20th | Workington | Ayr, Ayrshire |
| 5 | Friday 21st | Ayr | Plockton, Ross and Cromarty |
| 6 | Saturday 22nd | Plockton | Kinlochbervie, Sutherland |
| 7 | Sunday 23rd | Kinlochbervie | Inverness, Inverness-shire |
| 8 | Monday 24th | Inverness | Montrose, Dundee and Angus |
| 9 | Tuesday 25th | Montrose | Edinburgh |
| 10 | Wednesday 26th | Edinburgh | Alnwick, Northumberland |
| 11 | Thursday 27th | Alnwick | Beverley, East Riding of Yorkshire |
| 12 | Friday 28th | Beverley | Cromer, Norfolk |
| 13 | Saturday 29th | Cromer | Chelmsford, Essex |
| 14 | Sunday 30th | Chelmsford | Hastings, East Sussex |
| 15 | Monday 1st | Hastings | Lymington, Hampshire |
| 16 | Tuesday 2nd | Lymington | Exmouth, Devon |
| 17 | Wednesday 3rd | Exmouth | St Ives, Cornwall |
| 18 | Thursday 4th | St Ives | Bridgwater, Somerset |
| 19 | Friday 5th | Bridgwater | Tenby, Pembrokeshire |
Prostate Cancer UK:
Prostate Cancer UK works to get men in all areas of the country the early detection, effective diagnosis and better treatments that will beat this disease.
Prostate cancer is the most common cancer in men. More than 10,000 men die every year from this male-only disease, and 250,000 men are living with prostate cancer in the UK.
Anyone with concerns about prostate cancer can contact Prostate Cancer UK's Specialist Nurses in confidence on 0800 074 8383 or via the online Live chat, instant messaging service from website