Looking at Paul Wells' 1957 Oldsmobile 88 convertible today, it's hard to believe he bought the car as a rusted-out wreck – although Paul didn't realise that at the time…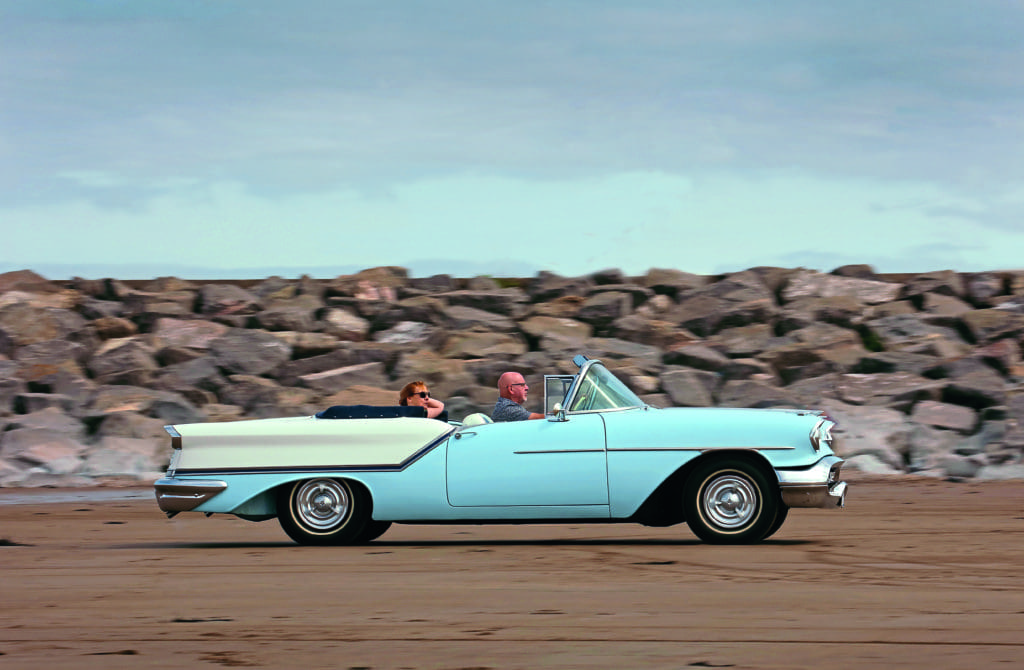 There's no denying that Paul Wells is an Oldsmobile enthusiast. It takes certain dedication to own four of them! Although, if anything could have put him off, it would have been his six-year nut and bolt, frame-off restoration on this 1957 Oldsmobile 88 convertible. Paul first dipped his toe into the waters of American car ownership with a Chrysler Cordoba. "I don't remember anything about that," smiles Paul, "I bought it sometime in the Nineties and it must have been cheap…" Otherwise he's had mainly sports cars; a Healey Sprite, MGC, Austin Healey 3000 and a rare Renault Alpine A110, "until a mate at a local garage had a 1957 Olds Golden 88 four-door sedan for sale on behalf of a customer. He needed to sell in a hurry so I gave him £3000 and my Volvo 240."
LovePaul found a 1957 Holiday coupe online and had that shipped over; it was featured in our August 2009 issue. "Then I bought a second '57 Holiday, this one a four-door, with its headlining signed by Bill Haley's Comets during a UK tour. There was another buyer, Ken, interested and the seller mentioned I had owned Oldsmobiles. Ken ended up buying my original sedan and became a good friend.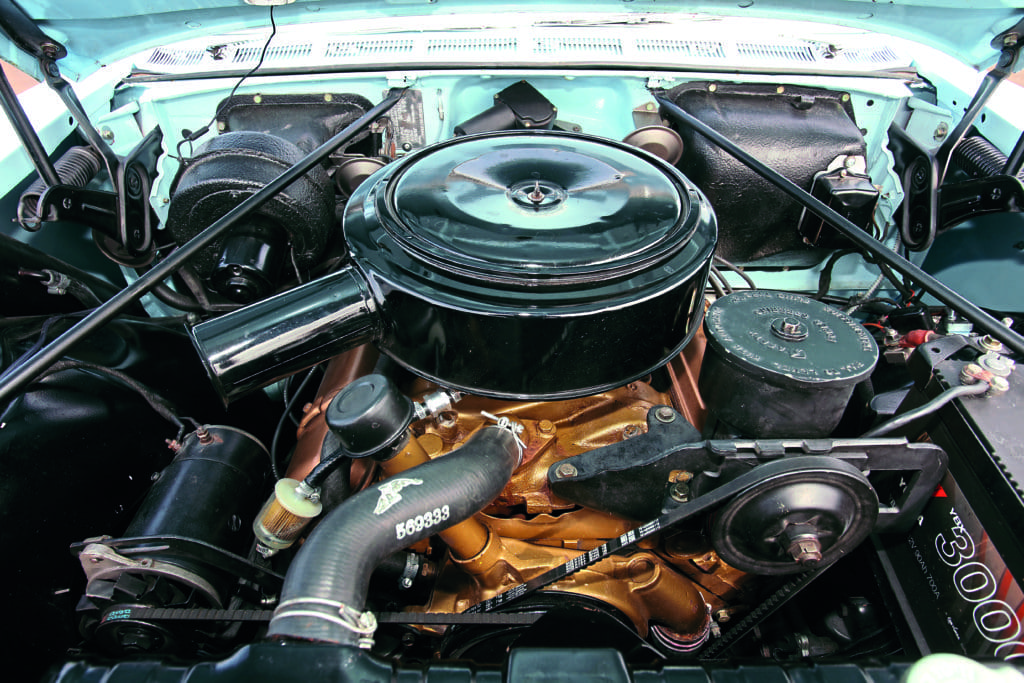 "I sold that 'Comets' Olds around 2012 to fund restoring this convertible – it went up north somewhere, then turned up again at a cruise 10 miles from where I live! Then I saw a 1957 Olds wagon I couldn't resist." Paul wasn't finished yet. "I saw a fire-damaged 1958 Oldsmobile 98 coupe on eBay in 2014 and shipped it over. I'm currently restoring that and then the wagon." If you've managed to keep up, you'll realise Paul currently has three '57s. The convertible you see here was bought sight unseen from eBay. "A mate in California offered to collect it – which was about a thousand-mile drive. It turned out to be an absolute basket case. He explained I'd need a parts car if it was ever going back on the road. So I bought a '57 two-door hardtop − back then the pound to dollar exchange rate was really good." The cars went to a California bodyshop to get made into one good one, but progress ground to a halt.
Follow Classic American on Instagram!
"I was getting worried since no one could tell me what was happening," remembers Paul. "Over three years passed so I decided to get the convertible shipped to the UK." In 2010 Paul and mate Steve collected it from Chatham Docks. "We were walking into the warehouse when Steve said, 'how bad can it be…?' Then we saw the car. Steve just walked away. I looked at the state of my Oldsmobile and wondered if I could push it off the dock into the water and walk away too…"
Longer, lower, wider
Paul's convertible came with no previous history. We know from the VIN that it was built at the Lansing, Michigan plant and after that was obviously parked somewhere very wet for many years. Introduced November 9, 1956, the 1957 Oldsmobiles got a complete redesign, yet still strongly resembled the 1956 cars; this was deliberate since previous Olds had been great sellers in the mid-price market, meaning General Motors saw little need to alter a successful recipe. Yet, they were billed as "the most changed Oldsmobiles in 20 years". Wheelbases remained the same at 122-inches for the 88 and Super 88, 126 for the 98-series, but those cleanly-styled bodies were longer, wider and lower − the latter helped by switching from 15 to 14-inch wheels. Underneath, was a new cow-belly frame and Olds' first ball-joint suspension. The extra weight of 300lb which the '57s now had, was hauled up by a 277bhp, 371cu in Rocket V8. Internal framework was shared with Buick and begat Oldsmobile's first wagons since 1950. Badged Fiesta, they were all four-doors and even available as a stylish pillar-less model.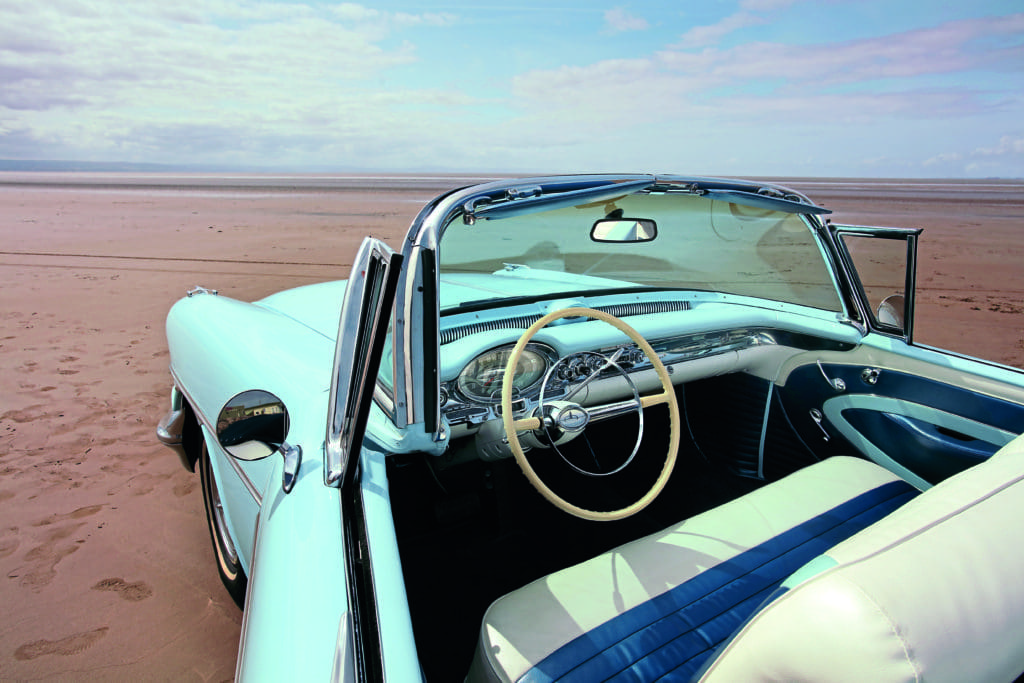 For all things Classic American, like our page on Facebook here!
Sedans, coupes and, for the first time on an 88, convertibles, were available in base 88, mid-range Super 88 − both known as Golden Rocket – or, top model, Starfire 98s. It wasn't Olds' best year for production; 384,390 cars built was more than 25% lower than 1956, but enough to retain Olds' fifth place overall; a 6.2% market share. For the first time ever, the cheaper 88 outsold the Super, and by better than 40,000 cars.
It wasn't all bad news; a rare J-2 triple carburettor performance package could be optioned for any model. For just $83 it slashed the 0-60mph time to nine seconds, Lee Petty took one to more than 140mph at Daytona. Paul's car is one of 6423 convertible 88s that sold for $2895 in 1957, but he's spent a bit more than that to get the car looking like it does today…
Crazy 88
Let's re-join Paul at Chatham, surveying the remains of his droptop. On the positive side, it was a genuine 1957 Oldsmobile convertible. Unfortunately, "it had no floor, the roof frame was bent, the rear seat was missing, there was rust in most of the panels and it sat on four flat tyres…" remembers Paul. "It was a nightmare. But, being a base model convertible, it was rare. We got it back to my garage and I discovered you can buy repair sections but not a complete floor." Neville Partridge of Sienna Cars (01985 840966) fabricated an entire new floor from sheet steel, identical to the original down to the convertible's extra strengthening sections. "The rear seat surround was rusted-out and had to be repaired with new metal − that included fabricating new mounts for the roof frame." Once the bodywork was solid – which took more than 120 hours of work before even normal rust repairs, accident damage repair and panel alignment could begin − Paul borrowed Steve's garage and they took the body off the chassis.
"While Steve did rust repair, I restored the chassis at home," says Paul, who lives in Bath. "I stripped it down, had it sandblasted back to bare metal, rebuilt all the suspension and brakes, then repainted it. The only things that weren't replaced were the differential – which got all new seals – and the rear leaf springs. Everything else on that frame is brand-new."
The engine and gearbox were also rebuilt; with the Jet-Away Hydramatic three-speed automatic being brought back to life by Ian Chant at IC Automatics Ltd (01761 472295/ www.automaticgearboxesbath.co.uk). "Ian did a brilliant job on the gearbox, I can't recommend him enough," adds Paul. "Me and friend Colin Bowbadge rebuilt the engine using a kit I ordered from the States. That was pretty straightforward."
Attention turned to the interior. "The rear seat was missing so we cut down a coupe version and narrowed it to fit." Then it was a question of finding a trimmer, which turned out to be easy. "I was parked in the Olds coupe one day and a couple approached to chat about the car," they turned out to be Claire and Chris from Equinox Custom Interiors (0117 986 6880/www.equinoxcustominterior.co.uk). "Once I'd visited their premises I knew I could trust them to retrim my convertible and they did an absolutely stunning job. I wanted a Super 88-style interior since the original 88 looks a bit plain. They copied it largely from photos."
SMS Auto Fabrics in Oregon (www.smsautofabrics.com), supplied the correct vinyl. "I had Chris add three-tone trim across the side panels of the rear seat since stock is just one colour. Once we'd fitted the new pump and roof rams I'd bought, Chris made a superb job of fitting the new roof." That was after Paul discovered the original roof frame was bent and was forced to source a new one from America.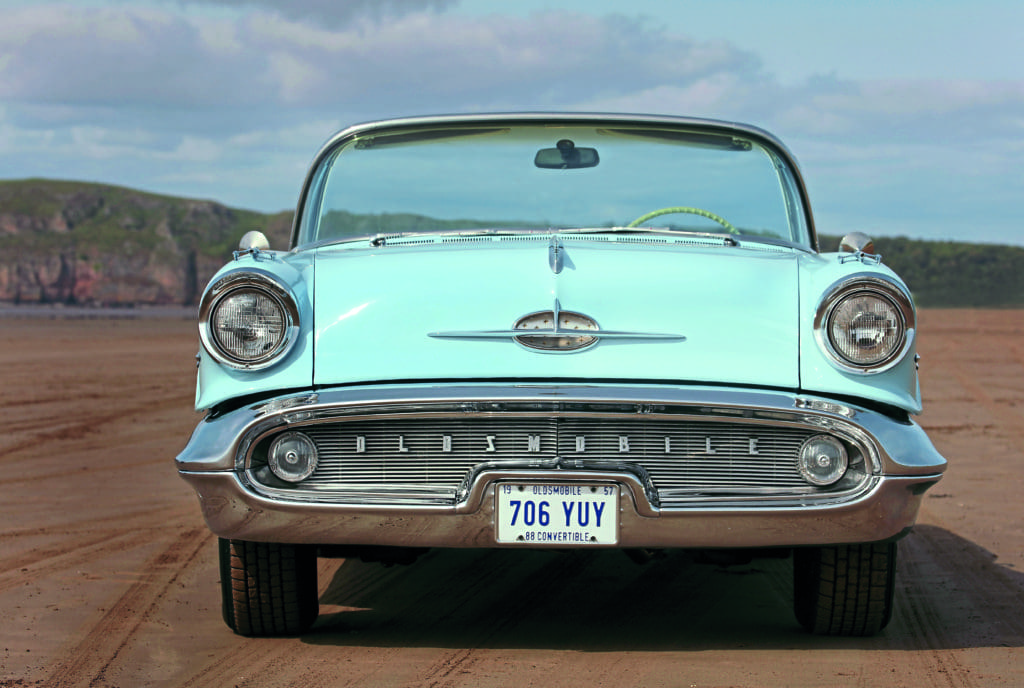 Blues Man
"The car was originally red, but I don't like red convertibles so decided to paint the car blue. I'd already painted the interior of the body and the dashboard. Then I was at the Power Big Meet in Sweden and saw a '57 in two-tone blue. I decided mine ought to be blue and white so I had to redo some of it, fortunately most of that interior paint was covered up by trim." Paul tried to keep it a secret, but the colours his Olds is painted are actually Citroen Botticelli Blue over Ford commercial Diamond White. "The commercial white is a little creamier than standard Diamond White." Thanks go to Neil Hilliard and Andy Meakin for their painting skills. Andy later did much of the body reassembly as well. A Newport Engineering electric wiper conversion was added too; "it bolts right into the existing holes".
The Oldsmobile was treated to a complete stainless steel system by Infinity Exhausts.
Follow Classic American on Instagram!
"I was really impressed with their work, they made the system from scratch and it's bolted, not welded, together. Then after I'd fitted the fuel tank I realised the exhausts fouled on it. I took it back and they rerouted the pipes for free – that's great service!"
The shiny bits were rechromed in the States, "the quality seems better, but it costs about the same once you ship parts there and back. We panicked when the front bumper and grille top didn't align − I had ratchet straps bending it back into position!"
Paul reckons the car did about 1000 miles around the UK on lorries before he ever got to drive it. "The restoration was a real learning experience, there's virtually nothing I don't know about '57 Oldsmobiles now," laughs Paul. "For instance, the boot convertible hinges are different to those on the coupe, so are the sunvisor mountings and the screen trim. I spent most evenings online finding parts. I'd thought some would be shared with other GM cars, but almost everything is different. Of course, all the trim is uniquely Oldsmobile too. There are very few people offering Oldsmobile parts, yet you can buy virtually everything for the same year Chevrolets."
For all things Classic American, like our page on Facebook here!
After some 2500 hours spread over six long years, the Oldsmobile was back on the road in 2016 and all those efforts were recognised. "I was pleased and surprised to win best in show at the pre-50 American Car Club's Bristol American Car Show. And now I'm doing virtually the same restoration with my 1958 Oldsmobile 98 − I must be mad…"
Thanks to Paul's good friend Caroline for kindly joining us on the photoshoot.