The weather has taken a turn for the better, we're all beginning to switch to holiday mode and if they're not good enough reasons to fire up the Ford or prep the Plymouth, we don't know what is!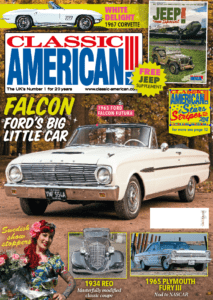 The June issue of Classic American is out today, although if you're a subscriber you should have already received your favourite Yankee motor mag. Inside you'll find plenty of information about forthcoming shows to keep you entertained all summer, including the Classic American Stars & Stripes 2018 at Tatton Park, Knutsford, Cheshire, over the weekend of June 30 and July 1.
There are five upcoming heats of the Footman James Car of the Year events too, one of which is at Stars & Stripes, the others being held also in June and July. In competitive mood? Here's your chance to shine!
We've got a series of spectacular cars for you to admire in the latest issue, including a 1967 Corvette Sting Ray, a 1965 Plymouth Fury III and a 1963 Ford Falcon Futura. But maybe the star of the show, and certainly the elder statesman of the bunch, is a 1934 REO Deluxe Flying Cloud Coupe owned by Al Parkes… it's something you don't see every day, that's for sure!
Included free with the latest issue is a 16-page Jeep special, for those who love their motors on the 'utilitarian' side. Whatever your taste and budget, you'll find plenty to keep you entertained – so make sure you pick up your copy today!
For a preview of the June issue, see below:
Article continues below…
Advert