Classic Camaros are under the CA spotlight in the June issue of your favourite stateside motors mag.
Yes, we're celebrating the 50th anniversary of the pony car, which is still hot to trot after all these years. Check out our superb 19 pages of cool Camaros!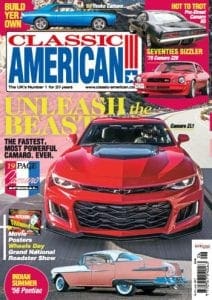 As the weather warms up (sometimes) and the days get longer, the show season really gets into gear.
If you've not been to any events so far, check out what you've missed with our reports on Wheels Day, the Hot Rod and Kool Customs Show and the Grand National Roadster Show (nothing to do with Aintree and horse racing!)
Wheels Day hosted the first of the Footman James Classic American Car of the Year heats, and you can find out who the winner was in the latest issue, now on sale.
Movie posters from decades gone by are also featured in all their colourful glory as Steve Havelock meets Paul Veysey, who has made a living trading in automotive artwork.
Article continues below…
Advert
You can also meet the people who own some of the classic cars – Jon and Mandy Cooper display their 1973 AMC Hornet Sportabout Gucci, while John Simmons takes his 1956 Pontiac Star Chief Custom Hardtop Catalina out for a spin, resulting in some superb photographs in the spring sunshine.
There's technical know-how from Rob Woodall, who this month takes a look at propshaft problems, and regular contributors Tony Oksien, Will Shiers, Richard Heseltine, Richard Coney and Huw Evans offer their own intriguing takes on the US motor scene.
Plus, of course, there are news pages, your letters and plenty of shows to read about and put in your diary; and if you're looking for a stylish motor to transport you to any of these super summer shows, there are plenty on sale within our pages.
Article continues below…
Advert
Check out a preview of Classic American here for some spectacular summer reading:
https://issuu.com/mortons-digital/docs/classam_16-05-2017?e=7600234/48324941