As summer reaches its peak, so does Classic American! Those long, lazy evenings are just that little bit better with a copy of your favourite magazine by your side, whether it's in the park, on the beach, or just resting on the passenger seat.
If it's muscle you're after, you don't have to bulk up with protein shakes… just open the pages for some modern-day muscle cars and some jaw-dropping examples from way back when, in those heady days when Adam (West) was a lad… and speaking of Batman, Richard Coney ventures into the Batcave to retrieve a new 1:24 scale Batmobile, complete with figures of the Caped Crusader and the Boy Wonder.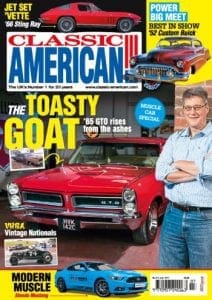 We're featuring a little red Corvette (1966 Corvette Sting Ray), and taking a look at the latest generations of the Camaro. More delicious than an ice cream covered in chocolate sprinkles and strawberry sauce is a sleek, black 1960 Chevrolet Impala Sport Coupe, and the Sixties theme continues with two glorious motors driven by one enthusiastic owner, surgeon Lennard Funk – a 1967 Ford Mustang and 'the Toasty Goat' – a 1965 Pontiac GTO badly burned in a garage fire which rose, like a phoenix from the ashes, to become one of Lennard's most successful recoveries.
The muscle car special also features a 1970 Plymouth GTX – who says the Seventies was the decade that taste forgot?
If you're keen on the show scene we've got reports from the VHRA Vintage Nationals and Beaulieu Spring Autojumble. The issue is packed, as you'd expect, with advertisements for some of the major events happening over the summer and autumn, in addition to our monthly round-up of what's on and regular cruises.
And we've got all your usual favourites, such as Will Shiers' Discoveries – another amazing selection of the unusual, the unusable and the unforgettable in various stages of decomposition – and Tony Oksien's Muscle Car Files, which looks at barn find blunders.
Article continues below…
Advert
Whatever your taste in stateside iron, you're likely to find it in the pages of Classic American. Have a look at the link below for a preview of the latest issue:
Article continues below…
Advert