The Festival Of Power
Santa Pod Raceway
Fri. 14 – Sun. 16 April 2017
Easter in mid-April can often turn out warm and sunny, but Easter 2017 promises to be a scorcher when Santa Pod Raceway unleashes its fire-breathing extravaganza, the Jet Car Shootout. The largest contingent of jet-powered vehicles ever assembled in Britain will headline Santa Pod's season-opening Festival Of Power, blasting forth their unique brand of flame, smoke and thunder.
Technically, Jets are classified as exhibition vehicles rather than racing machines, but don't try telling the drivers. Local hero Martin Hill presents no fewer than three entries from his FireForce stable, two Jet Funny Cars (FireForce 3 and 4) and his five-second FireForce 5 Jet Dragster, taking on the Split Second Jet Dragster of Julian Webb. Lee Dennick pilots the Reign Of Fire mini-Jet Funny Car – small in stature, perhaps, but packing a punch far above its weight. Jetting in from Germany, Gerd Habermann brings not only his familiar Dragon Hunter Funny Car but raises the insanity level to new heights with his outrageous jet School Bus, the first British outing for this flame-throwing yellow peril.
If the afterburner-popping Jets haven't already rattled the china on your mantelpiece, there'll be the nitro-burning Funny Cars of the European Funny Car Series in action too, and Top Fuel Dragsters warming up for the season ahead. Family entertainment is a key feature of the event, but the Festival Of Power also embraces a serious motor race. 2017's national championships for cars and motorcycles start here – leading the way, the rumbustious Pro Mods battling out the first round of the MSA British Drag Racing Championship.
Article continues below…
Advert
Away from the track, the Festival Of Power offers a vibrant selection of entertainments fit for all the family. The Live Action Arena stages stunt shows galore, together with those perennial children's favourites, the Monster Trucks. There is even another jet car on show, Hervé Franquin's thrust-powered Peugeot 205 coming all the way from France to warm up the Santa Pod crowd. And for those fans who love their smoke abundant and multi-coloured, watch out for a round of the European Burnout Championship, a spectacular sport invented in Australia and new to these shores. There is plenty more family fun on offer, not least the Festival Of Power's annual Big Top show, the award-winning Pinder's Circus.
The Festival Of Power 2017 takes place at Santa Pod Raceway, near Wellingborough (NN29 7XA), from Friday 14th to Sunday 16th April. Early Bird tickets, available until 31st January, start from as little as £15.20 per day for adults – as ever, KIDS GO FREE – under-16, three per paying adult. For full event information and to book tickets, please visit www.santapod.com or telephone 01234 782828. Tickets may be booked online and printed at home. (Images: Dave DJ Jones/Daniel Smith/Santa Pod)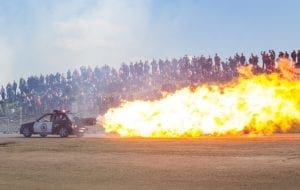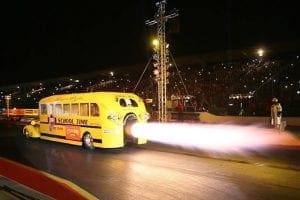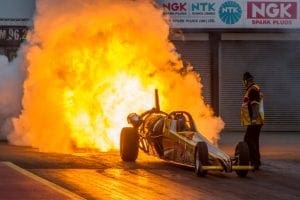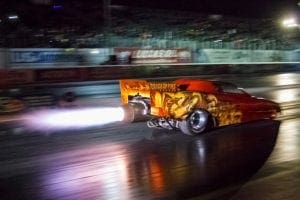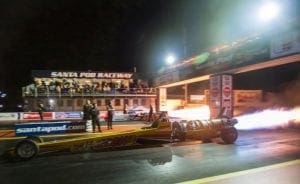 Article continues below…
Advert