After all the ice and snow we've been experiencing of late, it's time to warm yourself up with the latest red-hot issue of Classic American!
Not only is it hot, but it's also hot off the press – as for one month only, your favourite classic American motors mag is out a week earlier than usual… so you can pace yourself over the Christmas holiday and keep some of the features to savour when you're tired of all those family photos being dragged out again. Or you can retreat to Classic American heaven instead of playing yet another game of Monopoly…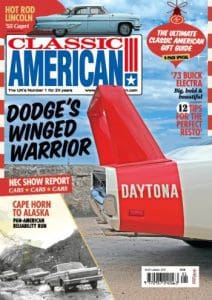 However you wish to consume your festive Yankee treats, you can guarantee the bright red cover design holds some scorchingly hot topics inside. That winged wonder on the cover is a 1969 Dodge Daytona, while inside you'll also fine another red-blooded beauty – the winner of the Footman James Car of the Year 2017. It was a hard-fought battle across the best shows of the season to finally select the amazing victor. No, it's not a Vauxhall Victor, that'd be a different magazine… check out the stunning finalists who took their US-built pride and joy to the NEC, Birmingham, for the Lancaster Insurance Classic Motor Show in November.
By picking up your copy extra early, you can also save yourself some last-minute gift-buying headaches as Classic American presents (pun intended) some great gifts for the car enthusiast in your life. Or if you find yourself with gift vouchers or cash for Christmas, you could always treat yourself…
Are you a fan of Fords? The Ford Motor Company has supplied some amazing images of a trek in 1964 when it packed off three Mercury Comets on a 16,000-mile run from Argentina to Alaska.

Steve Havelock looks back more than 50 years to see how the cars, and their drivers, coped with this gruelling odyssey – see snow-covered images (right).
Tony Oksien previews the 2018 Ford Mustang, and Huw Evans takes a close look at how the growing complexity of vehicles is causing all kinds of issues for the US auto industry. In the third of our trio of regular one-page columns, Richard Heseltine takes apart the history of the La Dawri kit car.
Will Shiers ventures off into the undergrowth again to unearth some grubby, rusting gems in his excellent Discoveries feature. On the opposite side of the classic car coin are some superb examples of quality Yankee metal in our show reports – from the P-15 Picnic at the National Museum of Computing, Bletchley Park, and Solent Renegades' End of Season Show in Portsmouth.
If that's whetted your appetite for a project or a finished model to take to cruises or to shows in 2018, there are pages of cars for sale, both from dealers and private sales, and plenty of suppliers of parts, goods and services to help you realise the dream.
Check out a preview of the January issue of Classic American here:
https://issuu.com/mortons-digital/docs/ca_12122017i?e=7600234/56106494
And here are some of the other fabulous motors we're featuring in the January issue: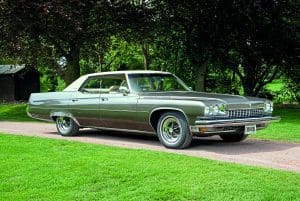 1973 Buick Electra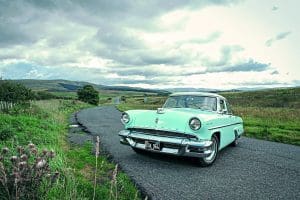 1955 Lincoln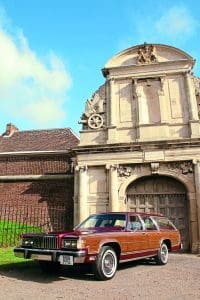 1985 Mercury Wagon