Not so many moons ago we ran a feature designed to thrill everyone who grew up to the sound of Ray Parker Junior's rockin' tune, the theme music to the Ghostbusters film. The article contained amazing pictures of a 1991 Cadillac Fleetwood hearse styled to look like Ecto 1, which is owned by Mike Barr and Ciaran McKay of Star Car Hire.
Now – BIFF! KAPOW! – the January issue features a car that the caped crusaders Batman and Robin would be proud of. This incredible 1957 Lincoln Premiere owned by Ken Partridge may be celebrating its 60th birthday soon but it's still a glamorous head-turner.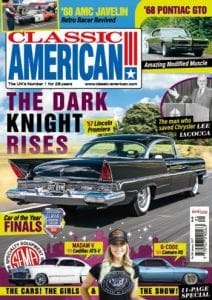 Growing up, Ken had a fascination with all things Batman-related, but finding a suitable Batmobile ­–well, that took some doing. But find one Ken did, and he's now the proud owner of a sleek, black Lincoln that would look right at home in the Batcave.
Many Classic American readers will be mourning the passing of Steve Miles, an authority on classic cars from the other side of the pond. Steve was the respected and knowledgeable writer of our regular Rear Window feature, which takes a look back at the makes and models available stateside shortly after the Second World War, with the colourful and stylish advertisements of the period. Editor Ben Klemenzson pays tribute to Steve, and in his memory we feature one of the last articles he penned for Classic American before his untimely death.
The Footman James Car of the Year competition drew to an exciting close at the Lancaster Insurance Classic Motor Show at the NEC, Birmingham, and the worthy winner was a 50-year-old motor that had appeared at the Classic American stand at the NEC in 2003 in its 'barn find' state. This time, however, its pristine good looks and immaculate presentation captured the judges' hearts. Find out more in the latest issue!
Also taking place in November, but in the bright lights of Las Vegas rather than Brum, was SEMA 2016 – the Specialty Equipment Market Association Show. Christopher Tilley attended on behalf of Classic American and came back with a fascinating selection of photos and some impressive snippets of news – see this special five-page feature in the January issue.
Two more Ringbrothers creations are highlighted in the new issue. Madam V is a 1948 Cadillac in which classic style is combined with the luxury, performance and convenience of a 2016 Cadillac ATS-V while G Code is a 1969 Camaro RS that Jim and Mike Ring have worked their one-of-a-kind magic on.
Will Shiers presents his Discoveries series with humour and pathos, as he imbues each caption relating to a rusting metal steed now languishing in a scrapyard with poignant and thoughtful observations.
A small gathering of Edsels in the Lincolnshire countryside last summer provoked considerable interest and these stylish vehicles are likely to be even more visible in 2017. If you've got one, and would like to meet up with other Edsel enthusiasts, check out The UK Edsel Group Facebook page.
Our Classic American People feature again focuses on iconic automotive legend Lee Iacocca, this month looking at his time at Chrysler, and there's plenty of up-to-date news as well as regular features from Tony Oksien, Huw Evans and Richard Heseltine.
---

Enjoy more Classic American reading in the monthly magazine. Click here to subscribe.
Sell your Classic American car here.