Fortunately for this stunning original Plymouth, legendary Mopar whisperers the Billadeaus
came to the rescue more than once…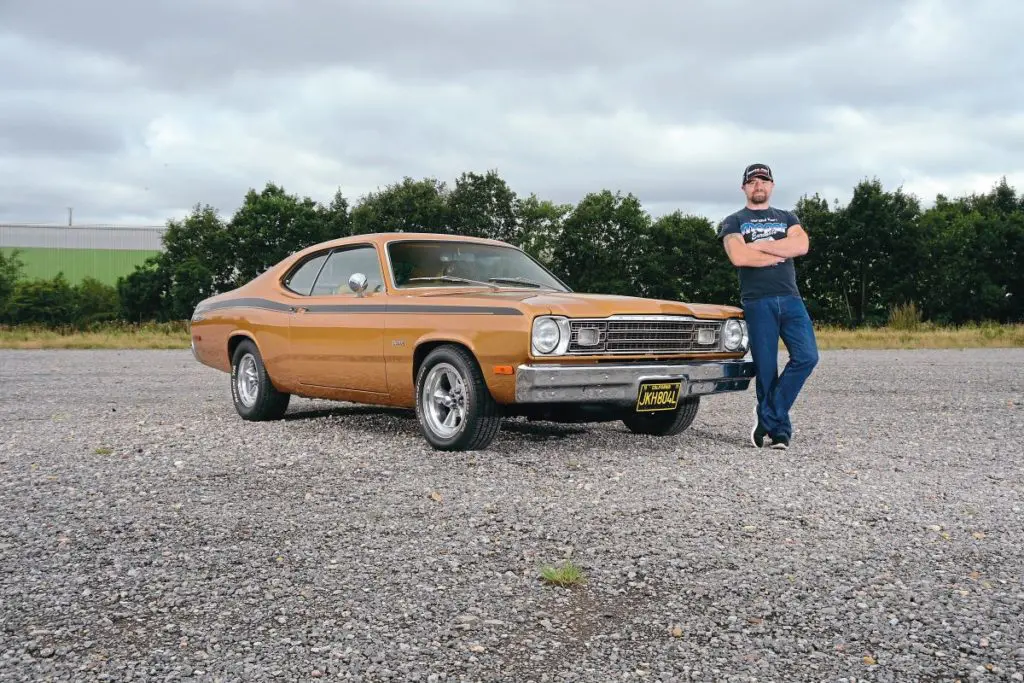 Words and photography: Jon Cass
Many of us have dreamed of owning a classic Mopar, but sadly the reality rarely happens. Forty-four-year-old Danny Clegg has been a huge Mopar fan since the age of five, and only recently his dream came true with the purchase of this stunning '73 Plymouth Duster. Luckily, Danny's life-long best mate went on to become one of the most prolific Mopar gurus in the UK, which is always handy in such situations!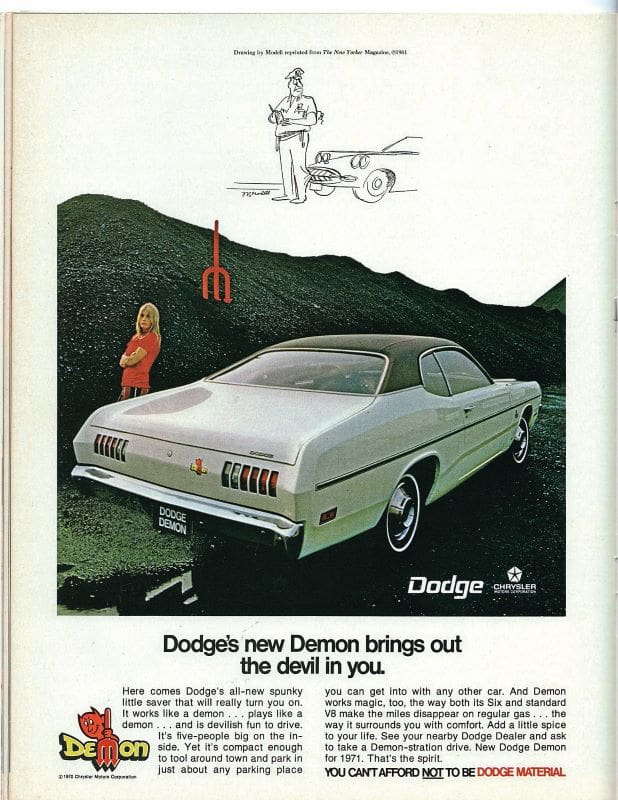 Influenced (as so many of us now in our 40s and 50s were) by the antics of the General Lee, Danny was no exception: "I'd always wanted a Mopar as did my best mate at school, Scott Billadeau," Danny recalls. "Little did I know Scott and his family would become so involved within the Mopar scene a few years later." It would be Scott's brother, Dave, who ensured Danny would become hooked, once he'd had the pleasure of an unforgettable passenger ride in Dave's magenta red 1970 Dodge Challenger. "After that, I said to myself, the first Mopar I drive will be the one I own, and that's how it proceeded to happen," Danny adds.
While Dave and Scott smoked around in their V8 Chryslers, Danny became involved in the classic car scene too, though his cars were more typical for UK roads. "I've had a few Beetles, a Mk1 Audi GT and a few XR Fords," Danny remembers. "They were great to own and drive, but still a world apart from a big American V8."
It must have wound Danny up no end witnessing his mates driving around in the types of car he'd dreamed of as a youth, but Scott eventually came good and pointed Danny in the direction of this very original '73 Plymouth Duster. "Scott showed me the ad; the car looked perfect, but I didn't have enough saved up to buy it," Danny explains. "I would have needed a loan to fund it." At this point Danny's girlfriend made the decision for him by calculating the costs, which worked out less than he was currently saving each month. "Lynne pressed the button to confirm and told me to grab a beer, as I'd just bought a Mopar!" Danny laughs.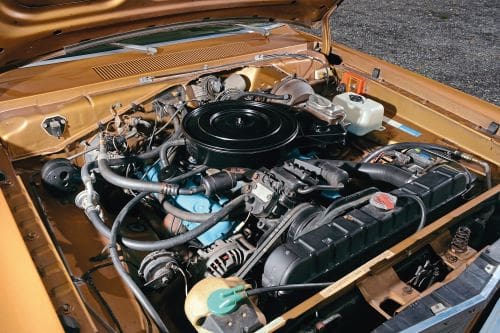 That last-second decision to commit to the purchase of the Duster turned out to be the right one, as the car certainly didn't disappoint. "It spent its life in California up until around four years ago and had been well looked after," Danny tells us. "It appears all the panels and chromework are original and it's never been welded either." The attractive Honey Gold paintwork is the factory colour, although it had benefited from a quality respray before travelling over to these shores.
Step inside and that '73 interior is totally original too, the tan vinyl seats and dash complement the exterior gold paint perfectly. "The air con still works, and it blows ice cold," Danny points out, "even the annoying buzzer that reminds you the keys have been left in the ignition still works too!" Unusually for a Californian car, the dash is devoid of heat-inflicted cracks, confirming the Duster must have spent much of its time garaged away from the sun.
The matching numbers 318cu in V8 was still in place, though at first it wasn't running to its full potential. "I noticed a slight misfire when I picked the car up, so I drove it up to Dave Billadeau's workshop for him to have a look," Danny recalls. As ever, Dave soon worked his magic, sorting the timing and setting up the single carb, and the Duster was running sweet once again. While many Dusters of this era have been modified in some way, this one remains stock under the hood, even down to the single carb, exhaust and manifold. "I wouldn't mind adding a few period upgrades such as a Flowmaster exhaust system and a four-barrel carb; nothing too extreme, but enough to add a little more poke," Danny smiles. "The transmission is a 904 column shift with a 7¼ back axle and it cruises along nicely."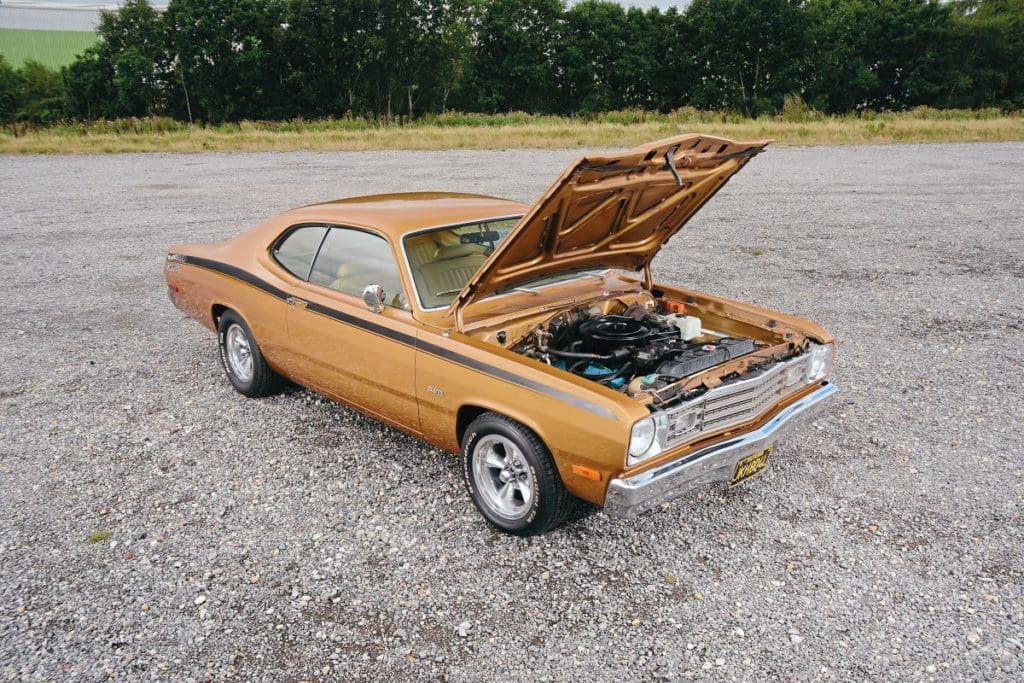 As you can imagine, Danny is reluctant to make any major changes due to the Duster's originality. "The only major change has been the American Racing mag wheels which set the car off brilliantly and don't look out of place," Danny points out. "It also has that passenger door mirror too."
In addition to the planned four-barrel carb and Flowmaster exhaust, the 318cu in V8 is due for a refresh at − where else? − but Billadeaus.
"Owning a Mopar has been a fantastic experience so far; you get to meet so many great people owning a car like this," Danny smiles. "I've been going to car shows and to drag racing for years, but the admiration I receive for this car is unlike any other I've previously owned." Danny's ambition to own a Mopar may have been accomplished almost three decades after his mates Dave and Scott first bought theirs, but we can tell from his enthusiasm the experience has been well worth the wait.
Introduced in 1970, the Plymouth Duster was Dodge's answer to the compact-sized coupe market. Based on the 108-inch Plymouth Valiant platform, it also shared the same front-end design of its long-running sister. Plymouth's stylists gave this latest offering an entirely new look from the front bulkhead back by using a modified fastback configuration with radically curved side glass having only half the curvature radius of conventional side glass, all to great effect.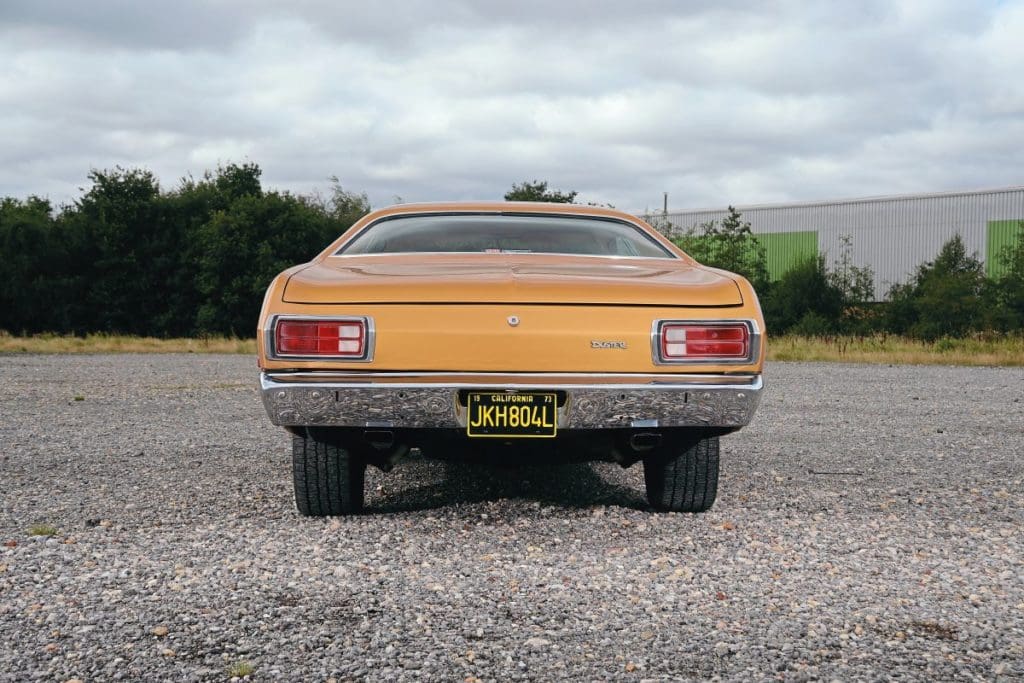 Competition was fierce, as the AMC Hornet and Ford Maverick coupe had both been introduced in 1970, while there was also Chevrolet's slightly larger but highly popular Nova to contend with. Plymouth even pitched the Duster as an alternative to the VW Beetle and Chevy Vega in the sub-compact class! Fortunately, the Duster proved to be a success and many saw it as a cool alternative to its more expensive Barracuda sister too.
For the '73 model year, the Duster received changes to the hood, grille, front fenders, bumpers and tail-lights in keeping with the Valiant's corresponding updates. Simpler single-piston slider-type disc-brake calipers were also introduced for 1973 (standard on 318-powered cars and with power-assist on 340 models), replacing the Kelsey Hayes four-piston calipers, while electronic ignition became standard too.
In 1973 the Demon name was dropped from Dodge's version of the Duster due to Christian church group grievances surrounding the name and the devil with a pitchfork logo. We'd have to wait until 2017 for the Demon name to return! Production of the Duster continued until the end of A-body production in 1976, to be replaced by the arguably less memorable and certainly less attractive Dodge Aspen and Plymouth Volare – although not according to Jim Maxwell, in last month's 'Forgotten Mopars' feature which lauded the Aspen and Volare!
With the prices of Chargers, Challengers, Road Runners and other B-bodies going through the roof, these handsome little A-bodies make a cost-effective alternative to big-ticket Mopars – and they can be handier for UK roads and garages. Isn't it time you dusted off your wallet for one of these tidy little Dusters?!