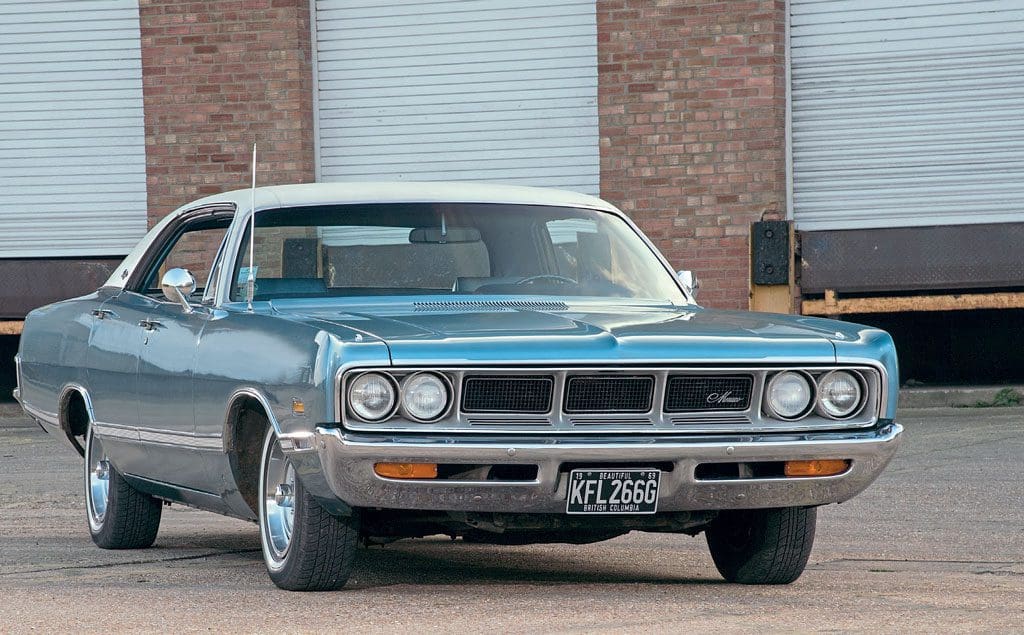 Words: Mike Renaut Photography: Matt Richardson
Andy Sanders bought this 1969 Dodge Monaco in Canada and brought it back home to the UK. Then it got stolen…
When Andy Sanders and his girlfriend Kate – now his wife – went to live in Canada for a year back in 2006 they quickly realised they would need transportation.
"We went out from the UK on a year-long working visa," remembers Andy, "and soon needed a car to drive about in. I saw this 1969 Dodge Monaco Brougham hardtop on eBay. It had belonged to two old ladies from new, then to a guy named Tommy who lived near us in Vancouver.
My friend Nick had a 1969 Chrysler Newport and I'd always admired that car, so I became the Monaco's third owner for $2000. My first car was a two-litre Austin Montego, but my second was a black 1978 Trans Am. When the engine blew in the Pontiac I sold it for parts and put that money into the Monaco.
"We'd moved into a rented basement suite in North Vancouver. On the way back after collecting the Dodge, smoke started pouring out from under the dashboard. I'd stopped outside a branch of Canadian Tire, which is sort of an equivalent of Halfords. The voltage regulator had shorted out and there were no tools in the Dodge, but I was able to buy some wire and pliers to make a repair.
"Kate worked at Grouse Mountain driving the cable car," continues Andy, "so the Dodge was driven in snow for a few months. In Canada they plough the roads but don't salt them, which had saved the bodywork for all those years. We soon found out the trunk easily fits two snowboards."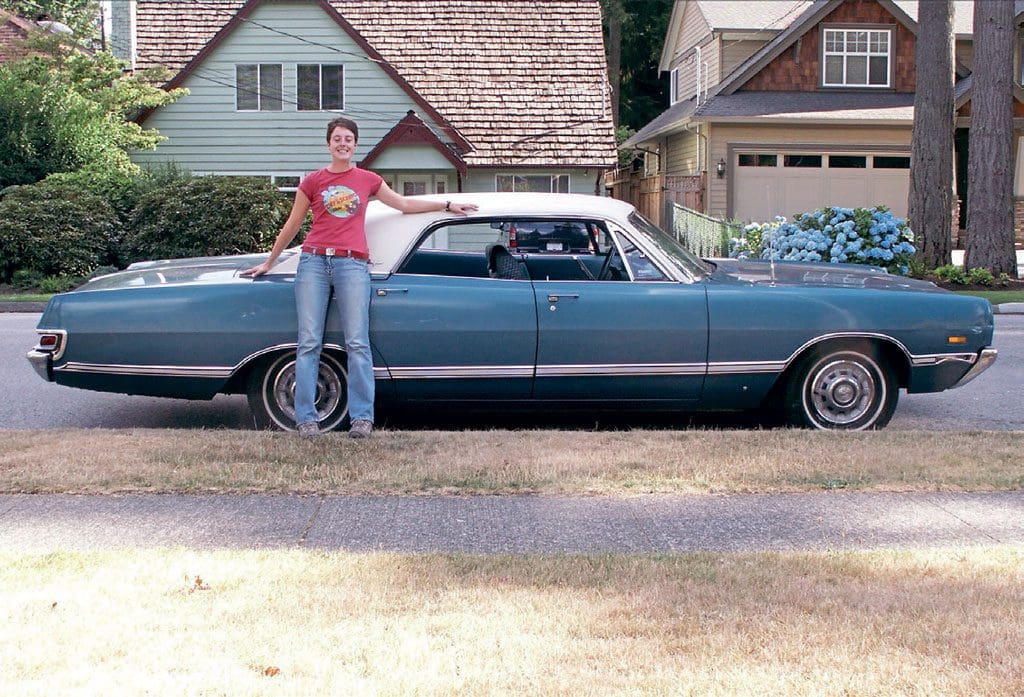 The Monaco was used as Andy's daily car for the next 12 months. "I had the 318cu in V8 engine stripped and rebuilt while we were out there, but the Dodge was very reliable and didn't need other work. We enjoyed driving it around and, being quite heavy, it gripped well in snow. The brakes are drums all around, although they are power assisted, so it stops pretty well too.
"After our visa expired and we had to return to the UK, we basically decided the car was coming home with us. We'd been living in Vancouver, British Columbia, on the West Coast, but it was half the price – about $2000 − to ship the Dodge by roll on/roll off ferry from Halifax, Nova Scotia, on the East Coast. So we decided on a road trip and drove the Trans-Canada Highway – driving those 5000 miles over three weeks."
Of course, that trip created a lot of memories. "We had one breakdown in Saskatchewan when the left rear tyre developed a huge bulge, then the right front brake lining came loose, locking the wheel. We bought four new tyres and sorted out the brakes too.
"Then in Ottawa, Quebec, at a campsite we were getting ready for Canada Day celebrations – that's the Canadian version of America's Independence Day – and a sudden rainstorm caused us to accidentally lock both sets of keys in the boot. Luckily, a fellow camper lent me the tools to dismantle the rear seat, which revealed a gap just big enough for Kate to tunnel in and find them!
"In Winnipeg, Manitoba, halfway through our road trip, we coincidentally arrived in time for the local Sunday night car cruise. So many beautiful classics, just driving up and down Main Street. Our Dodge got lots of attention due to the BC (British Columbia) licence plates, showing that we were from a long way out of town…"
Dodge launched the Monaco name on a mid-sized 1965 model intended as competition for Pontiac's Grand Prix. Based on the Custom 880, the Monaco got more upmarket sportier trim, with bucket seats, optional air conditioning and vinyl roof.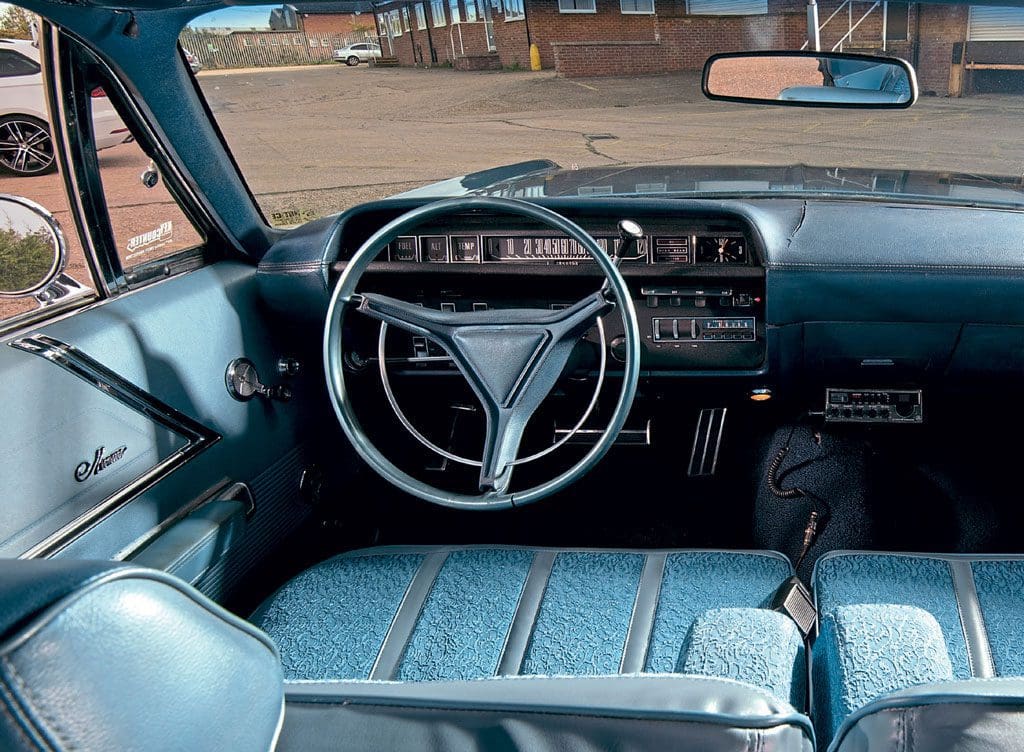 Only available as a two-door hardtop, the theme was luxury with a sporting feel and while the base engine was a 383cu in V8, you could order a 413 or even the 426 Hemi. For the Canadian market there was a Polara-based convertible Monaco – a body style not offered on American Monacos. Canadian Monacos were built in Windsor, used Plymouth interiors and had a slant six as standard.
In 1966 the Monaco series was expanded to four body styles and the introduction of a Monaco 500 hardtop, with exclusive trim and 383cu in V8 as standard. The 1967 cars got a mild facelift, with a protruding centre grille and a pronounced crease across the back wheels, while for 1968, Monacos received a full-width tail-light to distinguish them from the similar-looking Polara.
The 1969 Monaco's wheelbase grew an inch to 122, and overall length was 220.8 inches. Polara and Monaco got all-new 'fuselage' styling. The Monaco remained the top model, available in two- and four-door body styles, as well as a four-door wagon, while Monaco 500 was available as a two-door hardtop or Canada-only convertible.
Under the bonnet was a standard 318cu in V8 with a single barrel carburettor putting out 230bhp, but a 290- or 330bhp 383 V8 and 350- or 375bhp 440cu in V8s could be specified.
Dodge also introduced an innovative Super-Lite option; a single grille-mounted, rectangular quartz iodine spotlight that extended the driving light range on freeways at night without dazzling oncoming drivers. It was ahead of its time, although not legal for sale in all states and discontinued in 1970.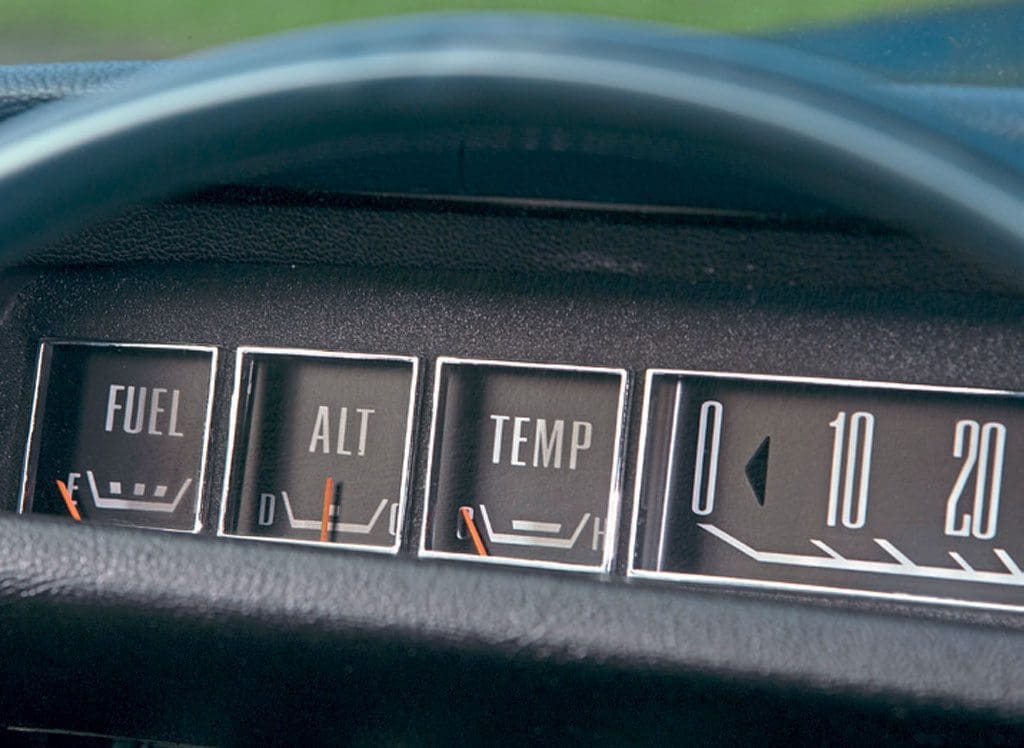 Fade-free front disc-brakes were also introduced as an option, with a dual circuit front/rear system which employed two master cylinders.
Canadian Monacos remained very similar to their American counterparts, but although they now had Monaco (not Plymouth) interiors, they could sometimes be fitted with a combination of Polara and Monaco trim.
Monaco Brougham models like Andy's came as a sedan or pillarless hardtop, with unique Brougham interior trim in a choice of blue, green or black and Deluxe wheelcovers. Although, as far as Andy is aware, his isn't different from the American-built version.
With the car in the UK, you'd think the adventures would be over, but sadly that wasn't the case. "Once we'd delivered it to the docks at Halifax we flew home and later collected the Dodge from Liverpool," remembers Andy. "I registered it, then a week later it was stolen in Ely. I didn't eat or sleep for two days, worried it was going to be found wrecked or burnt out. It turned up left on a farm…
"Whoever stole it took the rear panel of the front seat off and removed a headrest, the CD player, speakers and CDs, along with the spare tyre and jack from the boot. They'd driven it around a field doing doughnuts and the engine mounts were broken, two wheeltrims were missing, the wheel rims were bent and they'd smashed the ignition barrel and all the exterior locks – all of which took a lot of effort to replace. I got it all repaired just in time for my wedding to Kate − which is the one time I haven't driven the car – my dad did."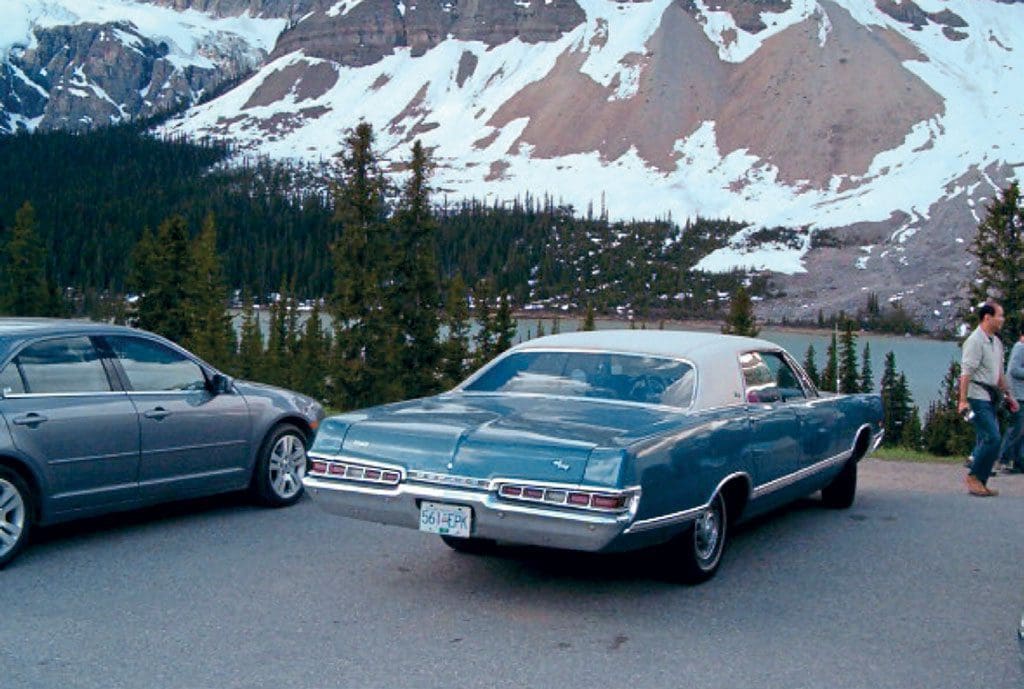 Since then, the Dodge has been treated to further beautification work. "I put in a CB radio – a Harrier CBX – the oldest one I could find. The body was repainted in 2013; I helped my friend Gary Speller – he did most of the actual painting.
"It was starting to get rust around the rear window, so I removed the vinyl roof and my friend Nick Nash did the welding around the window and some repairs on the rear offside. I needed to get the car back on the road for our friends Shelley and Matt Hughes' wedding. I should also like to say thanks to Kirk Pearson of K P Auto Repairs in Haverhill (01440 706175) for all his help."
It turned out a Fiat colour was the closest shade of blue. "I had a guy scan it, he took the bootlid away and it barely fitted in his Astra van."
The interior has also been repaired, since the brocade cloth was starting to wear in places. "SMS Auto Fabrics in Oregon were able to supply matching blue fabric and white vinyl roof material, then D S Thompsett (01223 420622/ www.dsthompsett.co.uk) did all the repairs." The Monaco now also boasts an LPG conversion and stainless steel exhaust.
An interesting discovery was made while tidying the boot; a copy of The Province newspaper dated April 18, 1969. Since it was stuffed right up inside, it was almost certainly put there by a Dodge production line worker in Windsor, Ontario, who couldn't be bothered to find a dustbin… It ties in with the date of May 26, 1969, when Miss Marion C Taylor bought the Monaco for $3965.25 against the $1477 allowed for the 1961 Chrysler four-door she'd traded in at Plimley Dodge on 4th Avenue.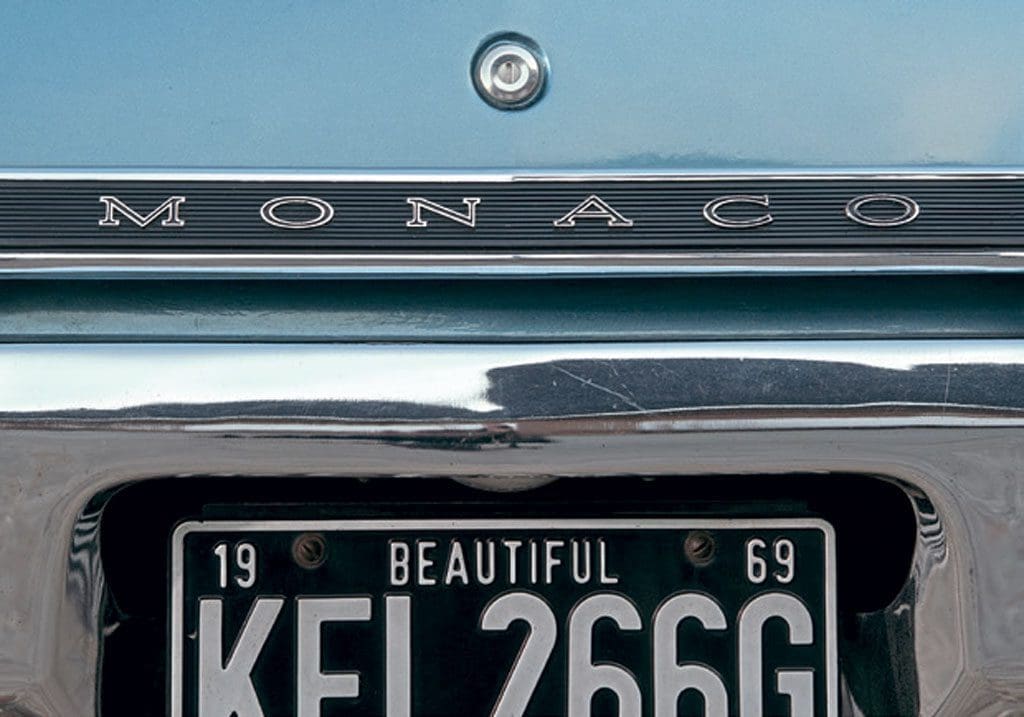 "People look at the boot badge and ask 'what's a Dodge Plimley?'" laughs Andy. "I visited the location, but the Plimley dealership is now a restaurant."
The speedometer is in mph, but it came with paperwork explaining how to convert that figure to kilometres and even a couple of the salesmen's business cards were included with the operator's manuals.
"I use the car regularly, but mainly for various shows. I've taken it out to Antwerp for the Stars on Wheels show and Sweden to the Big Power Meet. We've also gone to the 24 Hours at Le Mans. I bought it with 80,000 miles and since it's been used as my daily, it now has nearer 130,000.
"I'm certainly not frightened to use the car and happily drive it the 10 hours from my place in Cambridge up to see my dad in Ullapool, North West Scotland. In an ideal world I'd like a Hemi Challenger, but the Monaco is sentimentally priceless to me and I can't ever see myself parting with it. It stays on the road all year round and gets driven – there's no point in having a car like this if you can't use it whenever you want to." Amen to that!