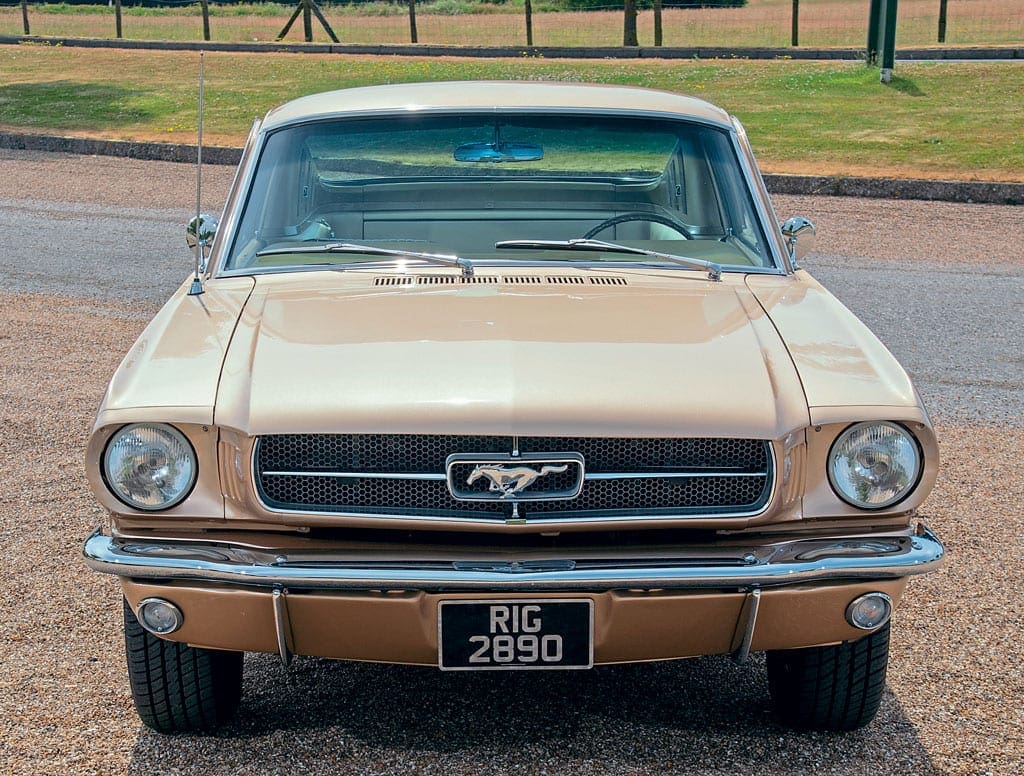 John Maunder's 1965 Mustang, one of our Car of the Year finalists, has been with him since high school in 1974. It's his first car, so it has a tale or two to tell…
John Maunder got his 1965 Mustang 2+2 fastback almost by chance. "When I was 15 my eldest brother Tom had a friend in San Francisco with this Mustang sat in his garage," remembers John.
"I made a deal with Tom; if I helped to get it running he'd give me the Mustang on my 16th birthday. The car had been sitting for a while so we put in oil and a new battery then drove it home. My brother used it for a year then, when I passed my driving test in 1974, it became mine. I had a lot of fun − one time I had 13 people in it, including several cheerleaders lying in the rear…"
Back then, John's Mustang wasn't considered a classic. "It was just another used car and I drove it throughout high school. It needed TLC, but I never did anything to the bodywork, just the mechanical things it required."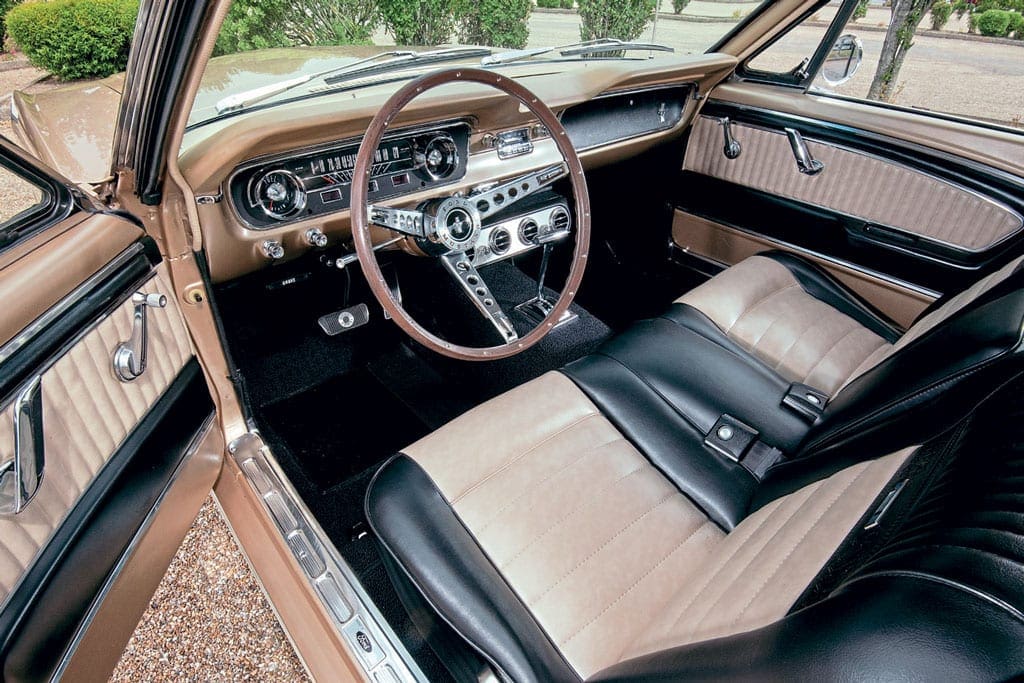 Mechanical things were certainly required. "I once blew the engine doing about 120mph on the freeway," laughs John.
"Next day in auto shop the engine rebuild became a school project. I rebuilt it, including sleeving one cylinder, and learned a lot in the process. I also rebuilt the rear end myself and did the brakes several times. In time I went through the whole car." John also added a tow hitch.
"I used the Mustang to haul a camping trailer for vacations and after I met and married Valerie, my wife, she used to drive it to work. When she broke her ankle it was easier to drive in a plaster cast, being an automatic."
John and Valerie moved to the UK in 1988. "We left the Mustang parked under the trees at my parents' house. My brother started it up every so often, but after a while it got left and the fuel went off."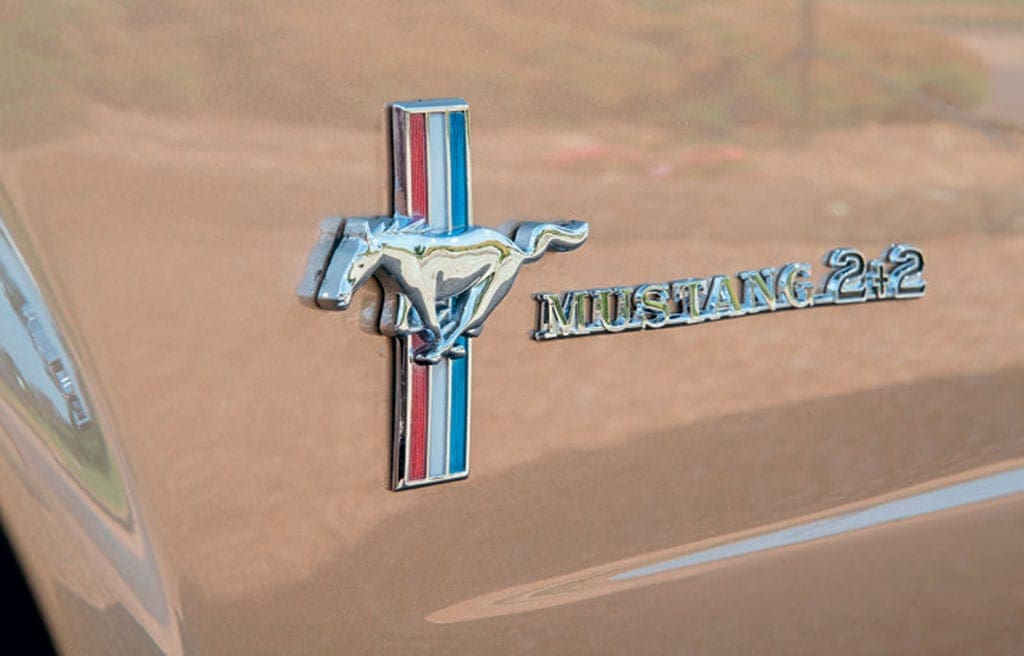 The Mustang sat like that for the next 15 years. "It made me feel sick leaving it like that," admits John, "then my parents died and my sister bought the house. I always intended to restore it myself, but realised it would never happen with me in the UK, so I looked into someone else getting it back on the road."
John spoke to Dave Taylor of Shasta Mustang Supply (www.shastamustangsupply.com) in Redding, California. "I intended just a replacement of the springs and some further mechanical work to get the car ready to ship to the UK, where I'd get it painted," remembers John.
"But the more Dave and I discussed things that might need doing and should be taken care of while the car was apart, the more it made sense to do a full restoration. I went to California for a wedding and dropped the Mustang to Dave on Sept 15, 2014 – exactly 50 years to the day that it was built at the San Jose plant…"
John's is one of 64,808 V8 fastbacks sold during the 1965 model year; the fastback model being the last body style announced and launched September 9, 1964 − almost five months after the coupe and convertible.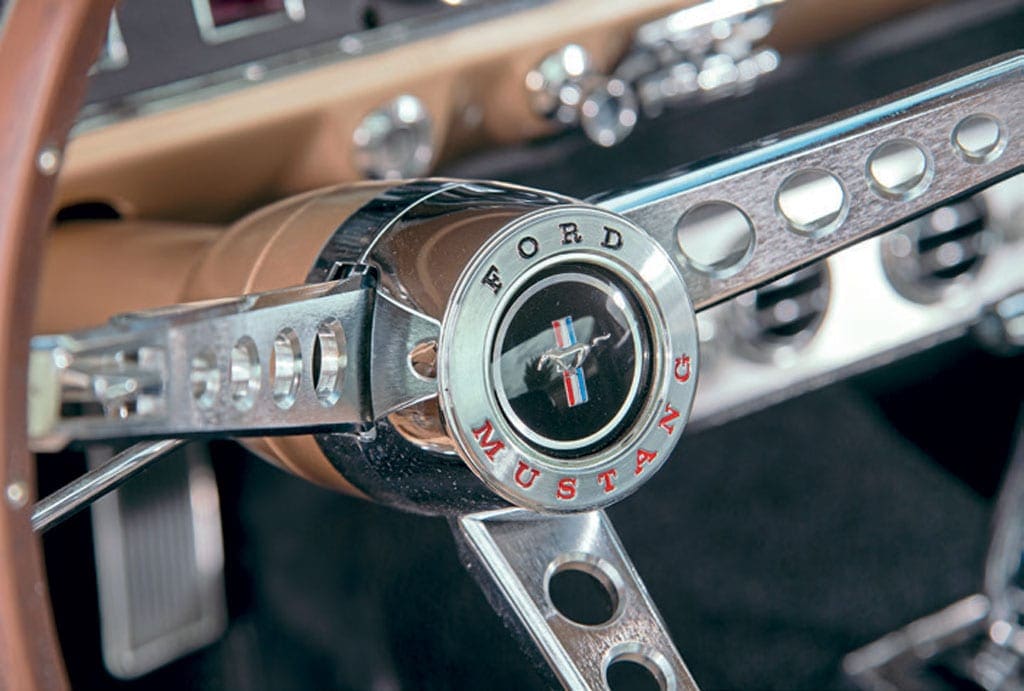 Production of 1965 Mustangs began at San Jose on August 1, 1964, and continued until August 20 the following year, with them building around 480 every day to keep up with the rampant demand. Despite Ford's five American plants churning out some 7000 Mustangs each month, many customers still experienced up to a four-month wait for their car.
The 1965 cars debuted on October 1, 1964, and 559,451 were built. John's would have cost $2639 before any options were added, which could have included bench seats, tach and clock, stripes, wheeltrims, power steering and brakes, plus virtually everything else anyone could want. Optional extras were where Ford made their biggest profits and purchasers found it all too easy to turn a $2400 Mustang into a $4200 one.
The 289cu in V8 was available with 200bhp as standard, or as optional 225 or 271bhp versions; thin-wall casting making Ford's the lightest cast-iron V8 on the market. At $328 that High Performance K-code 271-horse V8 was the most expensive option available, although it also included a handling package with quicker steering and stiffer suspension.
Of course, before long the cars were being modified by second or third owners. Recent figures suggest fewer than 5% of 1964-66 Mustangs remain in perfect factory condition today.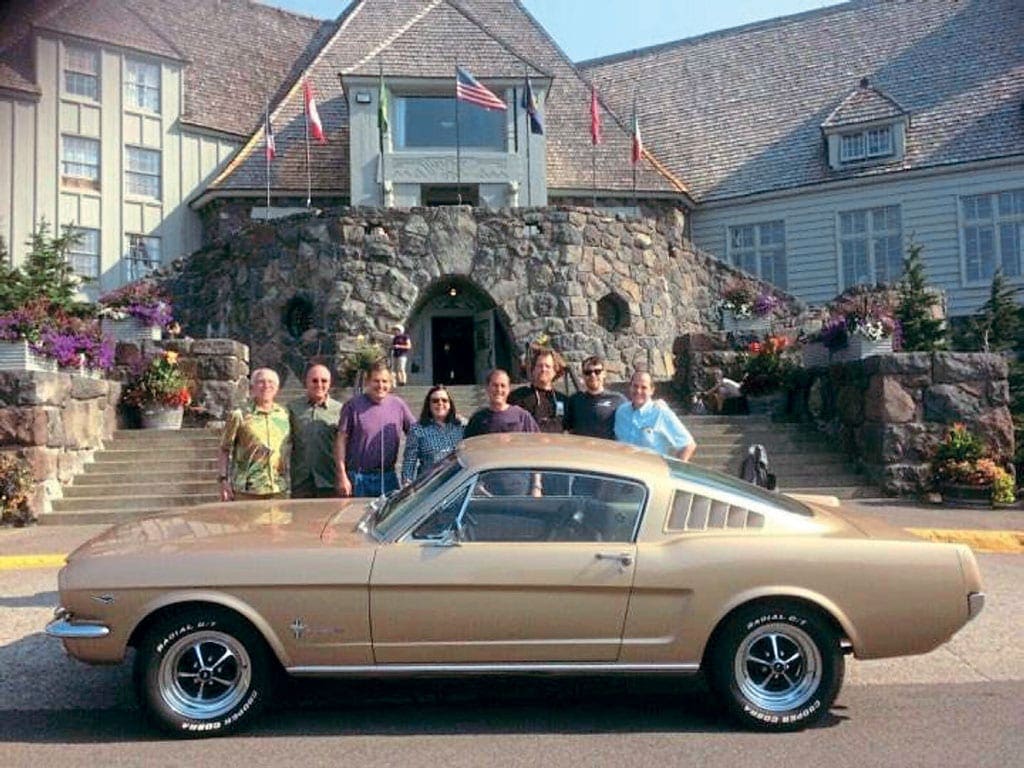 Dave immediately nicknamed our feature Mustang 'Goldie' and began posting up photos on the Shasta Mustang Facebook page of his extensive nut and bolt restoration, along with a lot of helpful, free advice. By January, the engine bay was painted and new front suspension and steering installations were under way, and the 289cu in V8 was bored and honed.
"It's not the original 225bhp engine," explains John, "I had that replaced 60,000 miles after I rebuilt it, with a short block from the local Ford dealership. It retains the original heads and ancillaries though. The original C4 gearbox was previously refurbished years before by my brother because it had been slipping, but Dave rebuilt it again."
The standard 3.00:1 rear axle, heater and countless other parts were rebuilt and repainted. A new stainless steel fuel tank, bumpers, front screen, mirrors, door handles and tail-lights went on, but as much as possible was saved.
The only mechanical update was a disc-brake conversion. "One time I was towing a trailer full of concrete and when I touched the brakes nothing happened; another time, traffic stopped in front of me and I had to use the central reservation to avoid a collision. So uprated brakes were a must."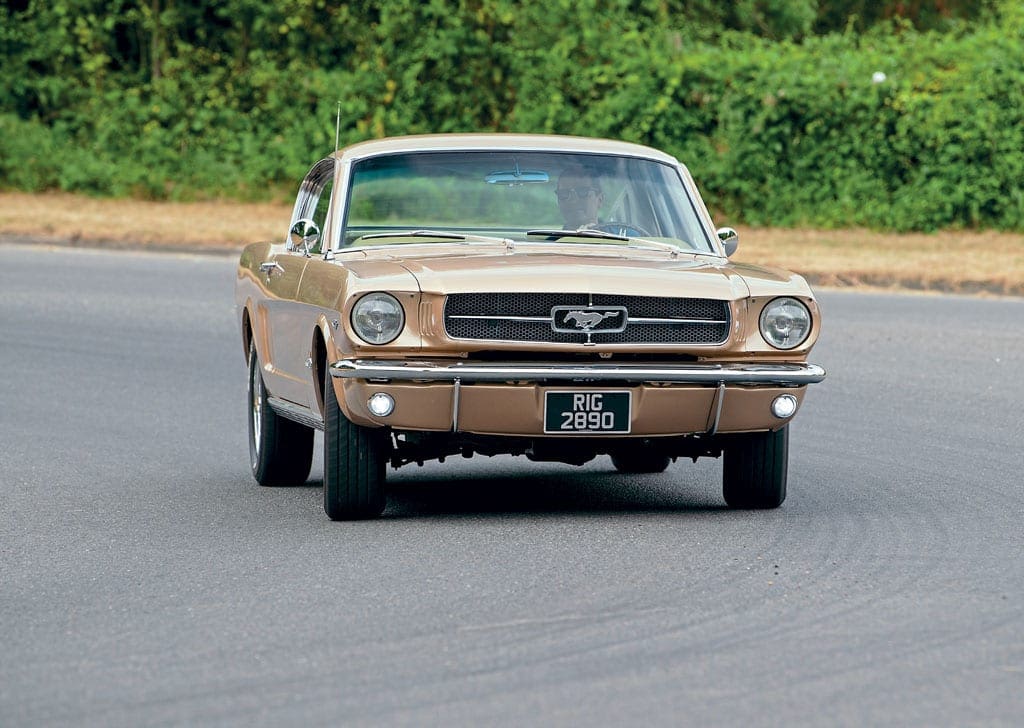 The original steel wheels wouldn't fit over those new discs, so Magnum 500 wheels were bolted on.
The Mustang had come with a 1966 front grille and air conditioning − the latter removed before John got the car − both were now replaced, the grille corrected to a 1965, and the A/C unit fitted is a modern reproduction made to look original.
A modern radio was also installed: "I must have had 10 eight-track players in it and at least three cassette players over the years. I had at least 12 sets of speakers too since they used to blow because I had an amp under the seat."
A new wood-rimmed 'rally' steering wheel was fitted and − also at John's request − Dave put in a Pony interior that the Mustang didn't originally have.
"It was originally a black Palomino Crinkle Vinyl interior and just looked too oppressive, so I went with the Pony one. It retains the bench front seat though, which I understand is unusual. I always ran it without a centre armrest so it looked like separate buckets, and with the rear seat down I could get skis in, or planks of wood. I only picked up a new armrest recently at a wrecking yard. Dave replaced all the seatbelts too, including the three in the front."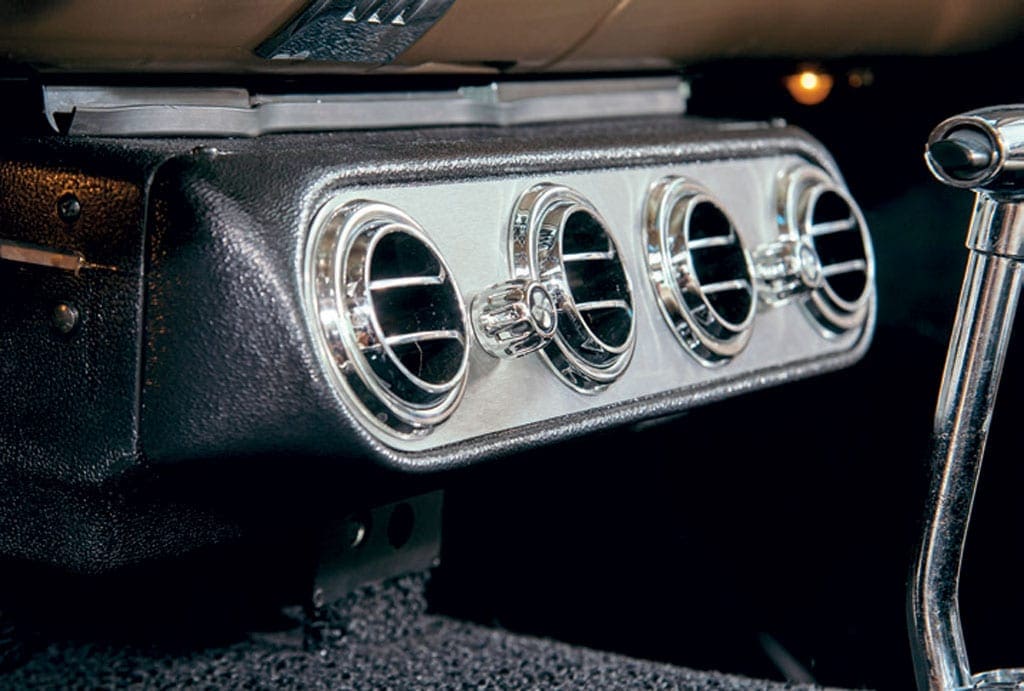 "The bonnet had been damaged before I got the car and the badge letters were missing so Dave filled the holes. I suspect from that 1966 grille, either it had been crashed or someone was trying to make it look more modern. I had to buy the correct 1965 parts. Dave liaised with me every step of the way and sent progress photos on a daily basis.
"For instance, he emailed photos of four different right front wings with four different prices and allowed me to choose. I now miss getting his emails each morning and making my restoration decisions over breakfast. I'm glad I chose him to do the work, he always gave me options on what to do."
The rear offside wing had some previous accident damage repair, which was repaired before the old Prairie Bronze paint was removed and replaced by Champagne Beige.
"Valerie had suggested painting the car yellow, but then I saw a gold Corvette at the NEC show and that made up my mind. It's very near to the original colour."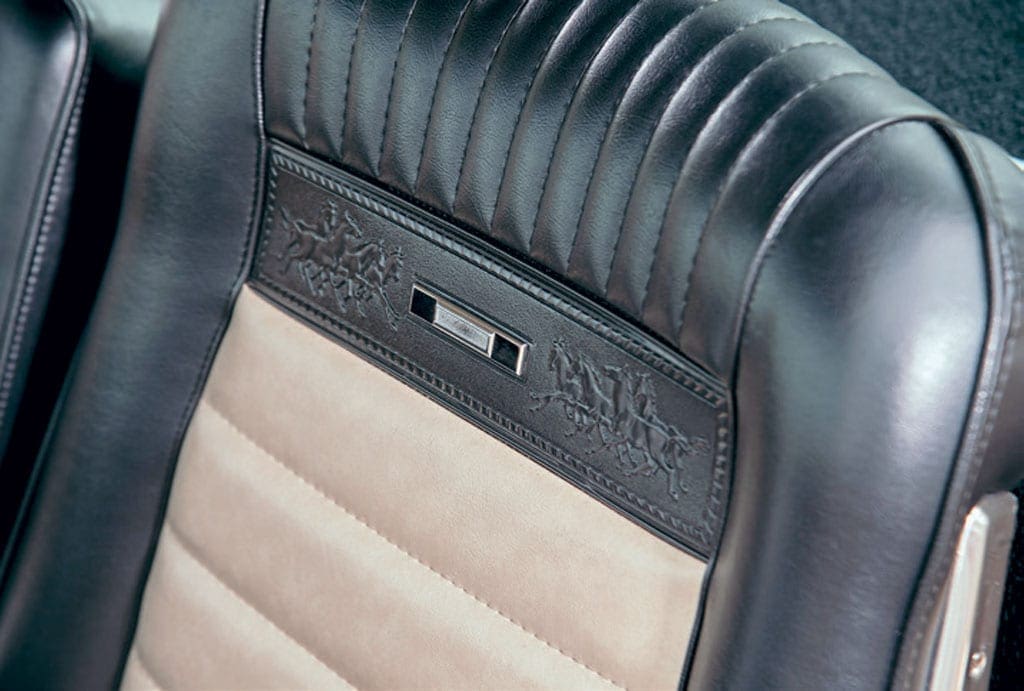 New sill covers were sourced, but Dave polished much of the original trim, "there's still a slight nick on the one above the driver's door where I dropped a ski on it."
In September 2017 it was finished and, happily, that coincided with a wedding in Oregon. John was able to take the Mustang on a 500-mile road trip, including a family reunion at the Timberline Lodge – setting for The Shining horror movie – before returning to Shasta Mustang for an oil change. The car was then transported to the UK in January 2018.
"I shipped it over with cans of oil and replacement paint, and only realised recently that Customs emptied them all, so hopefully I won't need to do any respraying…" That appropriate '289' numberplate was bought by John: "I saw it advertised and it was pretty cheap.
"I was able to keep my Mustang because it wasn't costing me anything sitting under that tree. I had other cars in the meantime, mainly Volkswagens and Toyotas, but I'd get the Mustang running whenever I visited. I'm glad I kept it, it's the most reliable car we owned and never failed me – and it had 80,000 miles when I got it in 1974. It's now gone around the clock at least once.
"The Mustang never looked great − it just wasn't that special in the Seventies. But now it is. I've done over 2000 miles this year. It's still fun driving it, it feels the same; and not like a new car.
"It was definitely worth it. Besides, adding it all up, the cost of owning it only works out about $1000 a year."