Classic American photographer Jonathan Fleetwood (left) was recently named Automotive Photographer of the Year at the annual Newspress awards in London.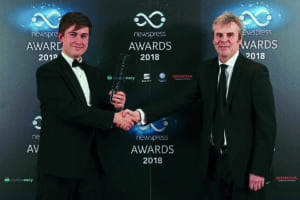 Jonny started snapping for Classic American fresh out of college four years ago and has been responsible for many of the magazine's recent covers, as well as main features in the intervening years. It will probably come as no surprise to discover Jonathan did a placement with yet another famous Classic American photographer, Mark Fagelson.
He is pictured receiving his award from Newspress editorial director Tim Bowdler.
Classic American congratulates Jonny on all his hard work and achievements – it couldn't have happened to a nicer guy!