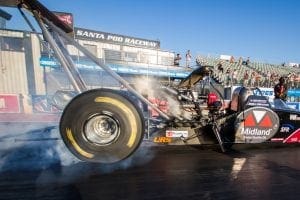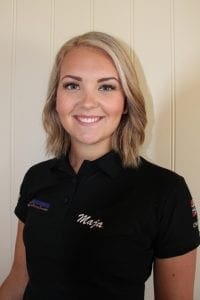 FIA/FIM European Finals
Santa Pod Raceway
Thu.7 – Sun.10 September 2017
A gender war is bubbling up at Santa Pod Raceway. Three women will take on six men in a battle of the world's fastest, most powerful racing cars at this coming weekend's FIA European Finals. Piloting 300mph, 10,000-horsepower Top Fuel Dragsters is not an exercise for the faint-hearted, but that will not deter the men… and certainly not the women.
The supreme prize, the 2017 FIA European Top Fuel Championship, is already spoken for – the race will determine which of two men will inherit the crown – but the glory of winning the season's most prestigious race is open to all the contestants, and will carry particular resonance for the three female drivers.
For Anita Mäkelä, a strong showing will provide some redress for a dismal season. The veteran racer from Finland won the FIA Championship for the second time last year and was expected to offer a stout defence of the title. Yet she has advanced to the second round of eliminations only once and languishes a distant sixth in the points. She remains the quickest and fastest in the field, with career-best figures of 3.878 seconds and 313.30mph over the 1,000-foot racing distance, and her 3.900sec pass at Tierp, Sweden, in June is this season's quickest. In drag racing's decisive, split-second world, a return to all-conquering form will surprise no one.
Jndia Erbacher lies just one place behind Mäkelä in the points, which is some achievement as she has only competed in two races. The Swiss 20-year-old caused a near sensation three weeks ago by reaching the final round on her competitive Top Fuel debut at Hockenheim, Germany, and will be determined to improve on that finish at Santa Pod. Though new to drag racing's Formula One-level class, the daughter of multi-champion Urs Erbacher is no newcomer to the sport, having most recently raced an unsupercharged A/Fuel Dragster in America and Europe (photo attached).
Even newer to the class, though again not to the sport, is 19-year-old Maja Udtian (photo attached), who makes her competitive Top Fuel debut this weekend. As a young member of Norway's renowned Islanders team collective, Udtian began racing as a child in Junior Dragster (they start at age eight) and has lately competed in the Super Comp class. This will be the Islanders' first venture into Top Fuel and they are placing great faith in their driver's youthful but accomplished abilities. Udtian has been licensing for the class during the year, with a best clocking of 4.110sec/276.85mph to date. With no great expectations weighing on her shoulders, simply to qualify for Sunday's eliminations will be considered a success. Another Islanders graduate, Birgitte Bremnes, will race in the fuel Funny Car division.
2017 marks the 40th anniversary of Shirley Muldowney's winning her first NHRA Top Fuel Championship in America. Since then, women drivers have earned more top-level success around the world in drag racing than in all other motorsports combined.
For the record, the two male racers left in contention for this year's FIA Championship are Malta's Duncan Micallef and Finland's Antti Horto – either will be a first-time champion. Micallef holds the edge with a 51-point lead, but a repeat of the outcome at Tierp's August race – victory for Horto, first-round defeat for Micallef – could see the crown heading by a hair's breadth to Finland for the second year in a row.
While international and inter-gender relations are harmonious off the track, fellow feeling vanishes as the engines fire up. Once the start line comes into view, it's every man and woman for him/herself.
The European Finals takes place from Thursday 7th to Sunday 10th September, at Santa Pod Raceway, near Wellingborough (NN29 7XA). Alongside the daily programme of European and national championship racing, there is a full schedule of family-style entertainments on, off and even over the track. Access to the pits and to the Live Action Arena, with its Monster Truck and Stunt Displays, is free. For full event information and to book tickets, please visit www.santapod.com or telephone 01234 782828. Tickets may be booked online and printed at home, and as ever, KIDS GO FREE – under-16, three per paying adult.