Richard Heseltine looks back on an overlooked Italian reinterpretation of the Ford Mustang; some things are best forgotten perhaps…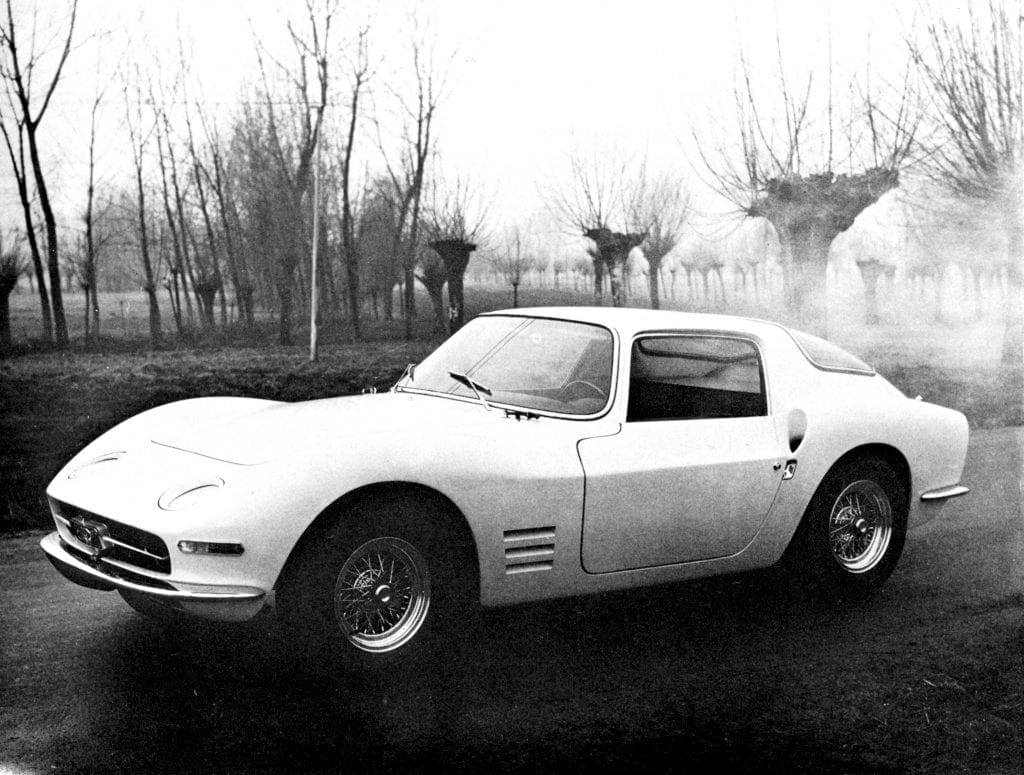 The first-generation Ford Mustang is widely held up as being a copper-bottomed, blue-chip classic. It was famously a runaway hit for the Blue Oval when launched mid-way through 1964. Nevertheless, that didn't stop others from trying to improve on perfection, with Italian coachbuilders predictably being to the fore. All manner of Latin 'carrozzerie' had a stab at redesigning the original Pony Car with varying degrees of success, OSI's 1965 offering being perhaps the most radical, but also the one forgotten by history.
Formed by Arrigo Olivetti (of typewriter fame) and Luigi Segre, then president of Ghia, the not altogether romantically named Officine Stampaggi Industriali was born in 1960 and financed by the FERGAT road wheel and metal-stamping concern. According to Sergio Sartorelli, the firm's studio chief, OSI was meant to act as a "parallel structure with the intention of producing small-series Ghia designs – today you would call them niche vehicles – in much the same way as Bertone and Pininfarina did. But it was a separate business. Segre anticipated that competition from other carrozzerie would only become greater, so he needed to act. OSI was largely his idea."
And thus a whole raft of designs followed, some of which made the leap into volume production, all things being relative. OSI enjoyed a particularly strong relationship with Italy's Ford concessionaire which spawned the Anglia 105-based Torino. This, in turn, led to the Ford of Cologne-sponsored 20M TS coupe which foretold the Capri and sold in reasonably large numbers. Who, precisely, conceived the OSI Mustang is lost to history, but it was clearly more than a mere re-bodying exercise. What's more, it received factory blessing according to Style Auto magazine.
While retaining the donor car's 271bhp V8, the wheelbase was shortened from 2473mm to 2400mm. It also featured a marginally narrower track, front and rear (1400mm at each end compared with 1407mm/1422mm). Much of the platform was cut away and replaced with a tubular semi-spaceframe structure. Unlike a regular Mustang, OSI's offering featured an independent rear-suspension arrangement, complete with a self-locking ZF diff, along with all-round disc brakes.
Article continues below…
Advert
The big news, however, was the outline. OSI's brave new world didn't share even a passing resemblance to the car that bore it save for the badges. Riding on knock-off Borrani wire wheels, and bodied in glass fibre, the car's signature feature was the fold-flat headlight arrangement which foretold the Porsche 928. Inside, there was the obligatory mahogany dash, alloy-spoked steering wheel and a mixture of burgundy leather and plaid trim.
Making its public debut at the November '65 Turin Motor Show, the OSI Mustang was met with muted praise by the motoring media. Sergio Rogna of Style Auto was perhaps the most effusive, reporting not altogether coherently: "Although from the styling standpoint some discordance has been noted in details, it is not difficult to foresee that it will appeal to the public to whom it is directed."
Some doubt lingers over whether or not OSI ever intended producing replicas. Somehow we doubt it. As it stands, only one car is believed to have been made and its current whereabouts remains a mystery.
Article continues below…
Advert