Glamorous Fifties American convertibles are not unknown in Glasgow, but few of them brighten the place up like Bruce Kinnear's gorgeous '54 Chevrolet Bel Air…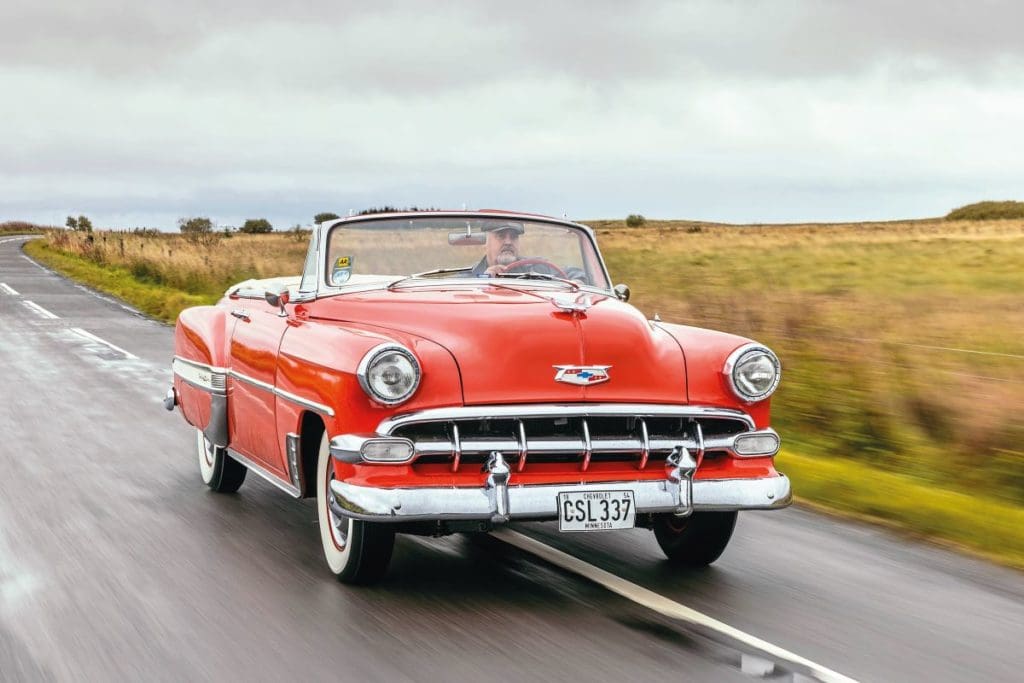 Words: Nigel Boothman Photography: Alexander Fraser
Only a couple of miles south of the bustle and bold modern city-scape of the River Clyde, we've chosen a more peaceful spot in a park next to White Cart Water. It's a tranquil scene, interrupted only by interested dog walkers who come and chat while our photographer gets to work, politely waiting between shots to dive in and take their own photo of the car. Bruce Kinnear is well used to this, having driven around in interesting old cars for most of his adult life. The one that got him started was a 1960 Ford Consul, one of the British classics that tend to act as a gateway drug to American cars.
"I was 20. I hitchhiked down to get it," says Bruce, "all the way to Worcester with a wad of cash in my pocket, seeing a couple of other cars on the way. I bought it and joined the RAC for the journey back home." Many other classics came, but then there was a long relationship with a customised Ford Zodiac convertible, much modified and improved by Bruce. "I drove it down to Blackpool and swapped it for a 1955 Buick which I had for quite a while; I took it back to bare metal and repainted it. Eventually a pal bought it from me, so it's still around."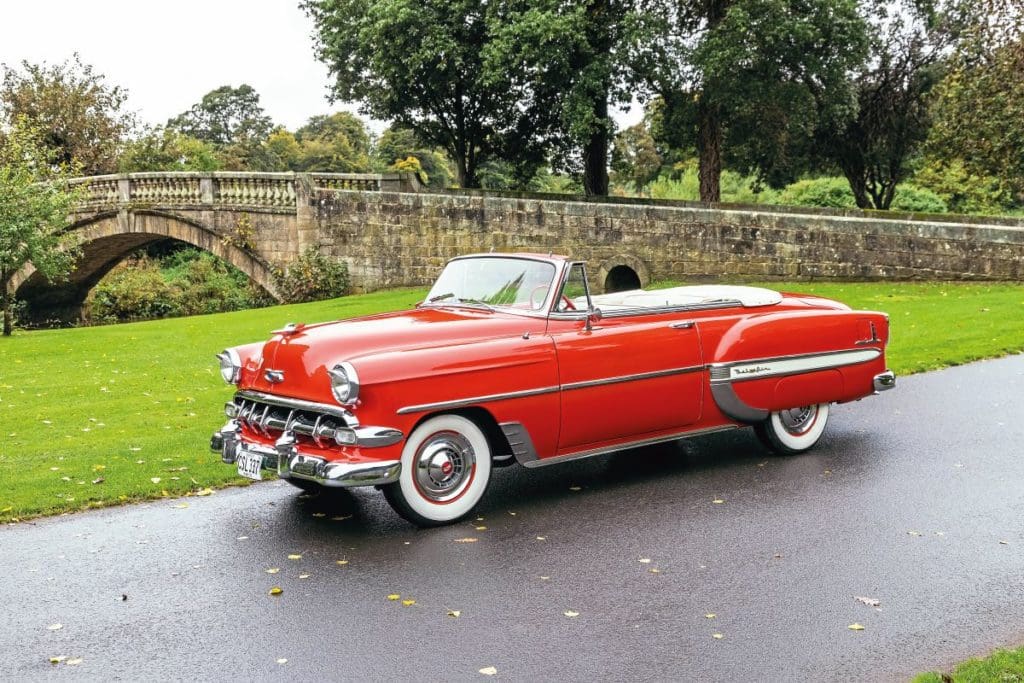 Bruce's history with American cars passed through various makes and models and stuck mainly to the first half of the Fifties, though he admits regretting the sale of two big-finned monsters from slightly later years; a 1958 De Soto Firedome and a '57 Dodge. Not so much interest in later muscle cars or land yachts, then? "No, that era isn't really my passion, though I've had the odd later car just because it came along at the right price," says Bruce. "But I still had an itch for a big Fifties convertible. The Zodiac was nearly there, but not quite.' With that itch remaining unscratched, Bruce was able to take retirement from the Fire Service in 2019 and consider what to do with the pension's lump sum. Let the fun begin…
"I saw the car advertised down in Canvey Island in Essex," says Bruce. "It looked really nice, but it was at the far top end of my price limit. I made an offer and in the end it was accepted, so off I went to pick it up." Bruce found an excellent, if little-used car that had been in the vendor's keeping for 20-odd years. It's thought to originate from Minnesota which' as many readers will know, is anything but a dry state. "As far as I understand it," says Bruce, "the vendor had the car restored in the USA before it was shipped over here. So, yes, it's been restored, but to original specification, and it's had 20 years to mellow.'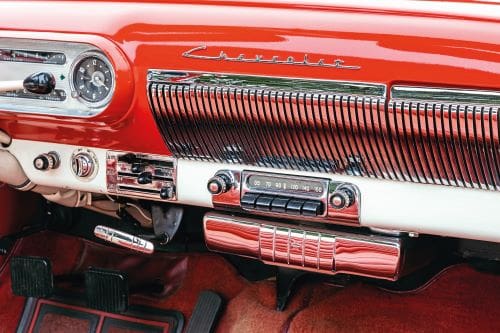 The lack of use meant it was a little reticent about starting, thanks in part to the six-volt electrical system which was always somewhat marginal for these big cars. To compound matters, it wasn't charging properly either, so Bruce armed himself with a can of Easy Start and set off on the 400-mile trip, hoping for the best. "This was March 2019," says Bruce. "Once we were on the road, I discovered there was no heater either. Or rather there was, but it later turned out to have some rags stuffed down inside. I was freezing coming up over Shap on the M6."
Nonetheless, Bruce enjoyed the adventure and hit it off with the vendor, who supplied two new hydraulic rams to move the power roof, as the existing ones had been leaking. The pair of them have stayed in touch with a view to meeting up again, when Bruce and the car could get back down south. "He's a lovely guy – so brand new," says Bruce. That happened in the summer of 2021 on Bruce's visit to Rally of the Giants, where we spotted the Bel Air. However, circumstances conspired against them and they didn't get to say hello on that occasion. Pity, as Bruce now has the Chevy going just as he'd like it. Having fitted the rams, he had to change the old tyres which had been sitting still for too long, and then changed the electrical system to 12V using one of those alternators disguised as a dynamo. "I cleaned the starter and the dynamo contacts, but it would still let me down at embarrassing times," says Bruce, "like outside the pub with my mates, or at tricky junctions. So the 12V conversion was a must, really."
It's the only change Bruce has found necessary to a car that's already easy to use in 21st Century Britain. It's large, but not immense; its footprint is smaller than many modern European SUVs, for instance, and the power roof makes it a doddle to enjoy as either an open car or a warm, dry coupe at the touch of a button. When it was new in 1954, the catalogue described it thus: "Styled with a youthful, carefree spirit, and luxuriously appointed, the beautiful Bel Air Convertible invites you to take the wheel and drive for the sheer pleasure of it. Interiors are crafted in smart, long-wearing vinyls. Every detail is colour-keyed to compliment the exterior finish you select. The top, which is controlled by the touch of a button, is also offered in a wide range of harmonizing colours."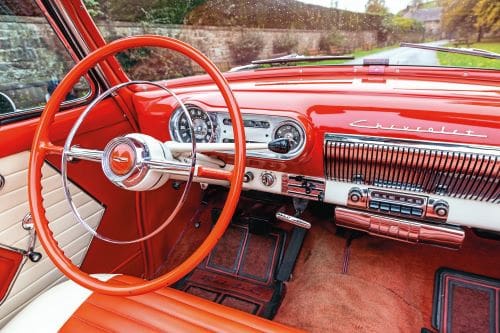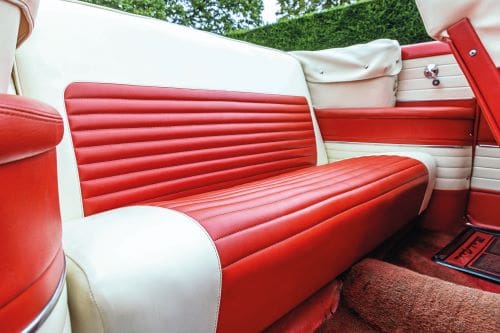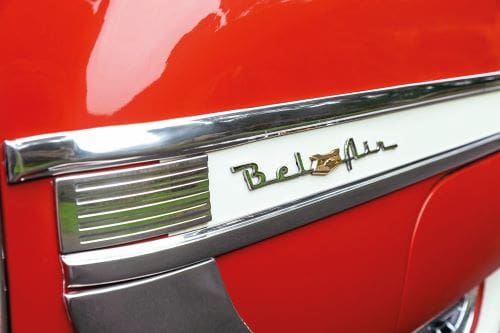 The illustration in Chevy's catalogue wore exactly this colour scheme of red and white, and it's not hard to imagine customers pointing at the picture and saying "Yes! That's the one for me!" These 1954 Chevrolets are inevitably overshadowed by the next three years, such is the fame of the Tri-Chevys, and there was a big uplift in sales in 1955. But the '54s were still amongst the most popular cars in America in their year, though the catalogue perhaps tried a little too hard to convince everyone they were getting something fresh; it used the word 'new' nine times on the opening page.
In truth, the changes were mostly skin-deep, with a lot of emphasis on a full-width single-bar grille and that huge front bumper. The overhead valve six-cylinder engine could trace its ancestors back to 1937 and the body's shape was evolutionary rather than revolutionary. That said, Bel Air buyers still got something to boast about compared to the rather spartan 150 Series and mid-range 210 Series.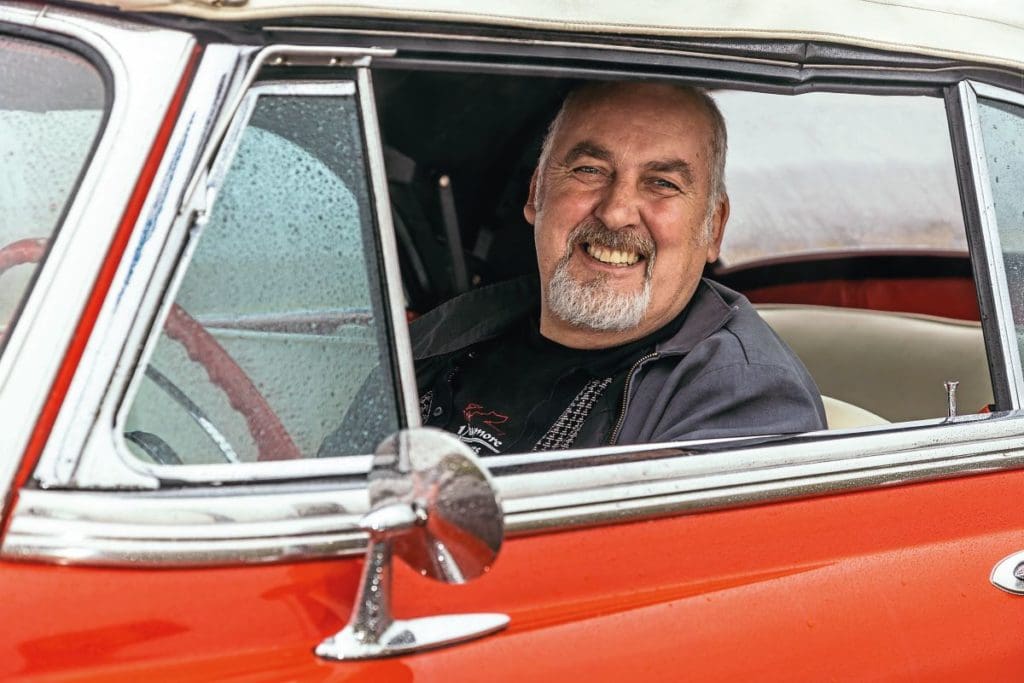 Inside, there was full carpeting and ribbed door cards, plus an electric clock, while the outside was sprinkled with all kinds of glitter including wheel discs and the double-row sweep spear on the rear wing which told everyone you were in a Bel Air. There was a growing options list too, with power front-window lifts and even a power seat available, plus the more practical (though expensive,) power-steering option and Powerglide transmission.
The first owner of this car felt no need for any of the above, so as we head off for some country roads and I get a chance to sit behind the wheel, I discover a largely unassisted driving experience. And very nice it is too – the three-on-the-tree shift is light and easy, once you've got used to the direction of travel for the shift lever, and the steering is pleasant once on the move. There's a bit of poke from the 3.9-litre straight six, but with peak power quoted at only 115bhp, what we're feeling is torque.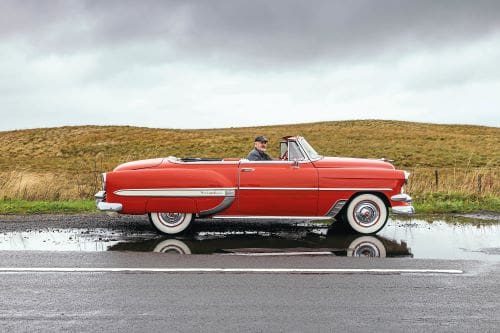 It bowls up to 50 or 60mph quite briskly and Bruce says it sits very comfortably at 60mph on the motorway – 70mph is no real stress for it, though feels a bit busier and probably swallows a lot more fuel. As it is, this is no serious gas-guzzler, achieving the right side of 20mpg with relaxed use. And 'relaxed' is the word…it's one of those cars in which you find your elbow rising up to rest on the door top, and you sink back into the big seat with just a couple of fingers resting on the tiller.
The world slips by, smiling at you, because this car only gets a positive reaction. It's not flash enough to cause envy, not aggressive in any way and it's not large enough to get wedged in city streets, like some of the more excessive machines of the Fifties. We can fully understand Bruce's desire for a Fifties convertible, but with such varied tastes, has he finally found one he'll keep forever? He can't be certain. "I've always had eclectic desires…a big Fifties convertible was on the list, so this car scratches that itch. But it's always been 'see something – want it' and you can't keep them all, so it's changed every few years. For now, though, I'd just like some decent weather, some good shows to go to, and the chance to use the Chevy as it should be enjoyed!"