With the introduction of Ram's EcoDiesel in 1500 half-ton pick-up trucks for 2013, many pundits predicted it was only a matter of time before Ford's bestselling F-150 also got an oil-burning powerplant. Announced at this year's North American International Auto Show (NAIAS) in Detroit, the diesel will make 
its debut in a facelifted 2018 F-150 and will be likely teamed with a 10-speed automatic transmission to maximise fuel economy. Again, Ford was light on specifics about the engine, except to say that it was developed and tested 'in-house'.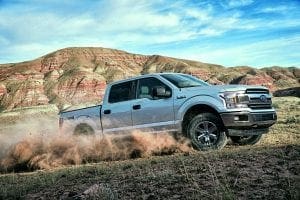 Other features of the 2018 F-150 will include a new 3.3-litre V6 petrol engine as the base powerplant (replacing the old 3.5-litre unit). The 3.5-litre twin-turbo EcoBoost V6 and the 5.0-litre V8 will continue with improvements, though power outputs have not yet been released. Expect also revised grilles and tail-lights, as well as new interior trim, and an updated adaptive cruise control function and premium Bang & Olufsen sound system among the many creature comforts.