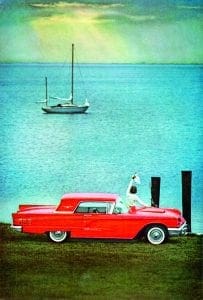 As I write, it's the last day in August; so tomorrow – for me at least – is the official start of autumn… September will have started, kids go back to school and that condensation/mist you only see at this time of year will start appearing on cars. For many people the end of summer and 
the start of autumn is a sad, even a depressing time…
But I'd beg to differ. In recent years it's seemed to me that September and October have almost been better in terms of weather than, say, July or August – at the very least, drier. And when it comes to taking cars out, they love all that dense heavy cold air and run much better in the cooler air than when stuck in a traffic jam on the motorway somewhere, while one nervously watches the temperature gauge creep up. There's something exhilarating about wrapping up, putting the heater on full blast, dropping the top and enjoying the sun and air on a crispy cool autumn day in a convertible Yank. So don't put your classic American car away just yet – there's still a couple more months left before you need to entomb it for the winter! Just watch out for when the gritters make an appearance… I can always remember the horror one day in November of going out and suddenly being confronted by a phalanx of grit dragons spewing out their poison!
The end of summer also means the approach of the finals of the Car of the Year competition at the Lancaster Insurance Classic Motor Show at Birmingham's NEC over the weekend of November 11 to 13. As in previous years, we'll be assembling all the heat winners and picking one overall winner, while showcasing all that's fantastic about American cars to the great British public – don't miss it!