In the February issue of Classic American: a lovely 1958 Cadillac Sedan DeVille, coverage from SEMA '22, and learn how to buy and ship your American car from abroad with Kingstown Shipping.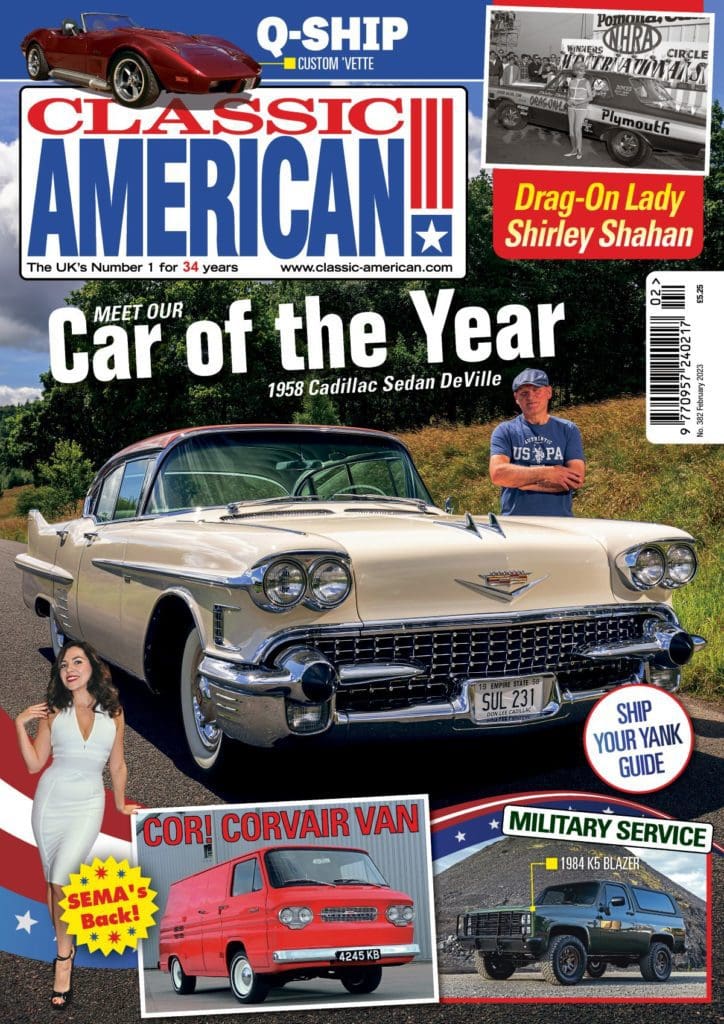 All your usual favourites are inside, including Muscle Car Files, From Here to Obscurity and Across the Pond.
Plus, this issue includes:
2022 Car of the Year: 1958 Cadillac Sedan DeVille
Classic American is proud to present an in-depth look at the trials and tribulations undertaken by Steve Sullivan, the winner of last year's Car of the Year competion in his epic five-year restoration of what has to be one of the nicest 1958 Cadillac Sedan DeVilles on the planet. Prepare to be amazed!
1974 Corvette Custom
Most 'Vettes end up remaining stock and some are even titivated to concours condition. This Corvette, however, has undergone something of a performance transformation, with lots of mechanical upgrades. And it looks super cool with its metallic cherry paint.
1961 Chevrolet Corvan
What's practical and classic? How about a Sixties Chevy van? Not only that, this one has the added cachet of being based on the Corvair, so it's mechanically interesting, economic to run and a real head turner to boot.
Article continues below…
Advert
1984 Chevrolet K5 Blazer
There's been a real explosion in automotive recycling stateside – and this 1984 K5 Chevy Blazer which has been reimagined by Retro Designs of Concord, North Carolina typifies the trend. Blending modern performance upgrades with retro-inspired design cues, it's been built to conquer any terrain in its path…
There are lots of news stories to digest too, letters from readers and, of course, if you are thinking about buying an American car, there are some great offerings advertised within. If you're after parts, scale models, insurance or just suggestions of where to go over the summer, it's time to head out to the shops and pick up your copy, or order online here.
But if you've caught the bug and want your regular fill of Classic American, why not subscribe? It's cheaper than buying at the newsagent, you'll get your copy early and it's delivered FREE to your door!
Article continues below…
Advert