Ah, February… the month of St Valentine, red roses, hearts… and stunning red cars in Classic American!
You, like owner Laura Meeks, will most likely fall in love with our Footman James Car of the Year winner, a glorious 1967 Mustang GT which graces the cover of the latest issue – now on sale. Read more about the way this car swept Laura and her husband Ross off their feet inside.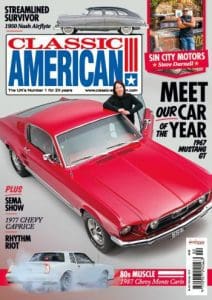 It may still be January, with dark days, icy roads and frequent warnings of snow, but we have one eye on spring with plenty of news about forthcoming shows to add to your diary. But we also take a look back to the Rhythm Riot event and cruise, and hop across the pond to review SEMA, the world's biggest automotive aftermarket trade show, which takes place in Las Vegas, Nevada, at the end of the year.
Ever watched Sin City Motors on TV? Classic American contributor Steve Havelock meets the star of the show, Steve Darnell, to find out what makes him tick and how he dreams up such amazing car creations. And of course we journey into the scrublands of the States with Will Shiers as he uncovers yet more junkyard jewels from across North America.
In terms of Car of the Year finalists, red is very much the 'in' colour, with Paul Chamberlain's 1977 Chevrolet Caprice Classic sedan making a very big impression! We have two other Chevys for you – a 1987 Monte Carlo and a 1945 pick-up – and a delightfully sleek 1950 Nash 'Airflyte' Ambassador Super, another Car of the Year finalist.
And if you'd like to start your own romance with a stateside beauty, look no further than our colourful pages which are packed with stylish American motors for sale. Roll on those lazy, hazy, crazy days of summer!
Article continues below…
Advert
Grab a sneak preview of the February issue here!