Hook yourself a big one with the latest issue of Classic American – on sale now!
We've landed a 1970 Plymouth 'Cuda to set your pulse racing, and what's more, it was one of our Car of the Year 2016 finalists, so it's got to be a 'reel' success story!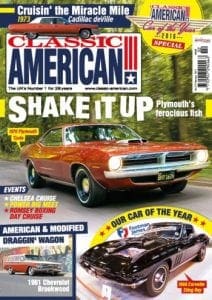 But the overall show winner was a delightful black beauty – a classic 1966 Corvette Sting Ray. Read all about it, too, in the February issue… although you may have originally read about it more than a decade ago, as it was featured in these very pages as a dilapidated barn-find. But oh baby, look at it now!
Another Car of the Year contender also gets a chance to shine, literally and metaphorically… it's a glorious 1973 Cadillac Sedan deVille which revels in the name of Wanda.
Like your cars veeerrrry long indeed? Then check out Simon Chesterman's rare 1961 Chevrolet Brookwood in our American & Modified section. Longroof? You bet!
The late Steve Miles is celebrated in the 'mail' section of the magazine and also remembered for his skilful writing in his final pieces for Classic American: Rear Window, in which he took a look back at the low-price cars available in 1957, and Behind the Wheel, as he penned the latest news about his own treasured cars – a 1951 Packard Patrician and a 1965 Chrysler Newport.
Article continues below…
Advert
If you like the technical side of classic car ownership, check out the latest feature on how to cure water pump woes.
We've also got show and cruise reports – maybe you're featured in our pages? And we also have news of forthcoming shows, so you can look forward to the summer of 2017 and some great days out.
If you've not made any new year resolutions yet, here's one you can make and stick to – set up your subscription to Classic American and enjoy lots more news, views… and fantastic Yankee motors!
Article continues below…
Advert