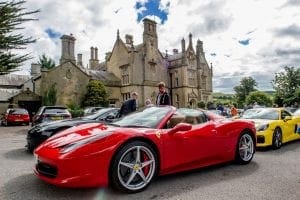 Settle could soon become the 'supercar' centre of Yorkshire. Owners of Falcon Manor Hotel at Settle are planning to replicate the success of a 'Supercar Sunday' event in Lancashire in the Yorkshire Dales market town.
Iconic vehicles, including collector's items, Ferraris and Maseratis, together attracting a multi-million pound price tag, visited Falcon Manor recently for the season finale of the Ribble Valley-based Supercar Sundays, driving there from Mitton Hall near Whalley.
Around 20 supercars parked up at Falcon Manor where visitors mingled with owners and drivers, all talking cars. Other motors turning heads included a Mazda RX-8, a souped-up Renault Clio sport edition and a Corvette.
Organisers James' Places, which owns both Falcon Manor and Mitton Hall, now hopes to hold regular Supercar Sundays in Settle in 2017 with petrolheads from throughout Yorkshire invited to bring their wheels and join in.
Said James' Places marketing manager, Heidi Kettle: "This is a great meet for motor enthusiasts. We hold Supercar Sundays at Mitton Hall every month throughout the summer and this is the third time the season finale has been held at Falcon Manor. Next year we will hold monthly events at Falcon Manor too – and everyone who loves cars is invited.
"We would love to see more supercar owners from Yorkshire emulating their Ribble Valley counterparts, filling Falcon Manor car park with sleek, shiny and stunning motors and enjoying a morning indulging their passion during the summer months."
Anyone with an interesting motor and a love of cars is welcome to the event. Tea, coffee and bacon butties are served 9am – 11am with all monies raised donated to charity.
Mitton Hall's Supercar Sundays clocked up just over £3,000 for Whalley Lions and Rotary during 2016 to help victims of the Boxing Day floods. Falcon Manor will choose a local cause to help during 2017.
Dates and details of the 2017 meets at Falcon Manor will be publish on the website www.falconmanor.co.uk in January 2017.