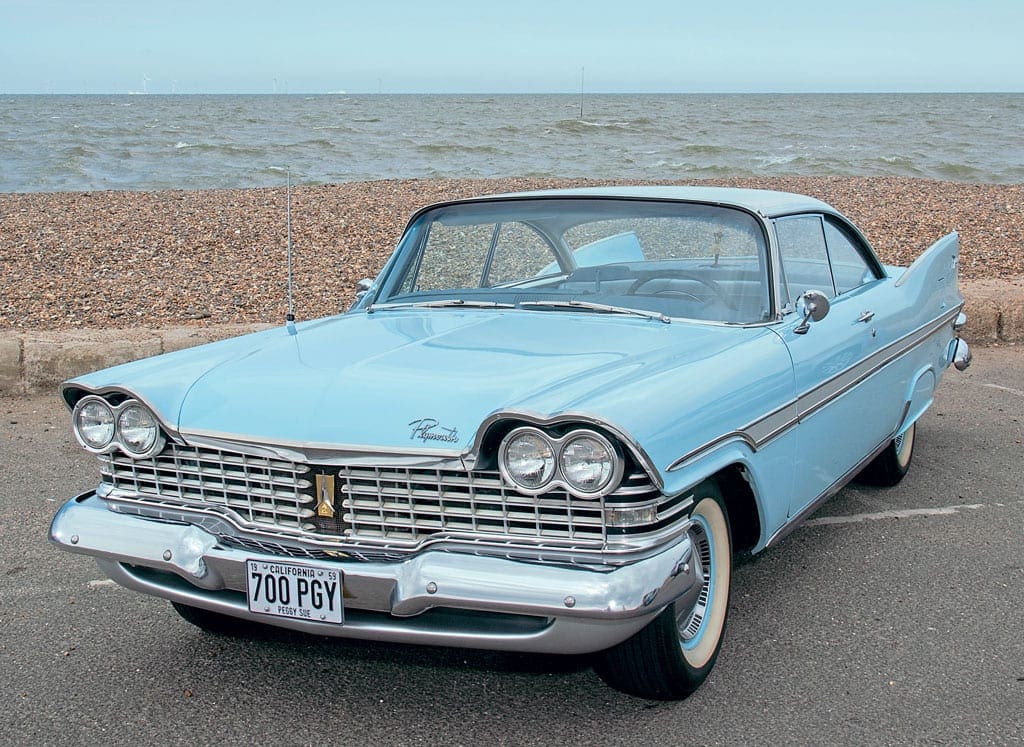 Words: Mike Renaut, Photography: Matt Richardson
Nick Axford's 1959 Plymouth Fury is his first American car and what a way to start, with a car that represents the penultimate year of Plymouth's fantastic fins.
Nick Axford hadn't especially intended to buy a 1959 Plymouth, but when he saw this one he couldn't resist. "A friend saw it for sale and suggested it," remembers Nick.
"I was looking for a classic car but actually considering an MGB, until I realised something like the Plymouth would be a lot more fun and more of a head turner. I liked the fact it was an unusual classic. There are four or five MGB clubs within a drive of my house and lots of MGs, but you don't see many Plymouths. It's not quite my first classic, since I've had a couple of Minis and a Triumph Vitesse before, but it's my first American car.
"I bought the Fury in September 2015," continues Nick, "and it arrived two months later. It came from Dayton, Ohio, and was part of a collection of 12 classic cars. The previous owner had done some work to the car including a full respray ten years earlier and re-upholstered the seats, but the interior is otherwise original − as is the engine and all brightwork. It's been re-wired, but other than hardened valve seats to run on unleaded, it's factory stock."
Nick is keeping it that way too. "I'm determined to keep it as original as possible, I even ship over the correct oil filters, even though I could buy similar ones in the UK. The hula girl was added by my wife, Pippa. She also christened the Plymouth Peggy Sue after the PGY numberplate. I'd previously bought an age-related plate because I'd heard the DVLA can be awkward and give American cars Q-plates, but in this case it was fine."
From what we can tell, this Iceberg White over Powder Blue Fury was built at the Newark, New Jersey, plant then was sold through Haslacker Motor Co. in Hagerstown, Maryland. Under the bonnet was what Plymouth called the 'V800' – some 230bhp of 318cu in V8. It's a Torqueflite automatic and apparently these push-button transmissions, as fitted on this car can be temperamental, but Nick's hasn't been so far.
The sticker price on the Plymouth when new was $2714.25, but after various options were added it had risen to exactly $3318. The air conditioning is almost certainly a later addition, but the Plymouth came with self-dipping rear view mirror, heater/defroster, rear seat speaker, variable speed wipers, padded dashboard, Sure Grip limited slip differential, cigarette lighter, four-barrel carburettor, dual exhausts, oil filter and, perhaps most importantly, the factory undercoating which has preserved it for this long. It appears the car left the factory with these options and was sold off the showroom floor, rather than being specifically ordered for a customer.
"There's no rust on it anywhere," says Nick, "and according to my paperwork, those 69,000 miles are genuine. The guy I bought it from got the car from the original owner and it looks like he got it in mint condition." In 2010 the Fury got $1400 spent on new brakes, radiator and fuel tank. That, and the low mileage, strongly suggests the Plymouth spent some portion of its life not being driven.
There's also the mystery of the Sport Fury dashboard plaque. These were engraved with the owner's name when the car was delivered, then mounted on the glovebox door. Our feature car is a Fury rather than a Sport Fury, but Nick says the original owner of this Fury was named Blair Spigler. I'm not sure how Blair would get a Sport Fury plate unless perhaps he bought two cars, there was an error along the line or the plate was made as a favour to him. We'll probably never know.
Not that there was much difference between Fury and Sport Fury; it was largely exterior trim and engine options. For 1959, the previously range-topping Fury was demoted one rung as Plymouth revamped its model lines. The base Plaza series was axed and replaced by Savoy, one step above Savoy was Belvedere and taking the Belvedere's place was the Fury – now a series of cars rather than just a high-performance model.
For 1959, the Fury models comprised a four-door sedan, four-door hardtop, two-door hardtop and a pair of Suburban wagons. Top of the line was now the Sport Fury, available as convertible or two-door hardtop. 1959 marked the first year Plymouth offered two convertibles (the other being a Belvedere) and represented their last traditional cars.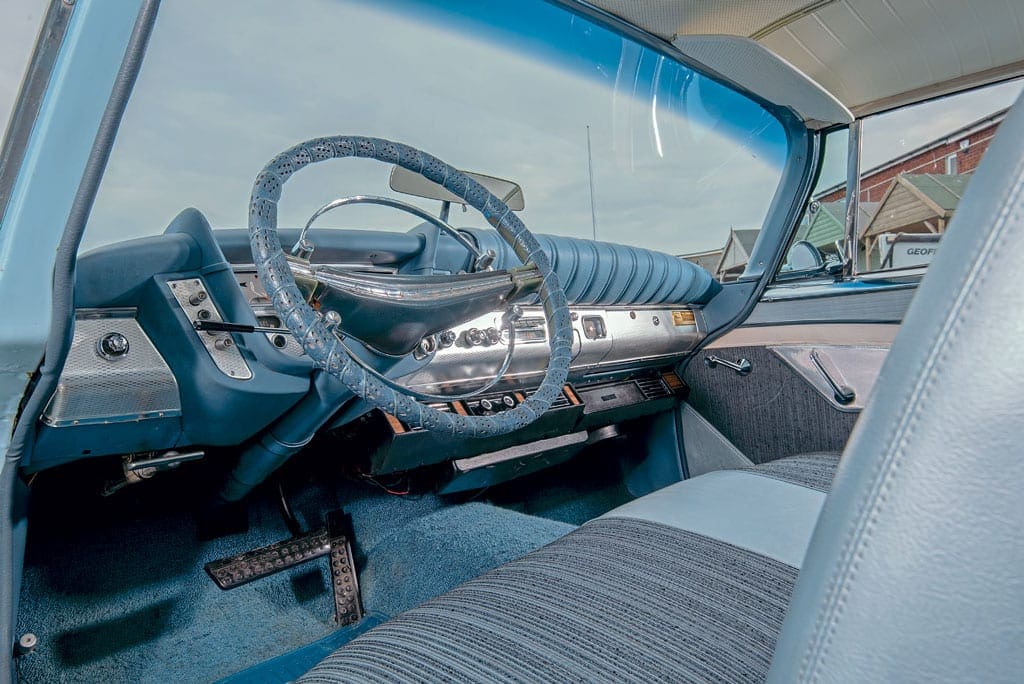 Plymouth was in the last year of a three-year styling cycle and made do with hanging new body panels on their 1957 skeleton, but to combat Ford and Chevrolet's anticipated all-new cars, Plymouth's '59 redesign needed to be more radical than 1958's.
The cost of retooling for the 1959s was around $150 million. The restyle included a new anodized aluminium grille while 'double-barrelled' front wings drew attention to the sculpted eyebrows and provided a good place for rainwater and snow to gather. The area beneath the bumper was now void of a grille, while tailfins rising from the rear pillar made the car appear longer than it was. The sculpted bootlid was now hinged from the rear window and Sport Furys got a fake spare-tyre outline – the Sport Deck Trunk − bolted on as part of stylist Virgil Exner's propensity to add classic motifs to new cars.
Plymouth's chassis remained much the same as the 1957-58 cars except for optional $88 'Constant Level' Torsion-Aire rear-axle air suspension, with an under-bonnet compressor supplying high-pressure air to springs mounted between the body and rear suspension. A height control valve automatically raised the back end whenever load was applied, allowing the car to always sit level. Unlike General Motors' version, if the system failed the Plymouth could still be driven. Interiors featured instruments with an aircraft-type housing and buttons for the transmission. To the right five more buttons operated heater, defroster, and air conditioning, meaning every control except the radio and clock was within easy reach of the driver.
Fury interiors offered variety, with a choice of four carpet colours and viscose-nylon Jacquard cloth with bolsters of colour-coded vinyl with pleated inserts. Dash panels were finished in colour-matched 'No-Glare Royalite.' Gadgets included an automatic headlight beam changer. The sensitivity was controlled by the driver and automatically dimmed the headlamps when an approaching vehicle was 900-1200ft away. It could also dim the lights when following another car. Using the same photoelectric principle the Mirror-Matic option adjusted the rear-view mirror when headlights behind hit the photoelectric cell. Mirror-Matic could be switched between city, highway or off.
Ride and handling, thanks largely to the torsion bar front suspension, continued to be Plymouth strong points as noted by period road test magazines. Motor Life and Motor Trend thought their road holding comparable to a good sports car. The 11-millionth Plymouth was built in March at Lynch Road, but the corporation was in the midst of a shake-up. With 458,261 cars built during the model run, Plymouth managed to hang onto third place in sales, but Ford and Chevrolet sold over a million more and accounted for nearly half the new car sales in 1959.
"A big reason is Plymouth's production and sales difficulties," commented Motor Life magazine, noting: "quality is its weakest point, materials are not as good as competitors and assembly is inferior." Despite that, Motor Life also felt, "The 1957-59 Plymouths will be pointed to in years to come as great cars." Unfortunately, consumers were aware of Plymouth's decreasing build quality, and although getting the quality back by 1960, thanks to their offbeat styling in the early Sixties, it would be 1971 before the company returned to third place.
Also hindering sales was a continuing programme to separate Plymouth dealers. Plymouth dealerships dropped from 6308 to 4138 due to Dodge dealers giving up their Plymouth franchise. The successful low-priced 1960 Dodge Dart also hurt Plymouth sales. July '59 found Plymouth and DeSoto combined into a single division, with Chrysler and Imperial combined into a second one and Dodge in a division of its own.
In August Plymouth-DeSoto was division renamed Plymouth-DeSoto-Valiant. For 1960, it was all change; the new six replaced the old flathead and Chrysler switched to unibody construction, with the frame and body now one integral welded component. Powered by that new slant six engine, the new compact Valiant also robbed sales from Plymouth.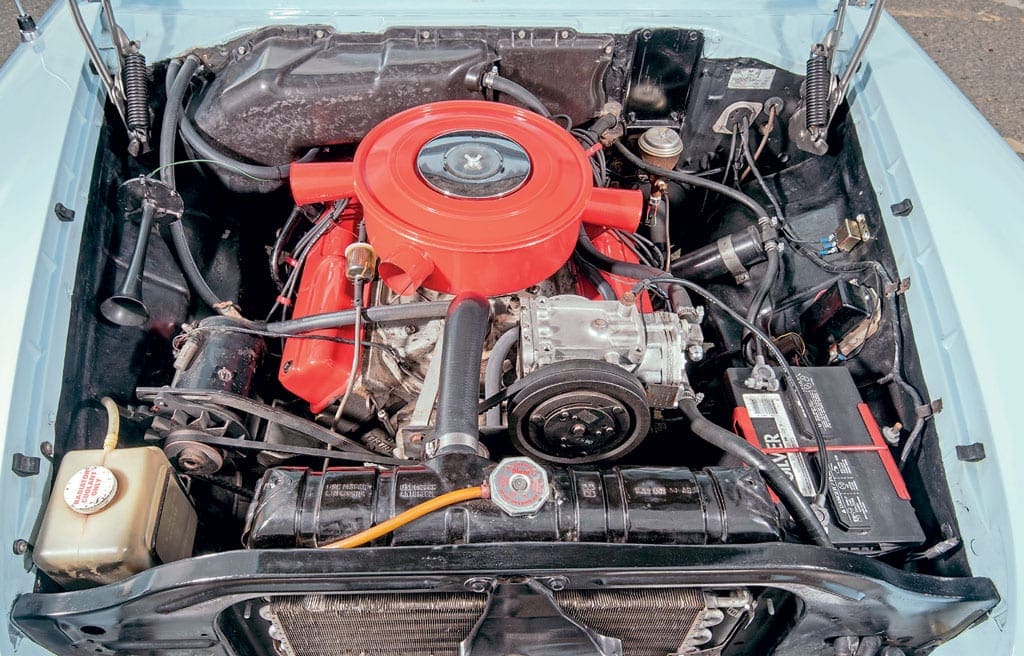 "I use the Plymouth whenever I can," says Nick, "I recently took it to the American Speedfest and was a bit nervous for the first mile or two of motorway, but it drove spot-on. A good run did it the world of good. I'm really glad I went since I met a lot of nice people who are really into old cars. If I go into the supermarket I'll park across four spaces, but otherwise it's fine to drive, you obviously allow for the drum brakes all around and plan ahead.
"To be honest it's my pension fund," admits Nick. "I love the car and have no intentions to sell it, but I've been in the motor trade over 25 years and of course the value of decent classic cars is going up all the time. I like the appearance, the tailfins, and the colour struck me straight away – so many get painted red. Plus, it's quite rare. For every 10,000 1957 Chevrolets there's probably about 400 Plymouths, so that rarity really appealed too. But I like it most because it's a comfortable car to drive − it rides smoother than my modern Audi – I can't fault it."