Classic American and our Car of the Year sponsors Kingstown Shipping offer some useful advice on buying and importing a car from abroad. 
Many of us dream of purchasing a classic car in America and bringing it back to the UK. But then we've all heard stories of cars being over described and not looking as good as they did with a Malibu beach back drop! Can you guarantee you won't be disappointed? Perhaps not, but there's things you can do to lessen the risks.
Before you've even made an offer on a car check its history. It is good to not rely solely on emails and messages; phone the seller and satisfy yourself that they actually own the car and that it's in the condition they claim it to be. Video calls are also a great way to get a walkaround of the car and hear it run. Get a sense of their honesty by asking questions and get lots of photos including the underside and any other specific areas not included in the adver. For a valuable car it might even be worth the cost of a last minute flight to view it in person. Pay for an online check of the VIN to see if there's any record of the car being stolen, previously wrecked, or having outstanding finance owed. Car inspections companies such as Lemon Squad also offer further insight into your potential purchase at a cost effective price.
Consider where the car is located. If the seller lives near the docks and will drive the car there that's a lot of money saved over one that doesn't run and is 1100 miles from the nearest port. Keep in mind the exchange rate too, at the time of writing the UK pound is worth just 1.25 1.22 and hopefully that can only improve…
You've bought a car with a clean title or registration document and the seller has given you a bill of sale – which you'll need as proof of how much you paid so HMRC can work out what you owe in import taxes. A vehicle cannot generally be exported without the original Certificate of Title but if it's not present one can usually be arranged through the local DMV for in the region of $250.00 USD to $500.00 USD depending on the documentation involved It's required for export clearance and the original will be handled by the US office of Kingstown Shipping before being sent on to the importer at the completion of the import.

The car now needs to be delivered to the port and thankfully the US trucking network is competitively priced when you take into account some of distances covered.  Running and non-running vehicles can be transported by the majority of hauliers, but anything that doesn't roll, steer and brake becomes more specialist and expensive to move.
At the warehouse the vehicle is inspected then loaded and secured into a container ready for transportation.
Vehicles can also be shipped via RORO/car carrier services and these are most cost effective on the US east coast and gulf. It is important to consider these vessels move a high volume of modern vehicles; they will accept reliable classic cars but these must be running, driving, braking and steering. If you have any doubts to the reliability it really is worth choosing the container option. Vehicles too large for a container are also shipped this way. The days of vehicles being strapped on the outside deck enduring the freezing weather are largely gone, even the biggest trucks should be carried safely inside purpose designed vehicle carrying vessels.
Once the container vessel arrives in the UK your vehicle is unloaded into a bonded warehouse, inspected, and Customs clearance formalities completed. Vehicles under ten years old require Individual Vehicle Approval which is the Department of Transport test to ensure the vehicle's design – not condition – complies with current regulations. DVLA require a test certificate to be submitted with the application for first registration. Most vehicles over 40 years of age are now exempt from MOT testing although it isn't a bad idea to keep up with regular vehicle safety checks!
Classic cars over 30 years of age and in original unmodified condition qualify for very low import taxes of 5% VAT and zero duty; remember that if you're choosing between a 1988 1991 and 1994 model car. Cars under 30 years of age attract 10% duty and 20% VAT.
HMRC announce their rates of exchange for declaration purposes and these are updated at least monthly, see https://www.gov.uk/government/collections/exchange-rates-for-customs-and-vat

The government has a useful webpage: https://www.gov.uk/importing-vehicles-into-the-uk
We spoke to Stephen Shores, one of Kingstown Shipping's directors.
Classic American: "Are they limitations on the size / weight of vehicles you'll ship?"
Stephen Shores: "Since the start of our car shipping services in 1986 we have moved just about every manner of vehicle and in the widest range of conditions!  As long as it rolls and steers and we can transport it to one of our warehouses we can ship it in one our container services.  Larger vehicles such as box vans, dually pickup trucks and travel trailers that will not fit in a container are shipped by RORO / car carrier. 
CA: "What mistakes do car buyers commonly make?"
SS: "Buying without a title or registration document and not having a good bill of sale that includes the date, vehicle, value and full buyer/seller details slow the export down as replacement documents are applied for. Also, and not normally the mistake of the buyer, but buying a car stuck in the middle of a group of cars in the back of a barn…yes it does happen! The delivery trucks have winches for loading but we've had drivers need to put air in tyres or find a spare wheel to get a car loaded and they, not unreasonably, ask a few dollars more for their extra efforts. For anything out of the ordinary like this we always ask for photos beforehand so we know what we're dealing with."
CA: "If I phone you today having just bought a car on eBay.com, how quickly can I get my car?"
MC SS:  US hauliers work on a lead time of around one week for collection but much of the scheduling is down to the location of the vehicle, closeness to major trucking routes and the seller schedule to meet the driver to arrange handover.  Shipping times via container as an indication range from around 5 6 weeks from the US east coast to around 8 10 weeks from the US west coast.  This allows for Customs clearance, loading, port handling, shipping across the Atlantic, local UK unpacking and Customs clearance formalities.  RORO transit times from US east coast are around 4 weeks.
CA: "Will I need insurance?"
MC SS: It is always advisable to have a marine insurance policy as no automatic insurance cover is offered by shipping lines and warehouses, etc. Thankfully damage is not too frequent but moving any commodity long distances involves an element of risk that you should have cover for.
CA: Suppose I fill the vehicle with some used parts and a number of brand new pieces for something else – will there be import duties?
SS:  The majority of cars have original and used parts within as many are part of the vehicle and just not fitted due to being half finished restorations etc. These are normally included in with the sale price and do not attract additional taxes.  New parts and accessories are taxed depending on what the part is but most are around  2% – 4% duty plus 20% VAT.
CA What happens once my car arrives?
SS: Prior to arrival of the vehicle we talk our client through the HMRC forms and requirements. The HMRC entry is transmitted via our direct computer links with tax payment and NOVA declaration also completed. Following Customs clearance and unloading the vehicle can be delivered to the client's door via our open or enclosed hauliers or collected by themselves or their appointed haulier. For vehicles over 10 years of age we also offer a vehicle registration service taking away the burden of dealing with the DVLA.
CA: Are you able to assist potential buyers looking to buy closer to the UK such as cars available in Europe?
SS: Yes, Customs declarations for cars and freight to and from Europe has become a seven day a week operation for us since EU exit but with much of the knowledge needed being built up from over 36 years of Customs clearance work the change for us has been straight forward.
CA: And finally, if I see an imported car over here with no papers or registration document is it worth looking at?
We often talk to potential buyers that have seen cars here and whilst they can establish the car is a genuine sale with documented changes in ownership there are no Customs papers to add it to the NOVA system to register it. We can complete a retrospective declaration in this case and also DVLA registration if needed.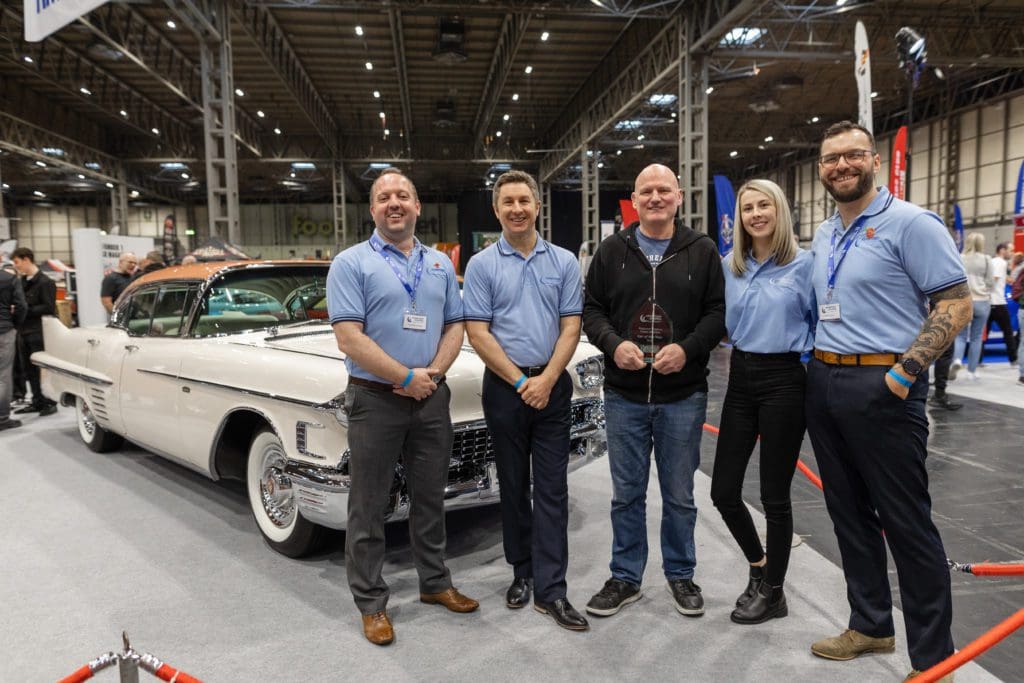 Kingstown Shipping
7d Priory Tec Park,
Saxon Way, Hessle,
HU13 9PB

01482 374 116
www.kingstownshipping.co.uk