Ever dreamt of building your own perfect truck? Tim Casey has completed such a mission with this stunning 1954 Chevy half-ton truck that was not only a barn find, but re-imagined in an incredibly short time frame by Tim… on his drive!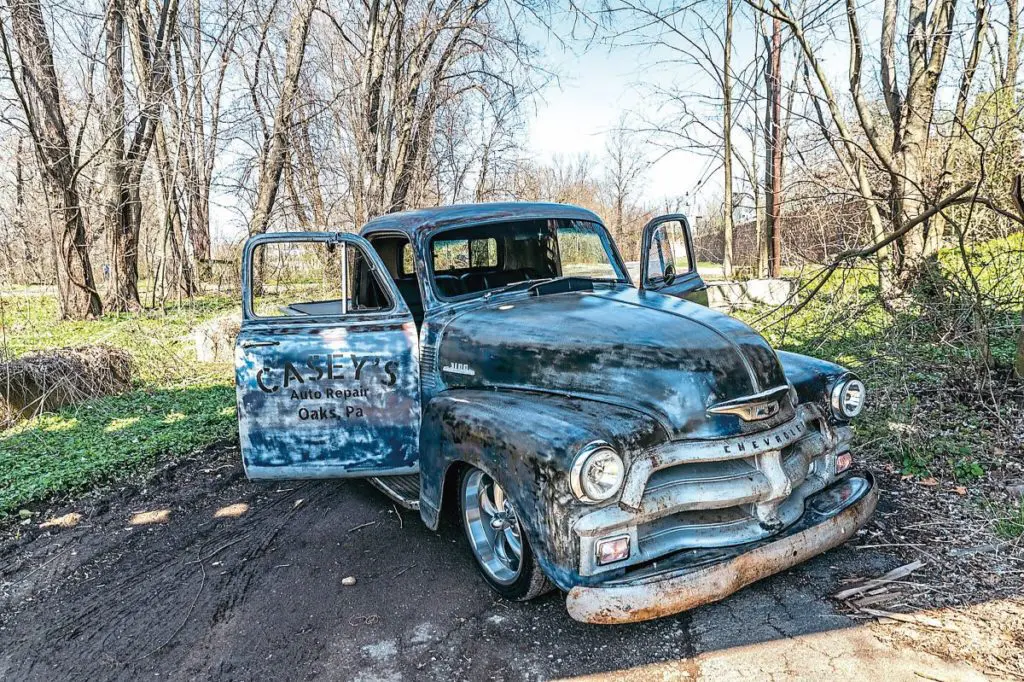 Photography: Alex Harris and Tim Casey
Tim Casey is a 37-year-old from Oaks, Pennsylvania who has been wrenching on cars with his dad as long as he can remember: "I've always liked the '47-'55 Chevy trucks, but never liked them in their original state: slow and rough riding. I've always dreamt of having one of those old trucks that could be driven and used daily and which would also be fun, fast and use modern technology."
So after a long hard think, Tim decided to sell one of his cars that he'd owned for several years to free up some money to build his dream truck. Says Tim: "I was scared and excited; I don't have a garage big enough to work in, so this would have to be tackled outside on my driveway…" Tim had never tackled a complete restoration and this would effectively be a project for him to create his dream truck: "I wanted a truck that I didn't have to be scared to drive and worry about checking the forecast on my phone, or worry about every scratch or ding. This was going to be the perfect truck, one that can be driven, used and enjoyed and not sit under a cover, only to come out a few times a year…"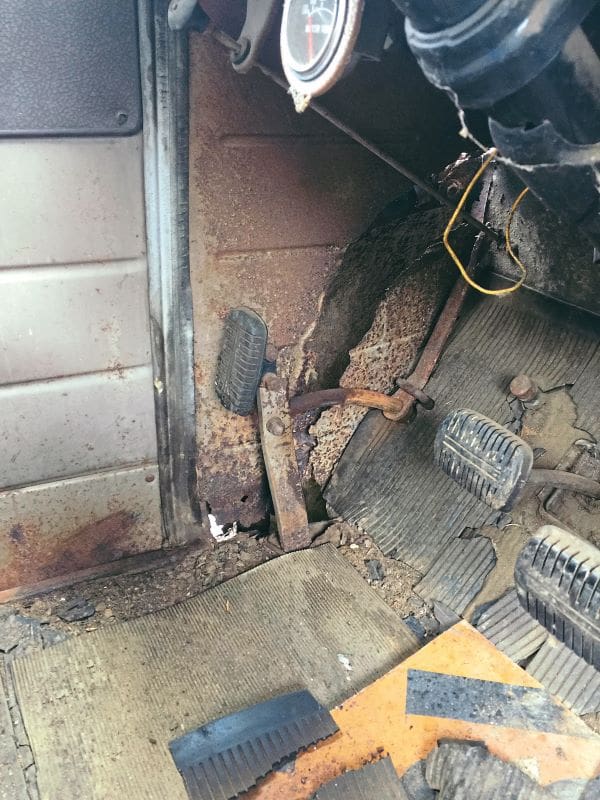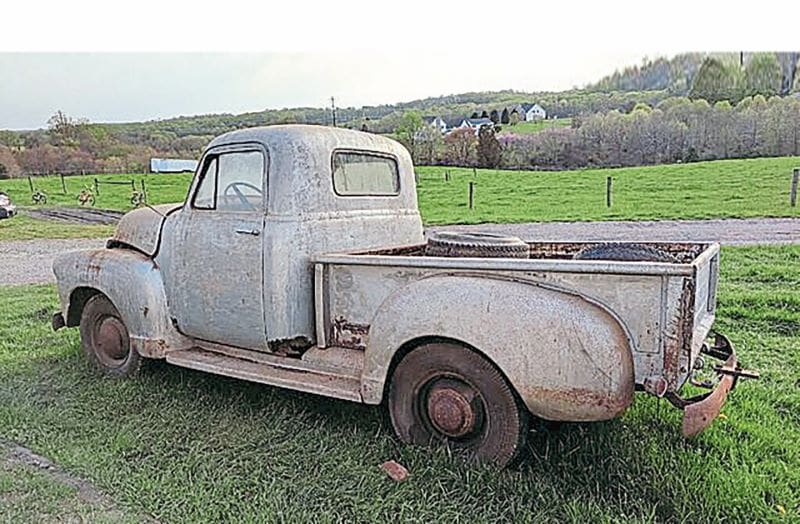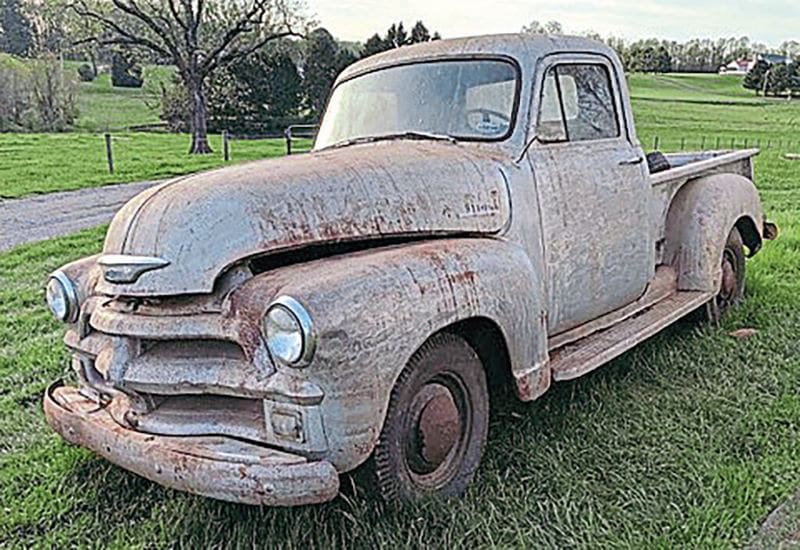 To that end he bought this 1954 half-ton truck at the end of May 2018. It was a one-owner truck and the original owner bought it brand-new in Maryland, where it stayed all its life until Tim bought it. The original owner passed away in 1998 (he was 98 years old) and it was parked in his barn for a further 20 years until his wife passed away in January of 2018. Tim even has the original title in the original envelope from 1954 and points out that as the truck aged and started to rust, the farmer literally brush-painted on silver paint over the top of the original blue paint, to act as a protector to help slow down the rust.
As soon as he acquired the truck, Tim immediately set to work on it. Unfortunately, due to the size of his garage he had to do everything outside on his driveway under a fold-up 10×20 tent. He did all the work by himself with no help. Says Tim: "I repaired all the rust to try and make it look like an Arizona barn find, fitted a Mustang II front end, added all new suspension with power steering and most importantly fitted a fuel-injected modern V8 LS engine out of a 2003 GMC Yukon."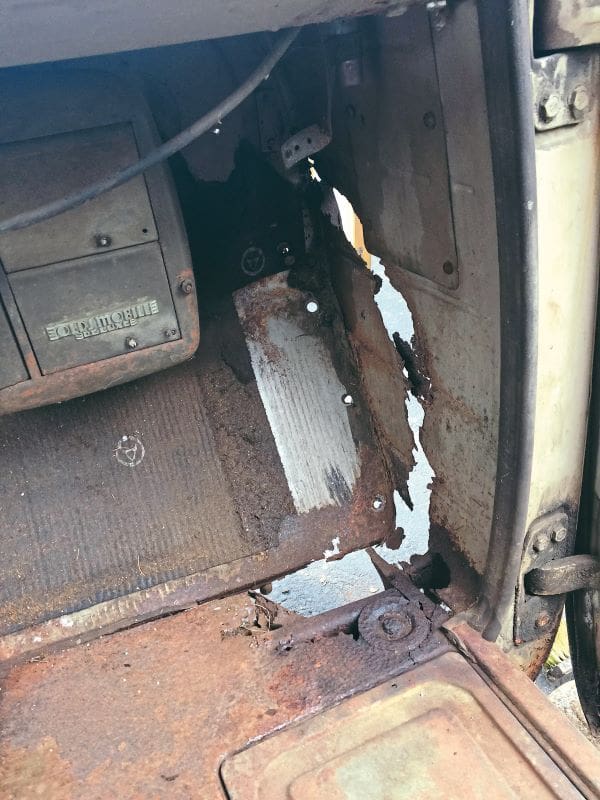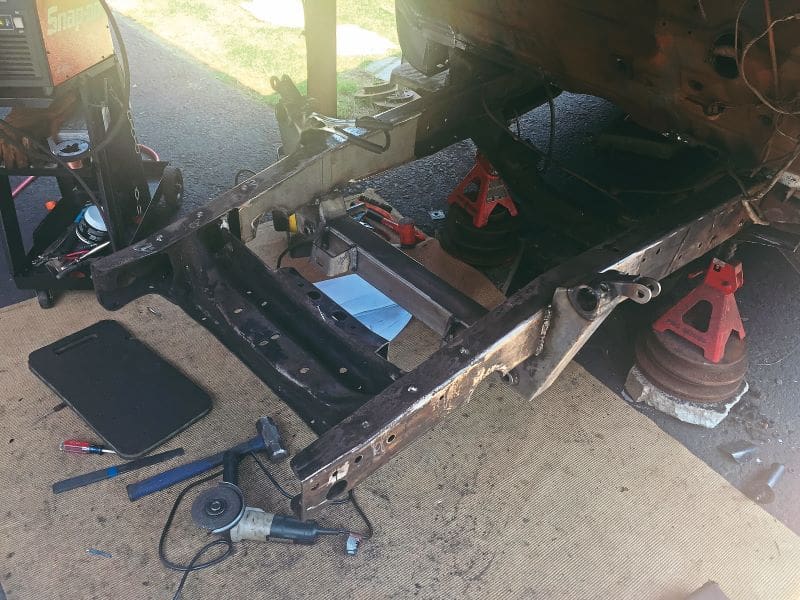 When he purchased the truck, Tim had figured it would be a two-year project, but he worked incredibly hard on it every single weekend and Friday night, as well as after work, racking up 35 hours every weekend (and that's after working a 50-hour week at his regular job), rain or shine, in 100-degree-plus Fahrenheit weather to 20 degrees Fahrenheit (started in June 2018 and finished November 2018). Tim did literally everything on his truck, including the paint, and completely stripped out every single wire and completely rewired the entire truck front to back. Challenges included sorting out a cruddy fuel tank and lines, as well as updating the fuel pump and regulator for the new drivetrain.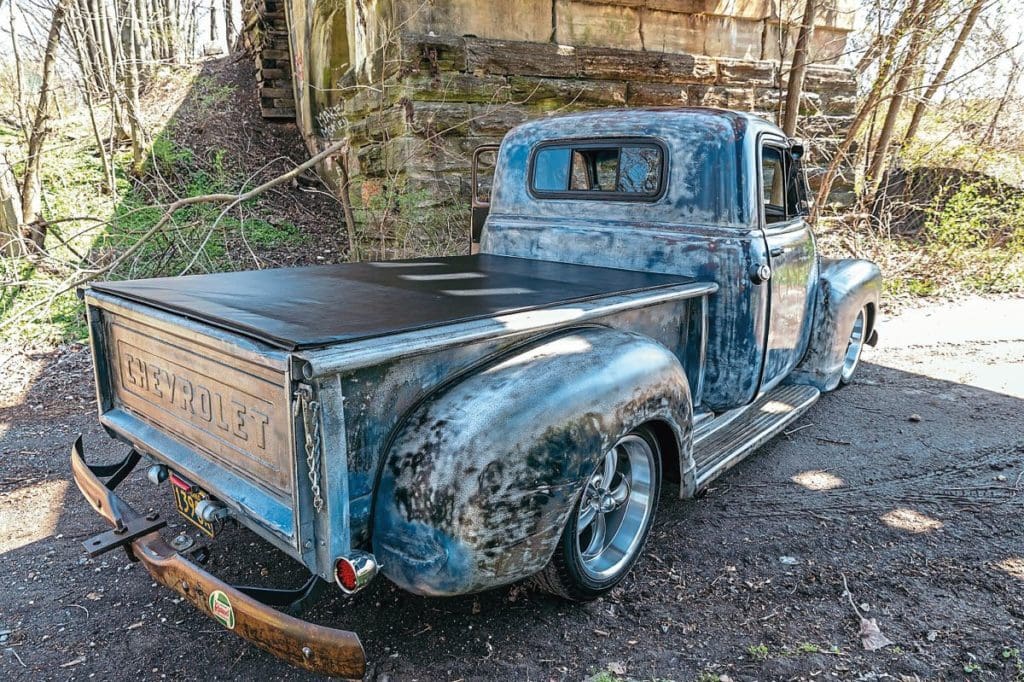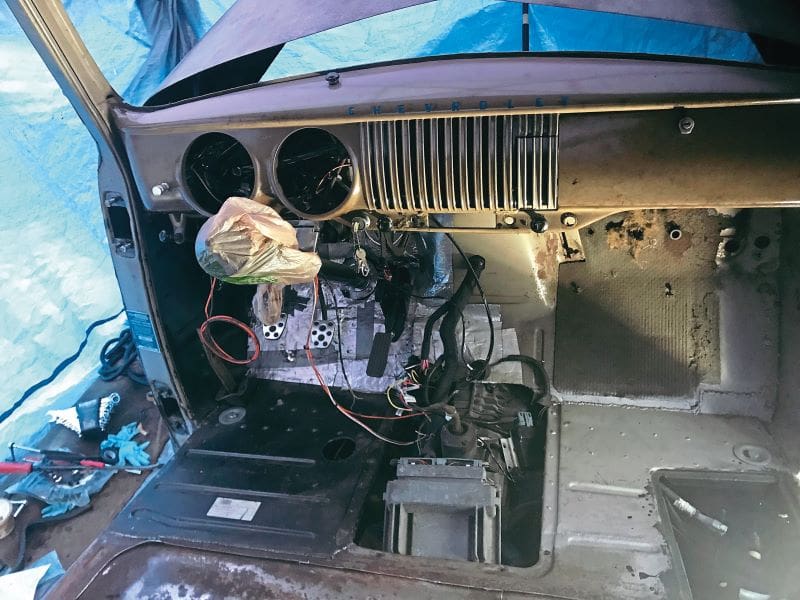 Tim says: "I don't own a shop or garage, but I put a fake garage name (my last name) on the sides of the doors to make it look like an old shop truck and did the stencilling myself. I sanded the silver down to make it appear as a faded repaint coming through to the original colour and painted the entire truck in satin clear coat. I still have the original keys it came with to open and unlock the doors, lock the glovebox and start the truck.
He does admit though: "My wife Rachel helped me install the windshield and she and my father-in-law helped me carry the bed off the frame and put it back on… but that's it. Other than that it was all me and I'm super proud of it and the work that went into it and blown away that it only took me five months to complete from start to finish! This truck was such a huge headache at first, but has turned into such a reward and accomplishment in my life and although at times I regretted buying it while fixing it up, now it's a love that will stay will me until I die. I will never sell it.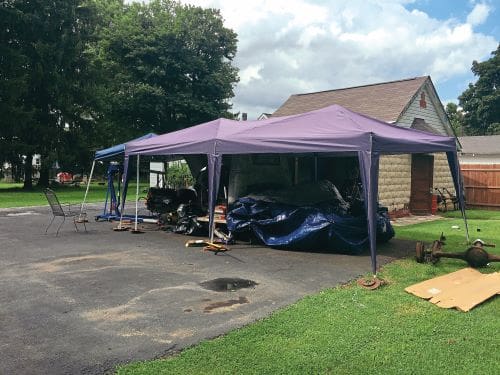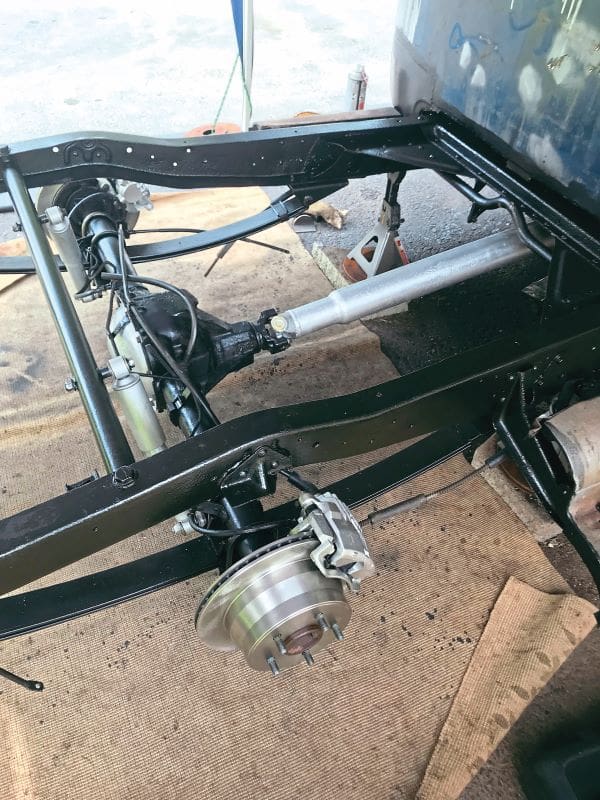 "It came out so much better than I ever could imagine – it doesn't rattle inside (nice and quiet with the windows up!) and it rides like a new truck and handles like a new car." And what a great job Tim did; this surely has got to be one of the best home-grown hot rod truck jobs ever seen on these pages and a real credit to his extraordinary efforts and skills.
Specification
Engine: Chevy 5.3-litre Vortec LS from a 2003 GMC Yukon, Summit Racing LS swap exhaust manifolds, custom motor mounts, GM muscle car oil pan, PCM tune and custom harness.
Transmission: NV3500 five-speed manual.
Clutch/brake: Subaru WRX clutch/ brake pedal assembly, booster and master cylinder.
Frame: original (modified).
Suspension: Solid front axle removed. Boxed frame and installed tubular Mustang II independent front suspension with coilovers, TCI (Total Cost Involved engineering) front suspension set-up, including power-steering rack, adjustable coilovers and adjustable sway bar. Rear: TCI parabolic rear leaf springs.
Exhaust: Tim scratch-built the entire exhaust system and welded it with side exit exhaust.
Body work: Replaced front floors, both inner and outer cab corners, both front lower cowls, patchworked the bed and tubbed the rear. Made it all look like it was originally never rusted.
Bed wood: Composite wood, with aluminium strips.
Fuel tank: Relocated new 19-gallon tank to rear frame (removed stock interior tank).
Wheels: Riddler 695 (front: 18×8 225/45ZR18, rear is 18×9.5 255/45ZR18).
Interior: Reclining bench seat (TMI brand), new Auto Custom carpet, new headliner, kick panels, door panels, all new glass, 32-inch tilt steering column, Hurst short-throw shifter, Dakota digital VHX gauges, Volante leather steering wheel, Retro sound radio, custom-made cup holders (old AC Delco oil filters, with a timing chain), screen-mounted on the clutch fork as a back-up camera.