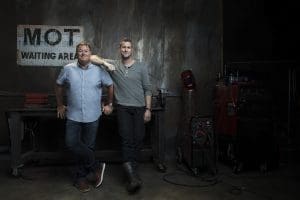 An exclusive screening of the new series of Discovery's Wheeler Dealers, featuring show stalwart Mike Brewer with his new lead mechanic and co-host Ant Anstead, will be held at the Lancaster Insurance Classic Motor Show, with Discovery, on Saturday 11th November. The global classic car show will play the first episode of the 14th season for 200 guests in an after-hours screening at the NEC 'season finale'. This will be the first-time audiences in the UK will have the chance to watch the new series with Mike and Ant in action.
Host Mike Brewer said: "Making Wheeler Dealers with a new partner and thousands of miles away from our native country is difficult, but the reward is bringing one of the world's biggest and greatest car shows to the screen. "We are immensely proud of our efforts and we are excited to share the new look Wheeler Dealers with a live UK audience for the first time ever."
Classic motoring enthusiasts are being given the chance to win two tickets to the screening in a prize draw which sees them automatically entered if they book their show tickets before Thursday 26 October. The lucky winners will join Mike and Ant as part of an exclusive audience to watch the first episode of the brand new series.
Enjoy a beer with the boys as we toast to the new era of Wheeler Dealers with an intimate Q&A session immediately after the screening including an appearance by the legendary designer of the vehicle featured in the show! Mechanic and 'new boy' Ant added: "Joining Wheeler Dealers was like jumping into the deep end! We ran straight into filming and I've had to adapt quickly and roll my sleeves up and crack on. Just the way I like it!
"I am super proud of the cars Mike and I have restored and the car show we are making. A lot of sacrifice, dedication, sweat, tears and passion has gone into this. And I know the true car fans will see that." To be in with a chance of winning tickets to this exclusive premiere, enthusiasts need to simply book tickets to the UK's biggest and best classic motor show before Thursday 26th October to enter this prize draw. For those that have already booked tickets to the show, they will automatically be entered into the prize draw.
Article continues below…
Advert
The Lancaster Insurance Classic Motor Show, with Discovery, returns to Birmingham's NEC from Friday 10th to Sunday 12th November. For more information, as well as all the ticket prices and booking details, visit www.necclassicmotorshow.com.