Having owned more than 80 British classic cars, including 20 MGs, Nicola Zadrozny and her husband Jon Moulds naturally fancied a change and decided the answer was an American car. They chose this 1972 Dodge Demon.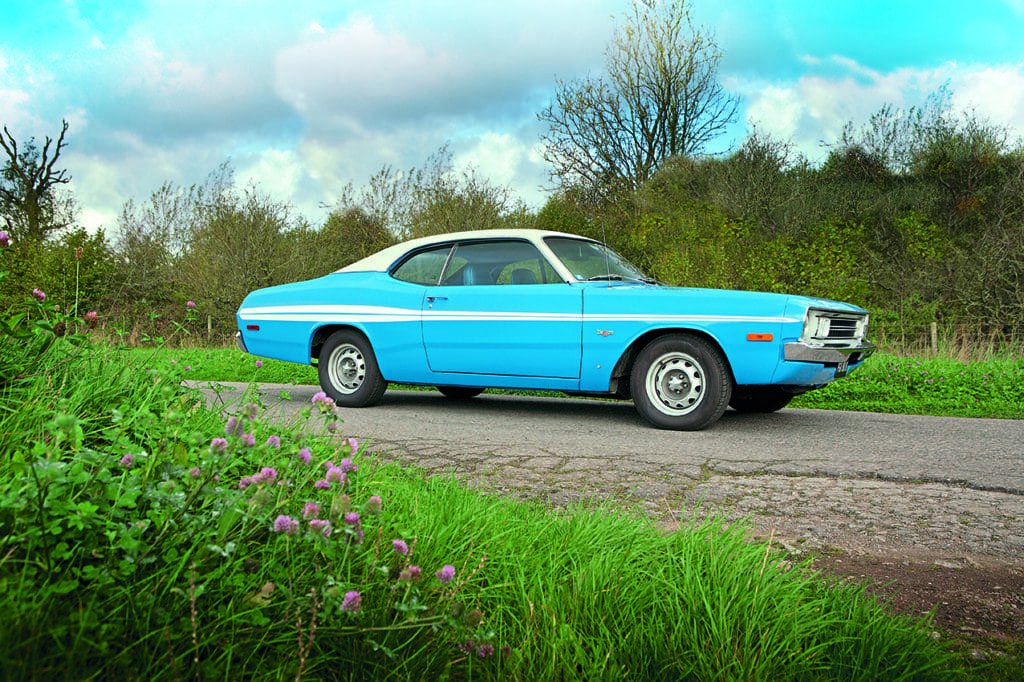 "It was bought as our joint Christmas present in 2015," explains Nicola. "We just wanted to try an American car since we'd done the British ones to death. We were originally looking for a Dodge Dart since we needed something that would fit our garage and a Dart is about the size of a Jaguar XJ6."
"We had considered getting a 1966 Mustang," adds Jon. "We both like them, but in reality they're too safe a choice for us. One thing we both love to do is ignore the advice of the 'pub experts' about which cars are terrible and instead buy one and try it for ourselves.
Hence we've had cars such as a Morris Marina and Triumph Stag and TR7 – all of which were great. So we asked the advice of the proper experts on the Mopar Muscle Association forum (www.moparuk.com) and they couldn't have been more helpful, especially Pete Wiseman. We really want to thank them all, because without their assistance we wouldn't own this Dodge."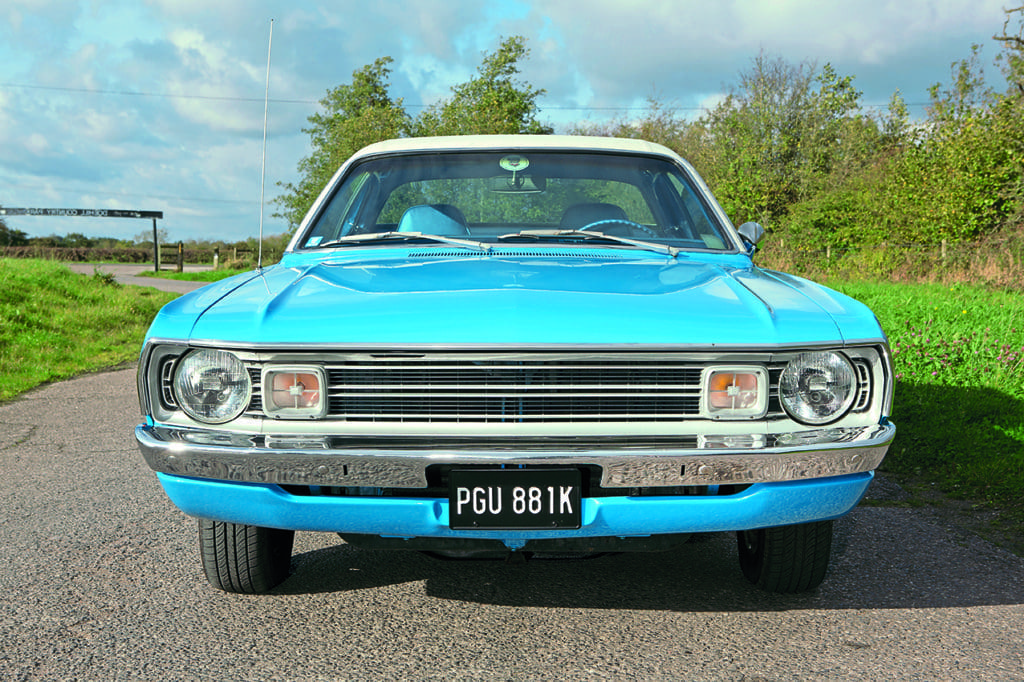 The search took the pair to Dave Madders Ltd in Manchester, where they spotted our feature car. "It wasn't exactly the spec we wanted," continues Jon. "We were after a Dart 340, but with old cars you buy on the condition of the bodywork because you can always do the mechanical stuff later. The Dodge had clearly never been welded or even undersealed, you could still see orange factory inspection paint, and even chalk marks, under the bonnet and in the boot. It was just too nice to walk away from. And I don't even like blue cars."
"It is a very bright blue," says Nicola. "It's Petty Blue/Corporation Blue, code TB3. The body has been resprayed on the outside, but it's still the original paint colour under the bonnet." In fact, most of the car appears to be original, which makes it a shame their Dodge didn't come with much history. "It was a California car going by the inspection stickers on the screen and rear bumper. It came with a previous owner's registration from sometime in the 1970s that was tucked into the owner's manual, and blue California licence plates reading '030 GFF.' But other than finding an old 'For Sale' advert at Speciality Car Sales, there was no information. We believe Speciality repainted it in 2014 just before it was imported to the UK. The interior was just as nice and it had a brand new carpet fitted in on top of the original one. Even that original carpet wasn't very worn. There's no sun fading either."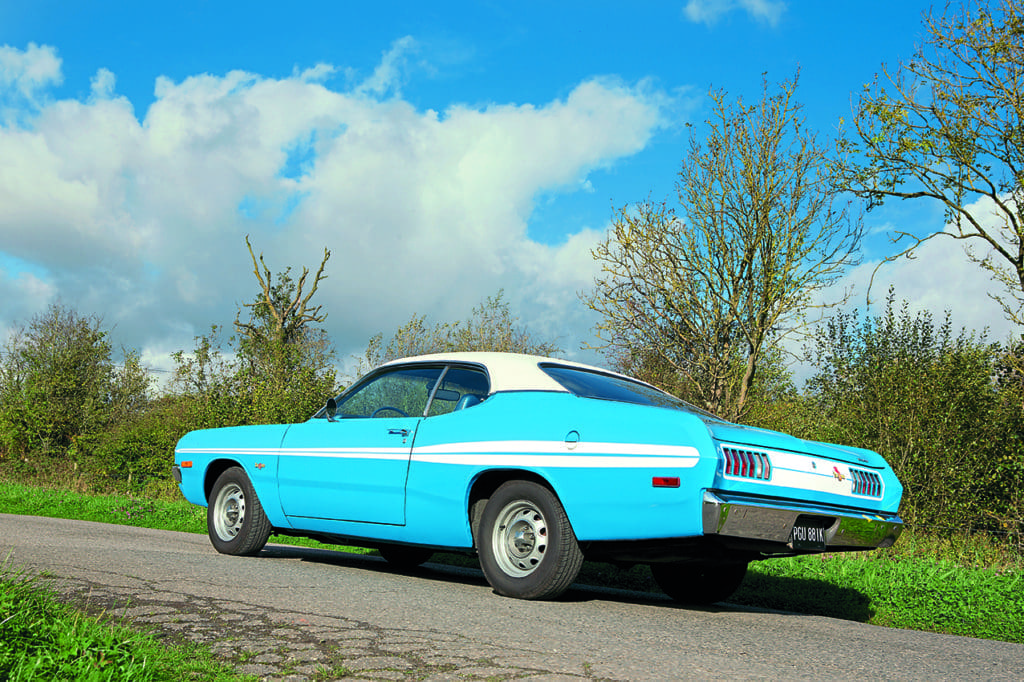 "We didn't even do a test drive," remembers Jon, "just had a good look around it, paid the money and drove it home two weeks later. That was a trial by fire − my first experience of a left-hand drive car with no offside mirror in heavy rain and fading light, through the Manchester city centre rush hour… There are about 89,000 miles on it now – we do about 3500 a year. Other than a bit of wear on the passenger side of the bench seat, which I repaired, it's in decent condition. We put in the seatbelts front and rear which cost £400.
That was one thing we weren't quite prepared for; everyone says you can get any part for old American cars and that's what we were used to with our British classics, but the first thing we needed was a vacuum switch for the heater, but that was £100 and took three weeks to arrive."
Everyday Classic
Both Nicola and Jon report their experience has been very positive. "You don't know until you try," explains Nicola, "so we drove the Dodge virtually as an everyday car which is exactly what we've done with all our other classics. We don't purposely take it out in the rain, but if it gets wet we don't run home either. Although it's the first car we've babied, in our eyes it's not so much a classic car as an everyday car. I take it to work several times a month and everyone seems to love it. Especially people who aren't at all into cars. Although no one ever knows what it is…"
That's perhaps not surprising, since the Dodge Demon had an extremely brief production run. Launched in 1971 as part of the Dart model range, but using Plymouth's attractive Duster semi-fastback bodywork, the Demon was the 'value package' base model Dart. Dreamed up from an experimental prototype built in 1970 by Chrysler Canada and, thankfully, rejecting the original model name choice of 'Dodge Beaver,' the Demon was a near twin to the Duster other than in the tail-lights and grille. Demon and Dart shared front end sheet metal, but the Demon rode a 108-inch wheelbase, three-inches smaller than the Dart's.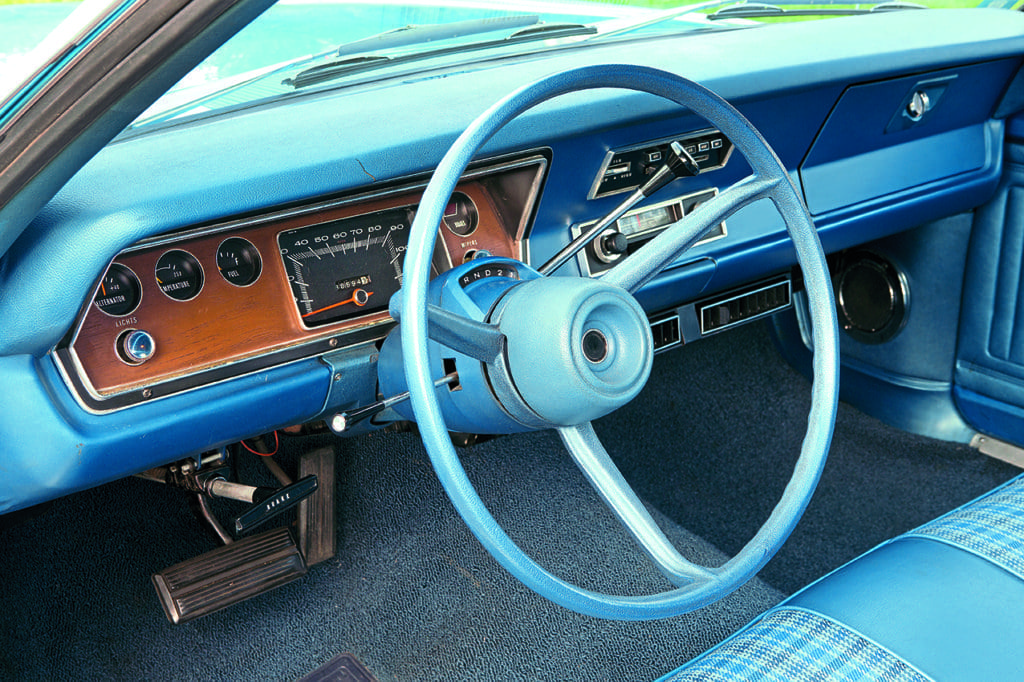 The Demon was also some 155 pounds lighter and four inches shorter. Although technically not pillarless, Dodge called it a coupe since the rear windows could be hinged open rather than rolled down.
Powered by a 198cu in slant-six with 100 horsepower and three-speed manual gearbox, Demons came stock with rubber mats and blackwall tyres. Realising how basic this $2343 package was, Chrysler also offered a 150bhp 318cu in V8 version and, replacing the Swinger 340, a Demon 340 performance model with − as you'd expect – a 240bhp, 340cu in V8, three-speed manual transmission with floor shifter and Rallye suspension.
New for the 1971 Chryslers was the option of a cassette player to replace bulky eight-tracks and it also offered a microphone for in-car dictation. From February 1971 a Demon 'Sizzler' package was introduced for the base Demon, with bonnet stripes, special steering wheel, Rallye wheels and racing mirrors among its 13 extras.
Sales of 69,861 Demons, plus 10,098 Demon 340s, represented 32 percent of Dart production and were sufficient so that the Demon went into 1972 virtually unchanged beyond a revised grille and interior. Prices dropped slightly with sticker prices starting at $2316, but sales were also down, to 39,880 Demons (still making it the second best-selling '72 Dart after the Swinger two-door hardtop) and 8700 examples of the 340 model.
Performance was becoming a dirty word. Dodge discontinued its R/T cars as virtually everyone detuned engines and lowered compression to allow running on the new unleaded fuel. Things perhaps seemed worse than they were since an engine's brake horsepower figure (previously achieved with the engine sat on a bench) was now measured as SAE net – a theoretical lower number achieved with the engine fitted in the car and all accessories in place.
For 1973 the Demon was renamed 'Dart Sport' after various complaints from Christian groups apparently offended by the devil-with-pitchfork logos. The Demon may be gone, but it's not completely forgotten since Chrysler paid homage recently with the Dodge Challenger SRT Demon – the most powerful muscle car ever built.
Want to read more about the Demon? You can! Just buy the October 2018 edition of Classic American magazine! Available to buy here!