Well, that's another year almost done, and at ClassAm Towers we're celebrating some scintillating classic cars in our December issue.
Santa would surely be overjoyed to be doing his rounds in David van Haaren's 1963 Corvette coupe… but sadly, there'd be very little room for all those pressies!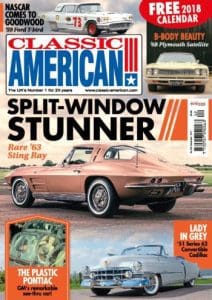 Check out the other stunning models that we have in store – a 1951 Cadillac, a '68 Plymouth, a '66 Chevy Impala and a 1973 Ford Torino. In these dull, dank, dreary days, when daylight is in short supply and we're all dreaming of summer, these articles will cheer the soul!
We're also looking back at three of the excellent events of 2017 – Goodwood Revival Car Park Show, Prescott Autumn Classic and Lincolnshire's Hot Rod Picnic.
There's tech stuff, news from across the Pond, Will Shiers' excellent Discoveries, and a look back to the amazing plastic Pontiac. So if the weather is getting you down, lift your spirits with the latest issue of Classic American… you'll be glad you did.
And don't forget, if you're in the UK, you'll receive a FREE 2018 calendar with this issue!
Article continues below…
Advert
Check out a preview of the December issue of Classic American here:
https://issuu.com/mortons-digital/docs/classam_14-11-2017?e=7600234/55075105
Article continues below…
Advert