Prior to this article, we'd only featured one Kaiser Darrin in Classic American (issue 108, back in April 2000), so the rarity is key to understanding this remarkable and unique-looking car, as Mike Renaut discovers…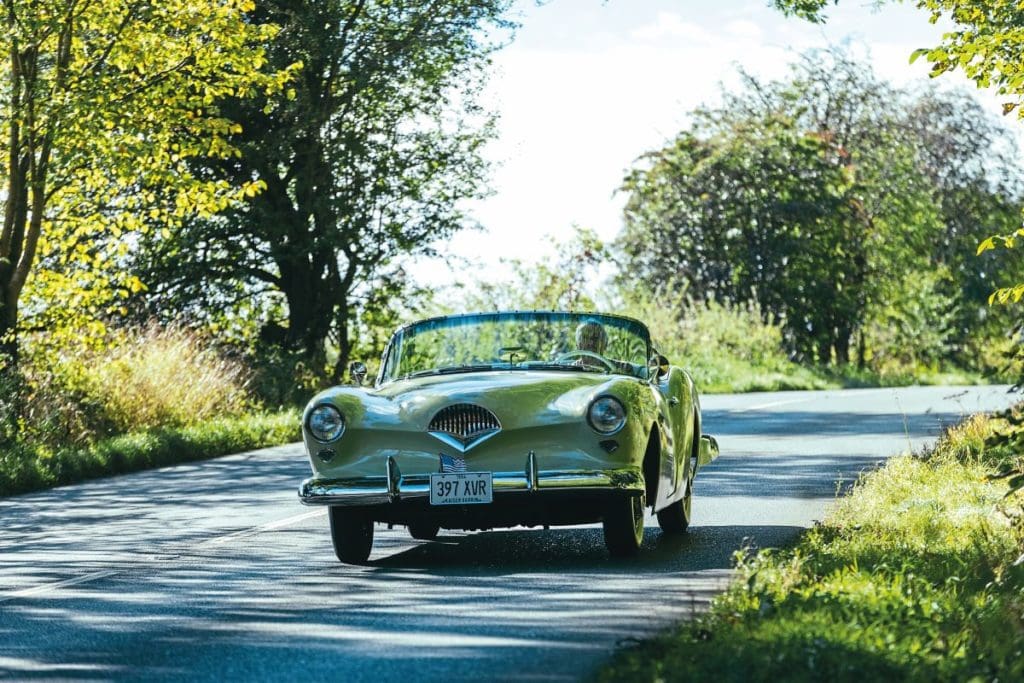 Words: Mike Renaut Photography: Gary Chapman
Bill Smith, known to his friends as 'Barnsley Bill', likes unusual American cars and he's certainly got one with this 1954 Kaiser Darrin… When faced with a rare car such as this one, I'm always intrigued to hear why the owner decided to buy it. "I've had Yank cars for years," answers Bill, "I'd first seen a Darrin in the Encyclopaedia of American Cars back in the Seventies and always fancied one, but it was only more recently that I went on to the Hemmings website and spotted five for sale. It's a really weird design and the look just grabbed me. I wanted a complete one in as mint condition as possible – I've done restorations in the past and didn't need another project. The brakes and chassis bits you can mostly get, but bodywork is far rarer. I'd considered one with supposedly factory black paint, but doubted it was original. After it sold, I heard it was a very rare special-order version, so I missed out on that…
"This Darrin has a Pine Tint body with Pine Tint, Pinecrush vinyl interior and the original 'Continental' 161cu in, F-head inline six-cylinder, with six valves in the head and six in the block. It was being sold by the St Louis Car Museum and I dealt with Jon Faust, their general manager who was really helpful; videoing the car and photographing various areas. I bought it in June 2021 and had it sent containerised with Kingstown Shipping (www.kingstown-shipping.co.uk /Tel. 01482 374 116). The car turned up in perfect condition. I'd asked that the dockworkers store it indoors and had the shipper put a note on the windscreen explaining how to operate the doors and requesting, when getting in and out or pushing the car, that no one lean on the screen frame since they tend to break.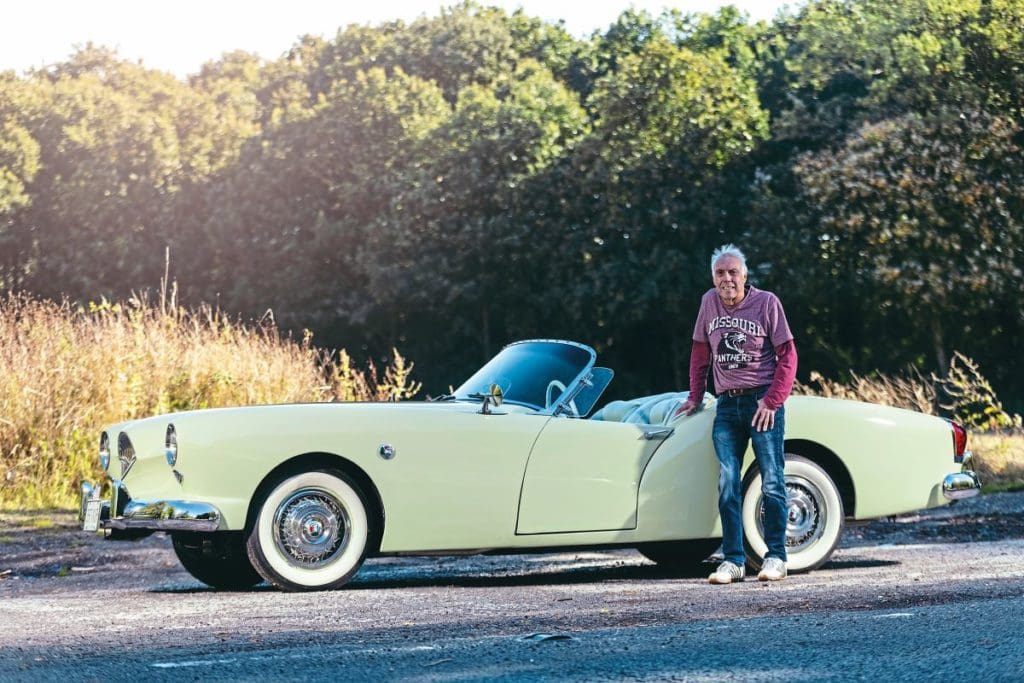 "When I first saw it, my jaw dropped; it looked stunning. I was taken by the colour, the shape and the size – it's bigger than it looks in photos. The indicators were blinking too fast and the foot-pumped windscreen washer had disintegrated – I replaced that with one from an LDV van which, oddly, was virtually identical – otherwise it was perfect. But it had the feel of a car that had been sitting for a while."
Indeed, it had, the history which came with the Darrin revealed the car had been on display in the museum for around three years. It was purchased new from Lettier's Garage; a Hazleton, Pennsylvania-based Kaiser/Willys dealership, by an unnamed buyer from Pottsville, some 30 miles away.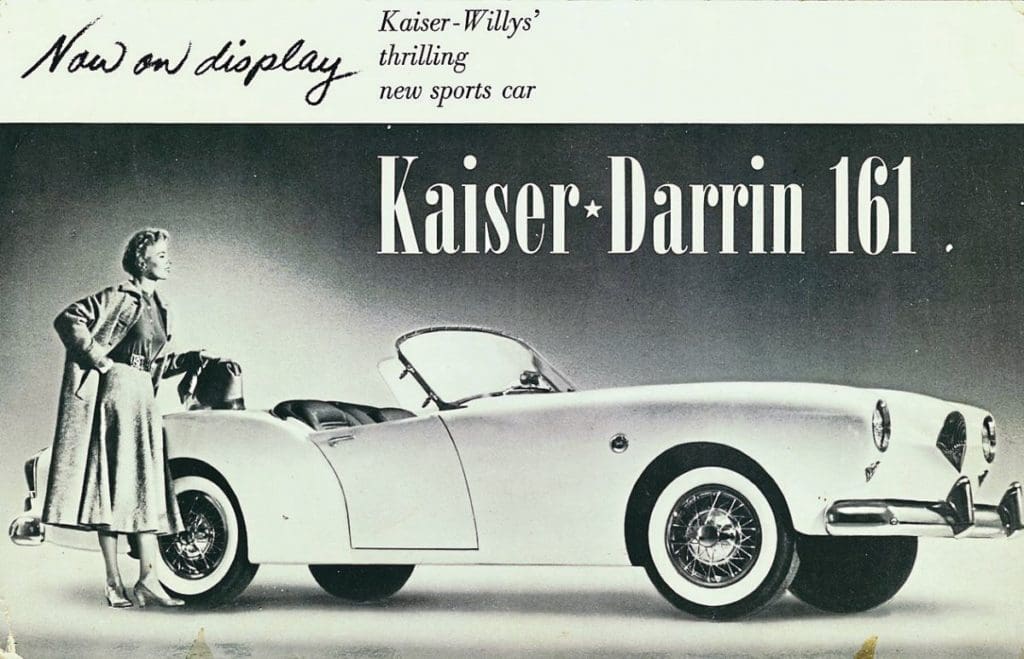 In 1957, second owner John Dixon bought the car with 7000 miles on the clock, using it regularly until garaging it in 1967. In 1984 the Darrin was returned to the road and recommissioned before being driven 1300 miles to Florida.
After Mr Dixon died, his son John had the car returned to Pennsylvania for a 2005 restoration including a repaint, new upholstery and top. In 2008, Custom Auto in Florida replaced the clutch, rebuilt the water pump and generator, put in new gaskets and fitted a new exhaust, voltage regulator and ignition.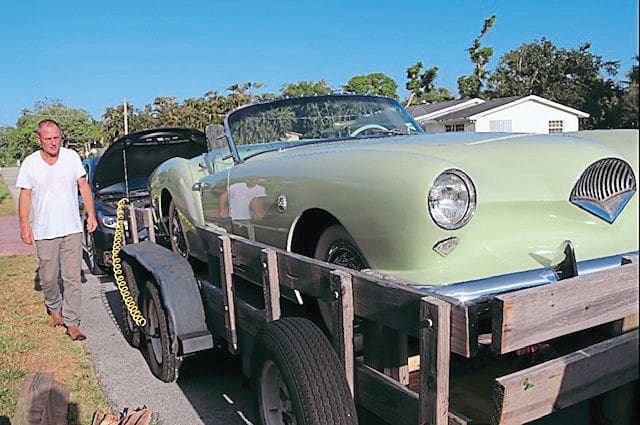 With under 57,000 miles on the car, John Dixon used it until 2018, adding another 3500 miles before it was sold to the St Louis Car Museum. They added new heater hoses, kingpins, transmission mounts, headlights and air ducting as well as refurbing the parking brake and regreasing the major components.
Going Dutch
Kaiser-Frazer's designer Howard 'Dutch' Darrin had resigned after his designs for the 1947 Kaiser and Frazer models were altered by a Detroit specialist hired to ready the cars for manufacture. Dutch returned in 1948, then left again when his proposal for the new compact Henry J model was rejected in favour of another design. However, Dutch felt the Henry J's 100-inch-wheelbase chassis might be the foundation for a sports car – a rapidly growing market in America – and, without the company's knowledge, he began designing one in his home studio using his own money.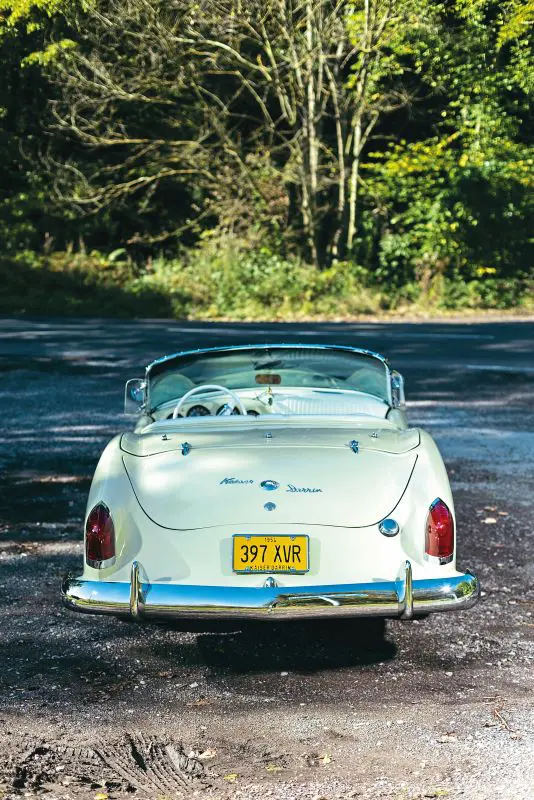 Dutch had dreamed up sliding car doors in 1922, patenting the idea in 1946, and he eagerly added them to his mock-up. Then one day, company head Henry J Kaiser arrived unannounced and, spotting the proposal, angrily told Dutch: "We're not in the business of building sports cars." Kaiser supposedly relented after his wife described the car as "the most beautiful thing I've ever seen" and added that she felt rival manufacturers would eagerly produce the car should they be offered it.
When presented with the prototype, Kaiser's team said it should be named after him, but Kaiser elected instead to call it the Kaiser Darrin. Production Darrins used separate boot and roof covers rather than the one large panel Dutch had proposed, and the headlights were raised to satisfy regulations. His split windscreen was replaced by a one-piece pane and the instruments were situated ahead of the driver rather than across the length of the dashboard, but otherwise the design survived virtually intact. Power came from a Willys' version of the Henry J six-cylinder with a single carburettor and a 10bhp increase in power. The fibreglass bodies were built by Glasspar who usually built boat hulls, but had some kit car experience.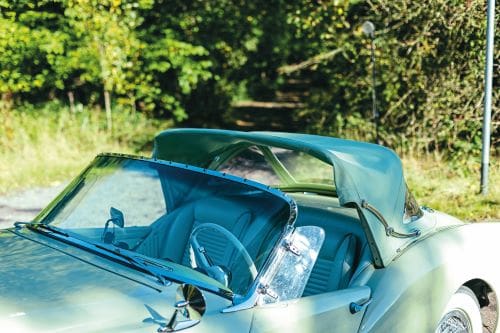 The car was announced in September 1952 and Darrins began rolling off the line within a year but didn't go on sale until January 6, 1954. The Kaiser company was by now in terminal decline and, having merged with Willys, it moved to Toledo, Ohio. Darrins were built in Jackson, Michigan, at a plant reserved for special projects.
While elegant, the Kaiser Darrin was flawed. It cost $3668 – virtually Cadillac money – and with 90bhp wasn't terribly fast; 0-60mph in 15 seconds and a top speed of 100mph, although a later supercharged version offered 125bhp. Those novel but tiny sliding doors had a tendency to stick (restorers have since solved those issues) and made climbing in or out somewhat undignified. By this time, the public was losing faith in Kaiser as a whole and a further unexpected issue was a severe snowstorm which supposedly ruined as many as 50 part-built Darrins.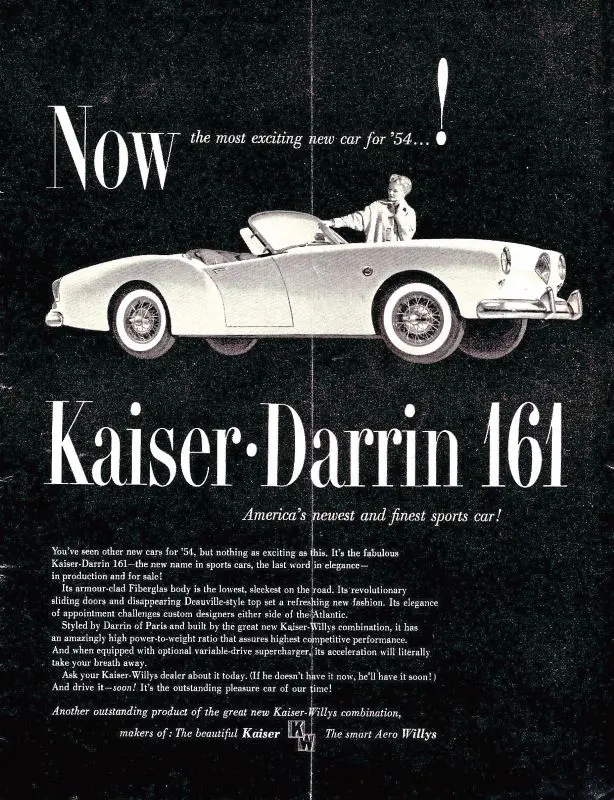 In October 1954, Kaiser-Willys, as the firm now was, left the American car market to concentrate on building cars, Jeeps and commercial vehicles in Argentina. Dutch attempted to revive Darrin production in 1955, installing Cadillac engines in unfinished Darrins making for a 304bhp car that now cost $4350, but hit 60mph in around 10 seconds and carried on to 115mph. Approximately 50 were sold over the next three years through Kaiser dealerships, but by then it really was too late. Total production was 435 cars with seven prototypes – some sources suggest anywhere from six to 12 prototype Darrins were produced.
It's a great pity the Kaiser Darrin wasn't a bigger success. Chevrolet's six-cylinder Corvette was admittedly faster, but offered virtually the same specification and in 1954 cost $3513 (then dropped to $2799) before it too then gained a V8. Dutch's Darrin seems like a great idea which was bankrolled by the wrong company.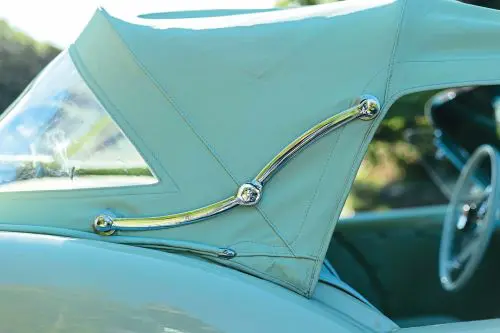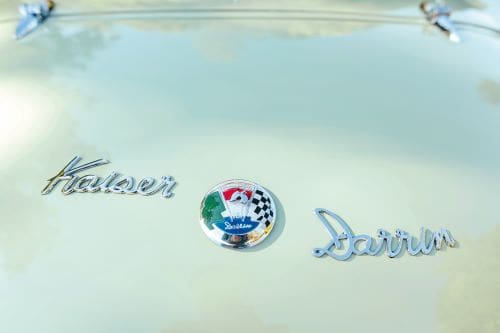 Plastic fantastic
Our featured Darrin was built about a quarter of the way through the production run. "Honestly, it's a badly designed kit car," laughs Bill. "With the roof up, you can't get in, there's no interior door handles, your elbow hits the roof, the curve of the back wing is in the way when you try to get out and you can't see anything out of the front except the nose. The roof is a two-person job to operate; you open the boot to release the hinged panel, like modern convertibles, but it works perfectly once it's up. There are no side windows only curtains, but they mist up. If you look in the boot you can see where they didn't finish it as nicely as on the outside and there are a couple of rougher patches in the engine bay, but I don't want to change any parts just for aesthetics. The steering wheel has a couple of minor cracks, but it still looks and works fine so I'm not bothered by them.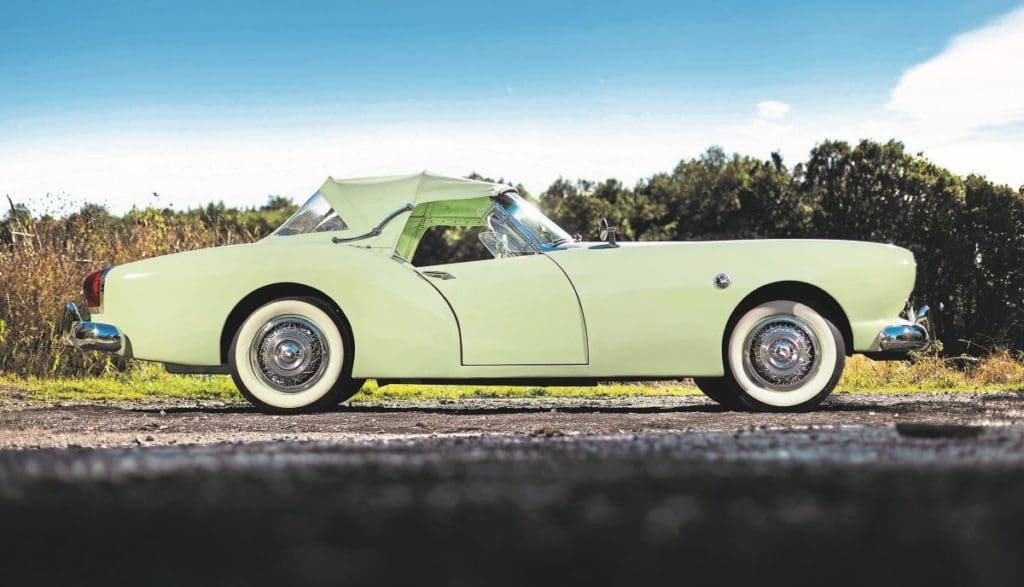 "I was scared the first time I drove the car; it was shimmying and shaking, but gradually things freed themselves up. The revs drop a lot when you change gear, it's a three-speed with overdrive, but will kick down like an automatic and drop out of overdrive, so it's quite poky and easily climbs hills. I've noticed the overdrive works in reverse too. It's spot- on for motorway driving and very comfortable, but not complicated to drive.
"Those doors are really good, they slide downward into the front wings; one got stuck, but a bit of WD40 easily freed it off. There's a catch, so they don't fly forward under braking. I usually park it with the doors half open − they really intrigue people. It's a remarkable piece of design work. I had to be careful when I fitted a pair of wing mirrors though in case the bolts hit the doors.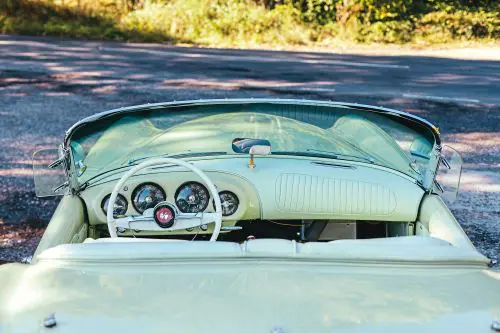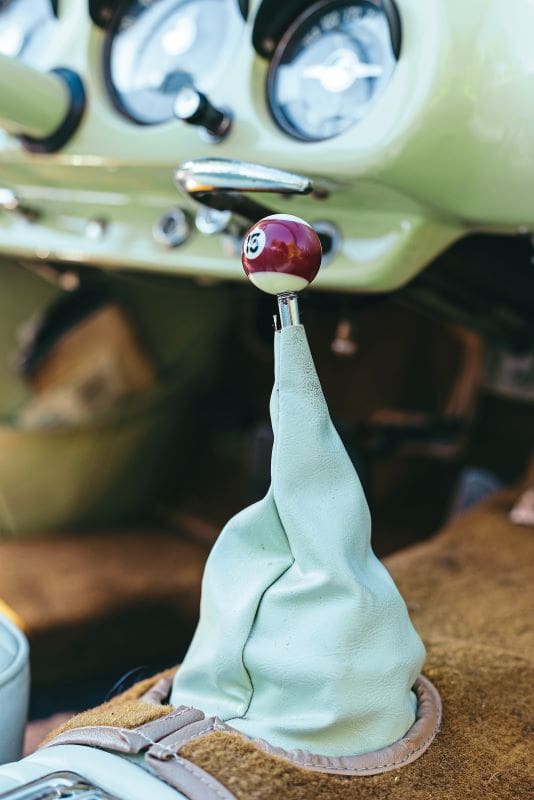 "I can't imagine anything I'd want to own more unless it was a Tucker or one of the GM Harley Earl concept cars, and I can't see that happening. I did once ring a chap in America asking the price of his Tucker and he wanted $350,000 in the early Eighties… I'm attracted by the rarity of the Darrin and like having something that no one else has seen. I'm actually quite shy while out driving it, but do enjoy introducing the car to people who've never even heard of it. We've attended six or seven shows and it attracts people like a moth to a flame. I'm often asked if it's German. The other question is, how it gets any air to the radiator with the tiny grille; the answer being, there's a big intake under the bumper. I know there's a guy restoring a Darrin in Wales and there's another in Holland, so it's certainly not unique in the UK and Europe. In fact, I believe there are about 300 survivors worldwide in various conditions.
"My plan is just to keep mine looking clean and nice, drive it as much as possible and hope no irreplaceable badges or wheel covers fall off… For me it's the ultimate American car."