North Weald, Essex, July 24th
Words & Photography: Ben Klemenzson
After the sweltering conditions of the Rally of the Giants the weekend before at Blenheim Palace (July 17th) things were even hotter – if that's possible – at the Damn Yankees Summer Slam which was held at North Weald in Essex. Unbelievably, the hot weather warnings and dire weather forecasts seemed to have possibly put some people off, maybe somewhat understandably, as being an ex-Raf airstrip, there's not a lot in the way of cover or protection from the sun.
Nevertheless, there was a healthy turn out, as American cars, pick-ups, rods and custom cars trickled in from first thing until midday. There were traders on site, including Northants tyres and food vendors and a bar, and even live music. Just about every variety of vehicle was there, with a few club stands thrown in too. Compering the event, as he has for many, many years, was John Price, who even went into the arena to talk to car owners about their vehicles and interview a couple of the youngsters getting into drag racing.
And speaking of youngsters, Meg Denham was on hand with her rather nicely patina'd looking Plymouth that she'd driven all the way over from Banbury. She's obviously not afraid to use it, as the following weekend she was spotted racing it on the quarter-mile at the Mopar Nats at Santa Pod! And if you're into that weathered look, there were some pretty cool rat-look vehicles knocking about including a low ridin' 1955 Cadillac that seems to be getting about everywhere (it was making itself noticed at last year's Redhill Dream Cruise) and which we hope to feature soon.
There were a couple of Chicano-style Eighties low rider Cadillacs knocking about too, with amazing metal-flake paint jobs and angel hair interiors, as well as a healthy selection of Thunderbirds, including Andrew James' 1957 Ford Thunderbird in Peacock Blue (a '56 colour) with Ivory White interior and which had been recently imported from Arizona. Another dry state car – and it's always nice to see cars like this – whose owners wanted to keep it like it was new in California, was an A-code '65 Mustang in Wimbledon white. Fitted with disc-brakes, centre-console, dual exhausts and air conditioning, it was a credit to its current owners.
Interestingly, whilst at most other American car shows this year there were relatively few cars for sale, at the Damn Yankees there were lots. These included several generations of Corvettes (even a '54 which had undergone a £70k body off restoration) and a brace of nice Seventies wagons, the nicest being a Chevrolet Kingswood wagon with a clamshell tailgate and super low miles and good solid condition. There were plenty of performance Yanks from every era, like a '76 Firebird, Dodge Superbee and Viper and a 2005 Ford Mustang GT convertible. There were plenty of classic Yanks up for grabs too, amongst them a 1941 and 1955 Buick …. And bringing things right up to date was a late-model Cadillac and 2013 Chrysler 300. Really, if you were after an American vehicle of any description, you would have been spoiled for choice at this year's show.
Prize-giving took place in the afternoon; however, by that stage the heat had become unbearable for many and an exodus of cars brought things to a prompt conclusion. Another great show, marred if anything by too much good weather – Good old British weather, you just can't win!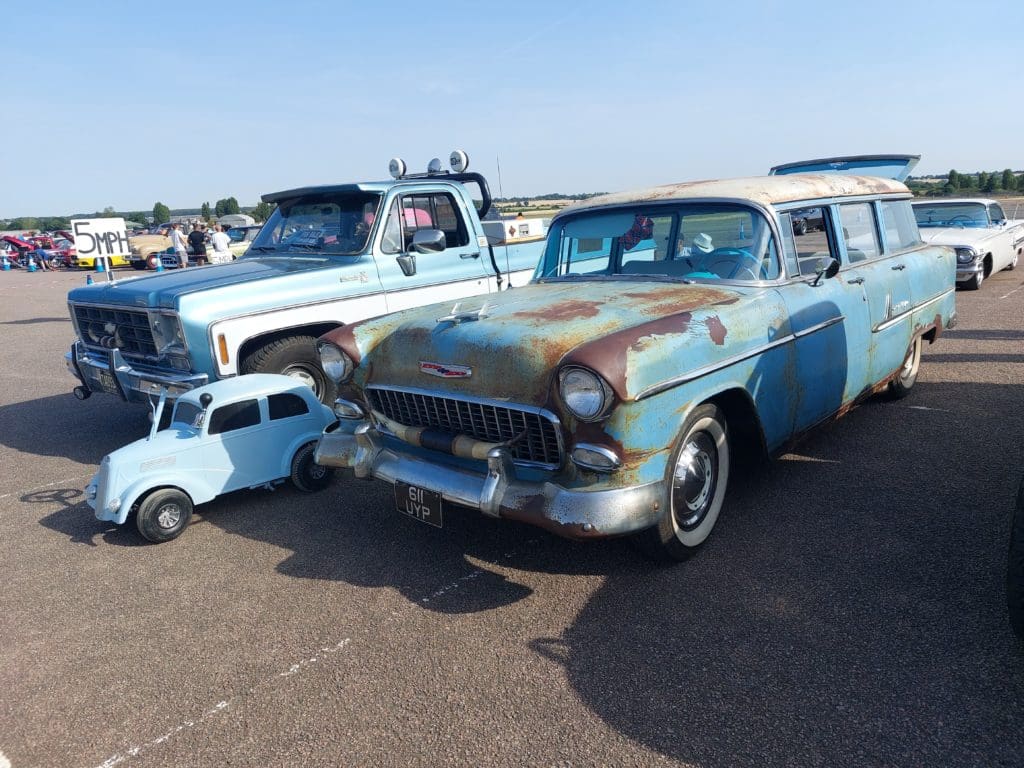 Kingstown Shipping Car of the Year. Heat 4.
As if the heat the previous weekend at the Rally of the Giants wasn't enough, the following Sunday saw the Met Office issue a red warning for exceptional heat … and boy was it hot! That didn't put off many attendees (although it undoubtedly impacted on a few,) including this exceptional 1973 Mercury Cougar XR-7, which might look a little familiar to some readers.
Recognise it? Yes, it's the very same Cougar that won Car of the Year back in 2005! Laboriously restored 17 years ago, it's unusual in that cars of this era have a lot more plastic used in their construction, which in itself is a challenge, yet this Mercury looks mint, as if it's just rolled out of the factory. Current owner Mike Churchill is no stranger to car of the year, having taken part in the 2017 competition with his 1973 Lincoln Continental Mark IV.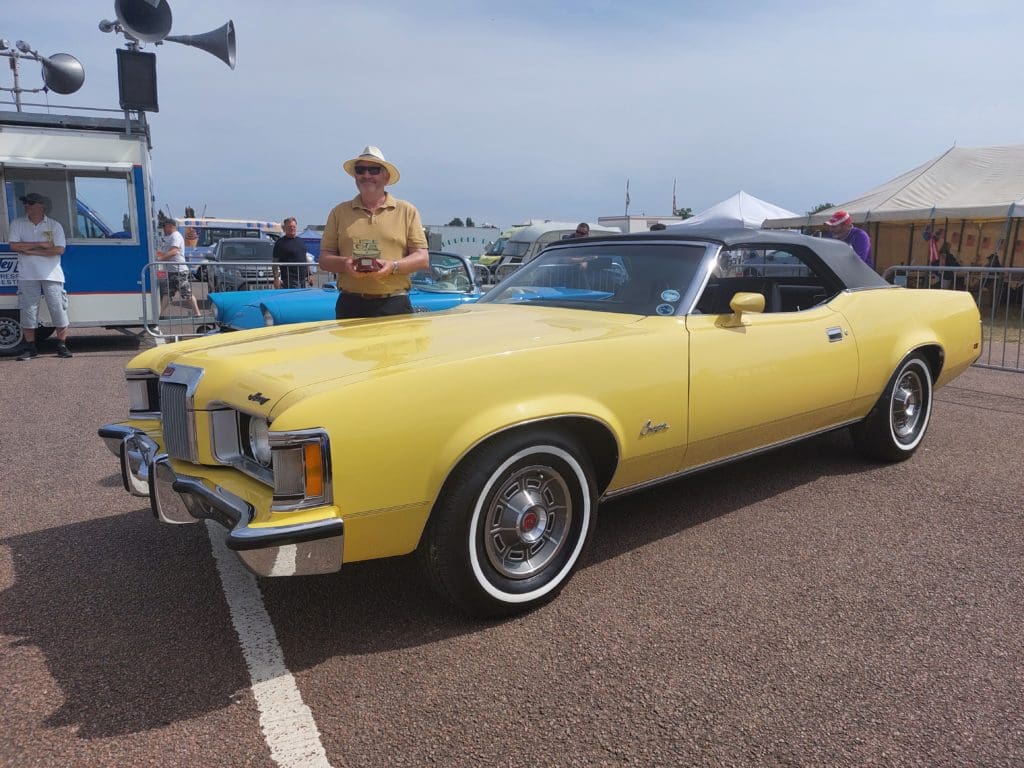 Prize Winners
P. Mitchell Mem
Best in Show Ford Woody Wagon 570 YUX
Best Hot Rod '32 Ford 442UXU
Best Pick-up GMC CoE UXS886 Sam Stockman
Best Custom 40's Ford XBV498
Rob Long
Mem. Trophy Camaro VAP1875
1st Original '54 Corvette 560 XVE Andy Robinson
2nd Original '57 T-bird
3rd Original '65 Buick Riviera HUK 193C Bob Farrel
1st Modified '52 Chevy Truck 557 YUP Clive Hardy
2nd Modified '67 Camaro EPU 611G Mick East
3rd Modified '65 Mustang 544TZ Steve Cox