Graduating from British metal to a full-sized Fifties Yank is a rite of passage for many rockabilly folk. Zack Stiling meets one young chap who's done just that and uses his 67-year-old Mercury for a 20-mile round commute every day…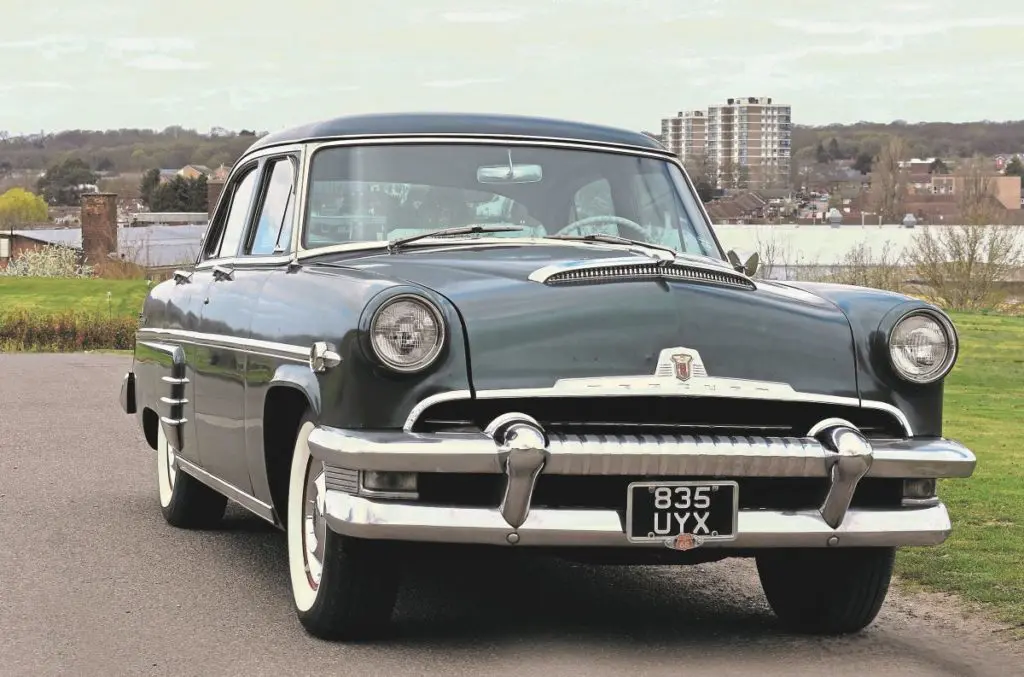 Words and photography: Zack Stiling
Bradley Sainsbury is a rockabilly. Like all rockabillies, the three most important things in his life are his car, his immaculate pompadour and his girlfriend Becky, although not necessarily in that order. Of the three, we are at least qualified to pass judgment on the car, a 1954 Mercury Monterey, and it happens that it's rather good.
Different creeds and cultures have their different coming-of-age ceremonies and, in the rockabilly culture, one reaches maturity on the acquisition of one's first American car. That's just what the Mercury was for Bradley, a relative newcomer to the scene after spending his teenage years in the barren cultural wasteland where peer pressure tries to strip young people of their individuality. Thankfully, Bradley's father, a revival teddy boy of the Seventies, was always at hand to steer his son in the right direction, but it was a trip with a friend to a diner that really inspired Bradley's passion.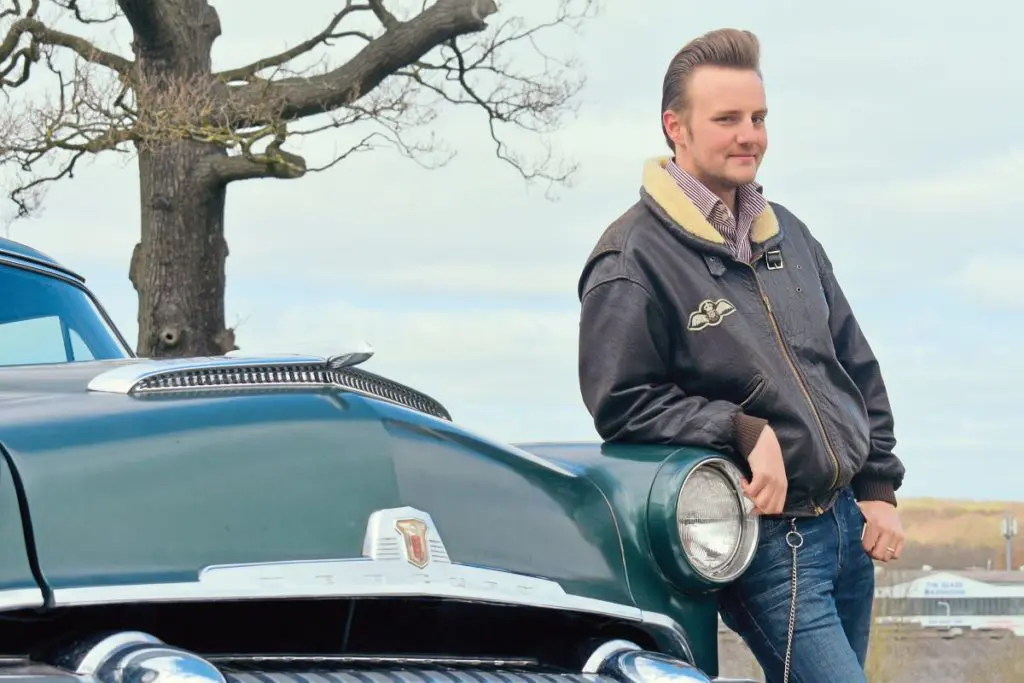 "The first time I really got into it all," Bradley says, "was when we visited a diner called Bobby Jo's in Southend where they had a live band." He realised then that there was a thriving scene of people living as if Buddy Holly had never died, and it wasn't all just some made-up world his dad liked to talk about. He was 22 then and he's only 27 now. His progression to a full-sized Fifties Yank has been pretty swift but, like many, he had to start with British tin.
"I saw a 1958 Hillman Minx for sale locally and that really started my love of cars. I'd had the Minx over a year when I bought an F-type Victor, which I thought was more rock 'n' roll, but the engine blew up and I had to sell the Minx to fund its rebuild." The Victor lasted a similar length of time before he realised a proper American cruiser was just within reach, and he bought the Mercury in January 2019. That was a very happy new year, until Bradley discovered the Merc was in need of serious gearbox repairs and the Victor would have to go if he was to be able to afford them.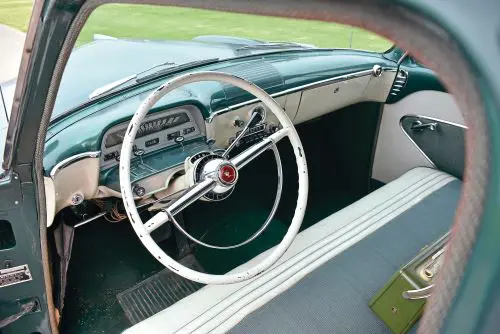 Bradley had always thought he'd go down the Cadillac route, but when the Merc came up for sale at an affordable price, he wasn't about to let it slip by, and now he realises he's got something quite special. It is perhaps because of their potential to dazzle that scruffy original American cars from the Fifties are favoured more as subjects for restoration than preservation, but it does mean that original unrestored cars, just as they left the factory, are now few and far between. And that's why Bradley's is so important – apart from where the paint has been touched up in a few places, all the bodywork, brightwork, interior and mechanicals are as they were when it rolled off the assembly line, albeit with the acquisition of an attractive patina, evidence of almost seven decades of use.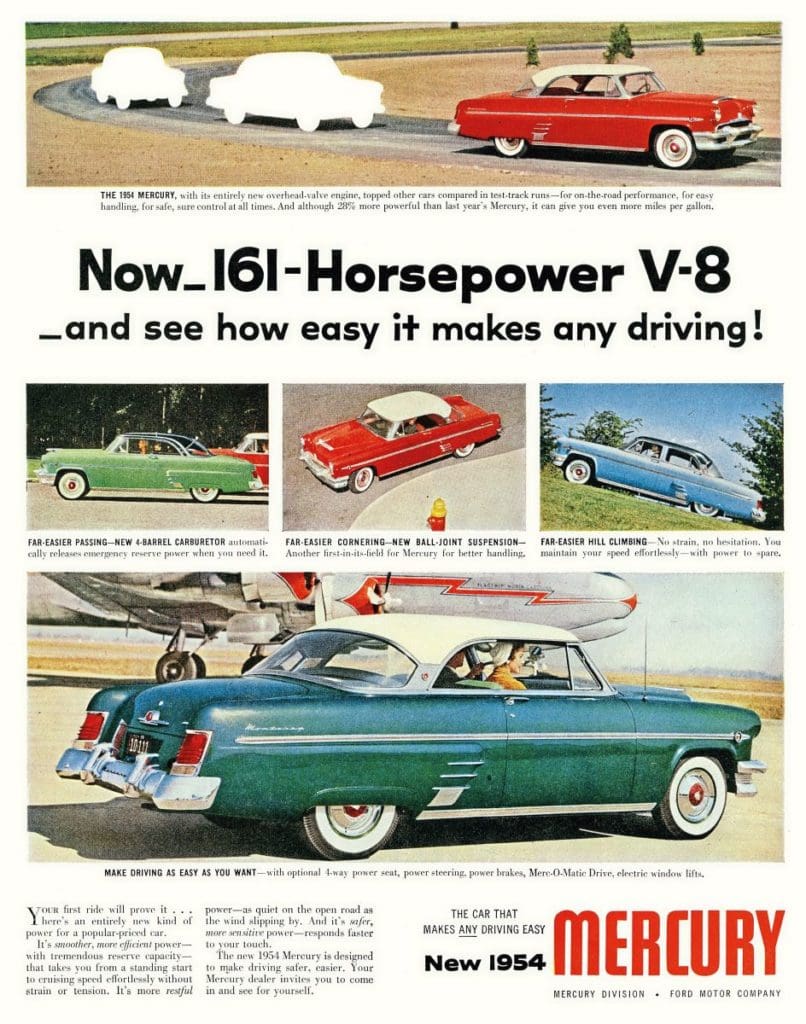 Better still, is that so much of this car's life has been recorded. The slightly damaged dealer badge appears to say Paterson Lincoln-Mercury. The history of this dealership is hard to trace, but it's very likely connected with Lincoln of Wayne, in Wayne County, New Jersey, which was formerly Paterson Lincoln-Mercury, but it apparently only assumed that name in 1962, having previously been Turner Lincoln-Mercury.
Much of the car's history has survived intact, as it was family-owned for 61 years before it was imported into Britain by Peter White in September 2017. When White acquired it, he learnt that it had been bought in 1956 by an ex-serviceman from Long Island. He died in 1975 and left the car to his daughter, who just parked it in a garage with boxes on top of it and left it. Fortunately, the garage was dry and well ventilated, so the car was preserved exceptionally well all that time. It was offered for sale when the daughter moved into a care home, but Peter White only kept it for a few months before family circumstances forced him to sell it to Russell Schacter, whose American Dreams collection has featured before in these pages (including last month's 1955 Chevrolet 210 Townsman wagon) and who then sold it to Bradley.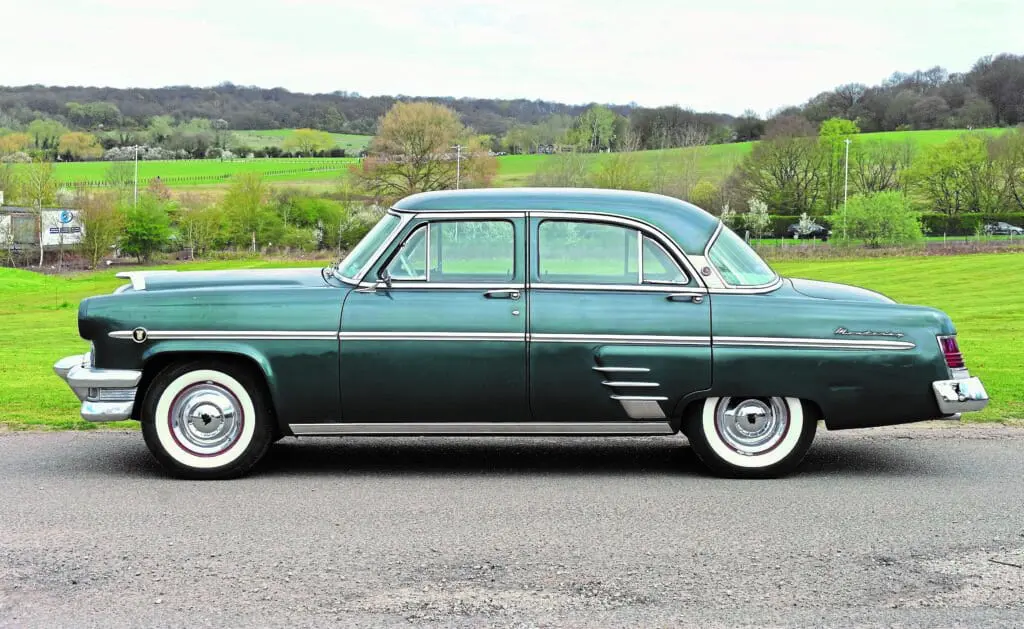 After a brief increase in status from 1949 to '51, when Mercurys were more low-priced Lincolns than upmarket Fords, Mercury reverted to its earlier guise for 1952. The bodies again closely resembled those of Ford, although a combined bumper-grille gave the Mercury a chunkier look, while a rocket-ship inspired faux-hood vent was a nod to the incoming space age.
The 118-inch wheelbase was carried over to '52, but it featured a new box-section chassis, weighing less due to the omission of the central crossmember, and there were minor improvements to the steering and suspension. The engine was the well-established 255cu in flathead V8 and the new-for-1951 Merc-O-Matic transmission remained as an option.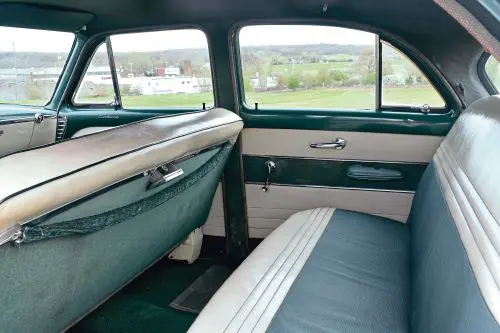 Notably, the '52 range saw the Mercury line increase to eight models, of which the Monterey, as a standard production model, was a newcomer. Available as a hardtop, convertible or upmarket sedan, it took its name from a limited edition coupe issued during 1950 and 1951. Being competitively priced, the Monterey was a great success for Mercury and outsold the cheaper Custom model. The 1954 Monterey sedan sold for $2333 and production ran to 65,995 for that year, making it the second-best seller behind the Monterey hardtop.
The concept of built-in obsolescence wasn't much in evidence in these cars. If you were to place a 1952, '53 and '54 alongside one another, you'd be hard-pressed to tell the difference and would probably give up after spotting the revised grilles and rear lights. The '54, though, was hiding an ace up its sleeve in the form of Ford and Mercury's first overhead-valve V8. Naturally, Mercury benefited from a larger version than Ford; its engines being 256cu in with an output of 161bhp, a substantial increase over the 125bhp of the last flatheads.
Despite the importance of Bradley's Merc as an all-original, unrestored car, he's not afraid to use it as it was meant to be used. That means regular visits to rock 'n' roll nights in London, of course, but it also means dicing with rush-hour traffic on Bradley's journey to work at a railway depot. At 67 years old, the Mercury still faithfully undertakes a 20-mile round trip every day and much longer journeys without (too many) breakdowns. "The only issue with using it every day is that it's not a quiet car to start at 3.45am when I go to work!"
This may surprise, but why should it? It's every bit as usable as a modern car. Switching on the ignition, it lulls into a quiet, civilised idle, reserving its glorious V8 howl for when your right foot goes down. Of course, the Y-block V8 has no trouble at all keeping up with modern traffic, but its performance is somewhat gentler than cars of only a few years later, when horsepower figures commonly exceeded 250bhp and a heavy foot would see you firmly embedded in the back of your seat.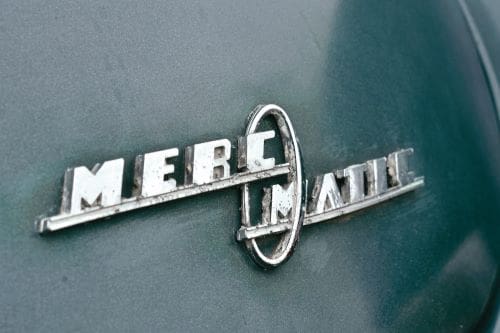 The brakes and steering are typically Fifties, which is to say you might make a quarter-turn of the steering wheel before the car realises it's supposed to change direction, which leads one to adopt a cautious driving style on Bradley's local roads, narrow and chock-full of parked cars as they are. You'd expect the same behaviour from a British car, but there's quite a size difference between the Mercury and a Ford 100E. At least there's no need to think about gears. The three-speed Merc-O-Matic is as smooth as you like.
Bradley's love affair with the Monterey almost came to an end earlier this year when another car threatened to steal its place in his heart. Suffering from a back injury, he blames the influence of codeine for unsoundness of mind when he offered to buy a '56 Buick. The sale went through and Bradley had succeeded in selling the Mercury when he realised just what a mistake he was making. Fortunately, the Merc's new owner was very understanding and he agreed to sell it back to Bradley, while the Buick was moved on to a new home.
Faced with a sleepless night in a broken-down car, some people might channel their inner Basil Fawlty, but for people like Bradley, occasions such as that are all part of the adventures of old-car ownership and merely strengthen the bond between man and machine. As the Everly Brothers sang, "We do it for the stories we can tell", and Bradley's going to have plenty of those, you can bet on that.