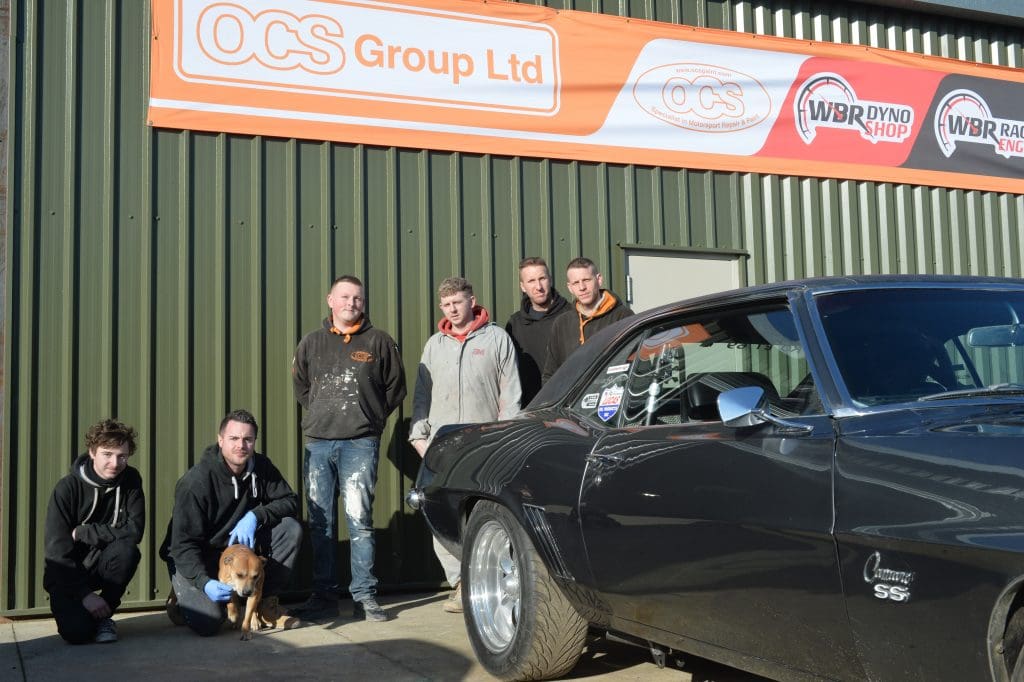 Geoff Carverhill visits a one-stop shop restoration business that specialises in American cars, conveniently located in the East Midlands…
Anyone who has restored a classic American car of any type will know of the perils of finding specialist companies that have the knowledge and expertise to carry out work to a required standard. Having found that specialist – paint shop, engine builder or transmission expert – the expense and hassle of having to then move a big American hulk of a car from one specialist to another, often by trailer, can make the job of Yank restoration budget-blowingly expensive.
That's why, when brothers Nic and Dan Williams decided to consolidate their businesses to create OCS Group, they felt they could offer a high-class restoration service which eliminated much of the hidden expense and hassle so often associated with specialist American car restoration.
Nic and Dan grew up with American cars, hot rods and drag racing. Their Dad, Keith Williams is well-known for having built some high-quality hot rods over the years, and they aspired to his mantra of, "That'll do, won't do!" They came together as OCS after honing their respective skills: Nic specialises in painting and panelwork and Dan is well-known for his engine-building expertise. Nic explains how it all happened:
"We started the paint shop about eight years ago. On the back of the paint shop jobs people would ask for other work to be done, like mechanical or chassis jobs … so the mechanical jobs started to escalate and that's when Dan came in full-time as well, which was about four years ago".
There are two sides to the OCS business: OCS Paint and Williams Brothers Racing, which incorporates Williams Brothers Race Engines, Williams Brothers Dyno and Williams Brothers Speed Shop. The Speed Shop covers light mechanical work and parts. OCS stock and are able to supply most major brands of restoration and mechanical parts from the US. The OCS Group pride themselves on being an American car restoration house, whether it be classic American street cars, muscle cars or race cars. They have set their stall out as a one-stop shop, to include parts and service, but as Nic says: "This business is [run] very much as an American car specialist, who can also do other classics… We're not a 'Jack of all trades'!"
This is evidenced by the OCS team, who all have their respective skill areas. There's Ashley, an ex-Porsche body shop painter, who is also a partner in OCS; electrics expert Jim the Wire; Dave the Trim; Martin – paint shop prep and finish and Brendan, who does paint, repair and panelwork. The youngest member of the crew is Louis Davies, their apprentice, who is attending Bicester College on a classic car restoration course. There is another area of expertise, however, that is provided for OCS by another company – roll cages. These are installed by Webster Race Engineering in Rushden, Northants, and Nic explains why: "We work very closely with Jon Webster … we use him because he is the best! He can make a roll cage fit the contours of the interior of a car perfectly, so that it looks right, and not just like a bit of scaffolding!"
Although Nic and Dan Williams have made their name in American car racing, they are quick to point out that they don't just build race engines. Dan: "If a customer wants an original 427 restored to exactly factory… stock, with the correct paint – we can do it". Examples of the OCS expertise can regularly be seen at hot rod and custom shows, as well as Santa Pod Raceway, where the Williams Brothers Racing '69 Chevy Nova and '69 Camaro regularly score wins down the quarter-mile. Their gleaming '69 Chevelle was evidence of a full frame-off restoration on their trade stand at last year's Classic Car Show at Birmingham's NEC.
Customers' projects that are currently in their workshops are varied, but all are getting the same attention to detail: Phil Oldfield's Fordson van, currently in the paint shop, a Chevy C10 cab, a 1970 Chevy El Camino SS in the workshop, stripped and ready to be given the OCS resto treatment. There is also a '68 El Camino, which will be for sale after it has been fully restored. Just to even things up a bit and show that they can do a great job on non-American classics there is also a Jaguar E-Type 2+2 Fixed-Head Coupé, a Vespa scooter and an Isetta bubble car. But clearly the OCS Group have their knowledge, and their hearts, in classic American cars, and this can only be a good thing for the American car scene in the UK.
It looks as if the investment Nic and Dan Williams have made in their business over the past few years is now starting to pay off, by the amount of work that is turning up at their door. An open day is planned in April, with a barbecue and a live band. In the meantime Nic and Dan welcome any American car job, big or small and are open on Saturday mornings to just have a chat about any restoration requirements you may have. (Words and photography: Geoff Carverhill)
The OCS Group workshops can be found at Brook Farm, Cornhill, at Bugbrooke near Towcester, Northamptonshire NN12 8LQ. Telephone 01327 220777.